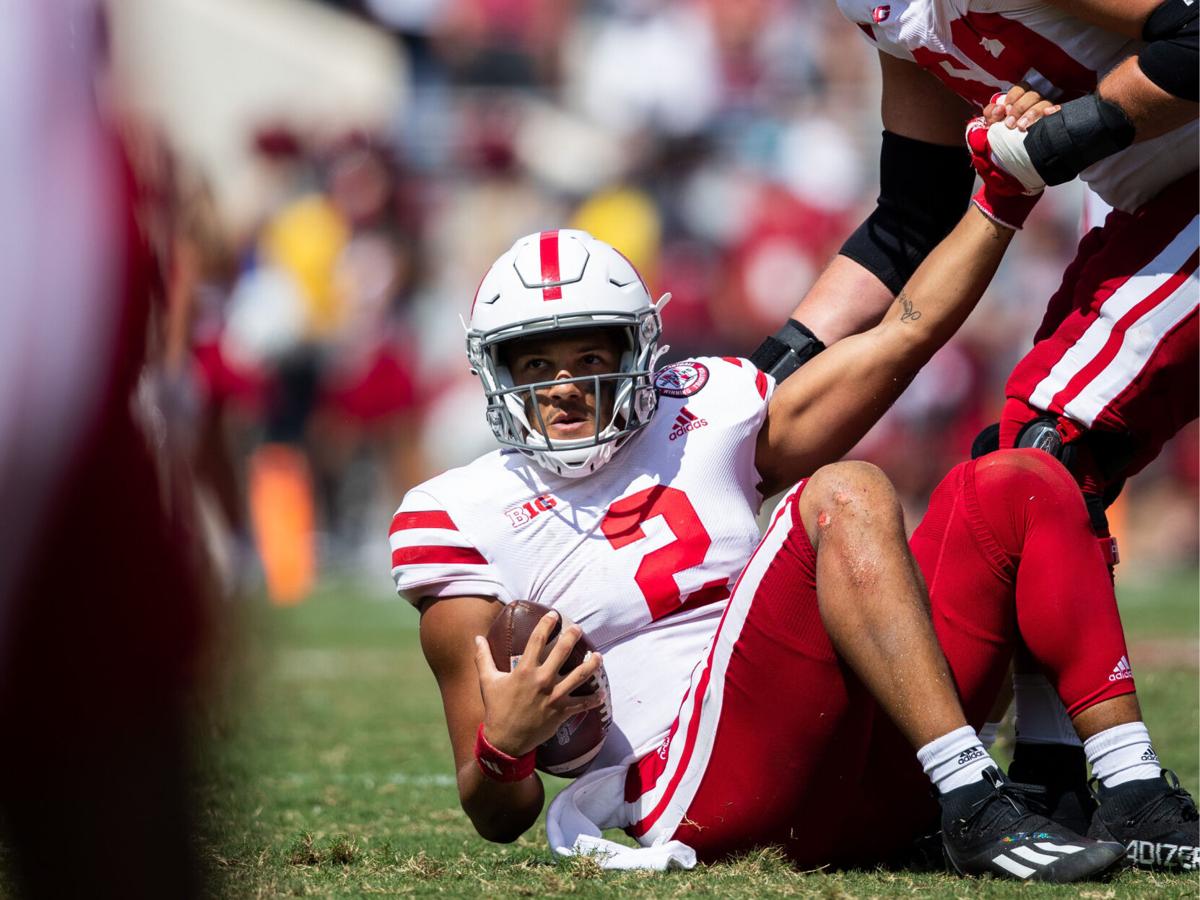 NORMAN, Okla. — We gathered here today to honor the Game of the Century, the finest display of football and guts ever seen. So let's get one thing straight.
There will be no consolations or moral victories on this hallowed premises. Your bag will be checked. Any violators will be asked to leave.
But this 23-16 defeat, this Surprise of the Century, is complicated.
Normally the sight of a close loss to Oklahoma would have the state of Nebraska in tears. Or looking to create a hangover.
But in 2021, it's complicated.
In the wake of defeat, former Nebraska player Matt Hoskinson tweeted, "I'm so incredibly proud of this team and that performance. Does it suck we lost? Yes. Do I hate all kickers? Yes. Have we found something here? Absolutely."
Another Husker fan on Twitter: "In defeat, this was the most promising game of the (Scott) Frost era."
The first postgame email in my inbox had the subject line: "Just saw the birth of a Big Ten coach."
Man, woman and child, what would have been said had Nebraska won?
I understand that reaction. Again, it's complicated.
This was supposed to be a walkover. The third-ranked Sooners were 22-point favorites. Most folks expected that to be the spread at the half.
Husker fans came in with their hands covering their eyes. When word got out last spring that NU was trying to get out of this game, fans went into their bunkers.
It would be Lincoln Riley naming his score. On national TV. On Game of the Century Day.
And NU's defense made Oklahoma work on the first drive. The Sooners scored, but it took 14 plays and nearly seven minutes.
Then Nebraska drove to the Sooner 20 and wound up with a field goal.
And OU quarterback Spencer Rattler looked something less than Heisman-esque. He played well enough to win, but the Blackshirts left a couple of interceptions out there. And at times, Adrian Martinez outplayed him.
And the Huskers kept throwing haymakers. Sometimes they hit themselves in the face. Sometimes they landed on OU.
It was still 7-3 at halftime. Something interesting was happening here, and the rest of the country was on upset alert.
And Husker fans could allow themselves to believe. Or not.
NU came out of halftime with the ball and drove to the Sooner 17. Then Connor Culp missed a 35-yard field goal.
And after OU scored, Martinez ran, passed then scored himself with eight seconds left in the third quarter to cut the lead to 14-9.
Then OU blocked the extra point attempt and returned it for two points.
It was still a seven-point game. Nebraska was making enough mistakes to lose, and enough plays to have a chance.
Then suddenly you looked up and it was 23-16. Deep in the fourth quarter.
Rattler was still in the game. The entire OU starting lineup was still on the field.
And here in the last minute, the sellout crowd stood and watched. And in Oklahoma heat that turned Owen Field into a frying pan, the Huskers made OU fans sweat to the last second.
Nebraska fans saw something in their team. Pride. Effort. Resilience. Toughness.
And they found themselves doing something they hadn't expected after this game: Counting the ways their team could have won.
Nebraska had eight penalties. Six on the offensive line. False starts. Personal fouls. The usual suspects.
Meanwhile, two missed field goals and a missed block that caused the blocked extra point.
It used to be when Nebraska lost to Oklahoma, Sooner talent took over. OU wasn't handed anything.
But here in 2021, Frost's fourth year, NU matched the big-time Sooners play for play. But any upset was detoured by mistakes.
So what's the deal with all the hope and red-colored glasses?
It has to do with a defense that looks like the real deal. Erik Chinander's group didn't get exposed on the big stage. Some folks are now wondering about Rattler and OU.
It has to do with Martinez, making big throws and plays with his feet. And the sight of some of his toys — Omar Manning, Zavier Betts, Austin Allen, Travis Vokolek and Samori Touré.
A tweak by Frost to put Touré back to return punts, an overdue adjustment, may be a sign the coach isn't too stubborn.
Martinez still takes too many sacks for a four-year starter. He needs to throw it away.
And Nebraska still gets goofy, taking timeouts because the punt team was late getting on the field. And a timeout after a kickoff return.
One play later, after a big play and penalty put NU at the OU 17, the clock was winding down. Frost was trying to call timeout, but Martinez had the ball snapped and settled for a broken-play 1-yard loss.
It was weird science, all of it, and here was the bottom line for Nebraska and its fandom.
The Huskers' combination of fight, effort and playmaking almost overcame its penchant for making mistakes. In the biggest game of the Frost era.
They've played four games in Year 4 of Frost and those mistakes aren't going away. Yes, the O-line is young and OU's crowd was very loud.
But we've been hearing for four years about cleaning up mistakes, and they keep running out of Lysol.
So assume the mistakes hang around. But now factor in how Martinez is showing up for his senior year and the impressive playmakers around. And a defense that comes to play each week.
Can that team take the positives and overcome its negatives in the Big Ten? That starts next week against a stout Michigan State team nobody saw coming.
It almost worked against the third-ranked team on its home field.
That's not a moral victory. That's the reality of this season.
"You come to a school like Nebraska, you expect to win every game," Martinez said. "Our guys aren't into moral victories. They want to win games. Simple as that.
"There are definitely some positives to take from this game, and we will do that when we watch the film. But at the end of the day, we lost."
But at the end of that same day, the Huskers honored the Game of the Century by playing like warriors.
That's something that never goes out of style.
---