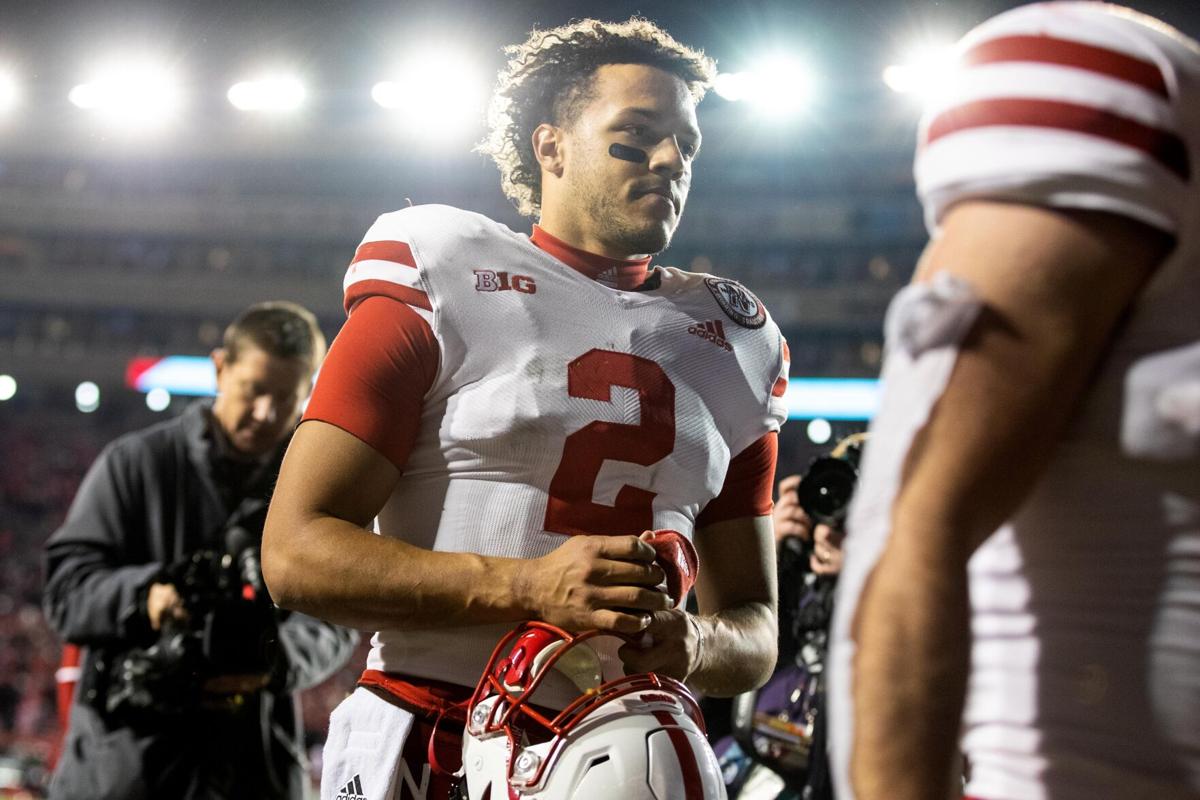 MADISON, Wis. — Another Nightmare on Monroe Street. Does it ever end?
Nebraska was in position to win at Camp Randall. And then it happened. Or, didn't happen.
Hello, Big Ten police? I'd like to report a robbery.
That was pass interference on Wisconsin near the goal line. Plain and simple.
And yes, there are any number of penalties in a game that could swing things, any number of plays. Like giving up a kickoff return touchdown on the first play.
I'm not here to say that the no-call on corner Faion Hicks bumping into Zavier Betts would have meant Nebraska won. Not at all.
If the call is made, it's marked half the distance, not a spot ball. So the ball goes to the Wisconsin 11.
And there's four seconds left. And NU has one timeout. Time for one play.
But man, after the ride Nebraska and Wisconsin took us on Saturday, I would have loved to have seen that one play.
If Nebraska had scored to cut the lead to 35-34, would Scott Frost have gone for 2? The coach said yes.
Wouldn't you love to know what Frost would have called?
One play. And a 2-point conversion. Perhaps plays that failed. Perhaps plays that would have been iconic in Nebraska history.
We'll never know. We were denied the chance to see them.
Mostly, Adrian Martinez was robbed the chance to make history.
What would have happened? It's the cliff hanger we'll never know.
Camp Randall strikes again. This old stadium has been a house of horrors for Nebraska since 2011. Just gory stuff.
Russell Wilson lighting up the Blackshirts for 255 yards and two touchdowns. Melvin Gordon jet sweeping his way to 408 yards and four touchdowns. Johnathan Taylor's modest 221-yard game in 2018.
We've seen some elite performances and encores on this stage, but this time it belonged to Adrian Martinez.
For once, this was going to be his moment. He looked ready to take the bows.
The junior quarterback took us on a personal journey. One minute the triumph. Then the tragedy. And the injury. The comeback.
On and on until it appeared Martinez was going to collide with his fairy tale ending.
And on the day Martinez set the career total offense record, it was like watching his star-crossed career play out in 59 minutes and 56 seconds.
Wisconsin struck with a kick return lightning bolt on the first play for a 7-0 lead. Same old movie?
This time Martinez grabbed the script and tore it up. On the Huskers' first play, he threw a beautiful deep ball to Touré for 42 yards. Another 27-yard pass to Touré and two plays later NU had tied the game.
Challenge accepted. And away they went.
Of course, Wisconsin did Wisconsin things. And 17-year-old Braelon Allen, the reincarnation of Gordon and Taylor, danced and dragged Huskers for 228 yards and three touchdowns.
But this time Nebraska didn't wilt. Frost designed plays that had the Badgers' vaunted defense on its heels.
For four years we've searched for the Frost offense that was hired in 2018, along with the perfect-fit quarterback he had to have from Fresno, California.
For most of the day Saturday, we saw that offense. And that quarterback.
With just enough protection from his offensive line to avoid any sacks, Martinez threw a lot of darts.
He went 23 of 35 for 351 yards. One dart for a touchdown. He scored another on the ground.
There were two interceptions. One that Frost blamed on the receivers for not going to get the ball. Then there was the "balloon" interception that Martinez heaved carelessly downfield, not close to his receiver, that was picked off easily by a Wisconsin safety.
That was the third play of the fourth quarter on a second-and-5 from the NU 21. On the previous Husker drive, Martinez led NU on a 11-play, 75-yard drive that tied the score.
The offense was working. And clicking. Until Martinez's bad decision. Again?
Perhaps he had an out. Martinez got slammed to the ground before halftime. He got up slow. Frost burned Logan Smothers' redshirt on the next possession.
Would Martinez come back in?
He did. But afterward, Martinez said there was some doubt at halftime. He wouldn't disclose the injury. Frost said it was an arm or shoulder.
And so we entered another gray area in the Martinez drama. He had played with a broken jaw and high ankle sprain this season, unbeknownst to the public.
Now, here we were again, guessing if Martinez was impacted by injury.
The quarterback said no excuses. And that's the correct call. Martinez zipped plenty of passes in the second half. He may have played hurt, but he was still effective.
Whatever was hurting, it couldn't have been as painful as the ache in his heart walking off this torturous turf.
For all the grousing in Husker Nation about the man after the second interception, he came back off the mat again. Hey, Bud Crawford would be impressed.
Martinez led a seven-play scoring drive with piercing arrows to tight end Austin Allen. When Marvin Scott tied the score 28-28 with 3:52 left, the Badger faithful had to be wondering if this might finally be Nebraska's time.
A quick Wisconsin touchdown soothed the nerves. But with 3:50 left, Martinez took over on his 35 for one final push.
He made play after play. He completed four straight passes on a money drive. A pass-interference call took NU to the Wisconsin 11 with about 30 seconds left.
On first down, an incomplete pass and holding call on NU pushed it back to first-and-20 at the 21. Martinez was hurried and threw incomplete.
On second-and-20 with 23 seconds left, Martinez threw high to Touré.
On third-and-20 with 17 seconds left, after an NU timeout, Martinez missed Touré again.
Fourth-and-20, 12 seconds left. Martinez went back to pass, was hurried a bit. Threw to the left to Zavier Betts at the 1.
I saw a replay in the interview room afterward. It showed Betts was clearly bumped before the ball got there by Hicks.
Now we turn toward the final regular-season game. And there will be conversations this week, wherever folks talk Husker football, about what it means for Martinez.
He's a fourth-year junior. He has an NCAA-allotted COVID-19 year in 2022. Where will he be?
Will Martinez go through Senior Day ceremonies next Friday? And if he does, or doesn't, what does it all mean?
Meanwhile, the good folks in Nebraska will debate whether they want the classy Husker to return.
I want whatever Martinez wants. He has certainly earned the right to call his shot.
More than that, I want him to have a moment. Make the plays to win a big game. Walk off the field with a smile. Heck, get carried off the field to applause. His moment.
On Saturday, he deserved a chance to at least go for the moment. But it never came.
I'd like to throw a flag on that.
---