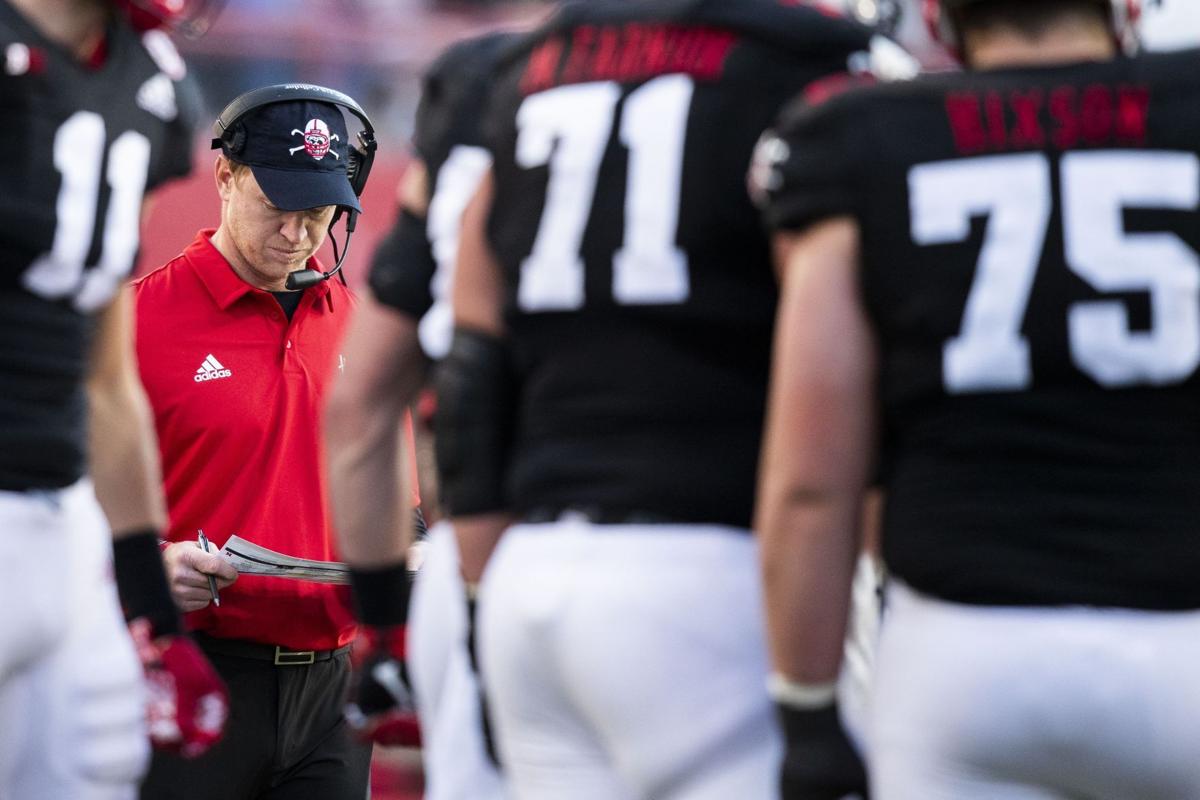 Tough schedule? You got that right.
But not because of Ohio State, Wisconsin, Northwestern and Penn State. Please.
The Buckeyes and Nittany Lions were on the Huskers' original draw for 2020. Meanwhile, Nebraska plays the Badgers and Wildcats every year.
This is what Husker fans wanted when they joined the Big Ten. Big games.
If this is too tough, Nebraska should consider joining the Sun Belt. Wait. Make that the Pac-12.
This eight-game 2020 schedule might be NU's toughest, maybe even more stout than September 1981, when the Huskers opened with Iowa, Florida State, Auburn and Penn State.
It has everything to do with the toughest opponent in Nebraska history. Tougher than Oklahoma or Miami.
Because of the pandemic that continues to feed and grow in this country, this could be the toughest season in program history.
Look at the way the virus has impacted the NFL and college football teams, especially in recent weeks. Even the commissioner of college football, Nick Saban, couldn't escape.
Many games have been postponed and rescheduled, thanks to the luxury and foresight of bye weeks.
But the Big Ten gave itself no such luxury.
Due to the late start, there are nine games scheduled in nine weeks. If a game gets postponed, there's nowhere to put it. It's gone.
It wouldn't even have to mean that Scott Frost or Husker players contracted the virus. It could mean Wisconsin or Illinois canceled the game.
And the rule of holding a player out for 21 days? That's one third of the season.
What are the chances Nebraska plays all nine games? You tell me. But for this season, you better pack two things — patience and resilience.
There are bound to be disruptions, which leads me to make a statement that would normally be considered blasphemy in parts where Husker football is the main language.
Frost and the Huskers could get a "Hall Pass" this year.
It could end up being an extended spring football with five or six games that "count" toward whatever.
Everyone is already bowl eligible, which includes valuable practices. Nebraska is desirable for bowl sponsors, too, given its tradition and fans — depending on how many bowls stage an event, of course.
At Nebraska, there's always urgency and expectations. But this might be the rarest of autumns: a season with no hype, made specifically for development.
This could be perfect timing for Frost's third-year program, with all the drywall and scaffolding still everywhere.
Urban Meyer said Nebraska's opening bell is no way for a third-year program to grow. But it might just be the best way. This program needs challenges. It needs to meet them.
There are no free passes in Nebraska football. But in a season with no fans in attendance, where games might not be played and star players might be sidelined for 21 days, how are you going to judge it?
Glad you asked. Here are a few suggestions:
» Nebraska needs to look like a competent football team.
One that coaches and plays smart, doesn't get in its own way and takes advantage of the mistakes of other teams.
There aren't many to be found. Wisconsin and Iowa, among others, make you beat them. Giving up kickoff returns for touchdowns isn't how you do that.
However many games are won or lost, it's time for Nebraska to play like a good football team.
Nebraska got better last year, and there's every reason to think another year in the weight room added oomph. The Badgers and Hawkeyes didn't push NU around last year. However, Minnesota did.
Frost's offense doesn't have a physical style and physicality has to be a habit, something you practice daily. But there's a greater emphasis. Improvement should continue. The Big Ten insists.
» Can Matt Lubick bring an urgency and edge to the offense?
It's Frost's show, but Lubick aims to be a better sidekick. We should see a closer look and feel to the Oregon influence Frost desires.
It starts with the quarterback. He has to be better. NU has two lead singers, and that's a good thing.
Because the team needs a spark, I would not be surprised if Luke McCaffrey gets the first call. If Adrian Martinez does, that's a good sign.
The skill rooms are not where Frost wants them yet, but there's more depth at receiver, running back and tight end. More options than excuses this year.
» Special teams need to have a clue.
NU was 14th in the Big Ten in kickoff coverage and 13th in returns. Field goals were an adventure. A special teams analyst was hired.
This is the difference in winning and losing one or two games.
» Defense needs to improve.
In the league, the Blackshirts were 10th in total defense, 13th in red zone defense (allowed 40 scores in 44 chances), allowed 41 touchdowns (11th) and were 10th in opponents' third-down conversions (69 of 172). Erik Chinander remains the Husker fans' favorite target.
But Wisconsin lost its star running back and will be without its quarterback when the Badgers come to Lincoln. Iowa is replacing a veteran quarterback.
But those two programs have "next-man-up" systems. Meanwhile, Minnesota has skill returning and Purdue has Rondale Moore.
Chinander will have a lot of new faces, especially at linebacker. The goal might be to survive early and improve by the December winter games. Playing assignment football and tackling will be a start.
» Nebraska football needs confidence.
It needs a spark. It needs wins. It needs proof.
If nothing else is taken from this eight-game season, any win over Wisconsin, Iowa, Purdue and Minnesota would be a shot of proof. Especially beating the first two.
If that sounds like a stepping-stone season, welcome to 2020. Frost is building a bridge to future years of contending, winning and Nebraska holding its own. And then some.
There's not a lot of pressure on this team, other than to get a winning record and play a postseason game. But even that may require no interruptions.
The first step back is to douse the complaining about the schedule. Much of that has to do with the current state of Nebraska football.
The Big Red have been in much tougher spots than having to play in an empty Ohio Stadium. And if they want to complain, it's that they don't get to play in an empty Camp Randall.
Funny, nobody worried about schedules when Nebraska was favored in most every game.
Here in 2020, the urgency is to play good football, get a signature win or three and light a fire. Frost won't buy it, but in many ways, whatever we get this fall is a set-up for 2021.
You know, when the Huskers go to Oklahoma and play Ohio State and Michigan at home, along with all of their Big Ten West friends.
And that, in essence, is what this season is all about.
Getting back to never having to talk about tough schedules again.
---
The 2020 Nebraska football schedule