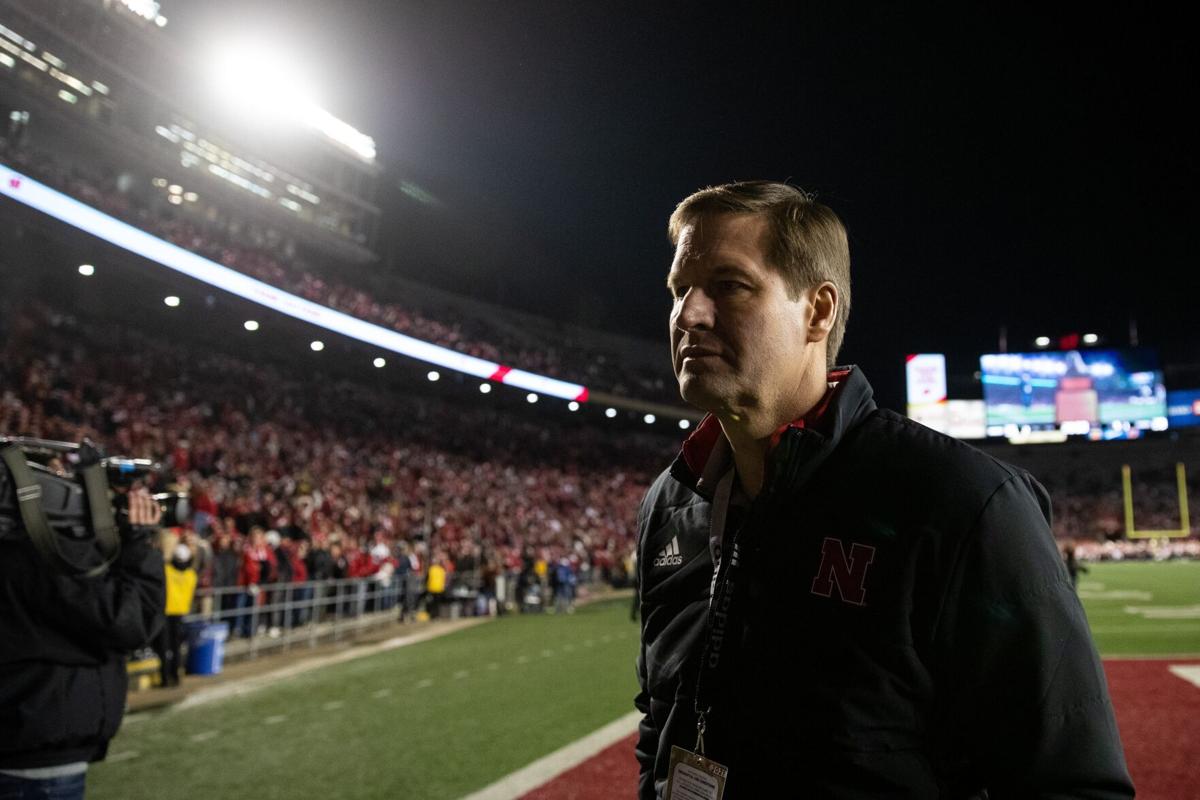 If you could take your foot off of Nebraska's neck for just one second, there's someone I'd like you to meet.
He grew up in Cedar Falls, Iowa. Grew up a big Iowa Hawkeye fan.
Grew up wanting to play for Coach Hayden Fry.
It didn't work out that way. He ended up playing football at Nebraska. And then he went to work for ESPN, where one time he said on air that Nebraska should hire Kirk Ferentz to be its football coach.
Now he's the athletic director at Nebraska. And all these years later, he's never lost his admiration and respect for Iowa football — and you.
And he might just be the best thing that's happened to the Iowa-Nebraska rivalry.
His name is Trev Alberts. And he's the anti-Shawn Eichorst.
I know you remember that name, Coach Ferentz. It's been seven years since Eichorst, the former NU A.D., fired Bo Pelini after he beat Iowa.
And Eichorst rubbed it in by saying essentially he didn't respect the win over Iowa.
Seven years is a long time to hold a grudge, Coach. Are you still mad? We see you each year on Black Friday. You coach with more intensity. You're more animated. You threw your stocking cap one year, for gosh sakes.
Maybe Alberts can calm those emotions. He's going to be a hard guy for Iowans to hate.
"In an alternate life, I was probably not unlike a lot of Nebraska kids, out there on the tractor listening to Lyell Bremser," Alberts said earlier this week.
"We listened to Jim Zabel on WHO. In northeast Iowa, you were pretty much an Iowa Hawkeye fan.
"The parallels are there. Every kid in Nebraska wanted to play for Tom Osborne. We grew up wanting to play for Hayden Fry and the Iowa Hawkeyes."
Maybe you remember the name, Coach Ferentz. Back in 1988, when you were Iowa's offensive line coach, the Hawks were recruiting Alberts.
"I had gone public with my desire to play for Iowa," Alberts said. "That was my dream school.
"They were recruiting me, and I had offers from Minnesota and Iowa State. Dan McCarney was my lead recruiter, and what an incredible human being and recruiter. They were coming to my basketball games but hadn't officially offered me."
Then Nebraska assistant John Melton entered the picture. And Alberts and his family were headed on a visit to Lincoln.
"We actually came here with no intention. … We were really kind of shocked that a place like Nebraska would be interested in me," Alberts said. "Nebraska was at a whole different level than everyone else.
"But they called and it was a free trip. So we loaded up the family car and drove 300 miles west.
"I'd never been to Lincoln. Everything was Nebraska. It was Cornhusker Road, Go Big Red shop. It was obvious that football was important.
"Nebraska was just a little farther along in student athlete services, the training table and academics services.
"When we were back in the car heading back to Cedar Falls, my dad said, 'Your mother and I would really like to see you play at the University of Iowa. But after visiting Nebraska, we would certainly understand why you would want to play for Nebraska and Coach Osborne.'
"That was really a burden off my shoulders because I really wanted to go to Nebraska."
Now turn the calendar to 2014. Trev Alberts, All-America linebacker and Butkus Award winner at NU, is the athletic director at UNO. He still follows the Huskers.
He sees the comments from Eichorst about Iowa. How does he feel?
"Oftentimes in leadership positions, you look back and say I said something I did not intend to say," Alberts said. "I don't want to sit in judgement of someone.
"But let me say it's hard enough here. … The last thing we need to do is fuel other people's spirits against us."
Suffice it to say you won't ever hear Alberts say anything like that about Iowa — or any other Nebraska opponent.
Look, in 2014 there were a lot of Nebraskans who agreed with Eichorst. And after that 2014 Iowa game, Ferentz's record against Nebraska was 1-5.
Heck, there might have been some Hawkeye fans who agreed with Eichorst. Iowa finished 7-6 in 2014.
That attitude was a common theme among many Husker fans when NU joined the Big Ten. They had better football, history and expectations than Iowa.
But Alberts wants to change what he calls a sense of entitlement from Nebraska. Respect the game. Respect all opponents.
And get back to proving it and earning respect on the field.
The last six seasons, Iowa has certainly done that.
"I have a tremendous amount of respect for Iowa," Alberts said. "Iowa does things the right way.
"I've gotten a chance to know (Athletic Director) Gary Barta. He's got a lot of wise counsel to him, a wonderful human being. He's been in the business a long time, his voice in the Big Ten is respected. I respect his approach, very meat and potatoes, dedicated.
"He and Kirk have been in the Big Ten a long time. Stability. Consistency. They know who they are and they're not ashamed of who they are. They're willing to embrace the reality that makes them successful. I have a lot of respect for their physical nature, the way they play."
Hmm. Sounds a lot like a Nebraska we used to know.
"There are a lot of similarities between the states," Alberts said. "The way the people operate and what they hold near and dear, those types of things. Probably not unusual that they would hope the football teams would be reflective of that."
About that comment he made on ESPN? Alberts laughed and said, "That was entertainment." He said his ESPN colleague Mark May is good friends with Ferentz, and Alberts threw out Ferentz's name to have fun. Ferentz wasn't going to Nebraska.
But, Alberts added, "I have a lot of respect for Kirk Ferentz. It's hard to be a coach in the Big Ten, especially as many years as he's done it. He's learned and grown as a coach too. There's a lot you can learn from watching Kirk."
This is going to be so interesting to watch. Alberts brings such a new dynamic. Iowa boy. Nebraska legend.
He measures his words. He's ultra competitive. And he'll never take Iowa lightly.
This series or rivalry, whatever it is, has a chance to grow with Alberts involved. As he says, for there to be a rivalry, the games really have to matter.
And it can't just be one school winning all the time.
Yes, Ferentz and Iowans are going to have a hard time hating this guy. Until he starts beating them.
---