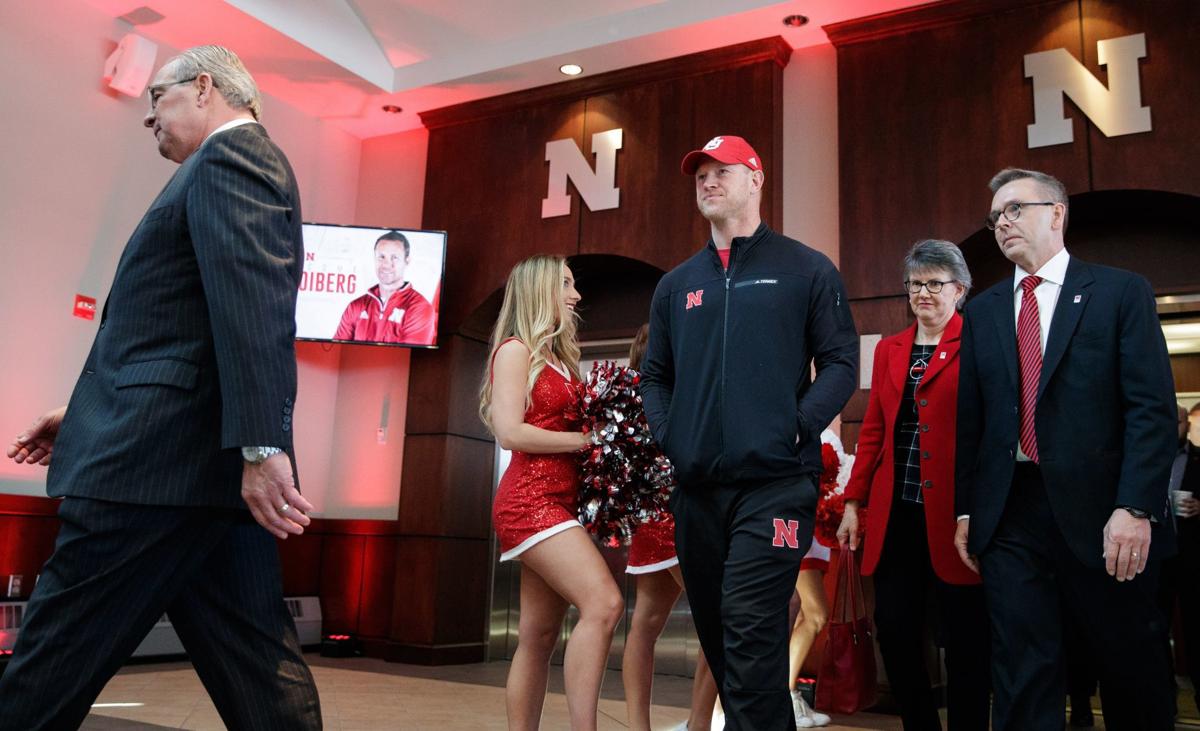 Yes, we would love to know the name of the next Nebraska athletic director. It's been two weeks now. What's going on?
When Bill Moos was ushered out before he was ready — $3 million in hand — you figured that Chancellor Ronnie Green had somebody waiting behind Door No. 1.
Anybody behind Door No. 2?
Iowa State A.D. Jamie Pollard released a statement saying he wasn't interested in Nebraska. Sometimes that's what people say when they aren't getting the job. Hard to imagine, though, that Pollard wouldn't have been asked.
Perhaps Green is making a second run at candidates who initially begged off.
Brand name. Big Ten. Big budget and booster money available. Major sports coaches in place. Is this job not as attractive as we think?
Is the uncertainty of the football program, led by the native son, a problem?
Two weeks. But no hurry now. Take your time, Ronnie. You must get this one right.
It's a good job, yes. But there is also much work to be done.
Wanted: an identity. That's also for an athletic department that needs to be remodeled.
Who is Nebraska? What does being a Husker mean?
What is the expectation? What is the standard? What's the identity?
That's a favorite old-school buzzword of sports writers. Speaking of old school, there's a line from a Talking Heads song that is appropriate here.
"I changed my hairstyle so many times now, I don't know what I look like."
It started in 1992 with the hiring of Bill Byrne, whose 10-year run as Nebraska A.D. looks like some sort of record.
Steve Pederson. Tom Osborne. Shawn Eichorst. Bill Moos.
Different men, different backgrounds, different styles from the other. All hired to be the opposite of the guy before him.
Now look at the football coaches. Frank Solich. Bill Callahan. Bo Pelini. Mike Riley. Scott Frost.
Different men, different backgrounds, different philosophies. All hired to be the antithesis of the guy before him.
Trying to fix a problem by always going the other way is no way of building something sustainable, something successful.
It's an effective way to chase your tail, however.
It's time for Nebraska to get grounded. Pick an approach.
The Badgers know who they are and what they are all about. Not just in football. It's an athletic philosophy.
Outgoing Athletic Director Barry Alvarez hand-picked coaches who would fit the Badgers culture, expectation and way of doing sports.
Chris McIntosh, who replaces Alvarez, is a former Wisconsin offensive lineman and was groomed for the job by Alvarez the past seven years.
When is the last time Nebraska groomed someone for a big job? John Cook? Solich?
Cook's volleyball machine is an example of what NU athletics should be about. A winning culture, taught by coaches and handed down from one generation of players to the next.
Hmm. What about John Cook, A.D.? I reached out twice to the coach, who declined to comment both times. He would be fantastic. But the coach likes to coach. He's pretty good at it.
About Wisconsin: There are complaints from some Badger fans about not hiring for diversity, about wanting more out of football and basketball.
Fans always want more. Nebraska would take some of that same old, same old.
The point stands: Wisconsin knows what it's about.
What does Nebraska want to be?
The identity was based forever on a blue-collar mentality, development and innovation. Strength in numbers. A program and state pushing together.
What is a Husker? What does it want to be?
Nebraska still had a good handle on that until Pederson referred to it as mediocrity. And NU has been playing catch-up ever since.
The new boss will inherit some good stuff. Several programs have winning cultures in place. Will Bolt is trending up. Fred Hoiberg is on deck. You could walk in and look good in a hurry.
Football is the elephant in the room. A new A.D. could really use some help from Scott Frost.
My take is that the relationship between Green and Frost is such that this is not Harvey Perlman and Bo Pelini. Frost will get time. That's not why the new A.D. is here.
If anything, Nebraska needs stability. That includes the athletic director.
This needs to be the last press conference for at least five years. Whenever it happens.
Take your time, Ronnie. This one's big.
---