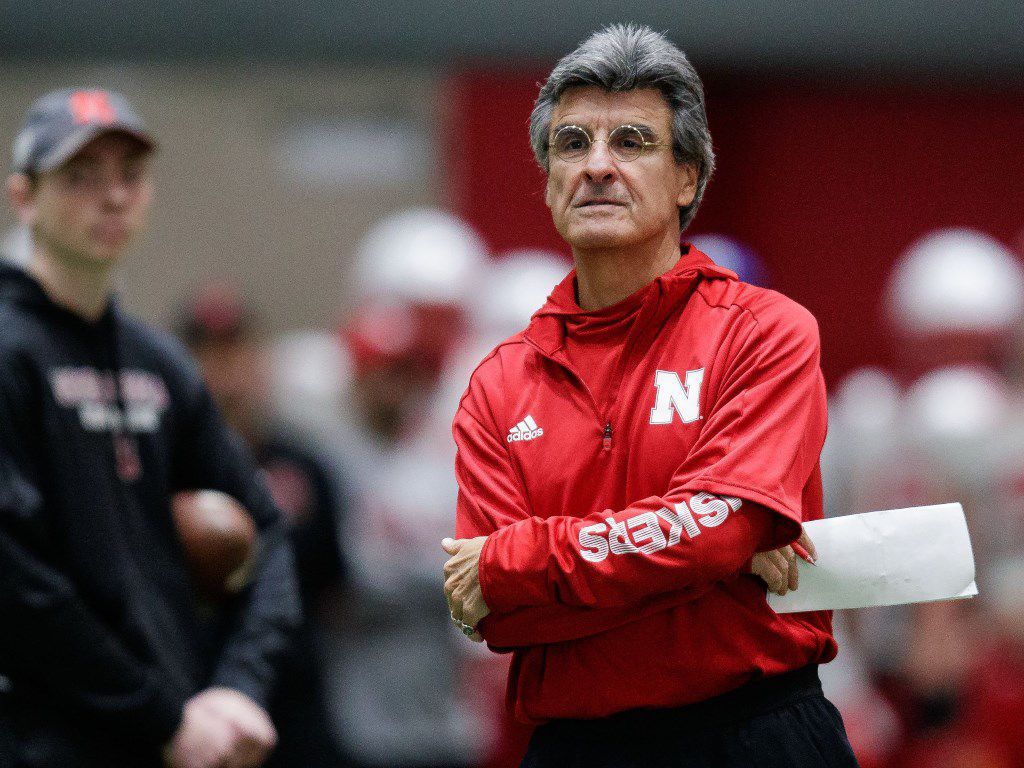 There was a mob around the mop-top on Wednesday. What else is new?
Quarterbacks were the topic of the week around Nebraska. But that's every week. That means each Wednesday, Nebraska quarterback coach Mario Verduzco is a popular man with the media.
Yes, he coaches a star. But Verduzco himself became a media darling last year. He has an endearing, quirky personality with moppy charcoal gray hair and John Lennon glasses. He's like a favorite professor, spouting theorems but also throwing in occasional sailor vocabulary and comedic commentary. And the occasional photo with a cigar.
When Adrian Martinez's stock took off last season, Verduzco was an appointment interview every week. He was the resident genius.
As Martinez has gone through sophomore struggles, the crowds now come to Super Mario for explanations, not funny lines.
To his credit, the man hasn't changed one bit.
Sign up for Big Red Today news alerts
Get a daily Husker news roundup, recruiting updates and breaking news in your inbox.
He accommodates each question with a thoughtful answer. He takes the bad with the good. That doesn't mean he necessarily has an answer.
"It's just part of the job," Verduzco said. "It's part of the sorts of things that happen week to week and year to year. I wouldn't say it's any more unusual outside of the scope of a young guy playing the position at any level. The guys around him have as much of an impact on his production.
"That's why I don't want our guys, no matter how many accolades or attention they get, to think that it's about them. Because when it comes right down to it, it's about everybody else."
That's Verduzco's way of echoing a time-worn football saying: The quarterback gets too much credit and too much blame.
That may also be true of the cool quarterback coach.
Verduzco here is not putting the blame on Martinez's teammates for his struggles. But he's pointing to the issues that exist around No. 2, and that he could be handling them better.
It's his job to handle them.
Ask Verduzco about Martinez's play dropping a level this year, and the guru says, "I might agree, but I think that has a lot to do with all sorts of factors that surround him. The hardest thing for any quarterback is that notion of uncertainty. They've done studies on the amount of uncertainty and reacting to a stimulus and how much uncertainty you can remove."
Stimulus? I had to reel in this conversation. I flunked that course.
"I tell them you can't worry about (the issues going on with the offense)," Verduzco said. "Let's just play."
Verduzco doesn't buy the theory of Martinez being too big from the weight room. He doesn't agree that Martinez is pressing. But he says, "He's thinking too much maybe and you're not sure about what might happen. Maybe he had more clarity last year."
Might an opportunity to sit and watch someone else for a while give him that clarity?
"You never know," Verduzco said. "Maybe that's kind of what happened last year, too."
That brings us to Saturday night's scrum on the frozen tundra of TCF Bank Stadium.
Nebraska's starting quarterback is a mystery going into this one. That's how Scott Frost likes to play it with injuries, taking every little edge he can on his opponent. And with P.J. Fleck's brain in constant overdrive, you never know what that might mean.
Chances are, Fleck has prepared for both. And once Noah Vedral runs onto the field, the Gophers will settle into a plan.
Vedral? That's who I expect to take the reins. Martinez practiced this week but there's no telling what sort of pain he might be in or his range of motion, quickness, etc.
There's a bye next week and no reason to rush Martinez back if he's not 100 percent. From his recent play, Martinez doesn't look it. And I'm not talking about his left knee.
He doesn't look like his head is completely there. There are times when Martinez is the guy we saw a year ago — the guy who was smooth and confident in his very first game against Colorado.
But he hasn't been that guy in a long time. And one play summed it up last week, with Martinez rolling to his right. There was a wide lane for him to tuck and run for a big gainer. The crowd called for him to do it. Instead, he hesitated, and ended up throwing an incomplete short pass.
From what we've seen of Vedral, he will not hesitate to tuck and run. He doesn't appear to hesitate, period.
This is Vedral's third year in Frost's offense. He knows it back and forward. The thing is, we haven't seen a lot of Vedral's game. He got in one game last year. And then last week.
That's the beauty of it, too. There isn't a lot of film of Vedral for the Boat Rowers to study.
On what is expected to be a chilly night, the run game may rule supreme. And Vedral's quarterback run game — including when a pass play or protection breaks down — could be Nebraska's ace in the hole.
The Wahoo kid can throw it, too. Mostly, he plays. And assuming he gets good snaps, he figures to do everything with certainty and urgency.
And maybe watching that from the sideline could be the thing that brings Martinez back — when he comes back.
Hey, whatever stimulus works.
Tom's Tailgate Takes
1. I like college football trophies. OK, good trophies. The $5 Bits of Broken Chair for Nebraska-Minnesota fits that category. Old-school trophy games were created by students pulling pranks. This is strictly new-school, created on Twitter. Organizers from both sides have raised thousands of dollars for sick children. They have a goal of $20,000 this year. Visit brokenchairtrophy.com for more information. It would be great to see a photo of Scott Frost with a broken chair trophy.
2. There are two national championship games I'd like to see and they both involve quarterbacks and old schools. One is Oklahoma and Jalen Hurts vs. Alabama. The other is LSU and Joe Burrow vs. Ohio State. Saturday is a big day for those possibilities. I'll take OU over Texas in a 52-38 game that will make your head spin faster than any state fair ride. And LSU over Florida, 28-21. And while you're at it, give me Iowa in an upset over Penn State, though not that big of an upset since it's a night game at Kinnick.
3. If this was normal Nebraska, I'd feel better about beating Minnesota. I think Vedral will play well and cause the Gophers problems. But these issues with center snaps and field goal kicking won't go away. For all his antics, Fleck can coach. Nebraska will need to be a tight operation to win this one, but I like Minnesota, 24-21.
Photos: Every season-opening starting Husker quarterback since 2000
With Nebraska in the midst of another quarterback competition, take a look back at photos and statistics from all the passers that started the opening game of the season since 2000.