There's a great temptation to dive into a series of Mr. Whipple lines. Please squeeze the Big Ten West.
Scott Frost is in the tempo game of his career, the clock running and he's got all his timeouts. He's chosen a new offensive staff to try to score enough touchdowns in 2022 to make it to 2023.
There's something to like, something to question and a lot to wonder about. Grab some popcorn. It's gonna be interesting.
Suffice it to say that Frost, the gambler, has doubled down on his urge to throw it and go with Nebraska football heritage. There's a comfort level to Frost's moves, yet he doesn't have relationships with Mark Whipple, Mickey Joseph and Donovan Raiola, so it's a bit of a wing and prayer, too.
He and the Huskers could likely use a lot of both next season.
Did he get it right? Report cards will begin coming out in 10 months. But here's my early takes:
On Whipple
He is a good hire, maybe very good. Also stunning, in the sense that Frost was able to attract such a seasoned and accomplished candidate.
The wily veteran of 40 coaching years is coming off one of his best seasons, grooming Pittsburgh's Kenny Pickett into a Heisman Trophy finalist, and he likely would have been attractive to most every coach in need of an offensive coordinator.
Why come to a place where the coach has one foot on the plank?
A source said that Whipple received a two-year contract, with a number that nearly doubles his salary ($476,450) at Pitt. Also, he felt he had reached the end of the road in Pittsburgh, and was ready for one more challenge at 64.
He'll get one in Lincoln.
The good news is Whipple should be more than up for anything. He's never coached in the Big Ten, but after 40 years at every level of college and the NFL, nothing in the Big Ten will surprise him. He'll be able to adjust.
That task will start at home. Whipple must mesh his scheme with a new line coach — in his first time as a head line coach — and personnel that may not be suited for what he wants.
As he checks the cupboard, Whipple will note that he'll need to go out and shop for groceries to fit his scheme. Including a transfer quarterback.
A source said Whipple already is shopping for one. It's likely the biggest story of the offseason.
Fortunately, Whipple knows every corner of the college football world and, again, he couldn't be more attractive right now if you're a kid with an arm looking for transformation.
I hope Whipple is the kind of play-caller who sticks with something that works until the other guy stops it. And by other guy, I don't mean Frost.
Also, the thing about old coaches is they are very secure, and Whipple won't be afraid to tell Frost to stay out of the kitchen.
I like this move, more and more.
On Raiola
The name is gold at Nebraska. It stands for passion and excellence.
But Dominic Raiola is not coming back to play.
It's up to Dom's kid brother, Donovan, to uphold Nebraska's great offensive line tradition — which hasn't been great in a very long time.
Donovan didn't play for the Big Red. He made his legacy at another O-line factory, Wisconsin. He was one of former coach Barry Alvarez's favorites. That says a lot.
He played a few years in the NFL and spent 2011 with the Omaha Nighthawks. You gotta love that.
He's spent the past 20 years around offensive line play and coaching, but his résumé is a little thin in the college ranks.
Yes, Raiola coached the O-line at the NFL level, but there's a difference between coaching grown men and college kids. And this is his first gig in charge of an offensive line.
And if it's true that Frost chose Raiola over Notre Dame's Jeff Quinn, a veteran, that underscores the gamble.
This hire looks underwhelming. It looks like a long shot to expect Raiola to upgrade an offensive line into a reliable force in one year.
And the problem with coaches like Raiola having passion and fire is that often those coaches can't get players to feel the same way they do. Not everyone burns that hot.
Fire is one thing. Raiola's priority should be discipline. And chemistry. Get this group working together. No more false starts.
In that regard, Raiola should beg Whipple to go with a limited scheme that enables the line to master something over and over.
Raiola has not been a recruiter. He'll start by trying to sell transfers on himself.
His first priority: Get Cam Jurgens to return to the Huskers where Raiola can coach him on what it takes to make the NFL.
Maybe he can get his older brother to tutor Jurgens on the side.
Yes, this is a long shot hire, but I'm willing to keep an open mind. There's potential here. He looks like someone who could grow into the job.
On Joseph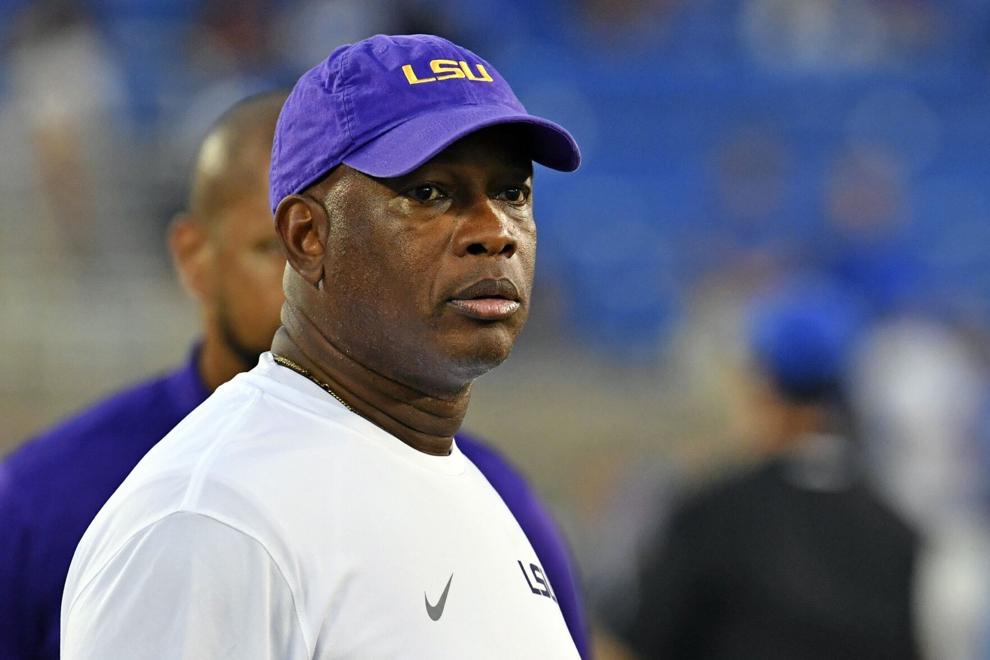 A difference-maker in recruiting and prepping big-time receivers. Joseph is good. Let's see if he's still got speed.
What about the running back position that has yet to be filled? Maybe that's a sign that they won't need a running backs coach because the ball is going to be in the air.
Whipple will have to find a running game — this is the Big Ten, after all. But we saw NU poke enough holes in Big Ten defenses through the air last season to know that if Whipple can find the right quarterback, maybe they can lead a breakthrough.
Whipple. Joseph. Raiola. It's a group with potential, but one that might be better with two years to grow.
Too bad Frost didn't make these moves a year ago.
Now Whipple, Joseph and Raiola — who have never worked together — must form a bond and game plan to save the day and the coach. Can they do it?
It's going to be a tight squeeze.
---