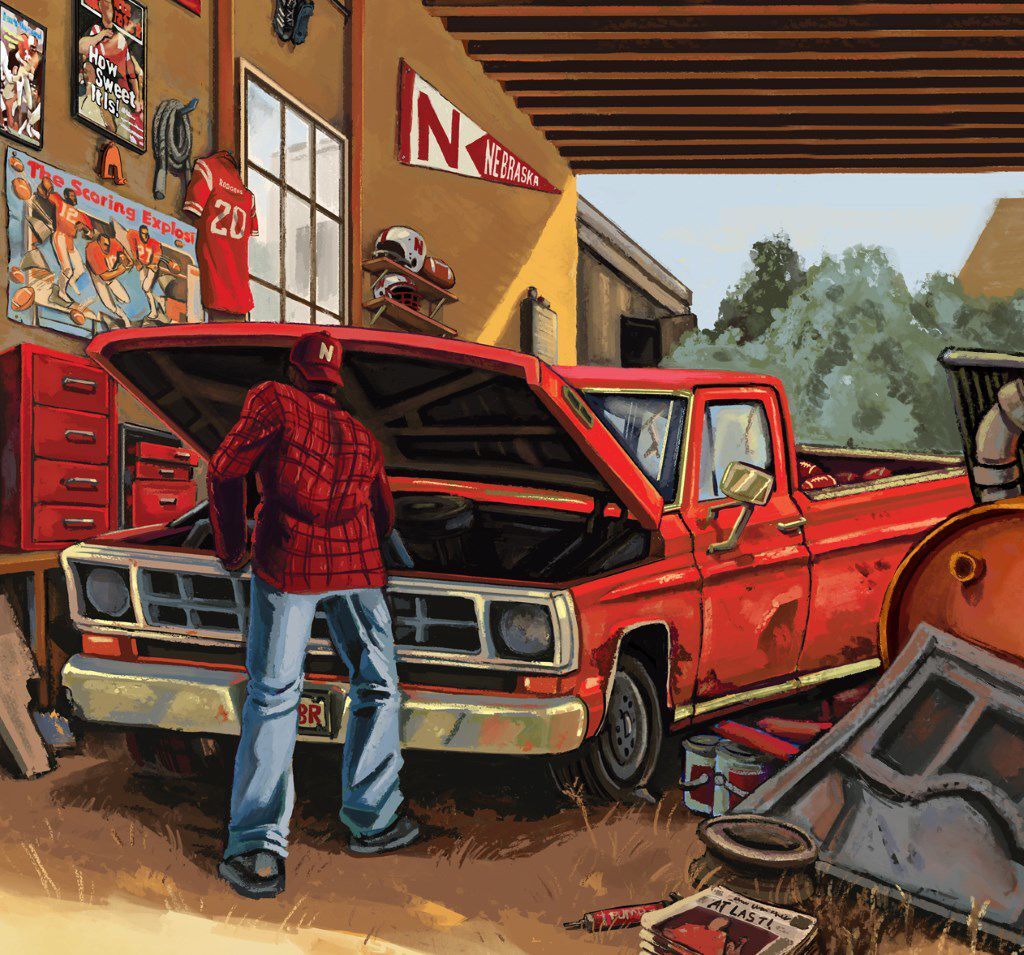 LINCOLN — On the day coronavirus toppled sports, Nebraska football held a workout in front of NFL scouts for outgoing seniors.
No one wore a mask. Bottles of sanitizer did not sit on ledges inside the Hawks Championship Center.
We know now that by March 12 the COVID-19 pandemic had stealthily made landfall several weeks before in America's largest city, New York, using its spike-like prongs to grip our lungs, our hearts, our minds, our way of life. Lockdowns were coming, but shutdowns were already arriving on March 12.
March Madness, gone. The College World Series, gone. The NBA season, postponed. Major League Baseball, stuck in the starting gates.
This dark cloud hovered, but there was a silver lining. Football was still a sweet six months away. There was time. There was hope. The treadmill of Nebraska's culture hadn't broken down yet.
"Only thing we can do is hope and pray that everything gets settled and just get back to living a normal life," former Nebraska outside linebacker Alex Davis said that day after he worked out for NFL scouts.
"If I get sick, I get sick," former Husker defensive tackle Carlos Davis.
The buoyancy of those comments was short-lived as the spring and summer rolled by. NU canceled its April spring game and the rest of its camp. It pushed off a much-anticipated groundbreaking for its new football facility. While it aggressively but painstakingly brought its football team back to campus through a series of health and safety measures, Nebraska waited and waited for its parent league, the Big Ten, to find its way through the coronavirus wilderness.
"We've been elbows deep in this situation for a long time," Frost said in late June.
He and his chief of staff, Gerrod Lambrecht, had prepared Nebraska not only to muddle through the pratfalls of COVID-19, but thrive in it. NU believed it had set itself up for a productive football season, however it looked and whomever the Huskers were set to play.
Nearly three months later, Nebraska football — the pride of the state — sits idle, sidelined by 11 presidents and chancellors in the Big Ten who chose to postpone the season until a date still unknown. Memorial Stadium sits silent. Husker coach Scott Frost, one of the few folks in the place on what would otherwise be raucous weekends, tries to figure out NU's next move.
"I get laser-focused on the next task," Frost said. "I think we are searching for ways to bring it back, looking for the next fight, the next argument, the next reason we can give anyone that won't let us come back and play. I get lost in that enough that it kind of hides me from the emotion of not being able to play."
It's a fight Husker fans have to watch from their homes, on message boards, news sites and Twitter feeds. Unlike a third down in the fourth quarter, when they're screaming at the top of their lungs and the opposing quarterback can't hear, they can't affect this outcome. They're not on Zoom calls with academic leaders.
They can only wait — and feast on the football before them.
It's not Nebraska beef. But there's enough on the plate to tide fans over until the Huskers hit the turf again.
» The NFL kicked off Thursday night as scheduled, and rarely has the league had a more exciting group of young quarterbacks — Mahomes, Jackson, Watson, Burrow — to mix with the old veterans of Brady, Brees, Rivers and Newton. The Kansas City Chiefs are clear favorites to return to the Super Bowl in the AFC, while the tougher, yet wide-open NFC could feature a surprising set of playoff teams. The league's rigorous coronavirus testing protocols have kept teams on track so far, although cancellations and quarantines are possible.
» High school football is being played in most of the Midwest, including Nebraska, where — other than the seven teams in the Omaha Public Schools — kids are playing out Friday Night Lights dreams. Fan attendance rules vary by school district and school. In some stadiums, only families are allowed, while others will let in general fans. But the crop of in-state talent, led by four Nebraska commits, a Minnesota commit and an Iowa commit, is as strong as it has been in a decade.
» A handful of small colleges around the state intend to play this fall, with the Great Plains Athletic Conference beginning over the weekend as Hastings, Doane and Midland all host games. In the Heart of America Conference, Peru State begins hosting games at the Oak Bowl on Sept. 19 after its Sept. 12 season opener was moved to Oct. 10.
» While it may be painful for Husker fans to absorb, major college football is being played around the country. From BYU (the only team in the western United States still with a schedule) to Boston College, teams in the AAC, ACC, Big 12, CUSA, SEC and Sun Belt, plus several independents and some FCS squads, are playing in front of reduced — or sometimes non-existent — crowds to interested television audiences. After a few weeks of limited schedules, the expansion in play begins in earnest Sept. 12, as ACC teams play each other and Big 12 teams take on nonconference foes. The SEC schedule starts Sept 26.
That last category tastes sweet and sour. Opposing coaches have long lauded the savvy and intellect of Husker fans when it comes to understanding good football, and the masses didn't get that from watching NU alone. So the TVs, tablets, laptops and cell phones around the state will be humming in September, even as the desire to return to the field burns.
The question has become: What will it take for the Big Ten presidents and chancellors — who voted 11-3 to postpone football on Aug. 11, just six days after the league released its schedule — to fully embrace football before fall 2021? If the league commissioner, Kevin Warren, expected things to die down after the Big Ten handed down its edict, it hasn't happened. NU players sued the league for more information on its decision, Michigan players and coaches held a protest walk, and league heavyweight Ohio State has pushed its full weight onto trying to get Big Ten football back as soon as possible. Ohio's attorney general even said the state might sue the league for keeping them off the field. Meanwhile, Wisconsin is taking a two-week break from football activities while its campus leaders move classes online for the same fortnight.
"I'm proud that we're fighting for what we believe in," Frost said. "I met with all the players individually and told them no matter where you are as a man, if you can stand up for your principles and fight for what you believe in, you shouldn't have any apologies for your actions or any regrets."
Fans would gobble up every practice report in preparation for that season, whenever it comes. Until then, the football fix, while imperfect, is what we have.
The Husker Camp Countdown of Nebraska's most important players
Our Husker Camp Countdown highlights the 50 most important players on the Nebraska football team.