LINCOLN — In front of a record spring game crowd, the next great Nebraska quarterback threw darts.
Perfect on the first drive — 5 for 5, 70 yards and a touchdown. He eventually threw for an NU spring game record 357 yards on just 27 passes, shattering the previous mark by more than 100 yards and ending all speculation about who would be NU's starter in 2005.
"It was a lot of fun," Zac Taylor said 16 years ago. "It is pretty crazy. The people of Nebraska are great. The 63,000 fans are incredible and show how much they care about football. It was amazing. I got chills in the tunnel. I was a little nervous during the first play, just like in high school."
Taylor's first spring game was no false front. He turned out to be just as good in games that mattered as he was in glorified scrimmages. He was the Big 12 offensive player of the year in 2006 and won 17 games in two seasons, often on the strength of his right arm.
And when Nebraska's defense intercepted six passes in the 2003 spring game, that was no fluke either. Bo Pelini's bunch went on to lead the nation in takeaways. The two teams combined to score 13 points in that spring game, setting the stage for Frank Solich's final season in Lincoln, where the offense was often hide-your-eyes bad while Pelini's D carried the team to a 10-3 record.
Sometimes spring games tell a lot of truth. Sometimes they don't.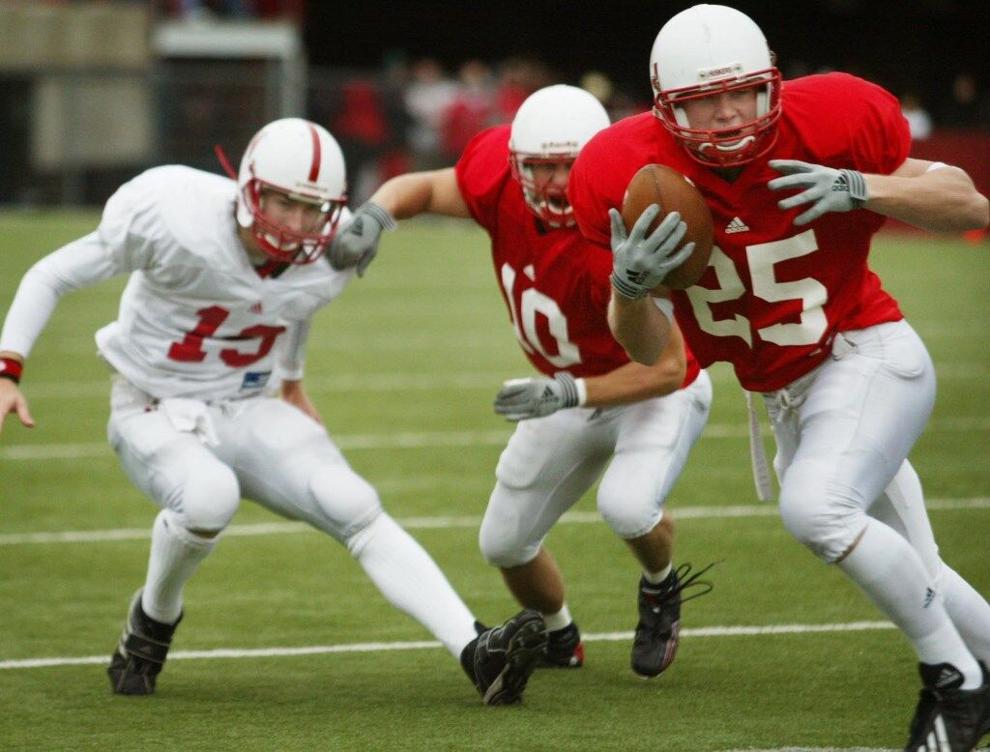 When Bobby Newcombe broke off a 91-yard touchdown run in the 1998 spring game — effectively winning the job from Eric Crouch and Frankie London — the stage seemed set for Newcombe's QB stardom. But through no fault of his own, he never reached that level after suffering a knee injury in the '98 season opener. Instead Crouch began his Heisman Trophy career.
In the 2011 spring game, Jamal Turner — a top-100 recruit new to campus — electrified fans with three long returns and four catches for 93 yards. He somersaulted into the end zone on one play.
"I kept calling him DeSean Jackson," Husker Antonio Bell said that day.
But injuries stalled Turner's career, too. He caught nine passes as a senior.
In the '99 game, Chris Butler looked like Nebraska's best running back. He eventually transferred to Auburn.
Collins Okafor and Lester Ward had impressive spring games in 2009. A few months later, a kid from Dallas named Rex Burkhead rolled onto campus and changed the narrative.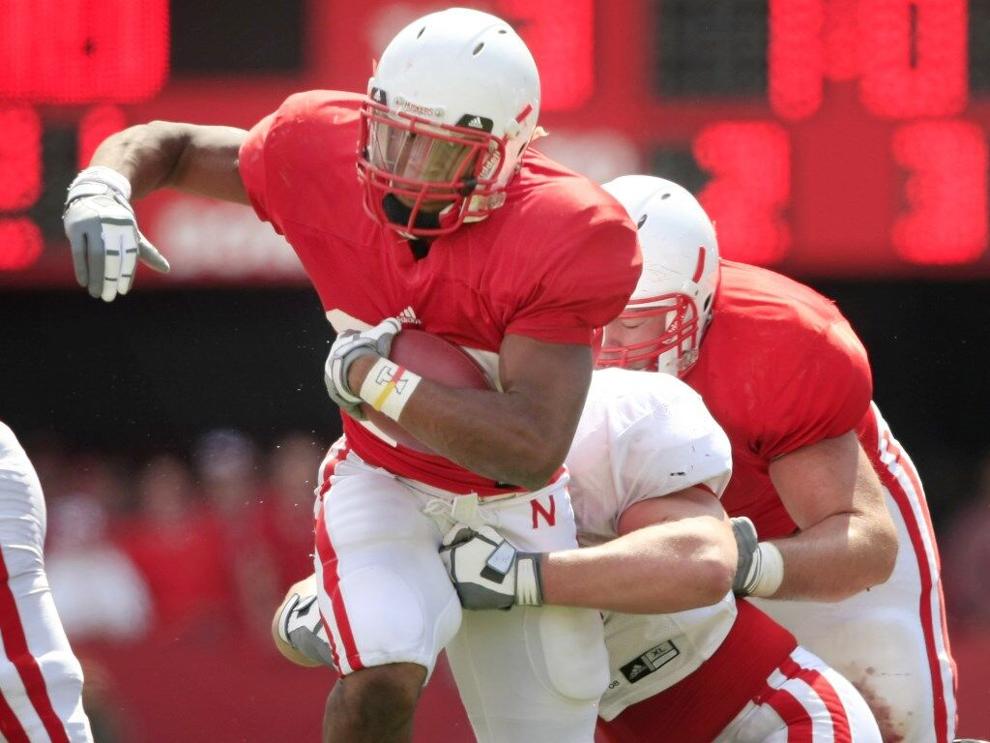 Figuring out which performances point to stardom — and which don't — is a coin flip. Especially with quarterbacks.
Taylor knocked it out of the park in 2005. In 2007, Sam Keller (10-13, 193 yards) was a little ahead of Joe Ganz (11-18, 157) while Beau Davis tossed four interceptions. In 2010, Taylor Martinez racked up 139 total yards on 18 plays — nine passes, nine runs — and put himself squarely in the QB race he'd eventually win over Cody Green and Zac Lee.
In 2011, it was Martinez, after a roller coaster redshirt freshman season, watching Brion Carnes get the hosannas as he completed 11 of 15 passes for 173 yards.
"He's a talented young man," Pelini said at the time. "The light ... it's flickering. It's just got to stay on."
Carnes threw two career passes at NU.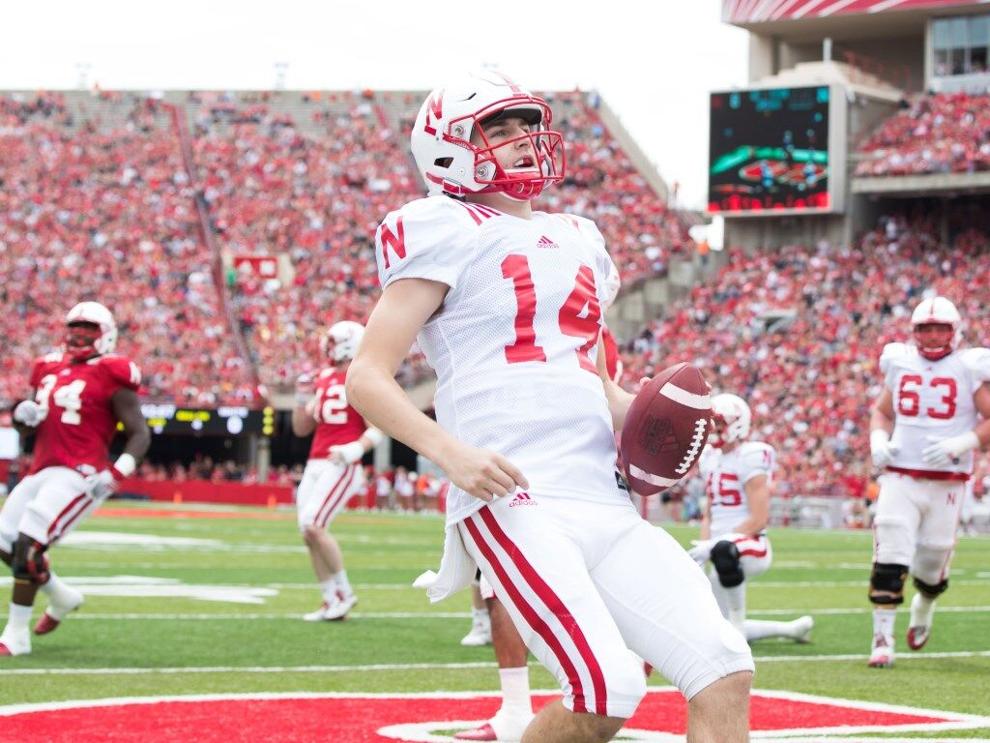 Tristan Gebbia didn't throw a single pass at Nebraska. But his spring game performances were right at the top, completing 65% of his 62 passes over two springs. Gebbia was particularly busy in the 2017 game with 30 passes.
"He's a heckuva young quarterback," then-coach Mike Riley said in 2017.
A few days later Riley anointed Tanner Lee as the starter over Patrick O'Brien and Gebbia. That disastrous season led to Riley's firing, then Lee went to the NFL, O'Brien transferred after spring camp and Gebbia galled Husker coaches by leaving just before the 2018 season began.
Now Gebbia (Oregon State) and O'Brien (Washington) could both be starting quarterbacks at Power Five teams, joining other former Huskers like Noah Vedral (Rutgers) and potentially Luke McCaffrey (Louisville).
If McCaffrey wins the job at Louisville this season — a longshot since he missed spring camp — it won't be because of his spring game performance at NU in 2019. He threw eight passes — and completed one.
---