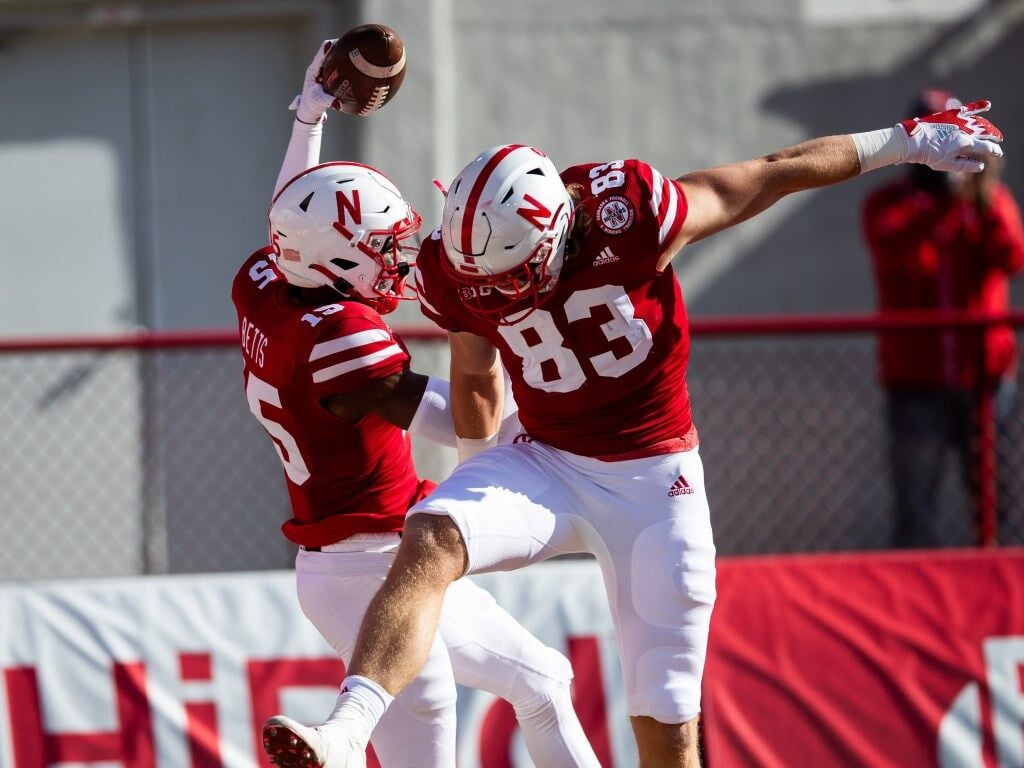 LINCOLN — When you grew up in the '80s and '90s, you heard a lot on TV about the preferences and recommendations of doctors, dentists, soda drinkers and choosy moms. Seven out of 10 preferred this. Six out of eight voted for that.
It made you wonder how the surveying process went.
With college football recruiting services, the process of rating players is done by humans. It's never perfect, but we at least get concrete numbers at the end of evaluations. Each major service — 247Sports, Rivals and ESPN — grades prospects a little differently, but choosy evaluators agree: One side of Nebraska's team has more blue-chip recruits.
This week's Stat Chat examines the Huskers' talent profile for 2021 among its 84 scholarship players and one unique walk-on, Oliver Martin, who may start. We found that NU's offense has more most-coveted recruits.
On the 247Sports composite — which combines the ratings of multiple recruiting services — eight of the top 12 players are on offense. On Rivals, it's nine of the top 14. On ESPN — which seems to like NU's defenders a little more — it's eight of the top 13.
Left tackle Turner Corcoran — the only top-100 player across all three ratings — is at the top of the talent list. Receiver Zavier Betts, tight end Thomas Fidone, quarterback Adrian Martinez, right tackle Bryce Benhart and center Cameron Jurgens are in that top group.
That's a lot of talent concentrated on the offensive line, which could be one of the Big Ten's best if it comes to full fruition in 2021.
Overall, four or five of those six highest-rated players could start on offense in 2021. Only Fidone, sidelined by a knee injury, is not likely to be ready for the 2021 season.
If you prefer 247's balanced rating approach, 23.8% of the scholarship players are four-star prospects — 24.7% if you include Martin, a four-star transfer likely to be put on scholarship this fall — and 12 of those are on the offense. For Rivals, the count is 13 of 23, including Martin.
ESPN — the recruiting service choosy Husker fans do not like based on a World-Herald Twitter poll — is the only one that favors the defense. Including Martin, 12 of the 27 four-star prospects are on offense. The defense has 15, including the entire projected starting defensive secondary.
NU does not have any five-star players. It hasn't had one since Aaron Green, a five-star according to ESPN and Scout, left in spring 2012. Barring a change in this cycle's trajectory, it appears unlikely Nebraska will sign a five-star for 2022, either.
The bulk of NU's scholarship players are three-stars. JoJo Domann, arguably the team's most valuable player, was a three-star across the board. So was tight end Austin Allen, defensive end Ben Stille and Javin Wright, Domann's backup and one of the more interesting athletes on the team.
NU has very few two-star recruits. Punter Daniel Cerni was one. Defensive lineman Chris Walker was another. Rivals gave outside linebacker Pheldarius Payne a two-star grade out of junior college, but ESPN nearly made him a four-star. Travis Vokolek and Samori Touré, both proven transfers, were two-stars out of high school according to Rivals. ESPN and the 247 composite had Vokolek as a three-star.
Luke Reimer, Damian Jackson and Trent Hixson — all former walk-ons — did not have star designations but earned scholarships after proving themselves in practice.
The relative absence of two-star prospects is a shift from the Bo Pelini era.
He signed 19 two- or zero-star prospects, according to Rivals, over seven recruiting classes. There were a few hits in that group — Stanley Jean-Baptiste, Jake Cotton and Drew Brown among them — but overall, it was not a successful endeavor. Scott Frost has signed three in four classes thus far — Will Jackson, Payne and Cerni.
» The 247 composite and Rivals generally agree on who is a four-star prospect. They differ over three four-stars on Rivals (Rahmir Johnson, Jackson Hannah and Eteva Mauga-Clements) and one four-star on 247 (Randolph Kpai).
The two services agree on the team's top three talents — Corcoran, Fidone and Betts. ESPN has Corcoran and Betts, but adds Martinez to the top three. ESPN also rates a bunch of four-stars in the 2017 and 2018 classes on NU's defense: Damion Daniels, Deontre Thomas, Will Honas and Deontai Williams.
Teddy Prochazka and Cam Taylor-Britt inspired a wide range. Rivals rated Prochazka No. 75 overall, while ESPN had him as a high three-star. Rivals had Taylor-Britt in the lowest category of three-star (a 5.5 in their system) while ESPN rated him a four-star. There is a similar disparity from the same outlets on incoming freshman receiver Kamonte Grimes.
» ESPN loves the talent in NU's secondary. All four projected starters — Taylor-Britt, Quinton Newsome, Williams and Marquel Dismuke — were four-star prospects when they signed with Nebraska. Six Nebraska defensive backs have four-star ratings from ESPN. If you think the Huskers' defensive backfield is the most talented position group on the team, ESPN most agrees with you.
» Among transfers, Nebraska has added two four-stars — Martin and Markese Stepp — plus Vokolek, Touré, and no-star Chris Kolarevic, who transferred from Northern Iowa. That's the same Kolarevic who's considered a "freak of nature" by teammate Nick Henrich.
---