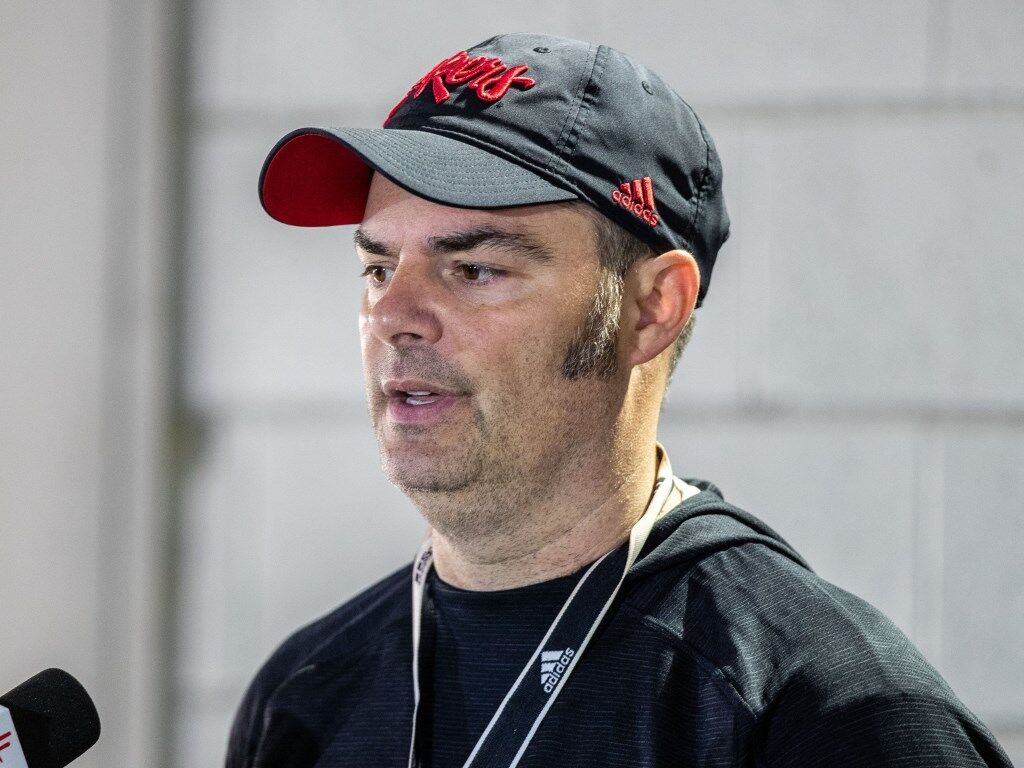 Ryan Held doesn't have to wait for any running backs to arrive this summer, and he said that's perhaps the best thing about this particular spring camp.
The guys who will run the ball for Nebraska next fall are here now, competing against each other. Six scholarship players and at least three walk-ons.
There's no depth chart or "bell cow" right now, Held said, but he needs two or three to emerge from that large group. NU's top two running backs from last season are gone — Dedrick Mills and Wan'Dale Robinson — and what remains is a largely unproven collection of players who have to do better than Nebraska did in 2020.
"It wasn't good enough, we've got to get more production out of that position, we have to," Held said flatly. "We have to be able to run the ball and be consistent in seeing our cuts and to really be an asset to our offense. ... For various reasons — injuries, inconsistencies — we weren't consistent at that position. So I've got to get it right. We've got to get it right."
The running backs have been a mess of injuries and off-the-field issues for the last two seasons, which repeatedly forced Nebraska to use Robinson, a wide receiver, as a back. Robinson transferred to Kentucky in the offseason in part because he was no longer interested in filling the running back role.
This spring, Held said Nebraska is grading every play of sophomore Markese Stepp and freshmen Rahmir Johnson, Ronald Thompkins, Marvin Scott, Sevion Morrison and Gabe Ervin.
Johnson has struggled at times through his two seasons of play, carrying the ball 29 times for 94 yards.
Stepp, a USC transfer, has a learning curve with NU's run scheme but is already a seasoned pass blocker thanks to USC's Air Raid offense. Held said the 235-pound Stepp is tough to tackle when he gets "downhill" toward the line of scrimmage.
"He's a downhill runner," Held said. "He'll definitely give us that element."
Ervin has made a strong impression, but because he's a true freshman, Held said he still has things to fix. Ervin has gained eight pounds since he arrived at Nebraska.
"He's got really good feet, really good vision, he's really smooth in what he does," Held said. "He's slippery, he can get through there on different things, he catches the ball well. And it means something to him. He wants to be really, really good. He's mad when he doesn't execute a play right. That's what I want. I want guys where it bothers the heck out of you if you don't do it right."
Held said Morrison would have played last season if he hadn't contracted COVID, which kept him out for three weeks. Thompkins was NU's No. 2 back to start the 2020 season but played sparingly.
"There was a piece of a nagging injury that he dealt with," Held said of Thompkins, who has suffered two ACL tears in his football career. "It's just a matter of getting over those type of things."
Held said walk-ons Cooper Jewett, Jaquez Yant and Zach Weinmaster could figure into the race as well. 
Nebraska has depth to overcome injuries, but it's arguably the most inexperienced group of backs in school history.
"We're not going to use any inexperience as an excuse," Held said. "There is no excuse. We've got to grow up and we've got to make it happen."