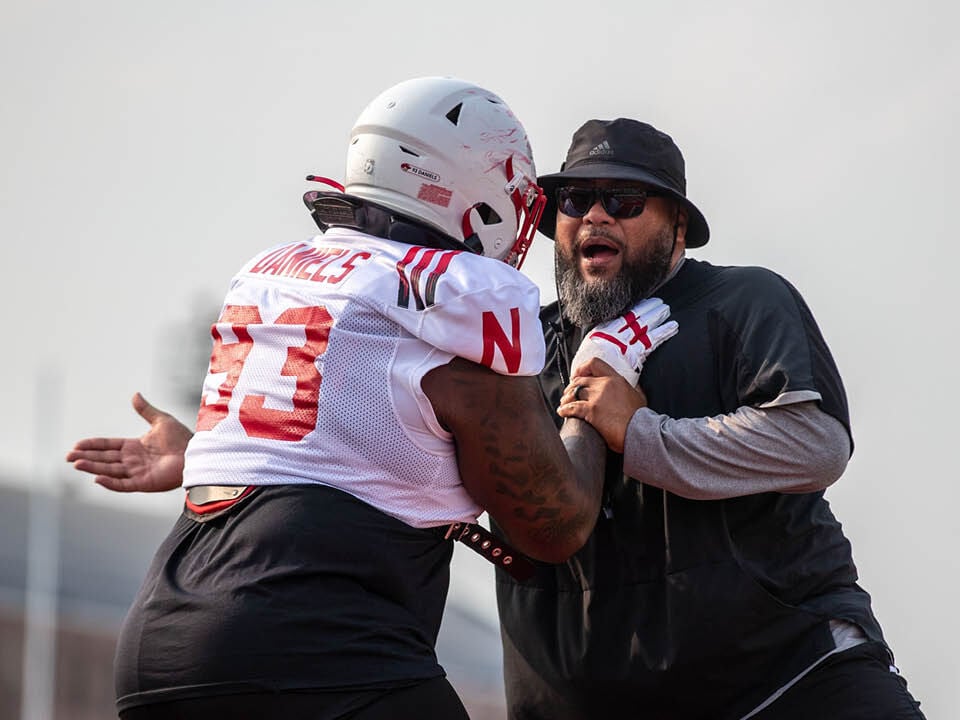 LINCOLN — In Erik Chinander's defensive system, the nose tackle pulls double his weight.
He fights four hands instead of two, 600 pounds instead of 300, and inhabits two gaps instead of one.
That's why the defensive coordinator says his nose tackles must be the "heavyweight champs" of Nebraska's defense. As defensive line coach Tony Tuioti mentioned Tuesday, the Huskers' big men control the pretext of every snap. So they can't afford to slip.
"In the 3-4 defense, everything starts from the inside out," Tuioti said. "(Nose tackles) need to command four hands. If (offenses) block them with just one guy, they've got to dominate."
Few players understand those expectations like fifth-year junior defensive lineman Deontre Thomas. When Chinander arrived at Nebraska, the Huskers lacked the 300-pound bodies that typically play defensive tackle. So Thomas, a 265-pound underclassmen, was asked to plug A-gaps.
"As a freshman I was getting blown off the ball," Thomas said. "It's not easy when those blocks come. That's 600 pounds on me."
Lucky for Thomas, the 600-pound problem no longer belongs to him.
In the three years since his freshman season, the Huskers have added colossuses like Damion Daniels (6-3, 325 pounds), Jordon Riley (6-6, 310) and Nash Hutmacher (6-4, 325) to absorb those duties. Tuioti said all three nose tackles have earned first-team reps this fall, but it appears Daniels and Riley will split most of the snaps.
And thanks to their offseason diet, they won't need many plays off. Riley said he lost around 30 pounds during the offseason, and Daniels has dropped 10 since last season, according to the roster on Nebraska's website.
Daniels and Thomas, football best friends, embarked on their offseason diet together. Thomas said he can't remember the last time he ate ice cream or drank a soda. Instead, he and Daniels eat greens and proteins.
"We eating salads," Thomas said. "That's different for us. We're used to eating tater tots and stuff like that."
The early returns seem positive. Thomas said he feels lighter. Riley sees a tangible difference in his stamina. And everyone has something to say about Daniels.
Thomas said Daniels is chasing ball-carriers 30 and 40 yards downfield in practice. Tuioti called the first week-plus of fall camp the best practices of Daniels' career. And Chinander said Daniels looks "more twitchy, more lean."
"He just looks like he's able to play hard," Chinander said. "If we leave him in there for two or four or eight (reps), he's able to go the whole time. I think that's a huge win for him."
Perhaps these nose tackles will instead be the light heavyweight champs of Nebraska's defense. Chinander said the Huskers' strength and conditioning staff ensured his players could still eat blocks without eating bacon.
But Riley believes size matters much less than intent. The more determined player wins when the ball is snapped, Riley said. If you're left one on one, beat your block and cause havoc. If you're doubled-teamed, command four hands, 600 pounds and two gaps. That simple.
If performed correctly, the nose tackle's job makes everyone else's easier. Occupying an extra blocker means linebackers can break into the backfield, which means corners don't have to cover as long and safeties can take risks.
In other words, even if Chinander's champions don't hear their name over the loudspeakers, they can still command the game.
"Like the center on offense," Chinander said. "His name's not going to get in the paper a whole bunch, but he's really going to help the team."
---