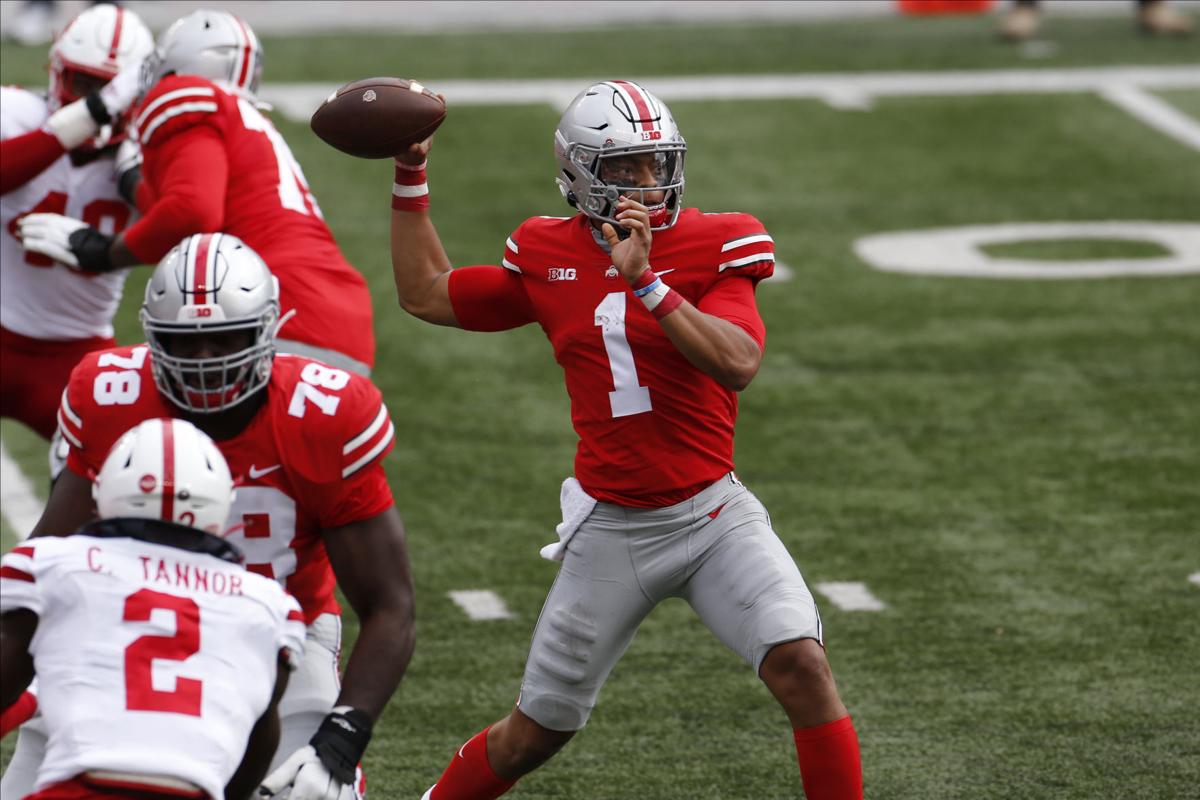 COLUMBUS, Ohio — The cathedral was awfully empty, the city seemed abandoned, the band was on a video screen, and the Big Ten started a season in late October without the smoke of a grill, the laughter of tailgates or an ounce of pomp. The circumstances surrounding Nebraska's trip to Ohio State were unique in a way only the coronavirus could make them.
But the Buckeyes' 52-17 win over the Huskers — in front of 1,344 in the cavernous Horseshoe — looked pretty familiar. Once you got past the exciting opening hour, anyway.
For roughly that long, NU stood toe-to-toe — and two quarterbacks to one — with No. 5 OSU before regressing to its recent mean of 80 yards in penalties, two costly turnovers and typical third-down struggles.
"Self-inflicted errors that we can fix," said NU coach Scott Frost, who knew he had a tall task taking on the Big Ten's best team. And he has little time to wallow, since Wisconsin comes to an empty Memorial Stadium next week.
Said outside linebacker JoJo Domann: "We fought hard but we've got a lot of things to correct for next week."
"We shot ourselves in the foot there a few times," said Adrian Martinez, who started the game but shared the QB role with Luke McCaffrey. Sometimes the two shared the same backfield, with initially thrilling results.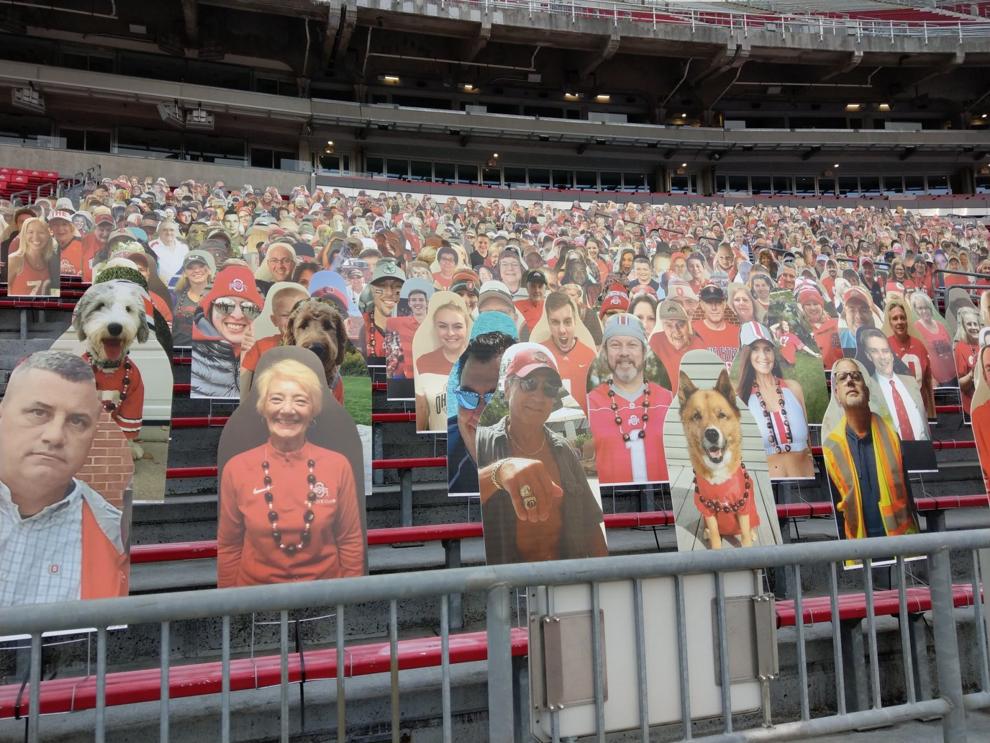 The Huskers (0-1) started the game with a spark: A four-play, 75-yard touchdown drive highlighted by McCaffrey — at running back — weaving 47 yards in and around Ohio State defenders. One Buckeye scribe in the press box didn't know who McCaffrey was. After nine carries for 87 yards, four pass completions for 55 yards and one reception, he won't be a mystery to anyone.
"I've been telling everyone that our two quarterbacks are two of our best players on our football team, and that certainly played out today," Frost said. "Both played well."
Ohio State quarterback Justin Fields, the best-known quantity in the league, responded with a sublime, elite performance. He answered NU's touchdown drive immediately, converting a key fourth down in the process.
Fields smoothly operated the rest of the way, completing 20 of 21 passes for 275 yards and two touchdowns. Though he was sacked three times, he consistently eluded NU's pass rush with smart scrambles. His only incompletion was a dropped touchdown.
When Nebraska stuffed OSU's run game early, Fields and his top two receivers — Chris Olave and Garrett Wilson — did the work themselves.
"Justin Fields is going to be a first-round (NFL) draft pick," Nebraska inside linebacker Collin Miller said. "You saw what we saw. He's making throws that guys on Sundays make."
Fields' first touchdown pass — a 42-yard post pattern to Wilson — gave OSU (1-0) a 14-7 lead. Adversity hit the Huskers for the first time, Frost said, and they responded by forcing one of the Buckeyes' two punts and answering with an 11-play, 78-yard touchdown drive that tied it 14-14. It was Frost and new offensive coordinator Matt Lubick's niftiest work of the day as they mixed power runs and play-action passes to put Ohio State on its heels.
That Husker offense can win some games in 2020. The offense for the rest of the game wouldn't win many.
NU neutered its next offensive drive with a delay of game — Frost said it was his fault — a sack and a tackle for loss. Just before halftime, Fields and Ohio State turned that into a short touchdown drive and a 24-14 halftime lead.
Then, after Fields opened the third quarter with a 17-yard touchdown run, Martinez committed a familiar mistake. He fumbled.
OSU cornerback Sevyn Banks scooped the ball and returned it 55 yards for the touchdown. Ohio State led 38-14, a deficit larger than any NU team has ever overcome. It wasn't about to do so Saturday.
Compounding the deficit was the loss of NU defensive backs Cam Taylor-Britt and Deontai Williams, who were ejected in the second half for targeting calls. Both will also miss the first half of next week's game against Wisconsin.
Frost called Taylor-Britt's penalty "dumb." Frost said he believed, from the field, Williams hit an OSU receiver in the chest with his shoulder. It's the kind of loss that could significantly hurt Nebraska's chances of slowing down Wisconsin's passing game.
"We've got to be smart when it's hits outside the box against defenseless receivers," Domann said. He had a targeting penalty against him reversed Saturday. In all, NU had eight penalties for 90 yards, and three 15-yarders on defense.
"We had too many penalties, they didn't have hardly any," Frost said, referencing OSU's trio of penalties for 14 yards.
NU lost the turnover battle 2-1, as well; McCaffrey fumbled on one of his quarterback runs.
NU produced 217 rushing yards, with the two quarterbacks accounting for 164 of them. The Husker passing game was efficient but somewhat inexplosive. Tight end Austin Allen had the longest catch at 26 yards. Frost said he likes the progress of his receivers and Martinez finding the tight ends in the offense.
"That's one game against a really good football team," Frost said. "So if we didn't throw it for 450 yards, there's always next week."
Indeed, without using the word, Frost and players embraced the context of Saturday's game. Ohio State fought as hard to play the 2020 season as Nebraska, but for reasons more rooted in potentially winning a national title. Frost, impressed with OSU's 2019 team, said the Huskers competed more gamely this year.
"We hung with them a lot better than last year physically, and I give a ton of credit to them — that's a really good team — but I was proud of how our kids fought," Frost said.
The Buckeyes were unfazed by NU's early spark and unsympathetic at game's end. In the final minute, Ohio State chose to score a touchdown on fourth down instead of kneeling the game out. OSU coach Ryan Day apologized afterward for not telling his backup quarterback to handle the situation better.
Nebraska, once in that place of restraining itself against lesser foes, now is on the other side of that, at least in relation to the Buckeyes, the prohibitive favorite to win the league. The Big Ten West favorite, Wisconsin, rolls in next week, having beaten the Huskers seven straight times.
"That's the cards we were dealt," Frost said. "We're just excited to be playing football. That's one game, and more than anything, I was just thrilled to be out there with the guys."
However odd the environment might be.
Photos: Nebraska travels to Ohio State for Big Ten season opener
The Huskers travel to Columbus to face Ohio State in the Big Ten's season opener on Oct. 24.