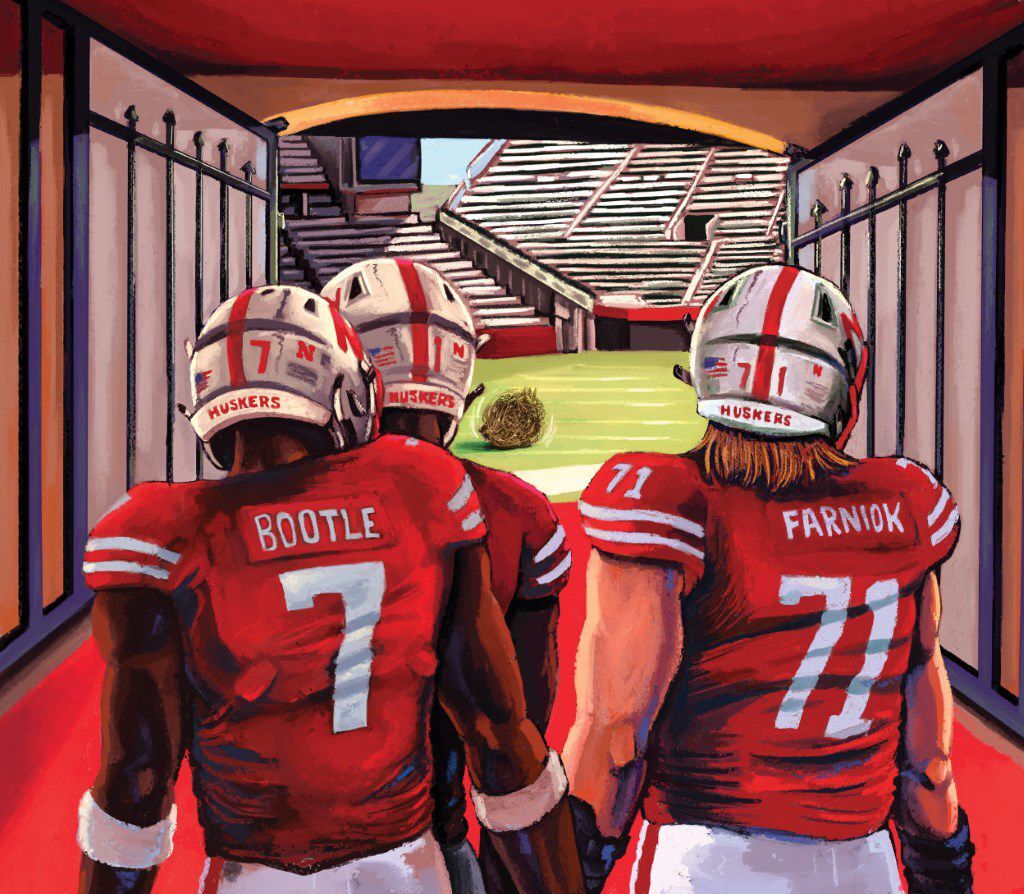 LINCOLN — The Nebraska lifers wonder what it will be like. A home football game without 90,000 of their closest friends.
Barrett Ruud started going to games at Memorial Stadium as a 5-year-old in 1988. He played there 29 times as a Husker and has coached there 14 times and counting as inside linebackers coach. Scott Frost's family had season tickets going back generations.
Saturday will have no precedent as the Huskers become the final Big Ten team to play at home in the year of the pandemic. No fans in the stands beyond a smattering of family members. No kids stretching for a Tunnel Walk high-five. No smell of Runzas and no roar as the Blackshirts line up for a key third-down play.
"Certainly not the same as having Husker faithful in there and a sea of red and giving us enthusiasm and noise," Frost said. "Not a normal home-field advantage, in my opinion."
Said Ruud: "To play a game when it's empty is really going to be strange."
Focusing on the other details of Nebraska's cross-division tilt with Penn State provides little relief.
Two winless teams with quarterback uncertainties battling in a quiet coliseum is hardly what anyone expected when — any version — of the league schedule came out. And as much as the pandemic has altered college football this fall, the game-day image of a deserted Memorial Stadium — the home of the ongoing NCAA record for consecutive sellouts dating to 1962 — will be among the most visually striking.
So how can Nebraska make such an unfamiliar setting feel like home?
The team is doing its part by keeping a mostly normal routine. Go through Friday meetings and stay at a hotel at night. Then bus to the stadium ready to roll.
Limited support staff will keep other traditions going. Some will release clusters of red balloons after the Huskers' first score. Fireworks will go off after touchdowns. The videoboard will still run features, highlights and music.
Garrett Klassy is Nebraska's senior deputy athletic director who oversees various external activities like marketing, communications, HuskerVision and creative media. He said the school has sold more than 6,000 cardboard cutouts — the most in the country, he thinks — with many of the full-sized variety flanking the red carpet of the Tunnel Walk. Other cutouts filled the stands in the lower East Stadium, with the overflow in the bleachers beyond the north end zone.
Other ideas fell through because they weren't financially viable, Klassy said. One would have had LED boards lining the end zones. Another would have allowed for fan-player interaction through Zoom after scores, like the NFL has done. The marketing team considered everything as it tried to make the most of football amid a pandemic.
"We gotta keep the players engaged in the game and have them excited and make it feel like a home game as much as possible," Klassy said.
Other adjustments are for the fans who can't attend. There will be a "second screen" option on Facebook and Huskers.com that plays prerecorded performances from NU's cheerleaders, dance team and band. A live video stream dedicated to player warmups will be available 90 minutes before kickoff — it debuted last year and drew between 60,000 and 80,000 each week, Klassy said.
Considering the virtual spring game attracted about 300,000 impressions, Nebraska expects the features to be popular.
"We know it's obviously not going to be the same as having 90,000 Husker fans screaming inside Memorial Stadium," Klassy said. "But when it comes to trying to get it as close as possible, we think we've done a really nice job."
The in-person audience for Nebraska's latest home opener in 125 years will almost certainly be the smallest to witness a Husker game in Lincoln. Though the program began officially estimating crowd totals in 1946, newspaper accounts of attendance were common since NU football's earliest days in the 1890s. Memorial Stadium opened in 1923 with over-capacity gatherings of 30,000-plus, with some fans that season settling into the unfinished upper concrete section.
Nebraska has played twice already in near-empty venues at Ohio State and Northwestern, though those games likely had more fans in the stands than the 1962 Gotham Bowl. That one was played on a sub-freezing gray December day at Yankee Stadium and — despite official paid attendance of 6,166 — multiple accounts put the actual number of spectators at fewer than 500. The Huskers beat Miami in a 36-34 thriller.
A lengthy newspaper strike in the area meant the game had little hype. And the bowl's financial problems led NU officials to hold the team's flight on a Lincoln runway for two hours until they were assured a certified expense check for $35,000 had cleared.
"If I had to do it over again, I wouldn't," coach Bob Devaney said before the game.
Current Nebraska players each have four tickets for family to use Saturday, and Penn State family can attend, too. Coaches from both teams are also allowed limited guests.
NU junior receiver Kade Warner said his parents will be there. It won't be the first time NFL hall of game quarterback Kurt Warner and his wife, Brenda, will make noise for their son.
"I know a lot of guys have been using all their tickets to try to fill up those stands as much as we can," Kade Warner said. "The vibe is definitely going to be different, but we've already gone through two games with no fans, so we're used to it now. It's going to be a nice change to have somebody cheering for us and in the stands with a little bit more energy. But we're ready for it."
Other players said external factors won't matter Saturday — their focus needs to be on their assignments and correcting previous mistakes.
"It's just playing for the love of the game right now," senior offensive lineman Matt Farniok said. "You really shouldn't need a crowd of screaming fans to get you going."
Added senior safety Marquel Dismuke: "If you're worried about the stands, you're worried about the wrong thing."
Senior defensive end Ben Stille, an Ashland-Greenwood graduate, said he'll know something isn't right Saturday. But the team has practiced in the vacant stadium countless times. It shouldn't affect play.
Many things that once seemed unimaginable are now routine in the year of COVID-19. Add a deserted Husker home game to the list.
"The atmosphere and the electricity in the air is definitely a feeling you don't get anywhere else in life," Stille said. "So it stinks to miss out on that our senior year. But we just gotta do a good job of bringing our own energy and getting it done ourselves."
Photos: Husker fans through the years
Through thick and thin, Husker fans have been there for all of the wins, losses and coaches.