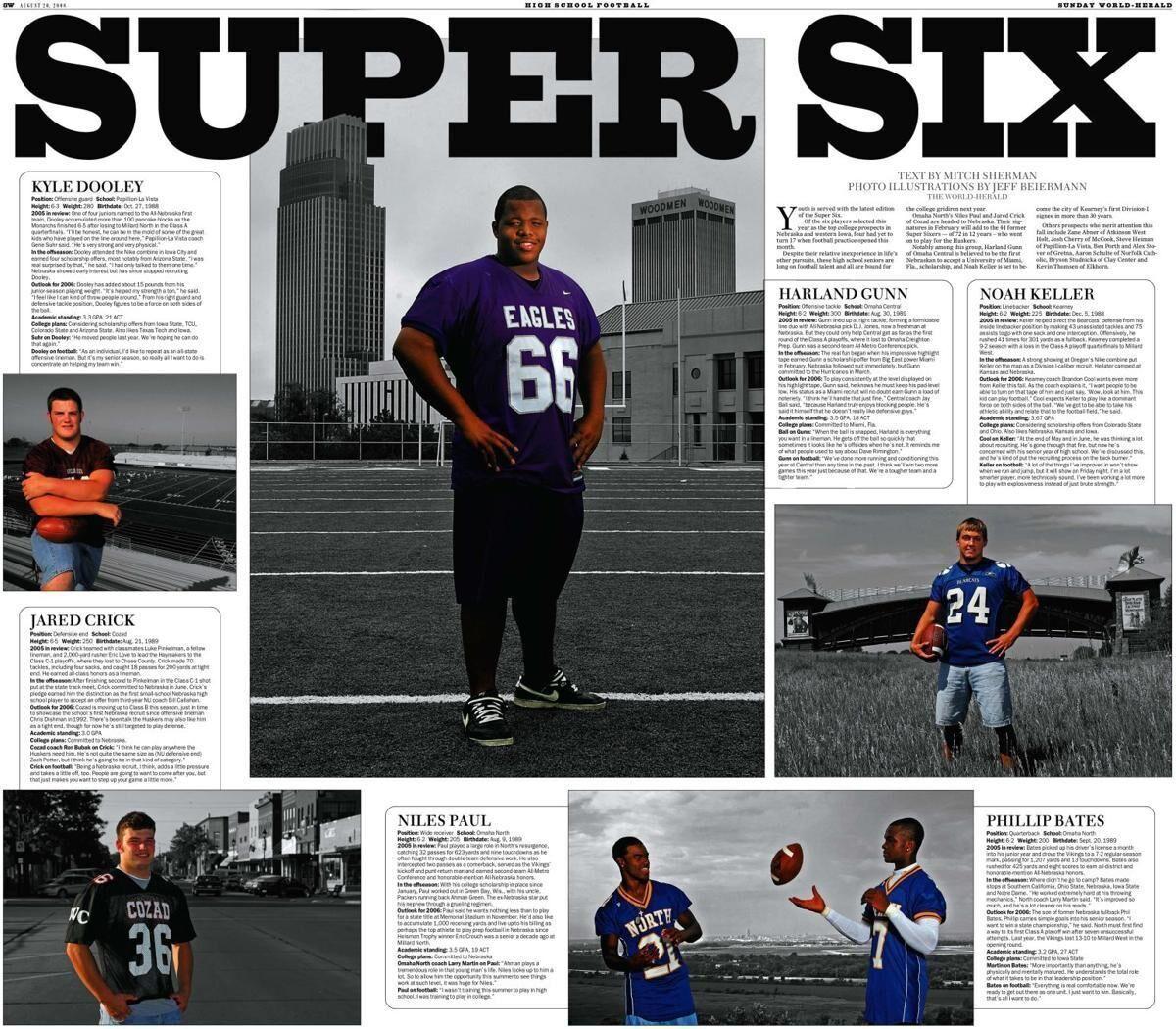 LINCOLN — Since 2006, the Omaha World-Herald has named 97 high school players in its Super Six.
Yes, that's more than you'd think — we added a seventh, Christian Lacouture, in 2012 when he suddenly transferred to Lincoln Southwest. Here's another surprise: Out of those 97 players, 42 of them played at Nebraska. That includes three — Noah Vedral, Zach Schlager and Jared Bubak — who initially attended other schools before transferring into NU, and it does not include Tanner Borchardt, the Gothenburg offensive lineman who eventually played basketball for the Huskers.
Three of the four Super Six players to so far have the most success after high school — Omaha South's Noah Fant, Millard West's Harrison Phillips and Creighton Prep's Easton Stick — didn't attend Nebraska. Of the ones who did, here are the top six Huskers.
Jared Crick, Cozad, 2006: He was part of the best Nebraska defensive line in history — the unforgettable 2009 group — and finished his career with 20 sacks and 29½ tackles for loss. He was a second-team All-American in 2010, a fourth-round NFL Draft pick and a six-year NFL veteran.
Niles Paul, Omaha North, 2006: During four seasons at NU, Paul caught 103 passes for 1,532 yards and five touchdowns and had three kick/punt return touchdowns, as well. He's one of the few skill players who panned out. Paul spent nine years in the NFL. Crick and Paul are the only two Super Six Huskers who have been drafted into the NFL.
Josh Banderas, Lincoln Southwest, 2012: A four-year starter at linebacker, Banderas battled injuries in college and especially after college. He still logged 232 tackles, including 93 during an excellent senior season in 2016.
Ben Stille, Ashland-Greenwood, 2015: A human lunch pail, Stille has been undersized ever since he left the outside linebacker spot (where he was pretty good) to play defensive end for the Huskers. In four years, he has 107 tackles, 13 sacks and 24 tackles for loss.
Baker Steinkuhler, Lincoln Southwest, 2007: A stalwart defensive tackle on some of Nebraska's best defenses, Steinkuhler's pro career was dashed by an injury suffered in the 2012 Iowa game. That injury may have been the single biggest factor in NU's 70-31 loss to Wisconsin the Big Ten title game one week later.
Jerald Foster, Lincoln Southeast, 2013: He edges out Zach Sterup — who had a better pro career – because Sterup was in and out of the starting lineup for much of his career. Foster started the last 2½ seasons — it would have been three seasons had he not been injured in summer 2016 — for the Huskers, locking down a guard spot. While the Super Six offensive linemen who matriculated to Nebraska weren't bad — Foster, Sterup, Ryne Reeves and Cole Pensick among them — none has been a first-team All-Big 12 or Big Ten performer. Perhaps current Huskers who were also on the Super Six — Cam Jurgens, Ethan Piper or Teddy Prochazka — can do it.
Other Husker-related takeaways from 16 years of the Super Six:
>> Running backs have not really panned out. Collins Okafor and Jaylin Bradley were busts at Nebraska. Moses Bryant was, too, although he played some corner, as well. Fullback CJ Zimmerer was a multi-year starter, but mostly at fullback. Arguably the best running back to come out of the state since 2006 is Andy Janovich, a walk-on from Gretna who was not part of our Super Six.
>> Defensive line has been the best position. Crick, Stille, Steinkuhler, Mick Stoltenberg are the key names there, and Garrett Nelson often does something close to a defensive end's job. Linebacker is second behind defensive line.
>> Decent — but not elite — offensive linemen. Perhaps the player who may have been best positioned to be a star was Sterup, an ultra-gifted athlete out of Hastings St. Cecilia who picked Nebraska over a bevy of offers. But Sterup didn't find his stride until NU moved to more of a pro-style offense in 2015. Andrew Rodriguez was a major star out of Aurora, but he battled various injuries in his time at NU.
>> Just a few quarterbacks. The best Super Six QB, Easton Stick, went to North Dakota State. As for Nebraska, Noah Vedral eventually matriculated to NU for two seasons — he first went to Central Florida — while Heinrich Haarberg just joined the program. Many of the best quarterbacks in school history — Eric Crouch, Gerry Gdowski, Scott Frost — played in the state of Nebraska. But, since Crouch, the state has not produced an all-conference guy who landed at Nebraska. Stick may have been, but Nebraska did not offer him a scholarship. NU wanted AJ Bush instead.