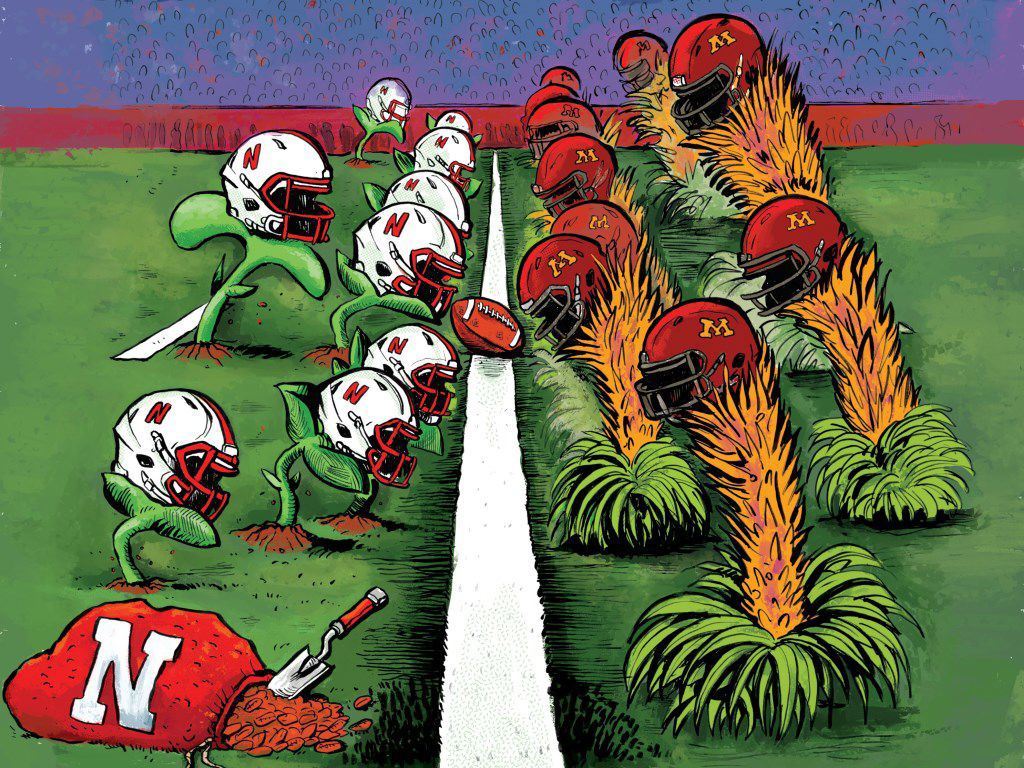 LINCOLN — Noah Vedral has a prediction about Nebraska's offense.
In a sense, it's ironic that the 20-year-old quarterback speaks with conviction about the future of the Husker attack. The redshirt sophomore has invested more time in Scott Frost's offense than any other player on the roster, having served as a backup at UCF in 2017. But he has also made precisely zero collegiate starts — a number that could change Saturday if Adrian Martinez is unable to go.
"We'll get faster and faster and faster the more people know," Vedral said. "I think that's really where we can go with this is faster."
For all the chronic symptoms ailing the offense — erratic snaps, penalties, turnovers and missed reads — the best prescription might be time. And the Huskers need look no further than their opponent Saturday night for a testimonial on the power of experience.
That's not to say Minnesota's offense is a veteran group. Seven of 11 starters are recruits of third-year coach P.J. Fleck.
But five of those have appeared in every game since arriving on campus. The average for a Gopher starter is 18 1⁄2 career starts and about 24 career games.
"Went from the youngest team in America last year, now I think we're the second youngest, so we moved up one spot possibly," Fleck said in July. "That doesn't mean you can't win. We're just young."
Nebraska may have assumed that unofficial youth title on offense in its second season under this coaching staff. Consider:
The starters are averaging barely 18 career games of experience (13.8 starts). That number dips further if Vedral starts Saturday over Martinez, the 19-year-old sophomore who has played and started 17 games.
The average age of NU's starters on offense is 20.3. Four have single-digit career starts, including teenagers Wan'Dale Robinson (three) and Maurice Washington (six) and 20-year-old linemen Cam Jurgens and Trent Hixson (six apiece).
NU's lone senior starter, 22-year-old receiver Kanawai Noa, joined the team in the summer as a grad transfer. The only other seniors to play on offense are a pair of juco receivers in Mike Williams and Jaron Woodyard along with running back Wyatt Mazour. The quartet have combined for 20 touches and 179 yards halfway through the season.
Still, there has been progress. Nebraska is 127th nationally with 14 turnovers, but last weekend the offense went turnover-free for the first time in the Frost era. It's been flagged 16 times for 100 yards, but six times for 35 in the past four games.
"Young offenses can make plays," Frost said. "They can also make mistakes. ... If we limit mistakes, we're going to have a chance to win games. You can tell (Minnesota's) young players are really good. Some of our best players are young guys. There's a bright future ahead. But I think the key is be efficient and be yourself."
Fleck said his 2018 squad emerged from a 7-6 campaign better for the experience. It endured failure, losing five of six. It created building blocks, ending with a cathartic blowout win over Wisconsin and a bowl victory against Georgia Tech. Minnesota's theme — a race to maturity — played out as the Gophers grew up through shared moments.
It helped to focus on smaller goals rather than just winning games. Winning comes down to turnover margin, explosive plays and missed tackles, Fleck said. So the team worked on those things.
"When you have that many young players playing at once, it's hard to be able to get better," Fleck said. "It's just about getting out there and doing your job. But towards the end of the year, I thought we were able to get better in a lot of areas."
Minnesota's two senior offensive starters have been a major boon to the offense this fall. Running back Rodney Smith (on pace for a 1,000-yard season) and receiver Tyler Johnson (team-highs with 28 catches and five touchdowns) are dynamic and experienced. And while the offense overall is still young, it has steadily improved to become a top-30 unit in scoring (35.8 points per game), completion percentage (70.3) and third-down conversion percentage (45).
Nebraska defensive coordinator Erik Chinander said it doesn't matter to him how old the Gophers are. He sees good schemes and good players. He sees a strong offensive line that could stay entirely intact again next season. Minnesota isn't going anywhere soon.
"They're like us," Chinander said. "They've taken a big step from last year to this year and probably the year before. They have one year up on us as far as a maturity standpoint."
NU junior cornerback Dicaprio Bootle said the tricky part of defending a greener attack is there isn't as much track record to study. Identities aren't fully formed.
"They have the ability to change on the fly and the ability to attack based off of what we're doing," Bootle said. "At the end of the day we just have to go out there and play football. They're going to make a couple of plays. We just gotta find a way to make more plays than they make."
Nebraska's offense, meanwhile, has regressed in most statistical categories from last year. But much like the 0-6 start from a season ago that turned into a 4-2 finish, the Huskers think a strong second half is coming.
Their counterparts in Minneapolis have already experienced it.
"I just think it comes with time a little bit," Robinson said. "I feel like over time we're just going to keep continuing to get better and better. Once we get to later in the season, then we'll really, really be clicking."
Sign up for Big Red Today news alerts
Get a daily Husker news roundup, recruiting updates and breaking news in your inbox.
Photos: Husker fans through the years
Through thick and thin, Husker fans have been there for all of the wins, losses and coaches.