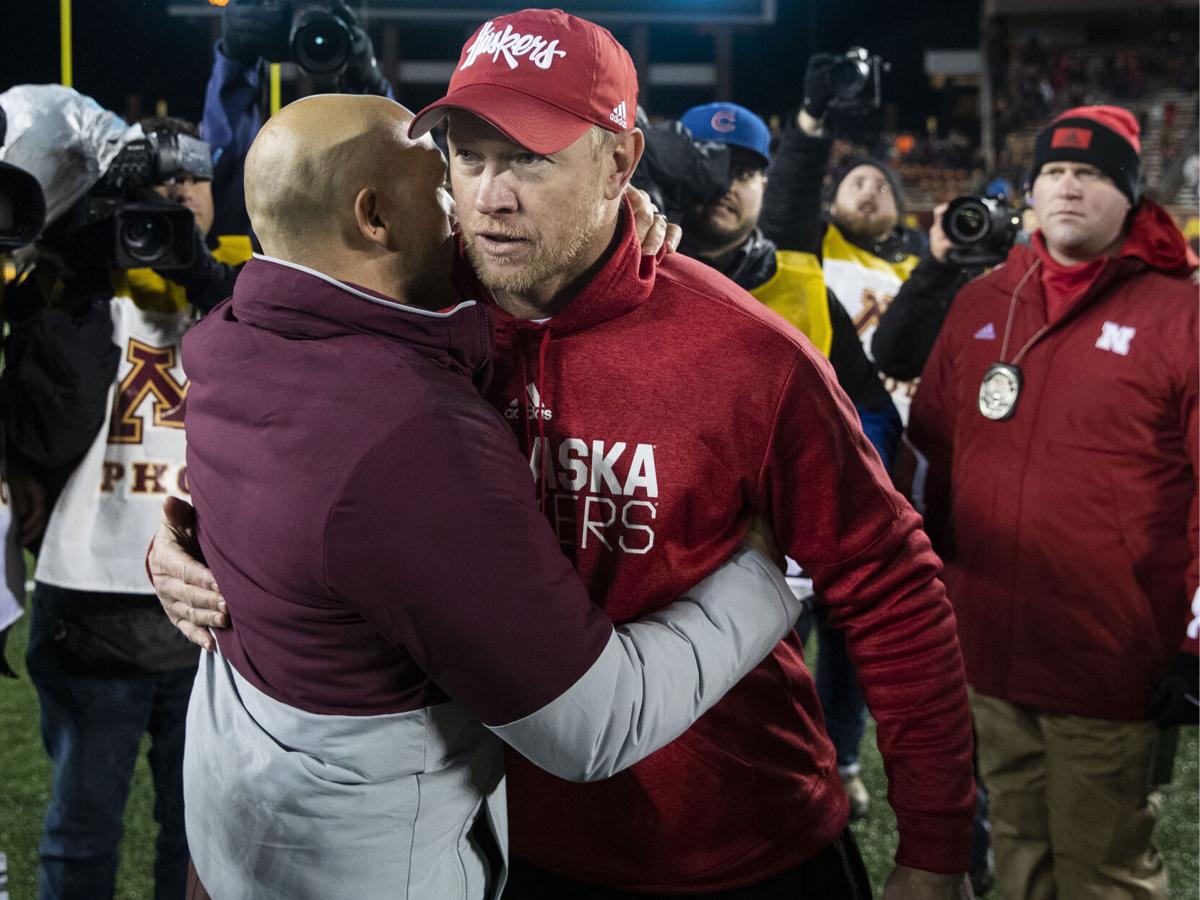 MINNEAPOLIS — As we enter the land of oars and boats, let's do some sloganeering.
I know Scott Frost is not a slogan guy. He said so last summer at Big Ten media days when asked about having a mantra for this season.
Frost: "If the players need me to motivate them or come up with a unique slogan to play harder, I probably don't have the right players.
"I played for a coach in Coach (Tom) Osborne, he didn't need all the sayings and slogans. He just taught us the right way to do things."
This appeared to be a shot at Minnesota coach P.J. Fleck, owner of the "Row The Boat" slogan, which is pasted all over Huntington Bank Stadium. Fleck also owns a 2-1 record against Frost.
The inference that having a slogan means you don't have the right players couldn't be more wrong. Just look at the past two seasons.
In 2019, Fleck and slogan pushed Frost's Huskers all over the stadium 34-7. Last year, a COVID-depleted Gopher team came into Lincoln and took a gutsy 24-17 win.
Needless to say, Minnesota players and fans were not happy with Frost's comment last summer. And many promised to remember it come Oct. 16.
To which I say, if you can't beat 'em, write your own slogan.
A couple of ideas would fit Nebraska.
Frost may not remember, but in 1994 Nebraska had a slogan.
That referred to Nebraska's 18-16 loss to Florida State in the 1994 Orange Bowl and being a missed field goal from the national title. (Trev Alberts can tell you all about it.)
The 2021 Huskers have some unfinished business of their own.
First, a 23-20 loss to Michigan State on Sept. 25. Then last week's 32-29 defeat to Michigan. A couple of three-point punches to the gut.
With five games left, Nebraska needs to learn how to finish off a victory.
Mostly the Huskers need to win, period. Which brings us to the second option.
It's not original. But a Nebraska bowl game would definitely be something different.
With three wins by mid-October, the clock is ticking on a six-win bowl season. The next two, beginning with Minnesota, look like must-wins.
That's because the last three are Ohio State (which NU has beaten once in the Big Ten), at Wisconsin (where NU hasn't won in the Big Ten) and Iowa (lost six in a row to the Hawkeyes).
If Nebraska can get to five wins by Ohio State, it will set up three chances at a signature win that would put the Huskers in a bowl. A November to remember, indeed.
But that starts with a victory over Minnesota, a team missing its top two running backs but still with plenty of physical brutes and a savvy quarterback. And likely in front of a crowd of around 40,000, maybe less.
If Nebraska plays like it has in recent weeks, particularly in the playmaking pass department, it should have a good chance to win. The Huskers have proven they can take a punch. But they have to get off the mat one more time before next week's bye.
If they don't win, well, Nebraska's season might need a boat. A life boat.
» Fleck is a certifiable character. He comes off as a goofball. He gets under people's skin, including Frost's probably.
But Minnesota football is no gimmick. Fleck can coach.
Two years ago, his Gophers won 11 games, including the Outback Bowl over Auburn. You saw the way they handled Nebraska. That was substance — not smoke, mirrors or slogans.
Last year Minnesota had issues with COVID-19, and went 3-4 with one game canceled. But in winning at Nebraska with an undermanned squad, the Gophers showed more substance.
Saturday represents the classic Big Ten game for Frost and Nebraska. It's an opponent you better respect, because it can beat you. The way to respect it is to show up with your A game, play hard and not make mistakes.
The detailed account of Steve Pederson's ill-fated 2004 coaching search is well done by Mitch Sherman and Max Olson, a pair of World-Herald alums.
It has a big revelation that Pederson's first choice was Mike Sherman, then the coach of the Green Bay Packers. Pederson was certain he had Sherman when he fired Frank Solich.
Sherman, who thought he might be out in Green Bay, mulled it over, started winning and decided to stay. A few years later he ended up at Texas A&M, where he was 25-25 in four seasons.
He was the first of four NFL coaches Pederson went after before ending up with Bill Callahan.
What's striking is how Pederson wanted to mortgage the future of a stable program on the long-shot bet that an NFL coach would not only come to Nebraska, but also translate to college football.
Though Sherman didn't come to Lincoln, his daughter Sarah did. She got a job in the sports information department.
That's where she met former NU quarterback Zac Taylor, now the coach of the Cincinnati Bengals. Zac and Sarah are married and have four kids.
At least there was one happy ending to the story.
» The one time Frost beat Fleck was in 2018, his first year at Nebraska.
Nebraska hammered the Gophers 53-28 in Lincoln. Nebraska had three runners over 100 yards and Adrian Martinez completed 25 of 29 passes for 276 yards.
I'm not saying Nebraska will score 53, but Martinez is playing at that level again.
Tom's Pick: Nebraska 35, Minnesota 21.
---