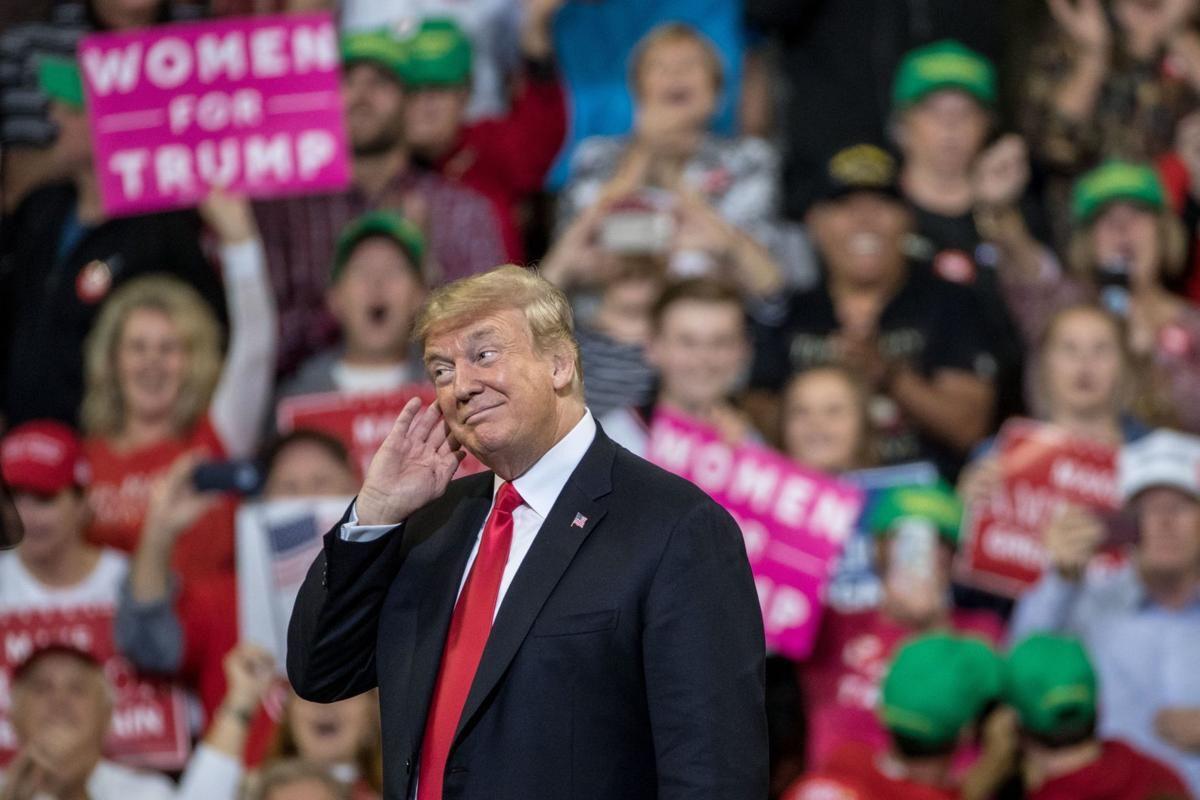 LINCOLN — The Big Ten's decision to postpone fall sports officially became political football on Tuesday after President Donald Trump called the league's commissioner, Kevin Warren, to discuss how the conference's presidents and chancellors might reverse an 11-3 decision made on Aug. 11 against playing before 2021.
The president used his favorite social medium, Twitter, to announce that he'd had a "productive conversation" with Warren about the prospects of playing football this fall.
"Would be good (great!) for everyone — Players, Fans, Country," Trump tweeted. "On the one-yard line!"
Had a very productive conversation with Kevin Warren, Commissioner of the Big Ten Conference, about immediately starting up Big Ten football. Would be good (great!) for everyone - Players, Fans, Country. On the one yard line!

— Donald J. Trump (@realDonaldTrump) September 1, 2020
Such a statement typically means the goal is about to be reached. But the Big Ten seems far from playing soon, even as it officially acknowledged the call between Trump and Warren.
"The Big Ten Conference and its Return to Competition Task Force, on behalf of the Big Ten Council of Presidents and Chancellors, are exhausting every resource to help student-athletes get back to playing the sports they love, at the appropriate time, in the safest and healthiest way possible," the statement read.
According to the league, the White House reached out Monday to start a conversation. The Big Ten is now using a media consulting firm, Anachel Communications, which has advised the NCAA, UCLA, Baylor and West Virginia, among other clients. Anachel bills itself as "global communications experts to positively impact your brand, reputation, and revenue."
An Ohio State football site, Lettermen Row, reported Tuesday that the call between Trump and Warren centered on getting rapid tests from the massive stockpile that the government purchased from Abbott, which has emergency approval from the FDA to produce 15-minute saliva-based COVID-19 tests that do not require a lab to determine positivity.
Warren doesn't ultimately control whether the league plays this fall. The Big Ten presidents and chancellors do, and 11 of them voted to postpone the season until at least January 2021. On Aug. 19, Warren wrote in a letter that the decision would not be revisited.
But a plan has emerged inside the Big Ten scheduling committee — chaired by Wisconsin Athletic Director Barry Alvarez — to potentially play football Thanksgiving weekend. Trump appears to be pushing for the league to start playing in September and October, much like the ACC, Big 12 and SEC are doing.
National sports radio show host Dan Patrick, citing an anonymous source, said the Big Ten is aiming for a Oct. 10 restart if the league can "pass updated safety measures and procedures."
Nebraska Athletic Director Bill Moos refuted that report.
"Nothing to that rumor," Moos said via text.
Later in the evening, on Big Red Wrap-Up, Moos said the earliest date the Return to Competition Task Force is considering is just around Thanksgiving. Two other models would start in 2021 and feature a seven- or eight-game schedule. Watching other conferences play in September while sitting on the sideline will be tough on Nebraskans, Moos said.
"Hopefully we can get something happening before too long in a safe manner and get with it," Moos said.
Trump inserted himself into the Big Ten conversation not long after his opponent in the 2020 presidential election, former Vice President Joe Biden, ran an ad suggesting Trump is to blame for football not being played in some areas.
The ad features empty Michigan, Wisconsin and Penn State stadiums — all three are in what political pundits consider swing states — and ends with the tagline: "Trump put America on the sidelines. Let's get back in the game."
The implication of the ad is that Trump's management of the coronavirus pandemic has forced sports teams off the field, kids out of classrooms and worshipers out of churches.
But in many parts of the nation, all of these things are still open. In Pennsylvania, for example, Pittsburgh's college and NFL teams, Temple, the Philadelphia Eagles and high school programs are all playing. In Ohio, the story is similar. Penn State and Ohio State are not playing, nor are any MAC teams.
John Hibbing, a University of Nebraska-Lincoln political science professor, said the stadiums featured in the Biden ad are in key battleground states for the upcoming political election.
"Pennsylvania, Michigan and Wisconsin are the states that surprised people and put Trump over the top and gave him the White House, allowed him to win the electoral college (in 2016)," Hibbing said. "And the same would be true in 2020. Those are three of the 10 or 12 really crucial swing states in the country."
After the Biden ad, Trump said in a tweet he wants Big Ten football back, and that Democrats do not "for political reasons."
No, I want Big Ten, and all other football, back - NOW. The Dems don't want football back, for political reasons, but are trying to blame me and the Republicans. Another LIE, but this is what we are up against! They should also open up all of their Shutdown States.

— Donald J. Trump (@realDonaldTrump) August 28, 2020
Hibbing said he's "a little bit doubtful" that Trump's involvement in the Big Ten decision-making process would have an impact on the election, but offered "one proviso."
"To take one probably unlikely hypothetical, if it really did appear that Trump rode in on the white horse and saved Big Ten football, I suppose in a super-close race — as we expect a lot of these states to be — it could potentially make a difference," Hibbing said. "Other than that, if it just goes along like it is, with a lot of people scratching their heads and saying, 'Well, is it really wise for the Southeastern Conference to go ahead and play football?' We need to see it play out. Let's play a couple games, and it may be the Big Ten and Pac-12 are proved to be the wiser conferences."