2020 marks 50 years since Nebraska football entered the history books with its first national championship season. The 1970 Huskers, coached by the legendary Bob Devaney, broke through on a grand night that capped a grand season, giving momentum to a fan base whose fervor has barely waned to this day. Each week, through the beginning of January, The World-Herald will revisit the 1970 season, allowing readers to relive the first Husker national title and get to know — again — the players and coaches who made it happen.
Nebraska's 1970 national champions had linemen from California, a defensive end from Virginia, a punter from Vermont and other starters from across the upper Midwest.
But none of them, Jerry Murtaugh says, could outrun two starters in the secondary from Columbus Scotus, Joe Blahak and Bill Kosch.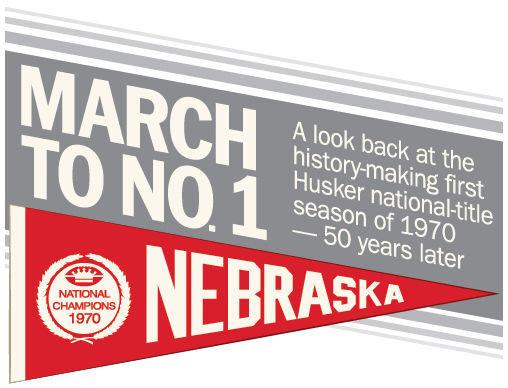 Not even Johnny Rodgers? Not in a 40-yard dash.
"Two white boys. Fastest guys on the team," said Murtaugh, an All-America linebacker from Omaha North on the '70 Huskers. "We're going, Dang. They were movers."
Blahak and Kosch, Little League all-star teammates and friends since junior high, started on the 1970 and 1971 national champions. Both became two-time All-Big Eight picks.
Blahak, the gregarious cornerback, went on to play five years in the NFL before moving back to his home state and entering the insurance business. He died of a heart attack in 2016.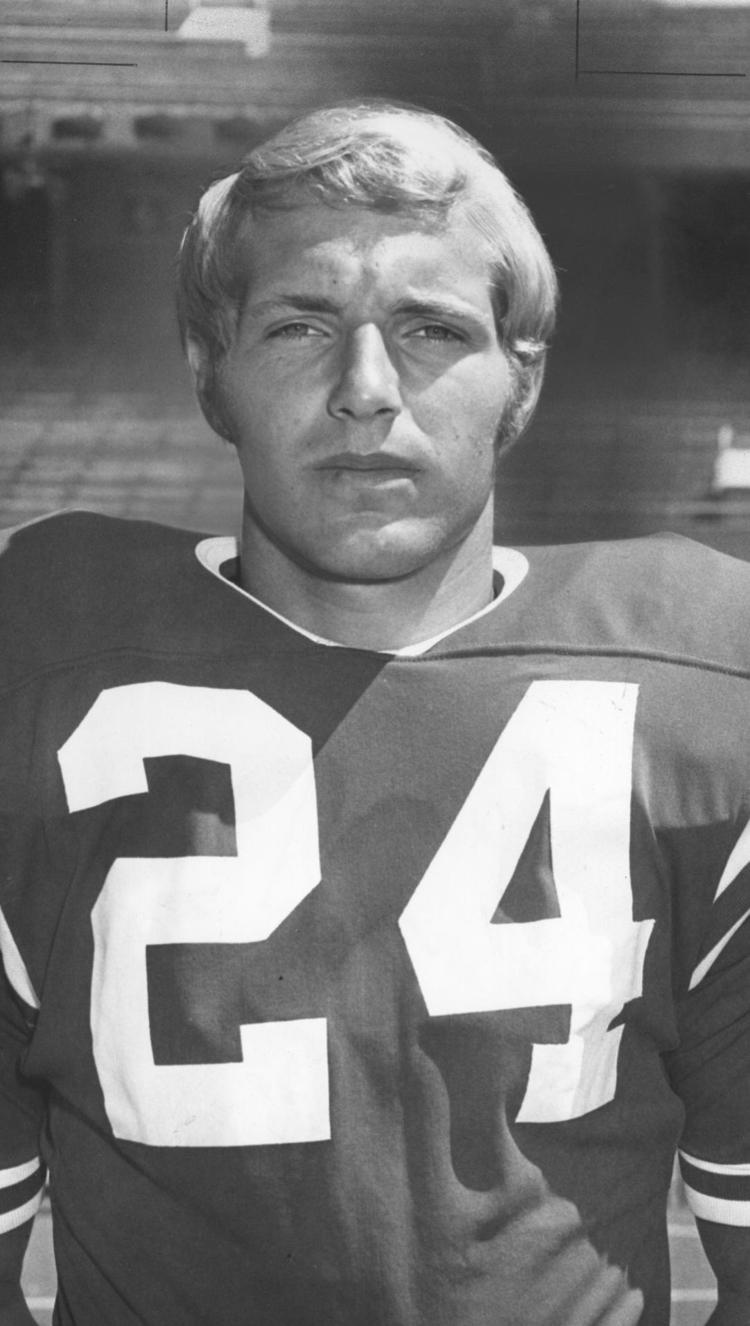 Kosch, the quiet safety, studied mathematics and engineering, became an academic All-American and built a career as a fuels engineer for the Nebraska Public Power District. He's still on the job at age 70.
He has fielded questions his entire adult life about his toughest day as a Husker, the 1971 Game of the Century win over Oklahoma.
But 50 years ago this weekend was one of his best days — a 51-13 beatdown of 20th-ranked Kansas State and Lynn Dickey.
The Huskers intercepted the future NFL quarterback seven times. Blahak got three of them, Kosch two.
"I think I had my third, but they didn't give it to me," Kosch said with a chuckle. "I dragged my toe on the sideline, but they called me out."
Blahak was always hard to match. After he and Kosch led Scotus to the No. 1 ranking in football in Class C in 1967, Blahak won five gold medals in the 1968 and 1969 state track meets. Two in the long jump, two in the low hurdles and one in the 100-yard dash.
"I could beat him in the discus," Kosch said. "There wasn't much you could beat Joe in."
Even Rodgers, the 1972 Heisman Trophy winner, admits he couldn't match Blahak's straight-line speed. He says he was faster than Kosch, but teammates agree that both were among the team's fastest players.
Kosch was fast at getting to college. Though he was two days younger than Blahak, he started kindergarten a year earlier, at age 4½.
His family had just moved to Columbus from Colorado, and his father was building a house. So Bill and his sister, two brothers and pregnant mother were living in his grandmother's two-bedroom house.
"So the solution was to put me in school," Kosch cracked. "That's how I got ahead."
As Kosch played for the Husker freshman team in 1968, Blahak led Scotus in rushing, scoring and interceptions.
Nebraska had to outduel Notre Dame for his signature. But Bob Devaney's Huskers had an in: Blahak's high school sweetheart, Diane Melliger, was a freshman in Lincoln.
When Notre Dame coach Ara Parseghian offered a scholarship, Blahak made a counterproposal: Give my girlfriend a scholarship.
He and Diane ended up marrying in 1970, and he made the Husker starting lineup that season as a true sophomore.
On a defense that featured a future Outland Trophy winner in Larry Jacobson and a 10-year NFL linebacker in Willie Harper, Blahak was the best athlete, says Dave Morock, the 1970 starting monster back, or strong safety.
Off the field, Kosch says, Blahak was "totally wild." Morock says his teammate would "tend to flake out every now and then."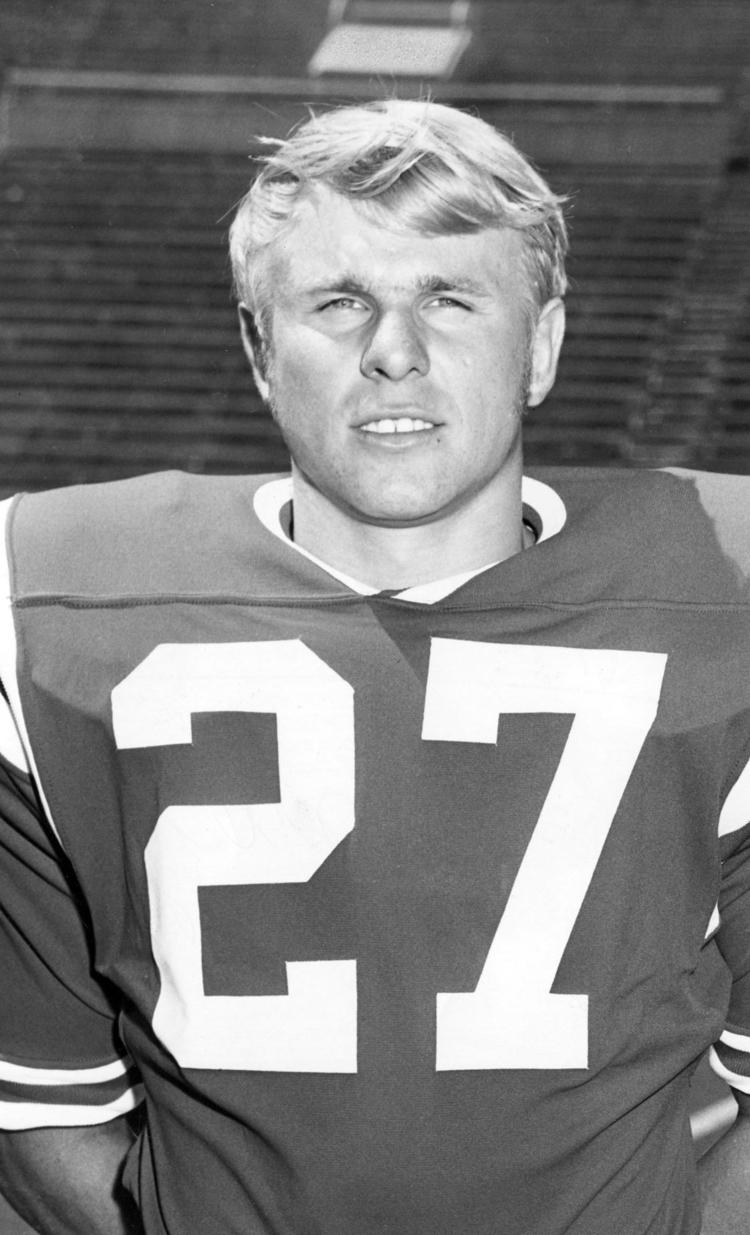 Diane Blahak says her husband was a jokester, the life of the party.
"Actually, a lot of the things the '70s guys did you really can't talk about too much, because they were characters," she said. "And it kind of came from Devaney, because he was a character."
Her husband's personality changed after he had a stroke 10 years before his death, she said. But he continued to see his former teammates annually at a golf tournament in Gothenburg.
"The day he died was one of the saddest days of my life," Morock said. "I really liked that guy."
Morock, who lives in Parkville, Missouri, still sees Kosch annually at the golf tournament. "Just the nicest man you could find."
Kosch said little on the field, teammates say. He just quietly did his job.
"Joe was fearless," Morock said. "Joe would gamble on things and sometimes get beat. Billy was always where he needed to be. And a lot of times he'd cover Joe's (man)."
In his biggest game as a Husker, Kosch actually took Blahak's place at cornerback.
Monte Kiffin, NU's de facto defensive coordinator, hatched an idea as the 1971 Game of the Century approached: move Blahak, a strong tackler, closer to the line of scrimmage as an extra linebacker, where he could help contain Oklahoma's record-breaking triple option.
That left Kosch to cover OU split end Jon Harrison one-on-one.
Besides asking the All-Big Eight senior safety to change positions, coaches changed his normal coverage technique. Instead of playing 6 yards off Harrison and shading to the receiver's outside shoulder to deny out routes, they had Kosch play 10 yards back and straight up.
"Kiffin kind of overthought everything," Kosch said.
Jack Mildren, a great runner but sub-50% passer, delivered his best passing game of the season. He hit Harrison four times for 115 yards and two touchdowns, go-ahead scores in the second and fourth quarters.
The Huskers rallied to win, but Devaney apologized to Kosch after the game for putting him in a tough spot.
Kosch has heard about the game ever since, including a few weeks ago when a reporter called to ask about it.
"I guess in the scope of your life it's just a little detail," Kosch said. "You'd always like to be the hero and make the play. But really, you shouldn't change a thing about that game. From an outsider's point of view, it was kind of the perfect game."
Orduna's roots
Joe Orduna, who was featured last weekend along with fellow I-back Jeff Kinney in a story on the 1970 Huskers, wore No. 48 at Omaha Central, the same number as Gale Sayers.
Orduna's paternal grandfather had ancestors from Spain and immigrated from Mexico. The story incorrectly said it was Orduna's father who came from Mexico.
Dickey hears from former Husker on the radio
Lynn Dickey, the local legend whose passes landed him in the Kansas State and Green Bay Packers halls of fame, was on a Kansas City radio show one day when he got a call from Dave from Parkville.
Hey Lynn, Dave said, I played against you for Nebraska in 1970.
Dickey's response, as Dave recalls: "Oh my god."
"Dave" was Dave Morock, who grabbed one of Dickey's seven interceptions in the Huskers' 51-13 win.
No one outside the NU locker room could have imagined that outcome, Morock says. Kansas State entered the game 6-3 and ranked 20th. The Wildcats had beaten Oklahoma in Norman and No. 17 Missouri in Manhattan.
They were led by Dickey, their senior quarterback who would go on to play 13 years in the NFL.
But by the time Morock returned his interception 43 yards for a touchdown in the fourth quarter, the Huskers led 51-7.
Morock, a senior that season from Clairton, Pennsylvania, says NU defensive coaches Monte Kiffin, John Melton and Warren Powers had a great game plan for Dickey and Kansas State.
"When we saw the formation, we could narrow down what they were going to run," Morock said. "Then if you watched the flow of the offensive line, you could narrow it down to probably two plays.
"We were probably in better position than their receivers."
Free safety Bill Kosch, who grabbed two interceptions that day, says the real key was intense pressure on Dickey by the front five of ends John Adkins and Willie Harper, tackles Larry Jacobson and Dave Walline, and middle guard Ed Periard.
Linebacker Jerry Murtaugh agrees.
"He had to get rid of the ball quick," said Murtaugh, who had an interception, too. "Thank goodness, because if you give him time, he'd pick you apart."
---
March to No. 1 series
Keeping legendary Huskers together falls on shoulders of 'Red Beran'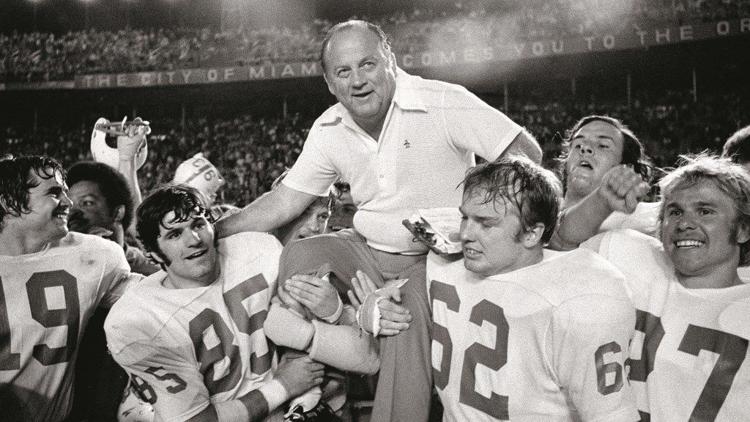 Shatel: Remembering the first Husker football champions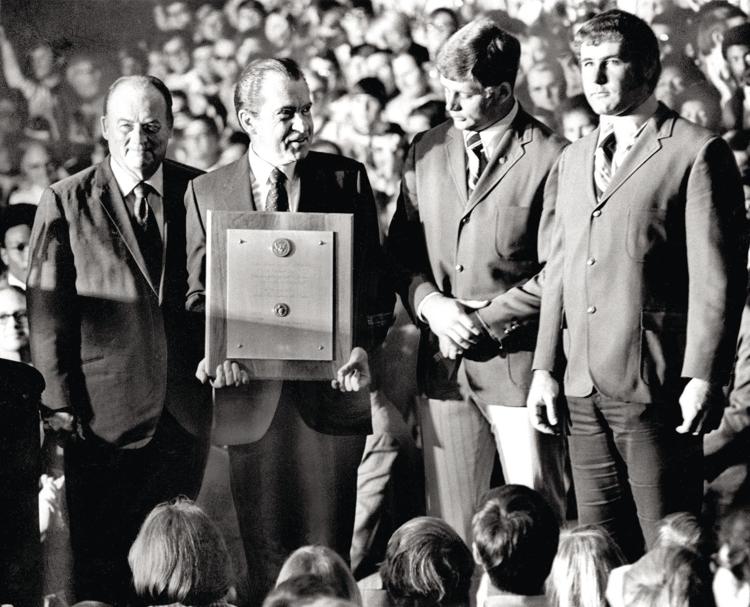 Essex: The 1970 Huskers changed how Nebraskans looked at themselves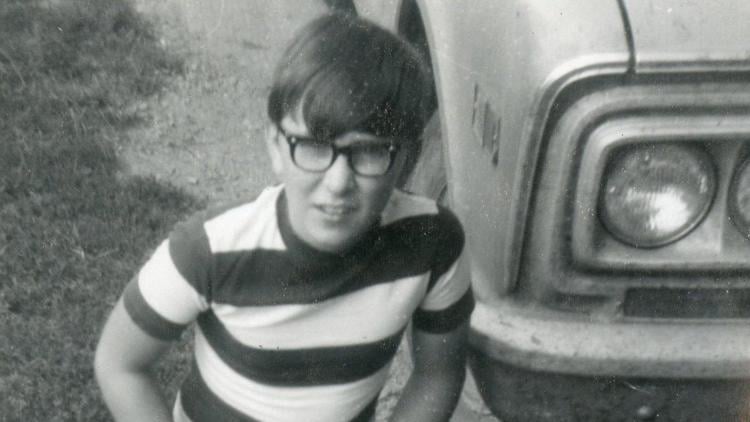 March to No. 1: Huskers make believers of Deacons
Chatelain: Johnny Rodgers' debut was main attraction during Huskers' 1970 opener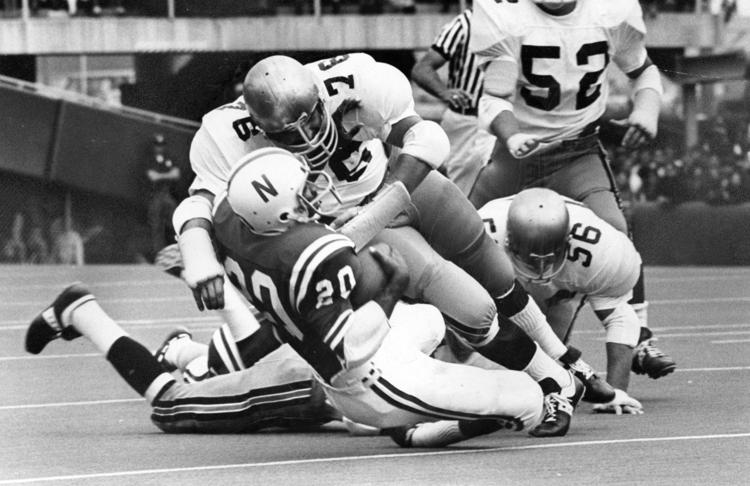 Wake Forest found a Husker team that was 'very hard to beat' in 1970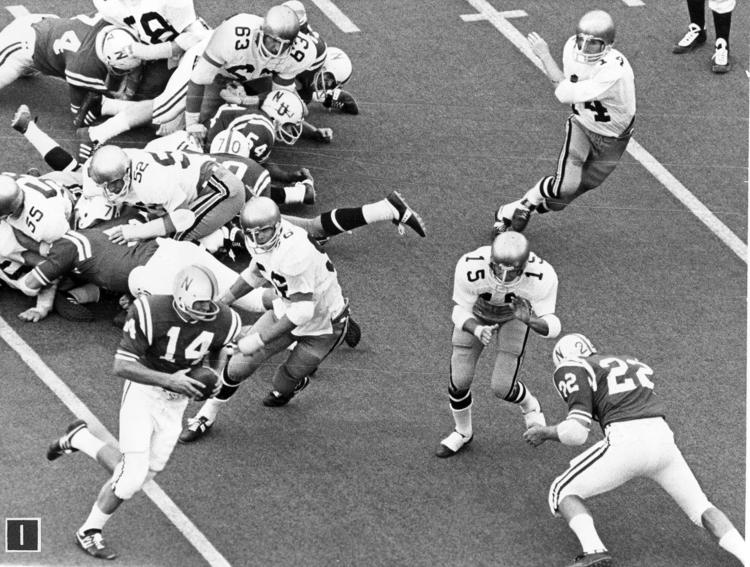 Chatelain: Johnny Rodgers made Tom Osborne's Husker offense come to life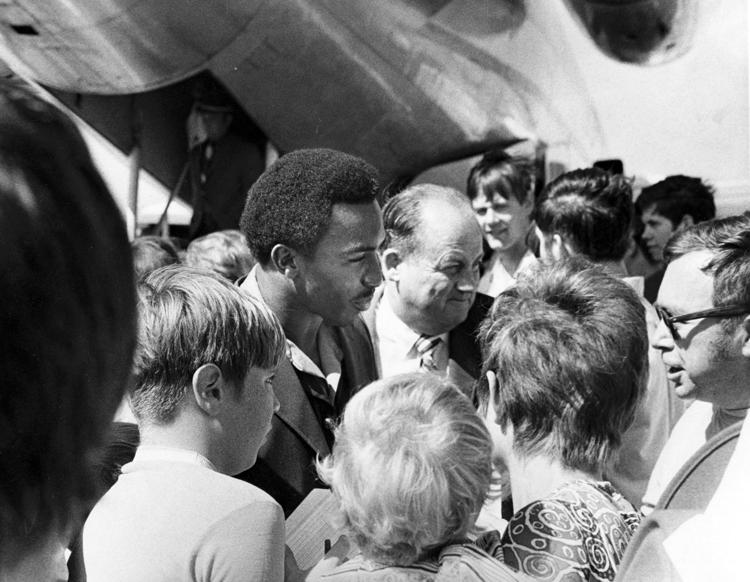 March to No. 1: Trojans Use 3rd Comeback To Tie the Huskers, 21-21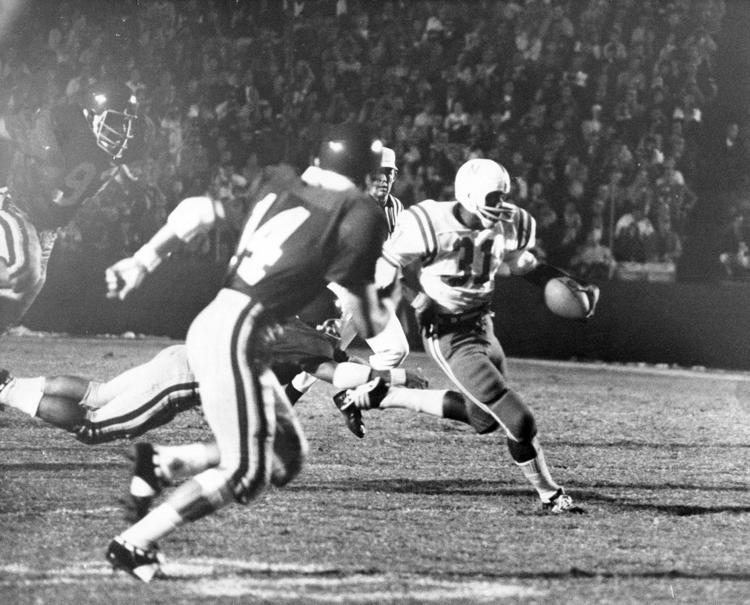 Livingston: Respect came with tying USC, and the 1970 Huskers entered a new realm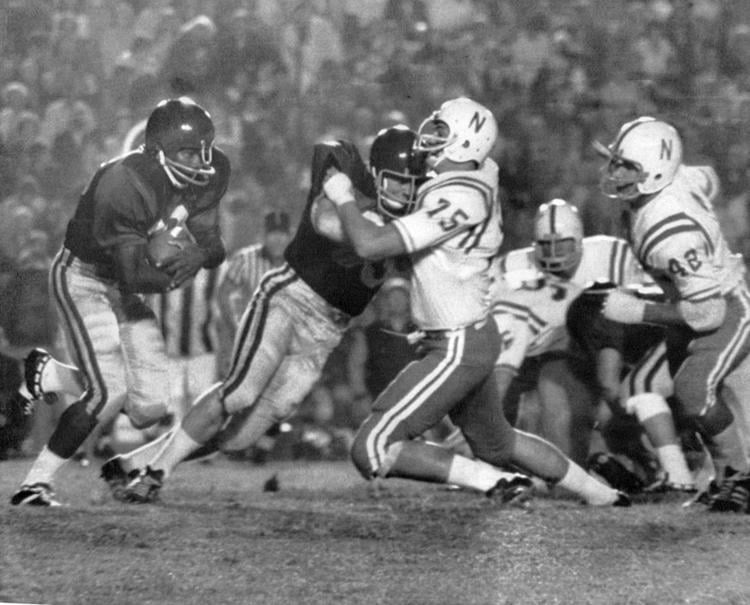 USC 'had to play catch-up' with the 1970 Huskers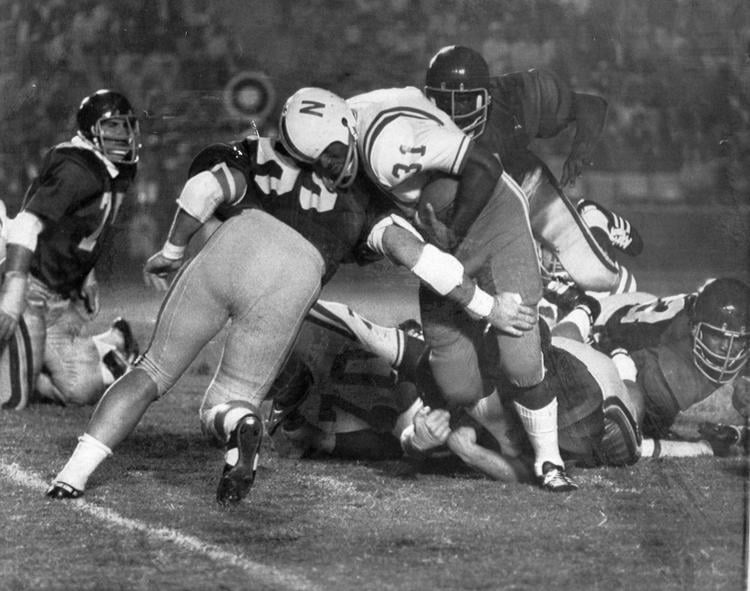 With two future Outland winners, defensive line keyed Huskers' title drive in 1970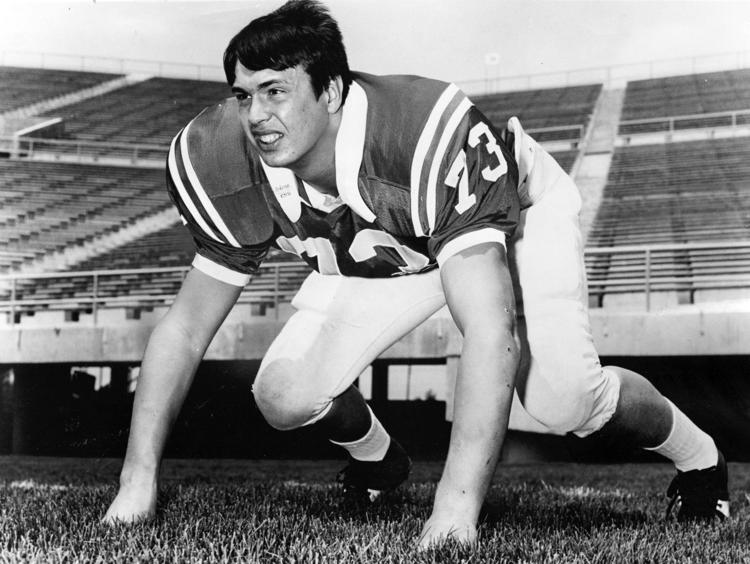 March to No. 1: Husker Air Force Captures Army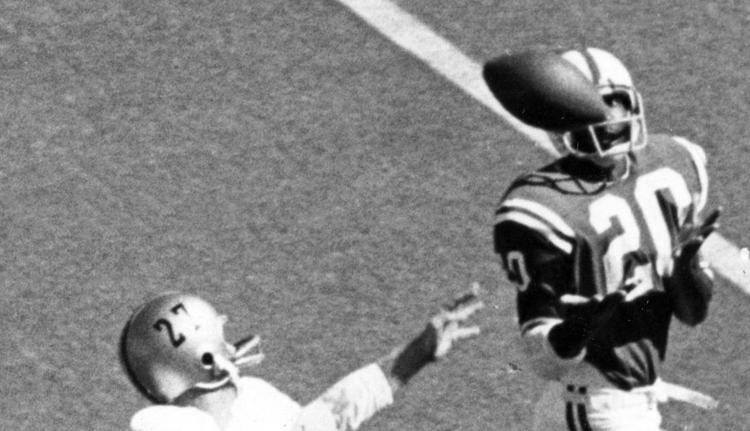 McKewon: A general lost a bathrobe to Nebraska's governor when the 1970 Huskers beat Army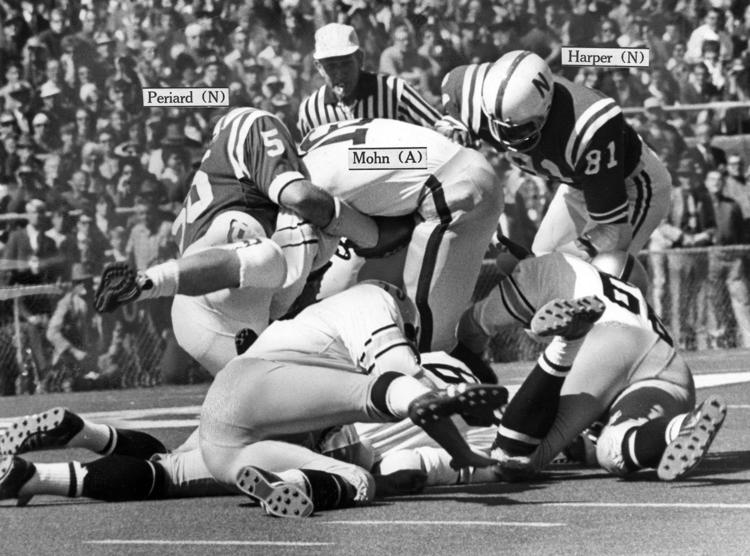 Army couldn't find the right quarterback to battle the 1970 Husker defense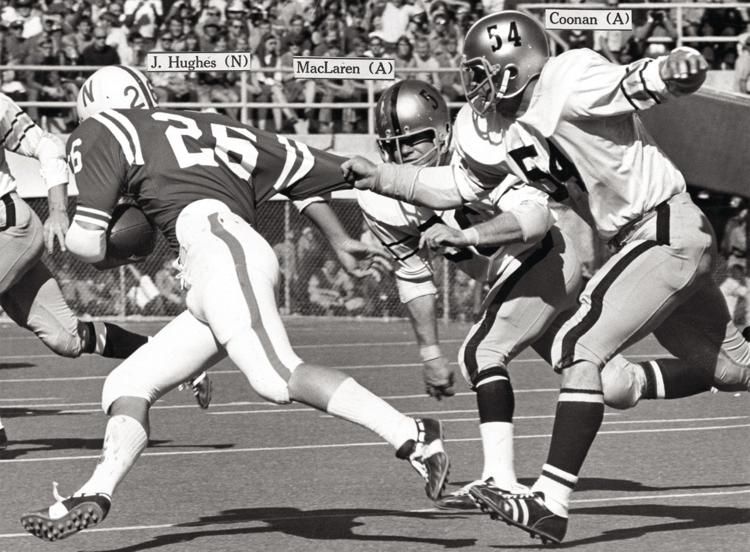 March to No. 1: Early Scarlet surge puts away Minnesota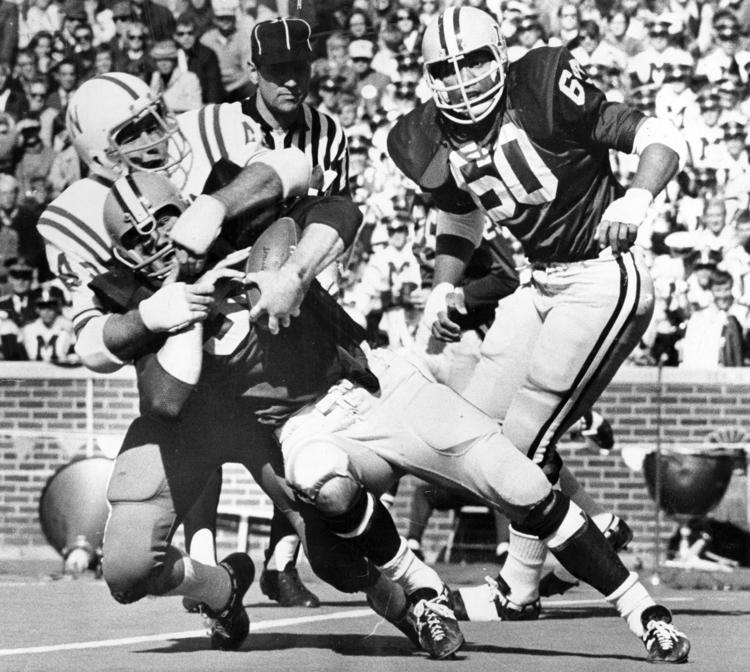 Omaha's best led Huskers past Minnesota, but bigger tests remained in 1970 season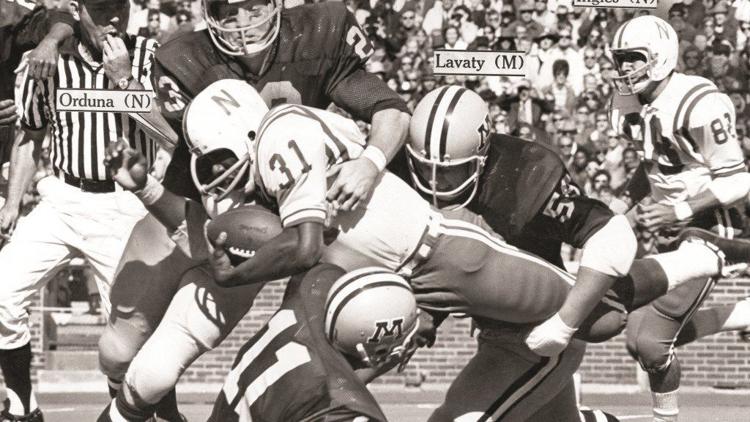 Bob Devaney's Huskers 'manhandled' Minnesota in 1970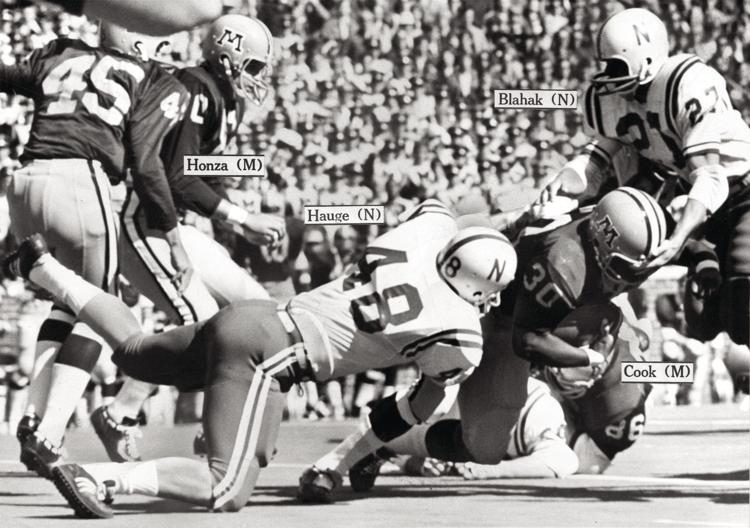 One big hit 50 years ago defined the Nebraska-Missouri football rivalry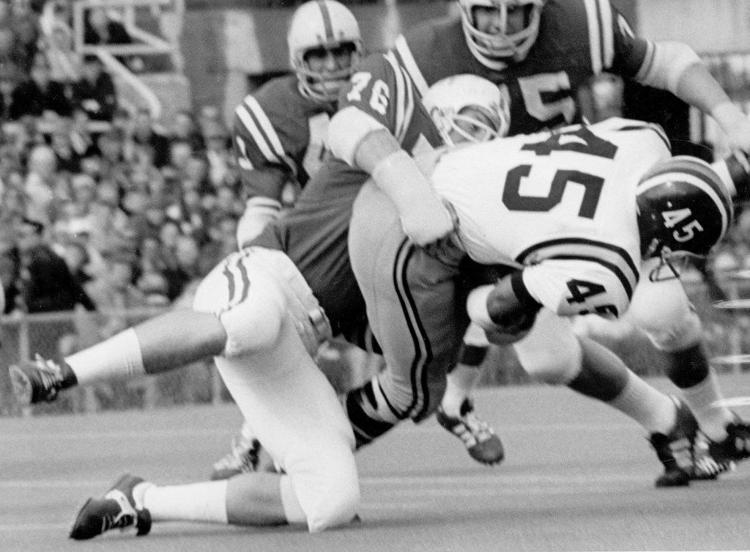 March to No. 1: Alert Nebraska Blackshirts Turn Mizzou into M-i-s-e-r-y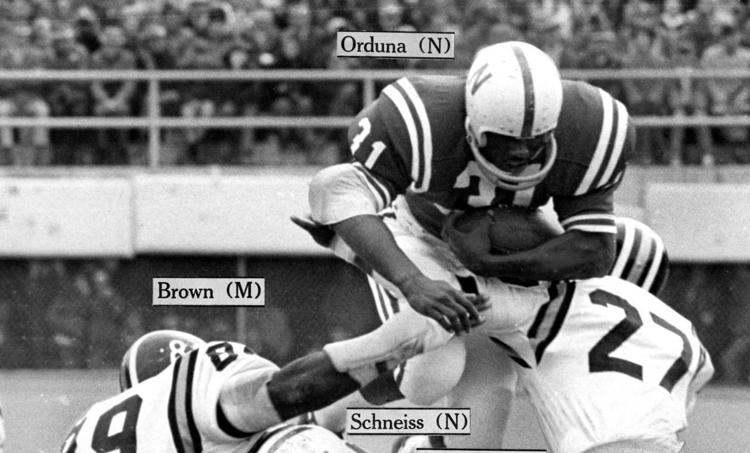 McKewon: After beating Missouri, 1970 Huskers got their first No. 1 vote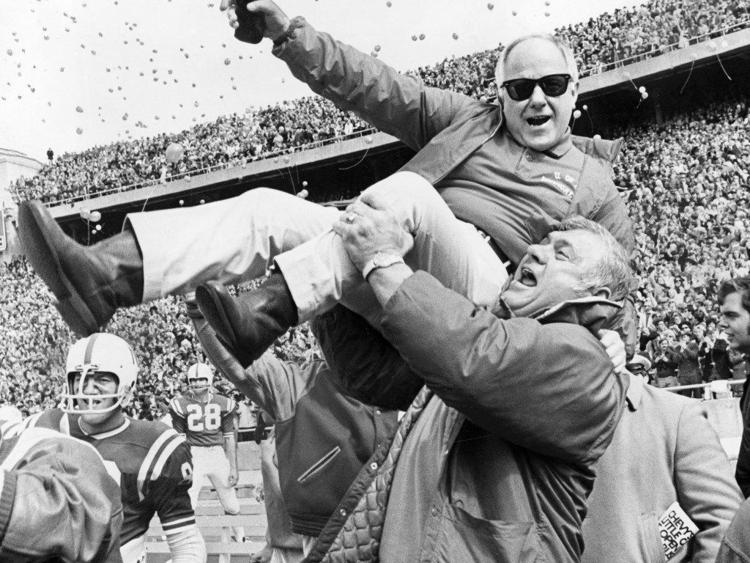 Huskers 'bruised' Missouri in 1970 Big Eight opener
The 1970 Huskers didn't just have one great QB. They had two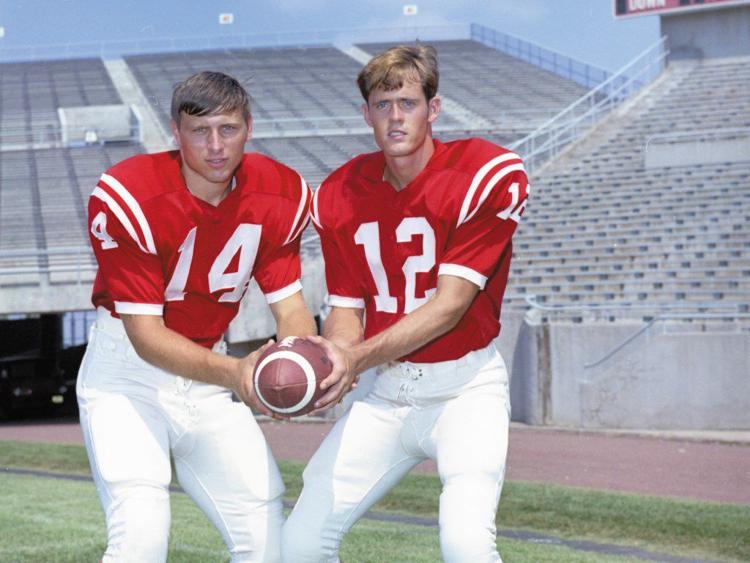 March to No. 1: Huskers Overcome Perky K.U.'s Lead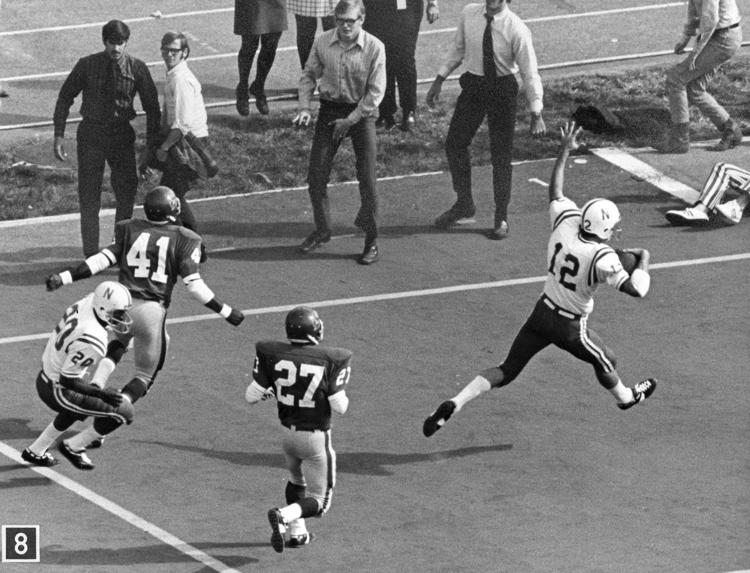 Kansas knew 1970 Huskers were 'fearsome' even before their game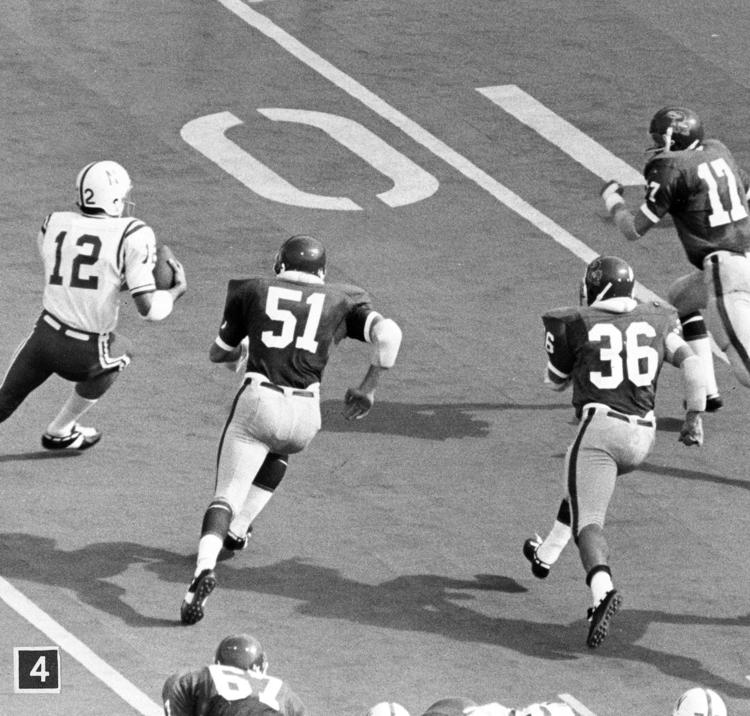 McKewon: What made Nebraska so hard to beat in 1970? The Huskers' backups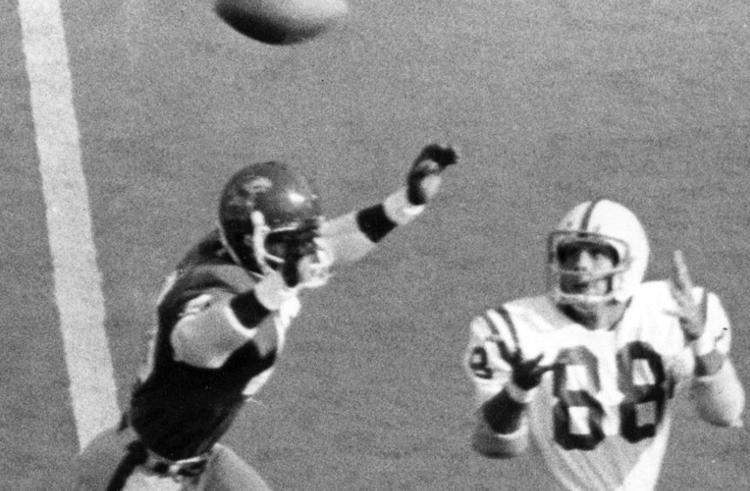 Nebraska's 1970 champions were built by Husker Power and a pole vaulter with a bad back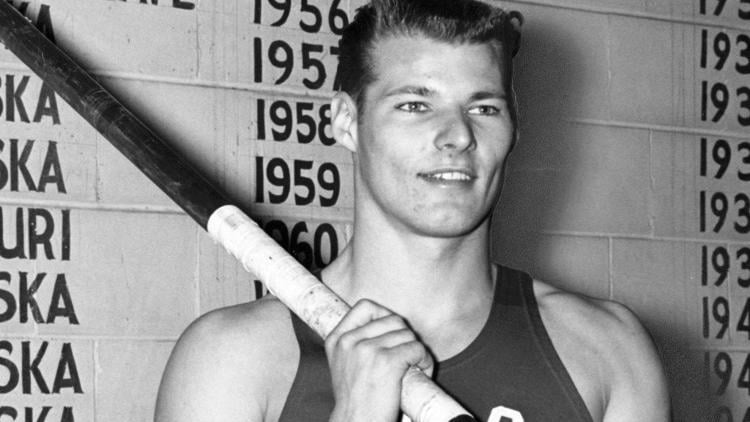 March to No. 1: Cornhuskers unsaddle Cowboys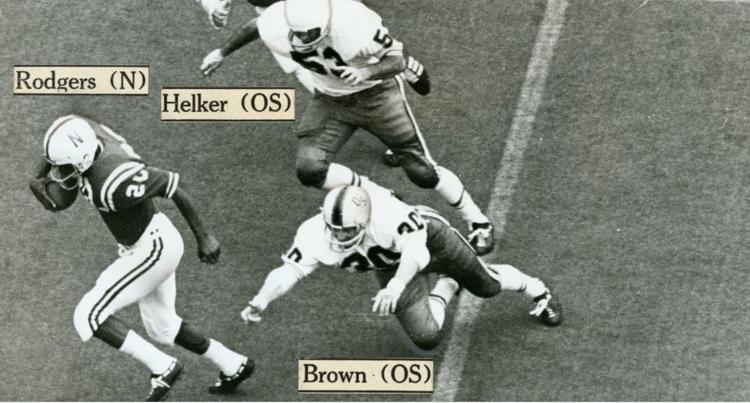 Chatelain: 1970 Huskers could throw knockout punches in so many ways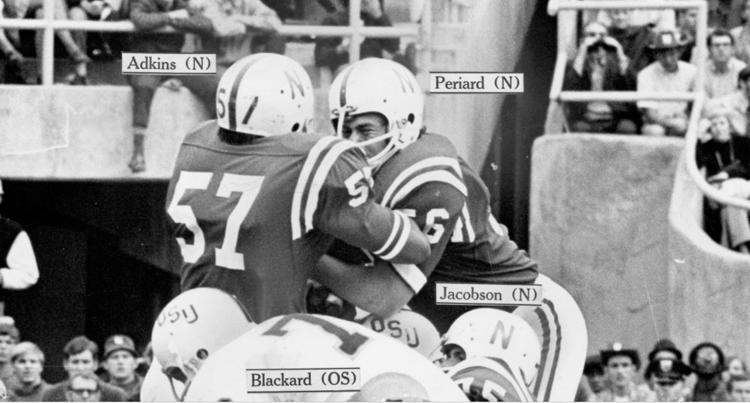 Huskers blended 'finesse, muscle and opportunism' in 1970 win over Oklahoma State
Nebraska had plenty of talent in 1970, but their coaches made the Huskers go the distance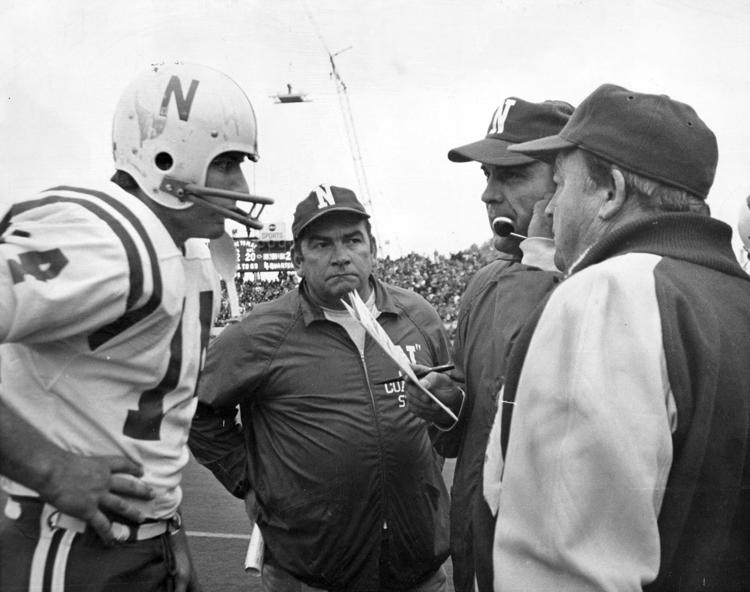 March to No. 1: Buffaloes are Vanishing, 29 to 13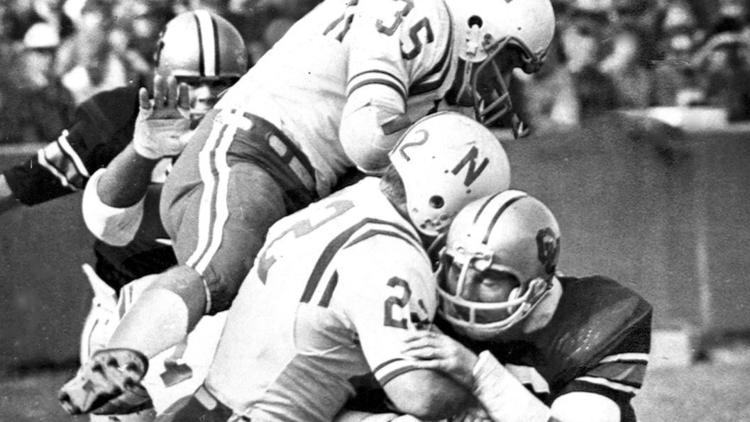 Livingston: Nebraska's 1970 football program could be road map for current Huskers
Colorado 'felt the sting' of 1970 Huskers offense
Omaha World-Herald: Big Red
Don't miss a moment of Nebraska athletics.