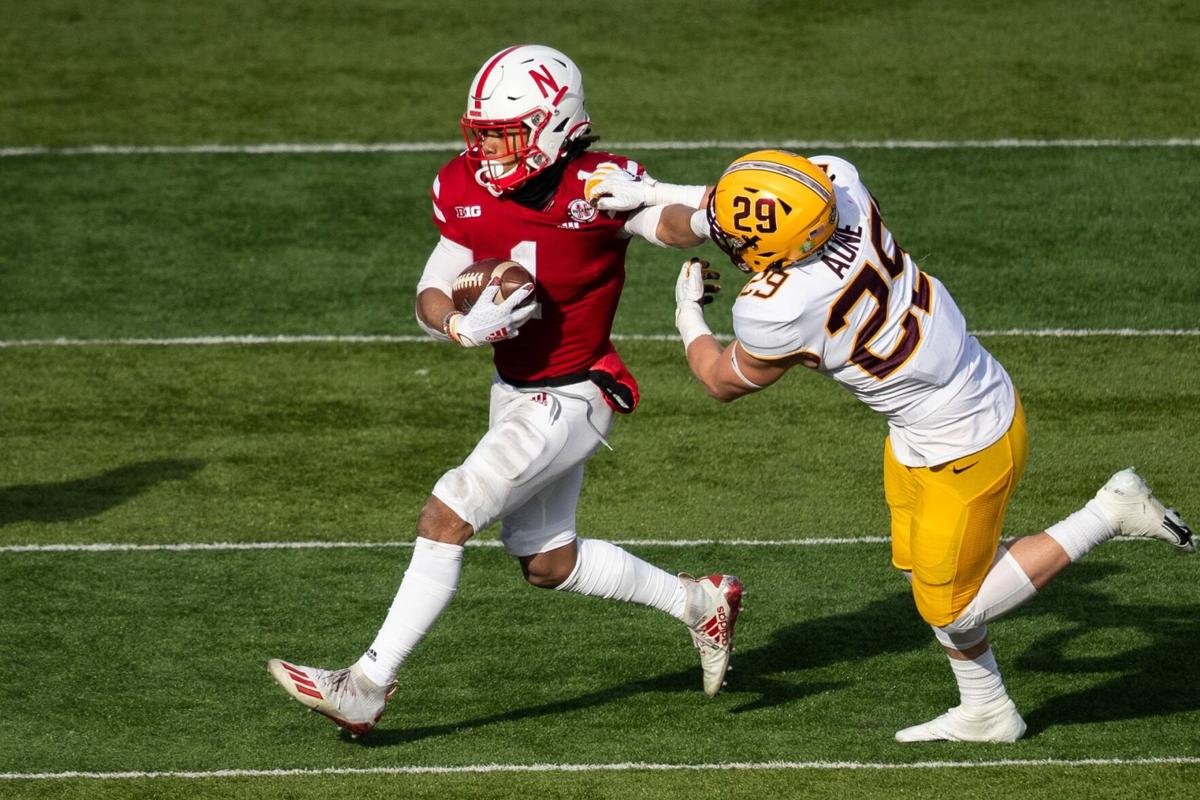 LINCOLN — The top all-purpose player on Nebraska's offense each of the past two seasons is leaving the program.
Wan'Dale Robinson, who amassed 1,725 all-purpose yards and seven touchdowns in 18 games with the Huskers, is entering the transfer portal after weighing his options over the weekend. He posted the news to Twitter Monday after telling NU's compliance office about his decision to leave.
He was NU's leading receiver in 2020 with 51 catches for 461 yards, and he racked up 580 rushing yards over two seasons as an emergency option at running back. Robinson is transferring to a school closer to his hometown of Frankfort, Kentucky, he said on Twitter, in part because his mother was hospitalized last year with COVID-19.
"With some of her health complications this disease has caused other issues to occur," Robinson wrote. "For anyone who knows me knows she's the biggest reason I play the game of football. Being away from my mother and not seeing her during the season hurt me."
Nebraska players, like all in college football, were generally in their team bubble for many months as the season unfurled.
Robinson did not immediately return a request for comment from The World-Herald, but he told ESPN he was leaving NU both because of his mother and to look for an offense that can develop him more for the NFL.
A celebrated prep running back, Robinson was NU's top-rated recruit in the 2019 class — dramatically landing with the Huskers after originally committing to Kentucky. This past Christmas, Robinson was part of a social media video for the Huskers in which he decorated a teammate like a holiday tree. And though only a freshman, Robinson was selected as the Husker player to speak at the school's announcement for its new football facility in September 2019.
By then, Robinson had already played a key role in the Huskers beating Illinois 42-38, and two weeks later he was the key factor in a 13-10 win over Northwestern when he amassed 186 all-purpose yards, scored NU's only touchdown and had the catch that set up the winning field goal.
"I'm glad he's wearing scarlet and cream," coach Scott Frost said during the 2019 season.
But Robinson has long wanted to play in the NFL, according to a source with knowledge of the situation, and came to Nebraska in part to hone those skills at receiver. He often played running back though — especially after Maurice Washington was removed from the team during the 2019 season. Robinson also played part of the 2020 season with injured ribs, according to a source. Robinson did not miss any games despite that injury, though he did miss most of the last three games of 2019 with a leg injury.
Nebraska finished just 8-12 in Robinson's two years and did not win the games TV audiences watched the most, including two losses to Ohio State, two losses to Iowa and the 2019 game at Colorado.
Now, Robinson's departure leaves Nebraska with a gaping hole in terms of receiver production — the team's No. 2 receiver, freshman Zavier Betts, had 12 catches for 131 yards — and without one of the young leaders on a team still growing into maturity.
He saved two of his best games for the Huskers' last two wins of 2020, amassing 119 rushing and receiving yards at Purdue — and outplaying mentor and friend Rondale Moore — in a 37-27 win. He then racked up 103 total yards and two touchdowns at Rutgers. Robinson absorbed and withstood significant physical punishment in the Rutgers game.
It was a sharp contrast to Robinson's usage and production in the first two games of the season, when he touched the ball 11 times for 76 yards in losses to Ohio State and Northwestern. Frost vowed after those two games that Robinson — who came to Nebraska desiring a featured role — would get the ball more.
"He's playing a spot at slot where pretty much everybody I've had in my offense that I've coached has good numbers to big numbers," Frost said in mid-November. "It just hasn't happened the first two weeks. In that spot that's kind of the focus of our offense, that slot position, a lot. I think it's just a matter of time that the ball finds him in our normal offense and we'll design whatever we need to make sure he's a part of what we're doing."
Robinson topped more than 100 total yards in four of his last five games. He likely becomes one of the most coveted players in the NCAA transfer portal. A source said he's "90% likely" to transfer to Kentucky, with Purdue as another possibility. Louisville is out because the Cardinals don't have any scholarships available for receivers this semester.
Nebraska loses the only receiver recruit that has been an unqualified hit for the Huskers in the past three years.
All six of the receiver recruits from the 2018 class either graduated, left or were kicked off the team. In Robinson's class, which had four receivers, only he has played a snap, while two more didn't travel to away games and a third left the team.
Nebraska then signed five more in 2020. Betts is the most productive, followed by Alante Brown (three catches, 41 yards). A third, Marcus Fleming, abruptly left midway through the season after catching five passes and has since transferred to Maryland. Another, Omar Manning, was the No. 1 junior college receiver recruit in 2020 class but missed all but one game due to "health" reasons. Will Nixon tore his ACL over the summer.
NU signed three more pass catchers in the 2021 class, plus flex tight end Thomas Fidone, who can play as receiver.
On Monday, two hours before Nebraska lost Robinson, it added FCS All-American Samori Touré, who caught 13 touchdowns in 2019 for Montana. Instead of playing a 2021 spring season for the Grizzlies — which postponed its schedule because of COVID-19 — he'll enroll at Nebraska and play for the Huskers.
Can any of them play running back? Robinson did — a lot. He toted the ball 134 times over two years, third only to Dedrick Mills and Adrian Martinez since the start of 2019. Other than Mills — who is still mulling over his decision on whether to return for his extra season at NU — the Huskers have no significant experience at running back.
Robinson was always up for whatever helped the team the most.
"Whatever they need me to do," Robinson said before the 2020 season. "I'll go back to running back for a few plays if I need to do that. If they need me to stay at receiver, I'll do that as well. It's all up to them."
He'll do "whatever" for another program in 2021.
---
Our best Husker football photos from the 2020 season