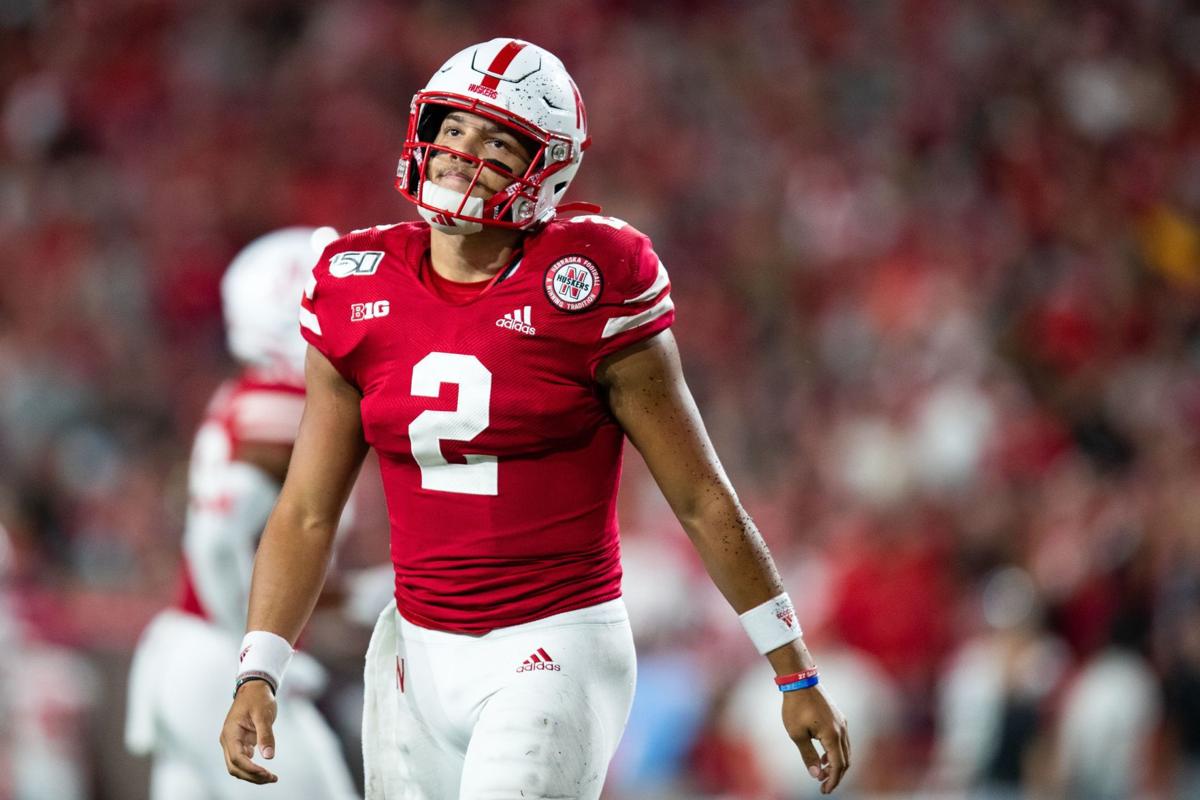 LINCOLN — Adrian Martinez watched NFL broadcasts Sunday. He worked on some Accounting 201 homework. He stayed off his feet and rested.
Nebraska has a 24-hour rule about lingering on the result of a game. But the Husker quarterback and his teammates barely needed the time it took for Saturday's 48-7 loss against Ohio State to get out of hand to shift their focus. Unlike the overtime loss to Colorado — when players lamented aloud what a difference one or two plays would have made — there was no reason for such regret in a blowout defeat to a team NU coach Scott Frost voted No. 1 in his weekly ballot.
"Don't want to talk too much about it," Martinez said. "We're moving on to this week. Excited for this opportunity to play again."
While some in-season press conferences tend to rehash the previous game, Monday's session inside Memorial Stadium had much more of a full-steam-ahead theme for the relatively few players who arrived to chat.
There was talk about how NU's newly unveiled I-formation/double-wing look might factor in the rest of the season. How the first bye week — following this weekend's clash with Northwestern and Minnesota after that — will come at an ideal time. How a strong morning practice set the tone for a week of preparation against the defending Big Ten West champion.
"Everybody's just ready for this week," running back Dedrick Mills said. "Come back and hit Northwestern strong."
"We can't let Ohio State beat us twice," said defensive back Cam Taylor-Britt.
Added defensive lineman Darrion Daniels: "Those emotions, inflict it on the next team."
Nebraska's 41-point loss ranks among its most lopsided in the Big Ten era, and former Husker teams could testify to the snowball effect that can ensue. Michigan pounded NU 56-10 last year, and the Huskers lost their next three contests. Ohio State's 56-14 win in 2017 turned into a 1-4 skid the rest of the year. Wisconsin's 59-24 win in 2014 resulted in losing two of the next three.
The last time ESPN's "College GameDay" was on campus in 2007 for USC's 49-31 trouncing, it was the first setback in a 5-7 year that led to a coach firing.
"I told my guys to put that one behind us fast," Nebraska coach Scott Frost said. "We need to be focused on this week and concentrating on practicing as well as we can to get ready for this game."
What exactly the Huskers learned Saturday depended on who was talking. Daniels, a senior graduate transfer from Oklahoma State, said it's generally more difficult for younger players to bounce back after a big loss than veterans. The team persevered through far more difficult conditions last summer under strength coach Zach Duval than a bad showing in prime time. NU's co-captain spent the past day or so preparing for a Northwestern attack he figures will be heavily run-oriented.
Taylor-Britt said Nebraska collectively didn't "put it all on the line" against the Buckeyes. He echoed the sentiments of other defenders that communication was a problem, with presnap calls not being passed through the entire unit.
Another defensive back, Dicaprio Bootle, went home Saturday encouraged by how the secondary either held up against Ohio State's fleet of elite receivers or forced them to make perfect plays (which they often did). Better yet, the junior saw teammates continue to fight when such a one-sided score could "completely break" lesser teams. They were back out in another high-intensity, quick-paced practice Monday.
"Two things can happen after a loss," Bootle said. "You can sit there and sulk about it and be sad, or you can use the current week as a new opportunity to erase that and right your wrongs. That's what we're doing right now, righting our wrongs."
Frost preferred to take a micro view of the season, saying momentum will shift back Nebraska's way with a good practice before it can perform well against consecutive West opponents. Still, he added, NU will "sell out" to make a run in this mini-stretch before the Oct. 19 bye.
"The guys are excited," Frost said. "Everything they want to accomplish is still right in front of them."
Photos: Husker football walk-ons who've played during 2019 season
Nebraska leans heavily on its walk-on program, and many have seen the field during the 2019 season. Here's a collection of all those who've appeared in at least one game this season, listed alphabetically by last name.