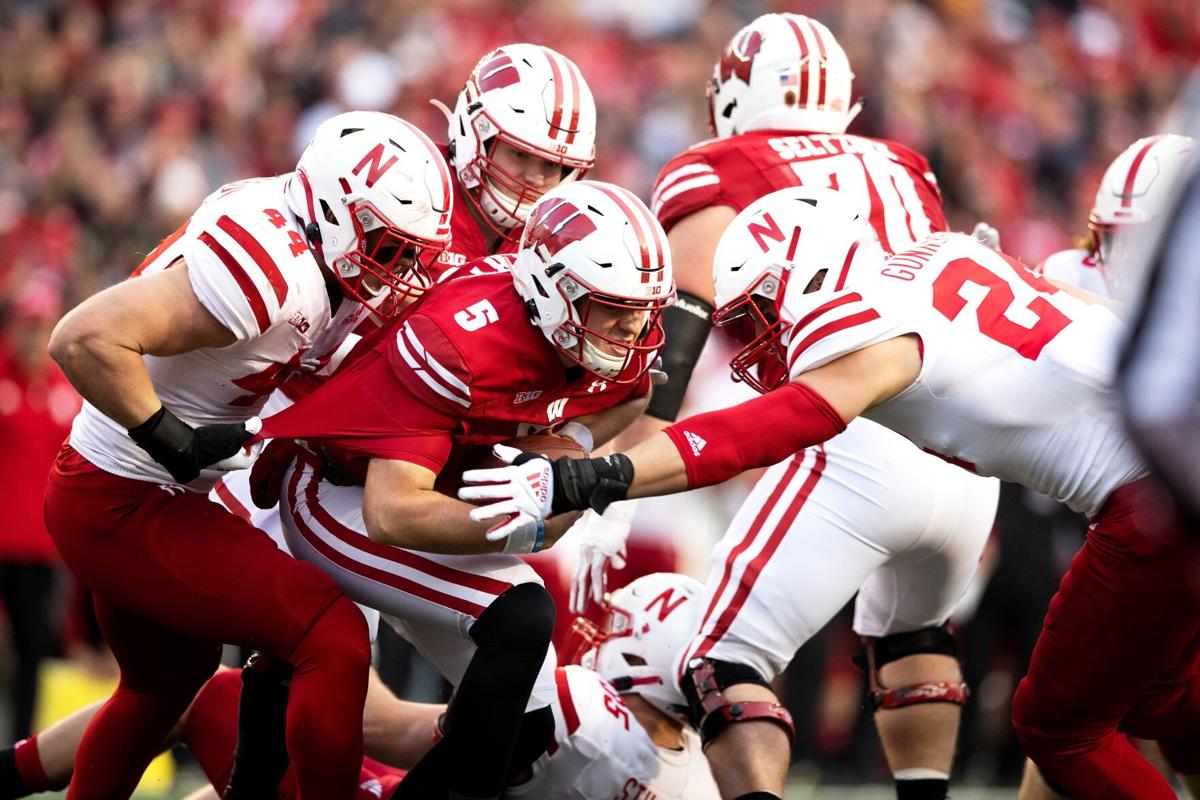 MADISON, Wis. — Braelon Allen took the handoff and waited for a hole to clear.
The 17-year-old Wisconsin running back shuffled forward 3 yards and absorbed a shoulder tackle from cornerback Cam Taylor-Britt, who bounced off the 6-foot-2, 238-pounder to the ground. Then Allen sprinted away from the rest of the pack down the right sideline for a 71-yard in what was the first — and far from only — highlight of his night.
Nebraska generally handled high-profile rushers well this season, including Michigan State's Kenneth Walker and Ohio State's TreVeyon Henderson. But on the same field where Melvin Gordon and Jonathan Taylor once shredded the Blackshirts, it was Allen's turn Saturday in a 22-carry, 228-yard masterpiece featuring three touchdowns and a reminder that he'll be a headache in the Big Ten West for years to come.
Defenders bemoaned missed takedowns that led to chunk gain after chunk gain. Often they overran plays or failed to wrap up when they had a chance.
"He's a big kid," outside linebacker Isaac Gifford said. "We gotta wrap up on him. Gotta get the whole crew on him and get him down."
Added senior defensive lineman Ben Stille: "He's tough to tackle. He's bigger than most guys — you've got to gang tackle him."
In a larger sense, explosive plays from a Badger offense not known for the home run ball helped mar a strong day from the Husker attack. UW had 34 plays of 20-plus yards entering the contest — 112th nationally — but enjoyed five such moments Saturday as it stayed in the driver's seat for a division title.
Nebraska meanwhile, had been a top-20 outfit in limiting such plays from opponents. Not this time.
Allen's 53-yard score in the fourth quarter provided the final margin in Nebraska's 35-28 loss.
On first down he exploded through an open lane to his right and shed safety Myles Farmer on the way to pay dirt. His 22-yard gallop a quarter earlier — in which he turned back multiple Blackshirts — set up his runs of 3 and 2 yards before he bulled into the end zone from 3 yards out.
Wisconsin also connected on a pair of long pass plays — a 35-yarder from Graham Mertz to tight end Jake Ferguson to open a second-quarter drive and a 28-yard connection with Kendric Pryor that set up a third-quarter Allen touchdown.
"Too many X plays," Gifford said. "It wasn't good enough."
Nebraska played most of the game without both its starting outside linebackers. JoJo Domann — the team's leading playmaker — was already out for the year after undergoing hand surgery last week. Caleb Tannor took a hard hit and left the game late in the first quarter. Another linebacker, Pheldarius Payne, didn't travel.
That left second-year freshman Blaise Gunnerson to log heavy snaps along with Gifford, making his debut filling Domann's considerable shoes. Gunnerson registered a pair of tackles and — along with defensive lineman Nash Hutmacher, who was filling in at times for the limited Damion Daniels — was part of a new-look group on the field for tense late snaps. Gifford finished with three stops.
"We're missing a couple guys that I would think would make a difference," coach Scott Frost said. "A lot of teams are at this point. We've got to tackle better. Saw a couple guys come up and hit without wrapping up."
In all, Nebraska's defense allowed season-highs in rushing yards (252) and points (35). It didn't force a turnover for the third time this season.
"Obviously (it's) their guys up front and schematically," Stille said of Wisconsin's attack. "They've got a great scheme and it makes it tough to stop when you're guessing what plays they're going to run. It's tough to know where their runs are going."
And Rogers: "No, 252 yards rushing is not something that we're OK with. We're going to get to work and fix that."
---