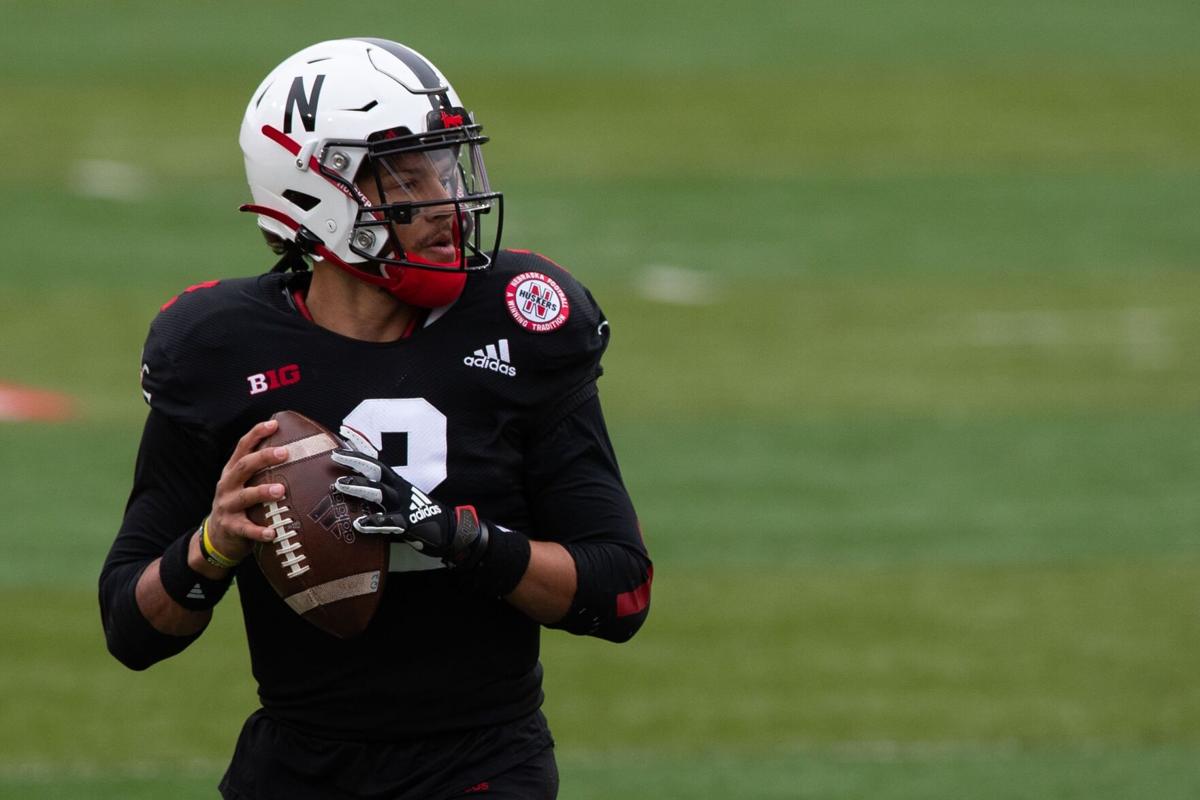 LINCOLN — Nebraska coach Scott Frost watched his starting quarterback warm up. Adrian Martinez looked good enough to go.
But Frost, in just the second game of his NU tenure, played the percentages. Why risk exacerbating Martinez's knee injury against Troy?
"Look, he's going to be here a long time," Frost said, after that 24-19 loss to the Trojans, about why he sat Martinez that day in favor of Andrew Bunch.
A walk-on pressed into duty when another quarterback, Tristan Gebbia, transferred to Oregon State just before Frost's first year, Bunch didn't bomb, exactly, but he threw two costly interceptions and made only a small dent in Troy's D.
"I never felt overwhelmed — I was excited to play," Bunch said that day. "Sometimes things seemed like they were going my way, and other times I may have made some decisions I wish I could take back."
The players around Bunch, Frost said that day in September 2018, didn't raise their games to the next level.
"We needed the Blackshirts and the Pipeline to win this game today — rally and win it — and special teams," Frost said.
Sounds like a recipe 3-8 Nebraska wants to find for Friday's game against Iowa, which will face another redshirt freshman quarterback. Instead of Bunch, it's Logan Smothers, who's thrown all of 11 career passes and had very little collegiate action when a game was still in doubt. Frost has praised Smothers' quick decision-making and athleticism since he arrived in January 2020 from Muscle Shoals, Alabama.
"He's really sharp," Frost said Monday. "He's not the fresh-faced kid that's going to get surprised by a bunch of things or pressures or different looks. He is really smart and knows our offense and can operate it. We'll give him the ball and let him try to do it."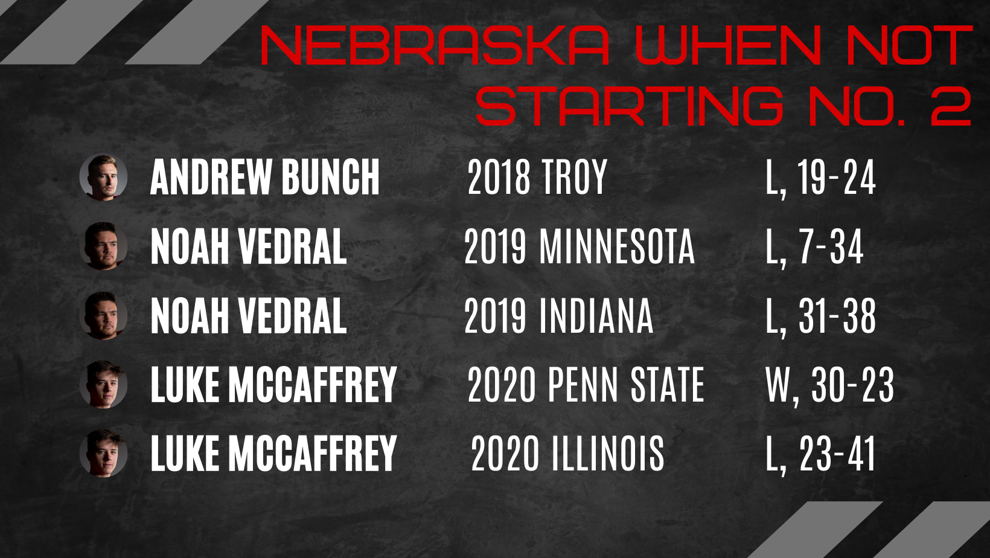 It'll be the sixth time, since Martinez arrived, that NU started a quarterback other than No. 2. The previous five starts — one win, four losses — featured a mixture of success and struggle.
Bunch provided zero run threat and tossed two picks against Troy, which brought more defenders into the box and dared Nebraska's receivers to win on deep routes. Seeing that, Frost said he wanted to "ugly it up," run clock and grind out a win. Bunch, when asked that day of NU's game plan, looked down and paused for two seconds.
"I don't know if it was conservative, I think Coach Frost was just attacking what he thought might have been the weakest part of the defense at the time," Bunch said.
In 2019, after Martinez hurt his knee on a pass play against Northwestern, Noah Vedral started in losses to Minnesota and Indiana. The Huskers sputtered against the Gophers — Vedral was the leading rusher with 49 yards — and against Indiana, Vedral and third-stringer Luke McCaffrey's dazzling play wasn't enough to offset a poor performance by the defense.
Frost benched Martinez in 2020 for two games. McCaffrey started both, and with the help of its red zone defense, NU beat Penn State 30-23 before a team-wide collapse in a 41-23 loss to Illinois.
Martinez started the next 15 games, the second-longest uninterrupted start streak of his career. It ends Friday.
Can an offensive line/defense/special teams formula work for the Huskers? Iowa (9-2) would appear to be stronger in all three categories. Hawkeye center Tyler Linderbaum is an Outland Trophy finalist. Iowa's defense ranks fourth nationally with 26 takeaways and has four defensive touchdowns. And its special teams have been elite for years, and are especially so in 2021, as Iowa leads the Big Ten in kickoff return yards (704) and ranks second in punt return yards (290) and second in most punts (32) downed inside the 20.
Even with the Big Ten's lowest-wattage offense, Iowa wins the field position chess match.
"Playing a complete and clean game matters," Frost said. "I compliment (the Hawkeyes) all the time, but they don't beat themselves. They create turnovers and play well on special teams. I think they do a good job in all three phases ... you've got to beat them. They aren't going to lose the game."
---