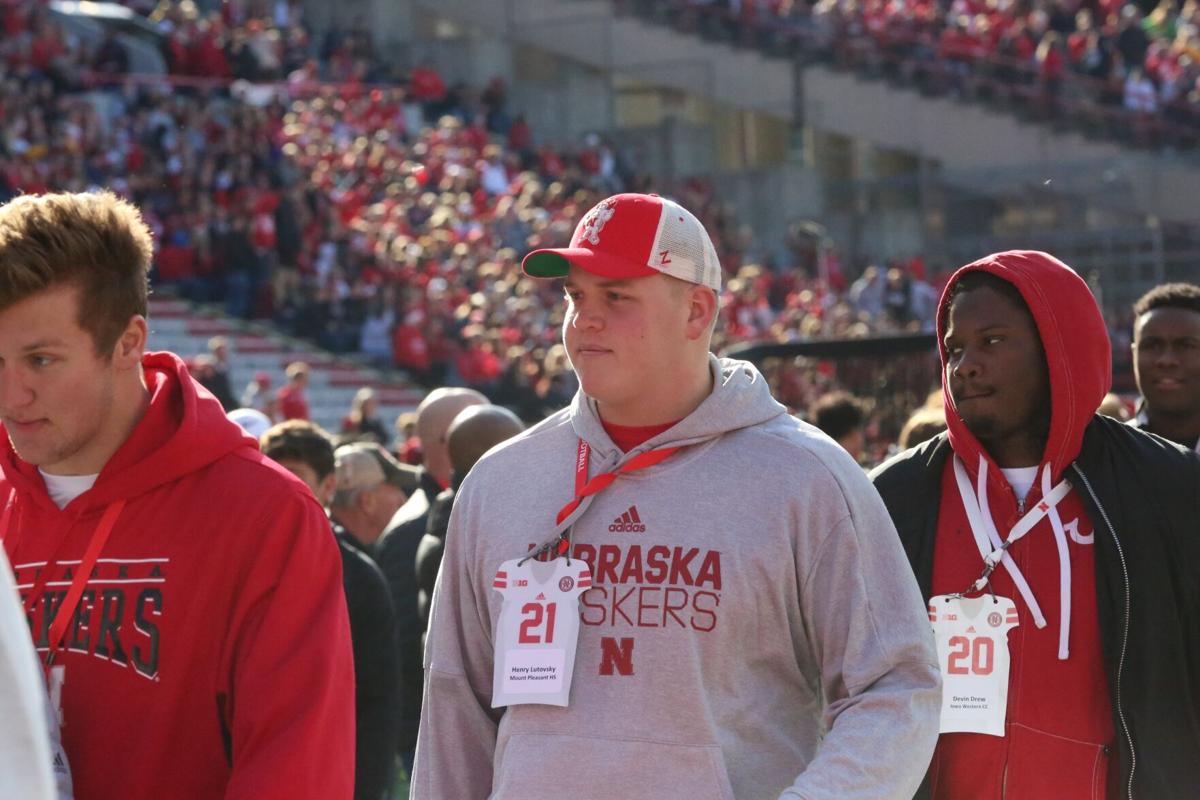 LINCOLN — Henry Lutovsky's high school coach initially imagined a different choice in schools for him.
"I really expected him to want to be a Hawkeye," Mount Pleasant coach Shawn Striegel said.
After all, the town of 9,000 is only one hour south of Iowa City, and if the Hawkeyes are known for anything it's producing NFL tight ends and offensive linemen. But Lutovsky was sold on Nebraska early on in his search for schools, and the Hawkeyes didn't make an offer.
"He was looking for a place that he was in love with," Striegel said of the behemoth offensive guard and consensus three-star prospect who signed with Nebraska last month. "He didn't want to just take an offer based on the name of a school or a traditional program. He wanted to go somewhere he felt like his coaches and his teammates were going to be a major part of his life."
Lutovsky picked up his first offer from Missouri in March of his sophomore year. He went to Columbia on a visit and came home with an offer. Then Iowa State and Nebraska came knocking. Later, Georgia would, too.
After he had visited Missouri and the Cyclones a few times, he felt he understood the recruiting process and  was ready to narrow his list. He visited Nebraska. When Lutovsky got to Lincoln, something felt different. It felt like home.
"From my dad's point of view, he wanted to see who would be my next mentor in life," Lutovsky said. "He couldn't think of anyone better than Greg Austin."
The Huskers' offensive line coach won Lutovsky over with his honesty, said the 2020 All-Iowa team member as named by the Des Moines Register.
When Lutovsky walked into Austin's office back in 2018, the coach told him he could ask any question and get an honest answer. Lutovsky obliged, asking Austin about the struggles of a new coaching staff. "We're not in a great spot right now, but that's why we're recruiting guys like yourself," Austin told him.
"Every question that I asked — whether it made Nebraska look good or bad — it was always answered honestly," Lutovsky said. "And that's just one of those things that went a long way with me. You talked to some coaches and all they have to say are the good things. It's what aren't they telling you — that's the worry."
Lutovsky left with the feeling that Nebraska had taken the lead in his recruiting battle. His dad kept Austin in the back of his mind but tried to be hands off and let Henry make the decision for himself.
"I just saw that it was a family, and I saw other players interact with each other and how the coaches were," Lutovsky said. "And I just knew that was where I wanted (to be) the most."
His decision was solidified when he went to a barbecue in Lincoln the summer between his sophomore and junior year. Later in November of his junior year, he made it official, committing to the Huskers.
"He had no loyalty to anything because his loyalty was going to be to where he felt where he fit in," Striegel said. "And when he came back from Nebraska that first time, he said, 'Coach, you can tell everybody else to leave me alone.' He was absolutely in love with Nebraska. Coach Frost and his staff, the teammates that he met at that time, just everything about the program itself. He was sold."
Striegel has been the head coach at Mount Pleasant since 2013 and had been an assistant for seven years before that. He's known Lutovsky since his early elementary school years.
Back then, he was a lot like he is now in most ways, Striegel said. He still makes friends with just about everybody and has a kind heart. But there was one key difference: Lutovsky wasn't the 6-foot-6, 320-pounder that he is now.
He was on the bigger end of his class and he could always throw the ball further than the rest of his peers at 7-on-7 camps over the summer, Striegel said, but he wasn't the biggest.
The growth spurt came later in middle school, but even then, there were bigger players in Lutovsky's class, Striegel said. Lutovsky was surrounded by strong talent on the offensive line throughout middle school and high school.
It wasn't immediately clear to Striegel that Lutovsky was a D-I offensive lineman because he was often just one cog in an offensive line that averaged about 300 pounds across the board.
It wasn't until Lutovsky actively hit the weight room in high school that he became the physical specimen he is now. By his sophomore year, the weight room and talent had come together.
Striegel knew then that Lutovsky was special. Early in his sophomore year, Striegel remembers warning Lutovsky's parents that "it's probably going to get crazy here" with recruiting.
"And it was the next day that he was offered at Mizzou," Striegel said.
In Lutovsky's sophomore year, Mount Pleasant lost to its rival, Washington High School. He came home mad and frustrated, not wanting to talk about football. His parents, however, came home joyful.
After the game, multiple people stopped Lutovsky's parents to tell them how well their son had played and how they were excited to see what he had in store for the future. One of them was Mount Pleasant's retired football coach.
"I've coached a lot of good players, but he's the best one I've ever seen," the coach told his parents.
That comment provided some needed motivation for Lutovsky.
"That kind of set it in motion that I was being noticed and that my dreams weren't crazy," he said.
Striegel can see playing on Sundays in Lutovsky's future, especially after the senior's last season, where "he had so many pancakes that I'm pretty sure people were just scared to death watching him on film." His team finished 3-4 this year, losing in the second round of the playoffs to the eventual state champions.
To reach the highest level, Lutovsky knows there is a lot of work ahead of him. He tries not to think about when he'll play at Nebraska. It will come when it comes.
That fits with Lutovsky's off-the-field persona. He is laid-back and enjoys fishing and grilling. But it's a different Lutovsky on the field, where the bottled-up energy comes out. When asked to describe how he plays, he chooses the word "relentless."
"I give the same effort in the first half as I do in the last one," he said. "I always just want to try to break that guy and just dominate him."
He also finds an outlet for that energy throwing the shot put and discus, but he won't do that this spring because he's enrolling early at NU. Striegel said he's sad Lutovsky won't have an opportunity to break a school shot put record that's stood for 30 years, but Striegel knows it's the best decision for his offensive lineman.
"He knew from a young age, wherever he went, it was going to have an impact on his future, not just the four years or five years that he's at an institution," Striegel said. "He knew it was going to impact where he would land as an adult down the road. That is something yet to still play out, but I think he's making the right decision for the right reason."
---
Our best Husker football photos from the 2020 season