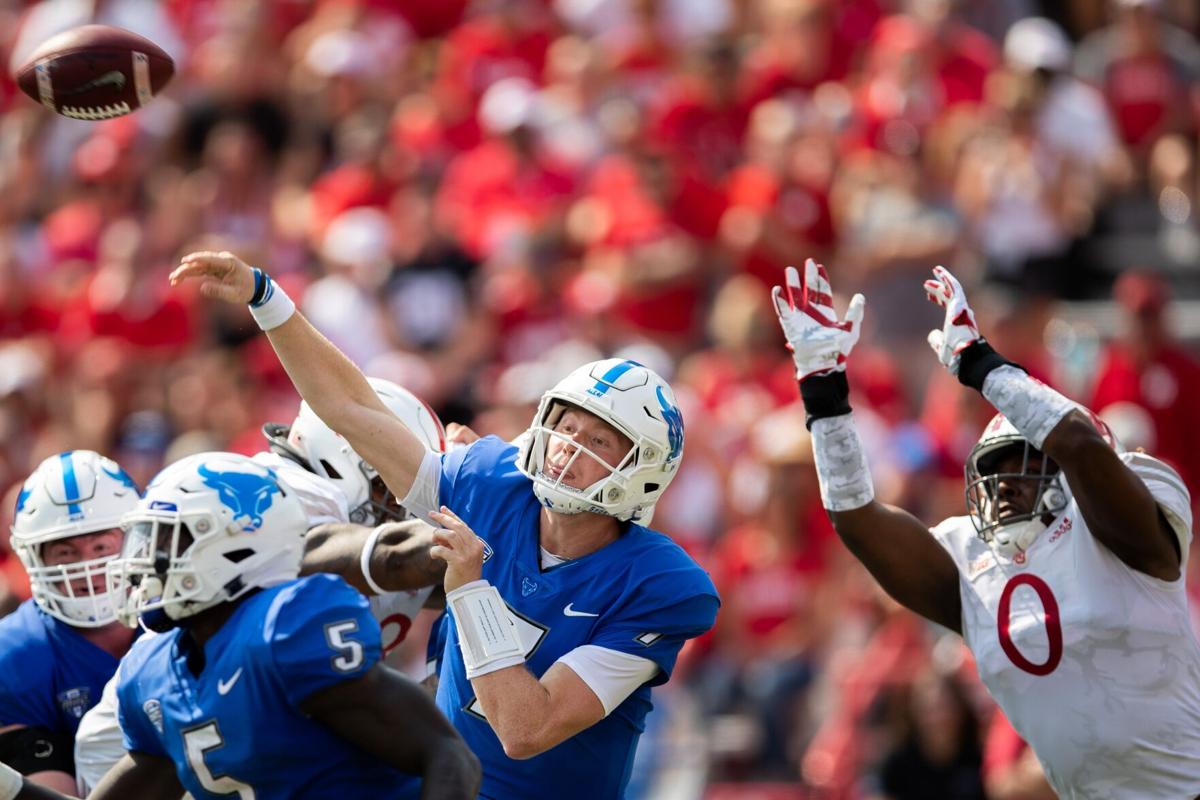 LINCOLN — Fifty passes Saturday may not have been Buffalo's ideal offensive approach, but quarterback Kyle Vantrease said he's fine doing whatever is asked of him.
"If they want me to throw it 100 times, I'll throw it 100 times," Vantrease said. "If they want me to hand it off 100 times, I'll hand it off 100 times. We've got to do whatever we can to win the game, and today we didn't do that."
Not only was the senior asked to throw so many passes, he was called on by coaches to punt from inside his own 20.
That play worked out better than many of Buffalo's offensive snaps. The kick bounced and rolled into the end zone 81 yards away. It was the fourth-longest punt by a Husker opponent.
After scoring 69 points in their season opener against Wagner, the Bulls had one field goal in Nebraska's 28-3 win.
With the Blackshirts limiting Buffalo's run game to 135 yards on 33 attempts, the Bulls turned to the air, where Vantrease completed 27 of 50 passes for 224 yards.
"There were some things in their coverage that we wanted to take advantage of," Buffalo coach Maurice Linguist said. "We made some adjustments and planned for the next situation at hand. When we got down 21-3 we went a little bit more up-tempo."
The Bulls came close to breaking some big plays, including one late screen pass to Quian Williams where cornerback Braxton Clark stuck out one hand to trip Williams and limit the play to a 20-yard gain.
"They came on a pressure, and we got behind them," Linguist said. "One guy kind of got the shoelace right there. It was still a close game, and you know if you can make one guy miss there, that potentially leads to a touchdown and the narrative of the story is a little bit different."
Not only were the Bulls unable to break a play longer than 30 yards, but at times self-destructed with penalties at crucial moments. Buffalo was flagged 10 times for 88 yards.
Linguist said the combative penalties like holding and even personal fouls are the kind that can be worked on in practice.
"Those combative penalties just happen through the course of a game are all correctable," Linguist said. "The discipline penalties, we will watch the film and will be very critical of ourselves. We'll identify mistakes, we'll move forward."
Linebacker James Patterson, who led Buffalo with 12 total tackles, said much of the responsibility for cutting back on those penalties is the responsibility of the players.
"We have to control those things. We have to work in practice to clean those kinds of things up," Patterson said.
While playing in front of more than 85,000 may have been overwhelming for a moment or two, Patterson said he thought the Bulls adjusted well to the atmosphere and the noise.
"You can't get caught up in the limelight," Patterson said. "There was a big crowd, it was 9/11, but we knew we were in a fistfight. You're down 14, you've got to be ready to fight. We were talking about being ready for that all week."
Vantrease said he was proud of the way his teammates never let their collective guard down and kept battling.
"I'm disappointed in the outcome but I'm proud of the fight that we had as a team," Vantrease said.
---