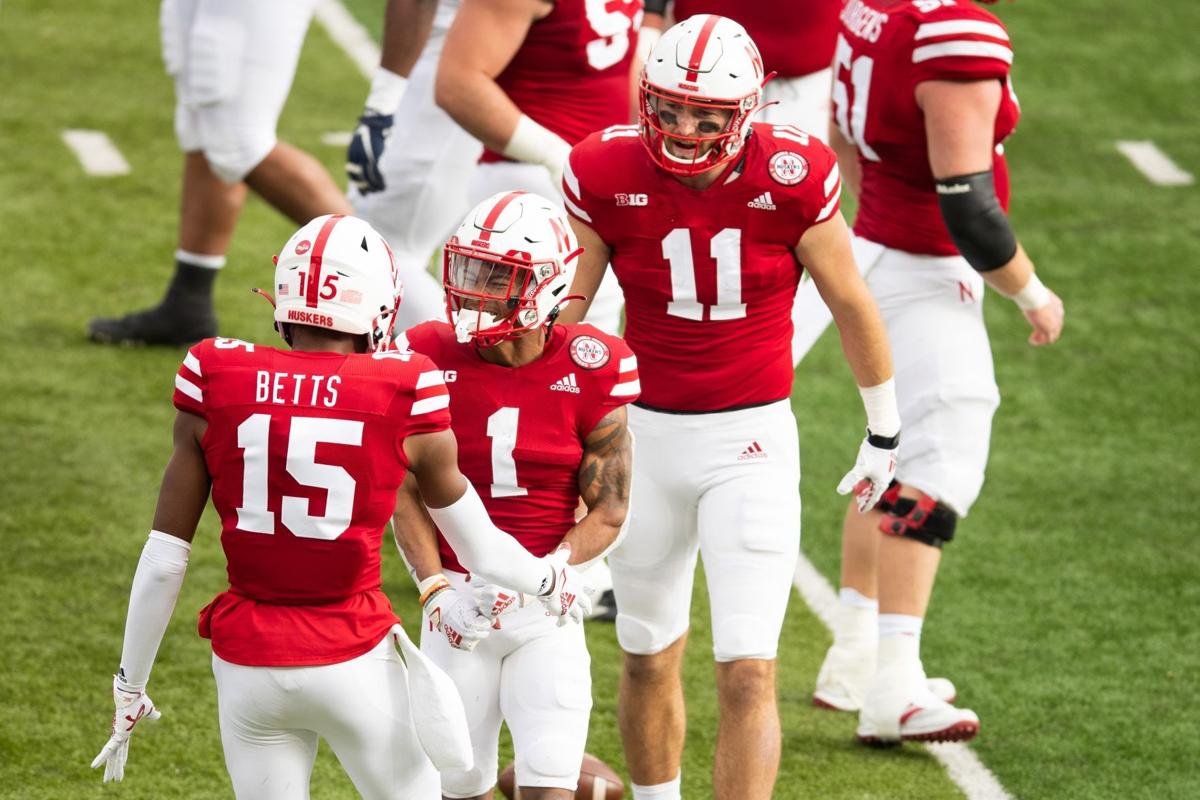 The training room was busy with defenders getting various treatments after a physically exhausting weekend. Film study with the offense still showed plenty to correct and refine.
It was business as usual for Nebraska in the 48 hours after beating Penn State 30-23. But for a team that hadn't tasted victory in nearly a full calendar year, it all came with more smiles and fewer head shakes.
"Winning makes everything better," senior cornerback Dicaprio Bootle said Monday. "... You might be banged up after a win, but it feels a lot better than being banged up after losing."
Instead of discussing what-ifs and frustrations Monday, the Huskers enjoyed a new reality — learning while winning. There were missed blocks on offense. Busts on defense, too. Special teams were better, but not great. A youth movement — new players dot the defensive front seven and much of the offense — brings with it a limiting learning curve.
At least for this week, what were excuses become footnotes. Context for what was coach Scott Frost's biggest triumph against a brand-name program.
"Just getting a win and being able to learn from that just creates so much more positivity as a group," said quarterback Luke McCaffrey, a redshirt freshman who made his first start Saturday. "So now we need to take that energy and utilize it in a proper way, utilize it in an effective and efficient way throughout practice this week. Hopefully it can carry us to the same feeling next week."
Momentum, like a wet football, has proved a slippery thing to hold on to in Frost's two-plus seasons in Lincoln. The Huskers have won consecutive games just three times in that span, and only once, midway through 2018, were both wins against Big Ten competition. Winning is hard and winning consistently harder still — NU hasn't strung together positive results in more than 420 days.
Nebraska is installed by Las Vegas oddsmakers as a 16-point home favorite against Illinois on Saturday and has dominated the series, winning four straight and six of seven as a Big Ten member. If ever the Huskers were to build on something good in 2020, now seems like the time.
"I definitely think this win last Saturday was a huge one," Nebraska senior inside linebacker Collin Miller said. "I think this is going to get the ball rolling. It's going to show guys what it feels like to win. That's what the younger guys needed to feel, I think that's what a lot of guys need to feel. Winning feels great. We need more of them, we need to find ways to get more of them."
Multiple players said the red-zone stands against Penn State should only add to their hunger for more. Maybe recalling that game will provide the "little extra push" to finish in the season's second half, Miller said. Bootle said the defensive backs were thrilled with their playmaking roles late in the fourth quarter but added that "it just doesn't stop there." They still have lessons to learn, mistakes to clean up.
Frost — whose celebration with players in the locker room Saturday became a video that went viral on social media — said the team's mentality is in "a good place." But a gantlet of West opponents still looms after Illinois, including road games at Iowa and Purdue before Minnesota in the regular-season finale.
"Guys in this building can't win one and relax," Frost said. "They have to let that elevate them and go back out on the field and work that much harder to get even better."
The team has long been anticipating a breakout, building internally through top-25 recruiting classes, a ramped-up strength program and a renovated culture. Maybe winning will be as contagious for the Huskers as struggles have been throughout three straight losing campaigns.
Players agree: Positive reinforcement is a welcome new way to get better.
"Even though we're 1-2, we've seen the progress throughout the whole entire season," redshirt freshman D-lineman Ty Robinson said. "I really like the chemistry."
---
Photos: Nebraska hosts Penn State in first home game of the season