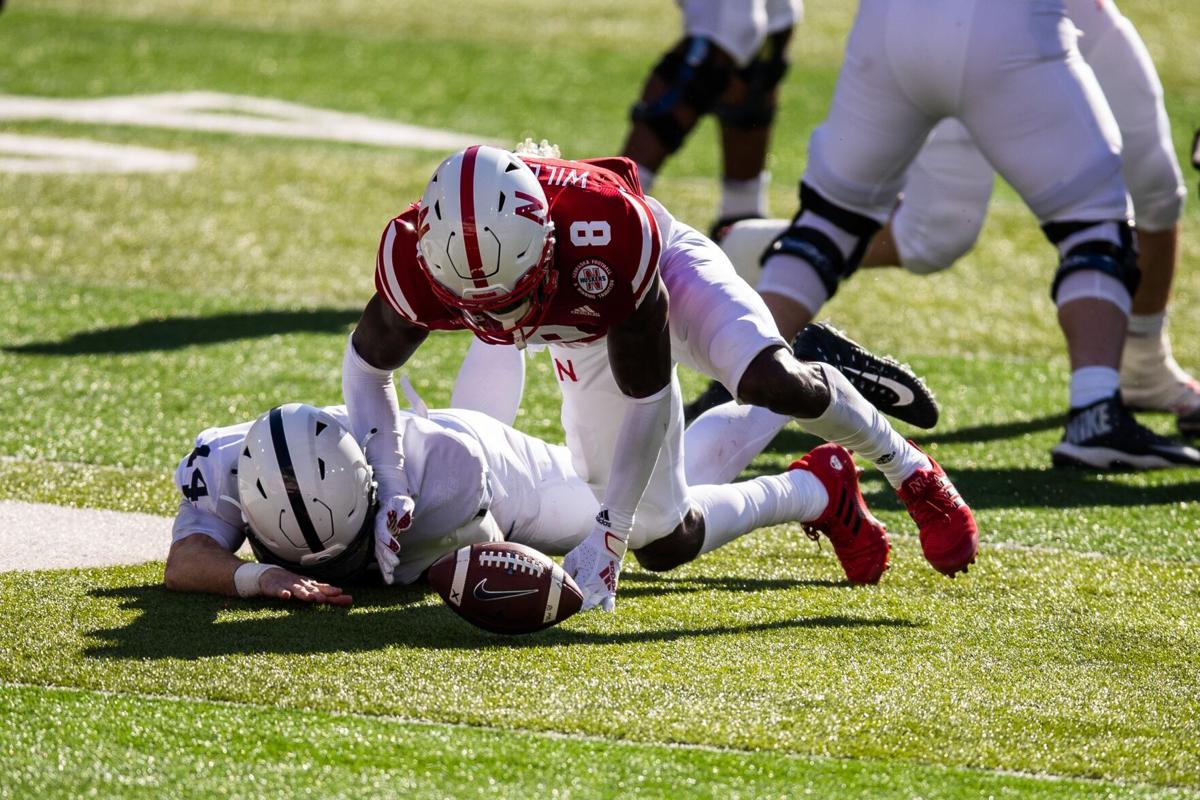 LINCOLN — Defensive backs coach Travis Fisher hasn't met his goal yet.
He passed up coaching opportunities to stay with the Huskers because he believes in his secondary and their future in the program.
"I want to be the top secondary in the country here at this school, and I think I got guys that can do it," he said. "I think that those guys can be some of the top guys in the country this year."
Fisher and the Huskers know what they have in veterans Cam Taylor-Britt, Deontai Williams and Marquel Dismuke. The defensive backs room also has young players who are pushing the older ones to earn time on the field and impressing Fisher while they're at it.
Fisher said Wednesday after spring practice that players like Nadab Joseph, Myles Farmer, Braxton Clark, Quinton Newsome and others watch practice film multiple times and are putting in a lot of preparation.
"I got about 15-16 guys in my office during the day, every day hanging out, watching film," Fisher said. "They have watched practice maybe three or four times before it's time to watch practice, which is a good thing."
Joseph sometimes arrives to Memorial Stadium earlier than Fisher, according to the coach. Javin Wright is also among the hungry group.
"He's like a football coach, man, he's in my office every single day, most of the day when he's not in class," Fisher said. "Majority of those guys are like that."
The key to all of these players contributing and creating competition in spring ball and in the fall is staying healthy.
Clark and Wright both didn't play in the 2020 season because of injuries. Farmer and Joseph suffered season-ending injuries before and during the Purdue game. Fisher said Wright isn't 100% yet, but Clark, Farmer and Joseph are healthy.
"Those guys are getting healthy," Fisher said. "They're moving around, flying around, so it's just me just being smart with those guys during the spring to make sure we have no setbacks."
Farmer was slated to be a major contributor against Purdue before he was injured. Earlier in the season, the 6-foot-3, 205-pound Farmer earned his first start against Northwestern and had two interceptions.
When asked how Farmer reacted to having two interceptions in one half of football, Fisher said, "he wanted three."
"Seeing Myles come a long way. First, you didn't see him at all, maybe see him on special teams, and then you see him in a game get two interceptions," Fisher said.
"Noa Pola-Gates, Braxton Clark, Quinton Newsome, those guys will be the next guys that'll show up for us at some point and make some huge plays for us."
Newsome also played extensively on special teams and defense in 2020 and forced a fumble against No. 5 Ohio State in the opener.
If they had avoided injury, Clark and Wright would have played a substantial amount, according to Fisher.
"He could have even had a starting role for us last year at some point," the coach said of Clark.
Pola-Gates and Tamon Lynum are another set of defensive backs Fisher sees promise in. In the 2020 season, they played in every game on special teams, which will be a big emphasis in the upcoming season, according to Fisher.
The coach said that deepening his players' football knowledge will increase the position group's interception total — Nebraska had five last season.
"Just teaching them football, and once those guys not just know their job, but the whole picture, the whole defense, that's when you can make a lot of plays, because you kind of know where the ball is going and you have a jump on it," Fisher said.
Fisher believes he has the student-athletes to become one of the best secondaries in the country. The best way to solidify that status is eliminating explosive plays and forcing turnovers, specifically interceptions.
"We want to be No. 1 in the country at taking away and eliminate explosive plays, and that's plays 15 yards-plus," he said. "The culture in the room have been set, and the guys are buying in."
---
Our best Husker football photos from the 2020 season