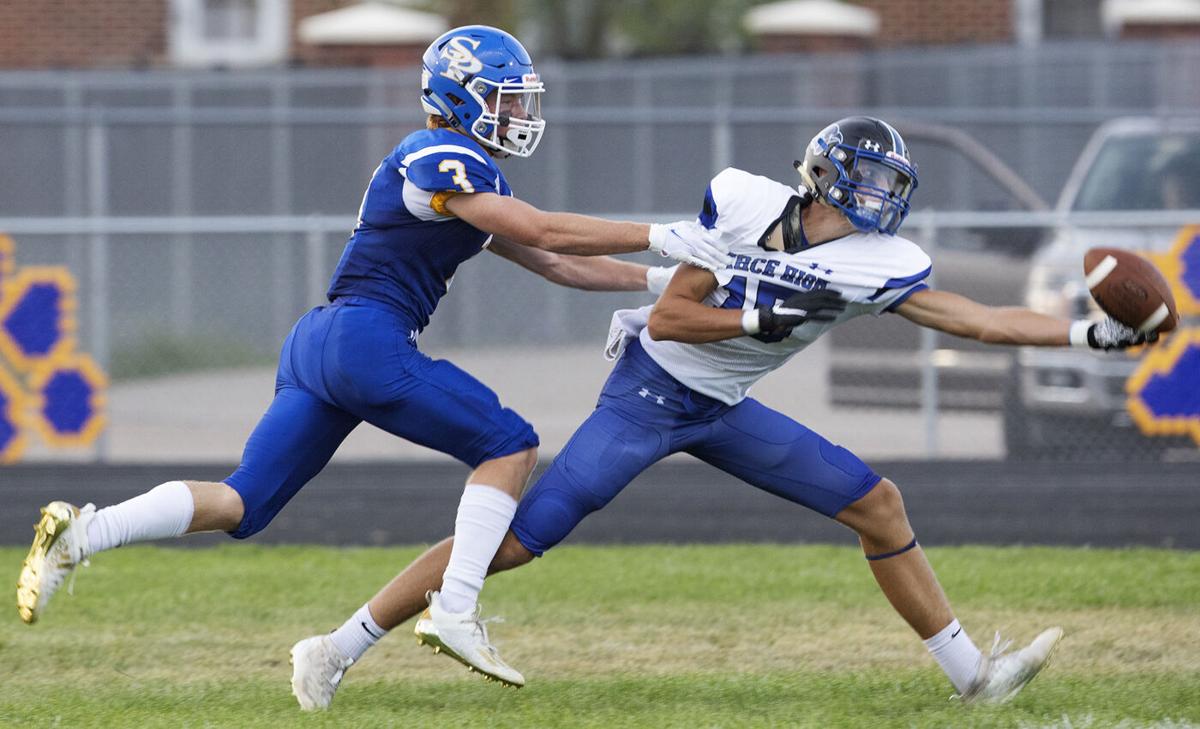 LINCOLN — Benjamin Brahmer's dad, Mark — who doubles as his high school football coach — told his son Friday to make a phone call to Nebraska linebackers coach Barrett Ruud.
Good news awaited the Pierce tight end. Ruud, who handles in-state recruiting for the Huskers, offered the 2023 prospect a scholarship. Brahmer, who had 44 catches for 747 yards and 10 touchdowns last season for the undefeated Class C-1 state champions, became the latest pass-catcher in the state to get a Husker offer.
"It was very humbling and exciting," said Brahmer, crediting his Pierce coaches and teammates, particularly Bluejay quarterback Abram Scholting.
Iowa State had already extended a scholarship. Northwestern has checked in, too, on the 6-foot-6, 195-pounder who has two more seasons of high school football. Given the national attention garnered by other 2022 and 2023 prospects in the state, Brahmer may have to buckle up for the recruiting attention that's about to come.
One of Brahmer's Omaha-based trainers, former Husker Steve Warren, predicted as much in December, when he told The World-Herald that Brahmer was "the next one" coming through the recruiting pipeline. Warren favorably compared Brahmer to 2021 NU signee Thomas Fidone, a Warren Academy alum whose profile after his sophomore season at Council Bluffs Lewis Central was lower than Brahmer's is right now. Fidone eventually became the No. 35 prospect in the nation, according to Rivals.
"The exposure down there (at the Warren Academy) was helpful to my confidence, and the coaches like to see it, too," Brahmer said of working with some of the area's top tight ends, including Fidone and 2022 prospect Micah Riley-Ducker. "I didn't really realize how good they were. And I was just as good, if not, you know, past them. Comparing myself to them is pretty awesome."
Brahmer's 11-minute junior highlight film shows a little of everything. He played as an in-line tight end, a wide receiver who could isolate defenders at the goal line and use his body to ward off defenders, a Wildcat quarterback, an outside linebacker, a safety and even a punter. One of Brahmer's tight end specialties was a long drag route, inside the red zone, in which he'd start on one side of the formation, weave his way through traffic, and break open on the other side.
"I've been catching and playing football since I was able to stand, so that helps," Brahmer joked.
His skill set is reminiscent of another Pierce grad who became a star tight end at Nebraska, Matt Herian, who caught 65 passes for 1,243 yards and 12 touchdowns over his career. Herian's sophomore year at NU — 22 catches, 484 yards, three touchdowns — remains one of the great tight end seasons in school history. Herian accounted for 34% of the team's receiving yards, 23% of its catches and 37.5% of its receiving touchdowns.
Brahmer, a toddler when Herian played at NU, lives up the street from Herian now.
"He probably wants me to play down there, follow in his footsteps," Brahmer said. "I see him every day when he drives by."
Whenever a small-town prospect gets a scholarship from the state school, the general expectation is he'll jump on it. Current NU center — and Beatrice product — Cameron Jurgens did that. So did York's Garrett Snodgrass, Scottsbluff's Garrett Nelson, Ashland-Greenwood's Ben Stille, Gretna's Mick Stoltenberg, and so on.
But Brahmer, two years out from officially signing anywhere, wants to take a little more time. He's been to many games at Nebraska but would like to take more of a full visit when NCAA rules — and the coronavirus pandemic — allow before he takes the same steps as his grandfather, who played for one season under Bill Glassford in the 1950s.
"They have a winning tradition and I know they can turn it around and start winning here in a few years," Brahmer said. "I know the fans are amazing because I've been to a lot of games."
Signee Spotlights: Get to know the players in Nebraska football's 2021 recruiting class
The "Signee Spotlight" provides all the information you need on the newest batch of Huskers, including rankings, evaluations and a look at how they landed at Nebraska.