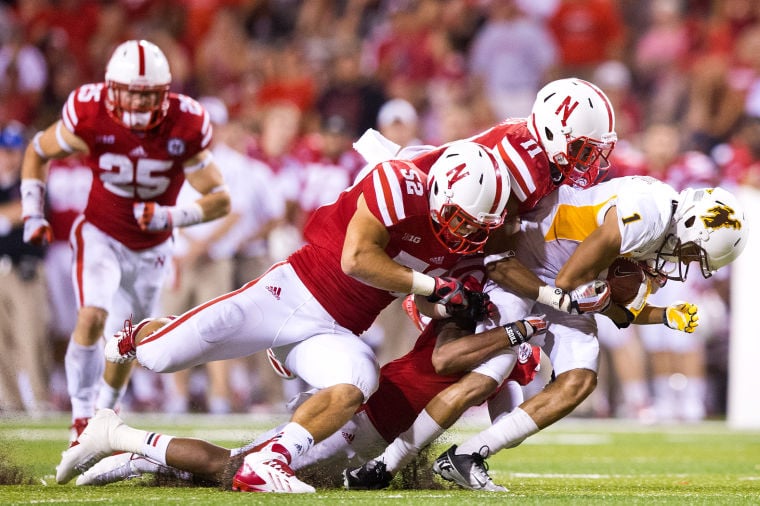 LINCOLN — It wasn't until well after their first collegiate game Saturday that freshmen Josh Banderas and Nate Gerry realized they'd played side-by-side for a dozen snaps.
The roommates didn't notice each other. They've been buddies since early in the recruiting process, and they ascended the depth chart together, using portions of their free time ever since to quiz one another on formations and play calls.
But they were too focused on their own assignments during the frantic late-game moments against Wyoming to cherish each other's debuts.
"Just go out there and do your job," Gerry said.
Both realize the significance of their accomplishment now, though neither is satisfied.
They caught the veterans' attention in the summer, established themselves again during preseason practice and gained the trust of teammates and coaches during game preparation. Now they're the first true freshman linebackers to earn meaningful playing time with the No. 1 defense in the five-plus years that Bo Pelini has coached at Nebraska.
And they received their snaps during the season opener's most critical point — when Wyoming was storming back in the fourth quarter.
Banderas, the middle linebacker, hollered out assignments between plays, blitzing a few times after the snap or covering a running back leaking out of the backfield. He should have played more early in the game, defensive coordinator John Papuchis said, but the plan was altered and Banderas ended up serving as the fresh-legged reserve late on a hot night.
Gerry lined up at the Huskers' hybrid dime position, often matched up against the Cowboys' best receiver, and was forced to cover even longer than usual because an elusive quarterback was buying time in the pocket. Gerry played about half the game, splitting reps with senior Mo Seisay.
Neither freshman was perfect. Far from it. But they had the opportunity to make mistakes and play through them. Now the goal is to make sure they keep improving, linebackers coach Ross Els said.
"They're still young. It's only one game," Els said. "But for that one game, they performed well."
Gerry was responsible for one of the night's most memorable moments.
He thought he saw a bubble screen forming to his left and immediately sprinted toward the receiver, who caught a backward pass and looked downfield to throw. Gerry didn't really realize it was a trick play until after senior Ciante Evans intercepted the pass.
Gerry was too busy thinking back to practice, when they worked on plays like that over and over.
"That was the first thing that went through my head: that was my duty to jump it and go at it," Gerry said.
It's why the coaches worked so hard to get Gerry on the field. The state sprint champion from Sioux Falls, S.D., started at safety and moved to linebacker because he could use his speed in space to match up with spread offenses.
"His acceleration? Man, can he burst," Els said, shaking his head, smiling. "He's a smart kid, too. So I think he reacts quickly to those things."
Turning the game's fundamentals into second nature is the next step. Gerry lost a receiver late in the Saturday's game because he looked back at the quarterback instead of boxing his man in. He made that correction on the fly, but properly applying coverage principles again next week will be an emphasis.
Gerry knows he has plenty to work on, though. And it helps to have a teammate in Banderas who can relate or motivate.
They met on one of Gerry's recruiting visits to campus. Banderas, who played for Lincoln Southwest High School, wanted the Gerrys over at his house for some food, some swimming and perhaps a bit of hoops.
The two guys were texting back and forth soon after. About everything.
They're both competitors. Grinders. Football junkies. Gerry was always playing some kind of sport — his dad, Brian, is an athletic trainer. Banderas' dad, Tom, lettered at Nebraska from 1985 to 1987.
"We're pretty much together all the time," Josh Banderas said.
Which is a good thing because they need all the encouragement they can get.
"We go over our mistakes, and talk about how hard it is, and just joke around," Banderas said.
They can get a chuckle now about Banderas' awkward moment just before a snap in the fourth quarter Saturday.
The Huskers were missing a lineman. They had only 10 players on the field. And the Cowboys were set, about to snap the football. Banderas raised his hands and looked toward the sideline, his mind already racing.
"You know what you're supposed to see in front of you, and when it's not there, you freak out. But you don't freak out. You don't know what to do," he said. "You just have to get through the down."
Banderas didn't even know for certain he would play at linebacker Saturday.
But starter David Santos went down on the third play and Banderas trotted out for the first time.
He tried not to think about the distractions. Two plays later, he was back on the sideline, still a bit numb to it all. He didn't enter on defense again until the fourth. That's when he started to settle in.
Banderas finished the game with two tackles and a quarterback hurry in roughly 15 snaps.
"For as much as I got in, I can't complain," he said. "To be a true freshman and to get on the field that much was all I could ask for."
Video: "The Big Red Today Show"