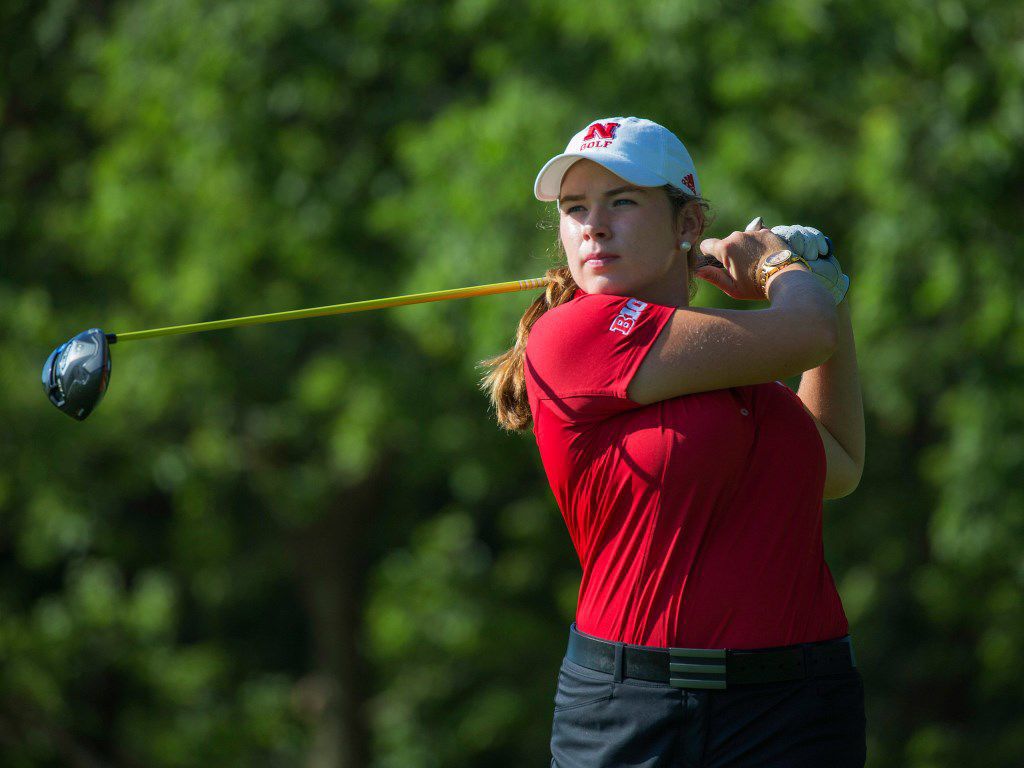 LINCOLN — Kate Smith's senior golf season ended on the ninth hole of a practice round in Mesa, Arizona. She and her Nebraska teammates were preparing for the Clover Cup, an annual snowbird tournament hosted by Notre Dame in mid-March. Then the clouds rolled in.
The storm wasn't in the sky — it was in the news. The coronavirus pandemic had shut down the NCAA men's basketball tournament and, in swift order, the rest of college sports. The dominoes moved so fast that Nebraska wasn't even allowed to finish a practice round. Within an hour, the Huskers were back at their hotel, readying for a flight back home.
Smith, one of the best golfers in Husker history, packed up her stuff and carried her clubs.
"When I got to the hotel lobby, I bawled," Smith said. "At that moment it was unprecedented to have five years of eligibility, so to have your whole career end, on that day, was crazy."
The NCAA would prove to be merciful, allowing spring sport athletes a chance to repeat their senior seasons. Smith — a first-team All-Big Ten performer who this week won the league's Mary Fossom Award for lowest stroke average relative to par — opted to return in 2020-21 because she thinks another season with coach Lisa Johnson and her assistant, Chessy Thomas, will better prepare her for a pro career.
Smith grew up working on a golf course her parents owned. She'd like to make some money playing the sport she loves, too, after setting the school record in lowest stroke average for the last three years.
"Having another year with Lisa and Chessy is kind of priceless," Smith said. "They've been a huge help to trying to get me to another level of golf I haven't reached before."
So, back at her home course in Detroit Lakes, Minnesota — not the childhood course, which has been sold, but one nearby — Smith practices and practices and practices. Johnson and Thomas designed Smith's work to mirror the kind of work she'd have to put in as a pro. Four times a week, she putts for two hours a day, and puts in at least that wedge and short game work. She plays that often, as well, since golf is one sport where social distancing is easy to achieve.
"I just played 18 holes," Smith said during her interview. "And I'm probably going to play another 18 after this."
This is an evolution for an art major who, a few years ago, wasn't sure she wanted to play pro golf and may not have counted practice among her favorite things about the sport. Smith said her viewpoint started to change after her sophomore season when she set NU's 18-, 36- and 54-hole records at the Westbrook Invitational. Johnson, who became NU's head coach in June 2019, and Thomas have challenged Smith to elevate her game.
"They believed in me and my process and where I could go," Smith said. "Sometimes you reach goals and you don't know what's really next. They were good at framing what's next."
Said Johnson: "Part of the discussions we've had leading into next year and helping her decide to return to Nebraska were surrounding the things we can do to help her better prepare for the professional world, in addition to the fact we're not really sure how many opportunities there'd be for players like her who have to go to Q-school and earn some sort of status. There's so many unknowns."
Johnson does know she'll have a strong team returning. Smith has opted for a fifth year, as has Jessica Haraden. Another senior, Haley Thiele, has chosen to forgo the extra year so she can enter NU's Master's dietetics program, which Johnson described as "competitive."
The rest of the Huskers should be back, which excites Smith.
"I've loved my four years at Nebraska, but there's more work that's left to do as a team and an individual," she said.
Before that, Smith eyes the Texas Women's Open on June 2. She'll play in it. Golf is a sport that functions better than others in a pandemic.
"The pandemic has been devastating for a lot of people, but golfers, we've found a little solace in our sport," she said.
Photos: Husker fans through the years
Through thick and thin, Husker fans have been there for all of the wins, losses and coaches.