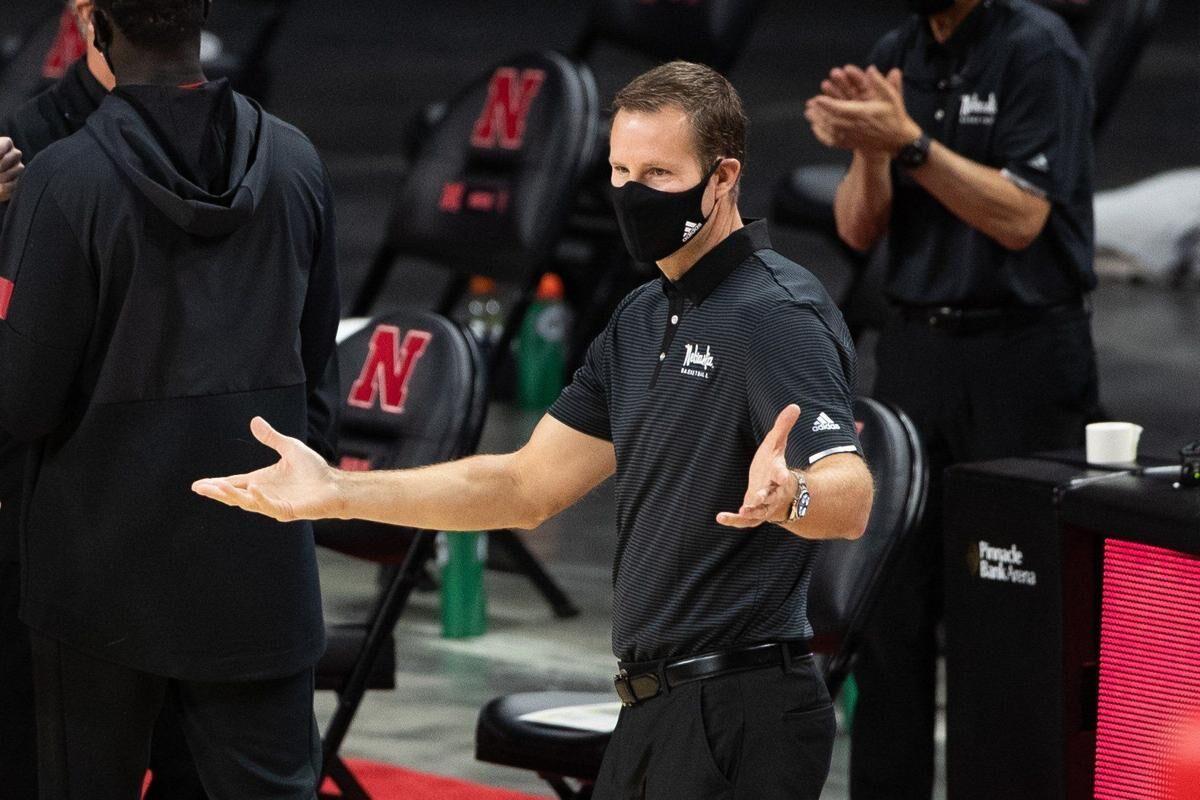 LINCOLN — After 12 members of Nebraska's men's basketball program — including coach Fred Hoiberg — recently tested positive for COVID-19, the program extended its pause Sunday of basketball activities at least another week.
In a statement posted to Twitter, Hoiberg said he immediately started self-isolating after he tested positive Friday. He is experiencing symptoms related to the virus, but his condition has improved in the past 24 hours. Hoiberg has a pacemaker because of a heart condition that led to open-heart surgery in the mid-2000s.
"Our program has been hit hard over the last 10 days and we are all trying to manage and get through it," Hoiberg said. "We are very fortunate to have a great medical team around us that is here to ensure the collective health and safety of our program. We have taken a pause from all basketball-related activities and will return only when it's absolutely safe to do so."
The Huskers have 12 members — including seven players — in their Tier 1 personnel who are currently testing positive for COVID-19 and are in isolation or quarantine per CDC guidelines. Tier 1 personnel include coaches, trainers and other members closely affiliated with the team.
The sheer number of positive tests put NU in the red/red designation of the Big Ten's testing protocols, which triggers a mandatory pause of a week. Teams are then asked to "reassess metrics until improved." Such a pause is much harder to achieve in football, where the larger number of personnel and athletes, tested daily, make the "red" team positivity threshold of 5% very hard to reach.
"Based on testing results through the latest round of testing, at least 30 percent of Tier 1 personnel has been confirmed positive in the last seven days," Nebraska's statement read.
NU will postpone at least two more games — vs. Minnesota this week and the Jan. 24 game at Iowa — as it deals with cases inside its program. The next game after that — Jan. 30 against Penn State — would be hard to play if Nebraska did not have enough players who have progressed out of the Big Ten's 17-day sit-out rule. Center Yvan Ouedraogo — who tested positive Jan. 4 — would be available by Jan. 30. The Big Ten reduced the number of sit-out days from 21 to 17 days in December.
The Huskers have already missed games against Purdue, Illinois and Maryland.
NU's pause now is, to some extent, the result of having so few positive tests before the season, when two players contracted COVID, according to Hoiberg. Since the season started, two players — Eduardo Andre and Ouedraogo — are known to have tested positive. Andre, who tested positive just before Thanksgiving, has returned to play.
The women's basketball team, by contrast, had the virus run through most of its team before the season, limiting what the Huskers could do in practice though never shutting down workouts entirely. The track and field team paused in the fall out of competition. No other NU athletic team is known to have paused since student-athletes returned to school.
Nebraska chose to postpone the Purdue road game out of an abundance of caution after Ouedraogo's positive test, taking two days off. NU played the Jan. 10 game vs. Indiana, then announced a pause the following day, which postponed the Jan. 13 Illinois game and later the Jan. 16 Maryland game.
Now, it will be at least a week — and perhaps two — before Nebraska, which has lost 22 straight Big Ten games, can play again. When NU does return, it'll have at least five games, and perhaps more, to stuff into an already-full calendar.
One team that has experienced a similar pause to Nebraska, Villanova, has postponed six straight games from Dec. 29 through Jan. 15. The Wildcats are scheduled to return Jan. 19 and currently has eight games scheduled in 26 days in February.
---
Meet the 2020-21 Nebraska men's basketball team