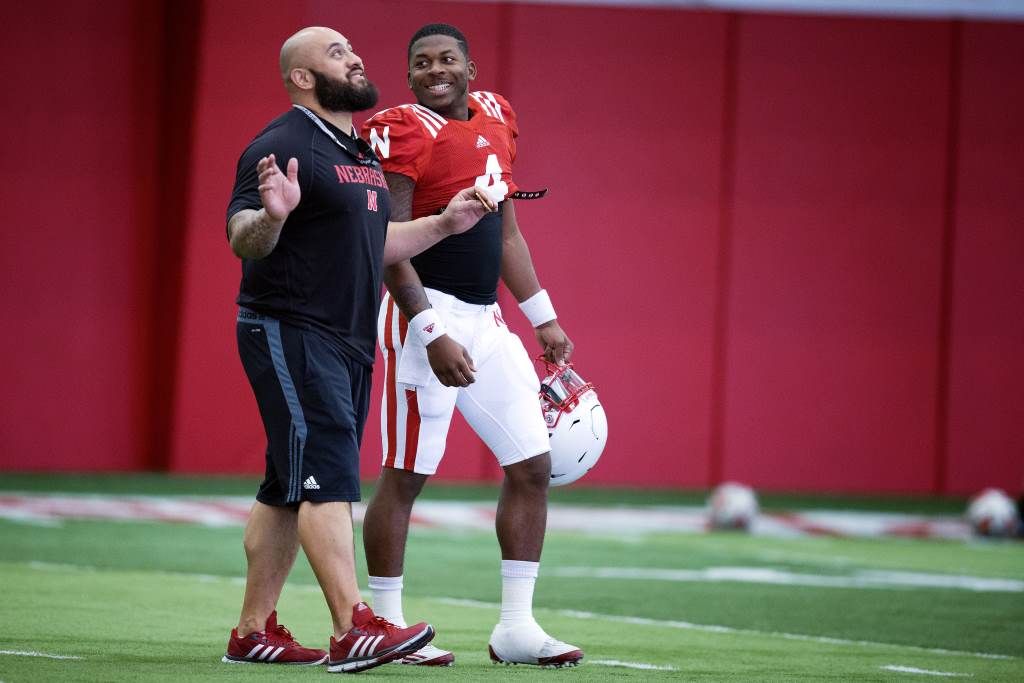 LINCOLN — The analytical gaze of Nebraska's strength coach will cover all corners of the weight room when the football team begins summer workouts Monday, as if it's the first time he's assessed the players' training technique.
In reality, Mark Philipp has been gathering intel on these guys for six months. He sees them more than their coaches do. He's plenty familiar with their personalities and skill levels.
But the way the enthusiastic 32-year-old is wired — believing each day carries the chance for more individual growth than the last — he can't allow himself to alter his approach just because he's settled into the job.
"There's just so many variables in training, so you always have to evaluate," he said. "Whether it was too much. Whether the stress factors of the training program were enough. Is somebody getting it, or not getting it? How do we teach it? Things like that. Every day we evaluate and re-evaluate."
It's exactly what Philipp loves about this gig — why it's the type of job he's always wanted and why, even before an offseason sunrise, he's amped like it's game day, injecting energy and positivity into everyone he sees.
Take Friday night, for example. Just before leading stretches with high school campers, the sturdily built Philipp was challenging the teenagers to handstand battles.
It's an upbeat nature, so genuine and constant, that seems rooted in gratitude and humility. He was a carpenter laboring on high rises and parking garages out of college 10 years ago.
Now he says he's got it made, surrounded by a strength staff that executes his vision while he runs one of the most prestigious strength programs in the country. Oh, and by the way: One of the industry's architects, Boyd Epley, is a few doors down.
"I literally couldn't see myself doing anything else," Philipp said.
NU players have noticed his passion, which has helped ease the transition.
They reported without complaint this spring that they ran more often — speed training is an emphasis, Philipp said. Junior safety Nate Gerry said their regimen included more Olympic-style lifts. Junior defensive tackle Maliek Collins said he'd never performed a power clean lift from the floor before Philipp arrived.
The program may continue to evolve. Injury prevention is the first priority, Philipp said. Then he's looking to maximize football-specific athleticism by tailoring workouts to mimic on-field movements. All the while, he's mentoring as much as he can.
"I want to help guide them, making them better human beings — not just good athletes," Philipp said. "Developing them as young men."
He has three younger brothers, so the mentor role isn't foreign. It's almost a duty, really.
Soon after he completed his playing career at Southern Illinois, his father, Mareko, passed away. So Philipp moved back home to San Bernardino, California, in 2005. He joined a carpenter's union, but maintained flexible enough hours to be able to shuttle brothers Michael and Hans around. He trained them. Other high school and junior college athletes, too.
Another brother, Paul, was already a defensive tackle at Arizona by then. Hans followed him there in 2007. Michael went to Oregon State, which happened to have one of Mark Philipp's old strength coaches on staff and soon had an open internship position.
"The right place at the right time," Philipp said.
He interned at Oregon State for two years and joined USC's football program for two more. Then Mike Riley called. Philipp couldn't turn down the offer to come to Nebraska.
He lured North Carolina State assistant strength coach Timothy Rabas to Lincoln — the two had worked together at Oregon State. Andrew Ervin, one of Rabas' old colleagues, joined them. Willie Jones stayed on with NU and Jamie Belt came from the University of Nebraska at Omaha.
Philipp says he'd be lost without his staff, handcuffed without the full trust and support of Riley, limited without the complete buy-in of the players.
But the appreciation goes both ways.
Senior defensive end Jack Gangwish gave this review after the spring game: "It's pretty cool to come into the weight room every day and have someone just radiate positivity. That's what Mark Philipp wants to do. He's excited. It's contagious. Our guys love it. Everybody loves it. There's joy, there's electricity in this weight room. It's pretty special."
Philipp's old boss, USC strength coach Ivan Lewis, told The World-Herald last winter that this would be the case. And he'd worked with Philipp for only a year.
"I hated losing him," Lewis said. "When you get an assistant like Mark, you don't replace him. He's one of those guys — you'll find a guy to do the job. But you can't replace him. He's that much of a personality, a presence, just a good human being."
Philipp isn't changing now that he's running the show.
He's motivating and educating — his thunderous voice will be echoing off the weight room walls all summer — because he recognizes each player's potential. Every day is an opportunity for Philipp to help players see it, and strive for it.
"I really believe in positive reinforcement," he said. "Make every bad situation a good situation. Look for the positive. There's always a positive, and always something you can work on."