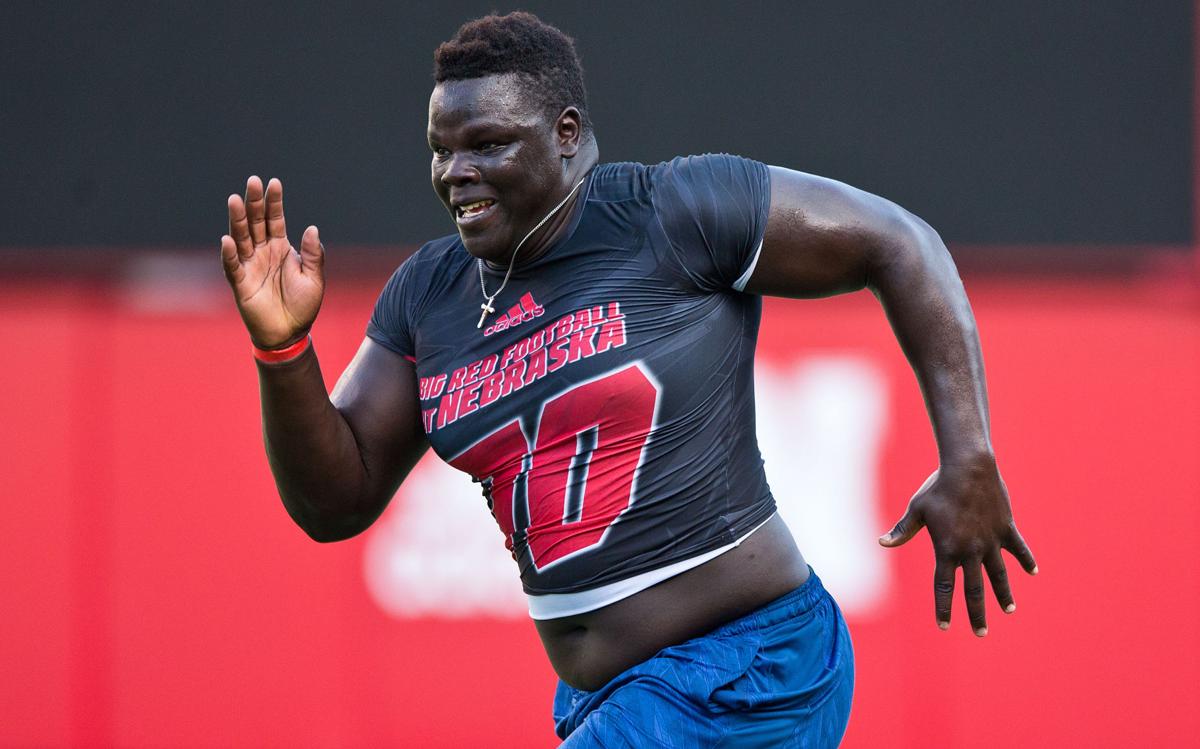 Just after Nebraska football's Friday Night Lights camp ended, defensive line coach John Parrella stood near midfield inside Memorial Stadium and had one arm draped over a shoulder of York defensive tackle Masry Mapieu.
Parrella, the former star Husker defensive tackle, had just offered his first in-state lineman, and this chat was, in effect, a pitch for the 6-foot-3, 282-pound Mapieu to commit.
Mapieu didn't think about it long. Perhaps 30 seconds. He committed right then and there, took a picture with Riley and walked out of the stadium to conduct interviews on the sidewalk with the media. Just like that, NU had its second commit for the 2018 class, as Mapieu joined Beatrice tight end Cam Jurgens, who also worked out at Friday Night Lights.
"You know, when I was a little kid, I wanted to play here," said Mapieu, whose family moved from Egypt to the United States when he was 2. One of his first memories of Husker football was Ndamukong Suh splitting Texas double teams in the 2009 Big 12 championship. "I was sure I wanted to come here and play. Pretty positive."
Mapieu had received a glut of offers — Iowa, Iowa State, UCLA — in recent weeks after a surging sophomore season at York. Mapieu lives in McCool Junction — a few miles south on Highway 81 — and transferred to York after his freshman year. The Bruins offered Mapieu sight unseen.
"That's when we really had an idea that Nebraska would probably be looking at him pretty hard," said York coach Glen Snodgrass, who attended FNL with Mapieu and his son Garrett, a 2019 tight end prospect. "Nothing was ever guaranteed, but we were sure hoping Nebraska would offer, and now that they have, we're really happy about it."
Snodgrass said Mapieu is "very, very raw" but improved each week at York. He hasn't played offense yet but will this fall. Snodgrass said Mapieu could be just as good, if not better, on offense as he is on defense.
On Friday night, Mapieu worked as a defensive tackle. He won some repetitions against other linemen; he also lost a few, though not for lack of trying. After most of them, Parrella, watching all the time, would walk over to Mapieu and quietly coach him. He clearly liked what he saw, and Mapieu liked what he heard.
It's been a meteoric rise for the 16-year-old. Some fans who braved the muggy heat to attend the FNL event knew him, and he couldn't quite believe that.
"It's pretty awesome, to get my name out there for coaches, pretty exciting," Mapieu said. "I didn't really think football would change my life this fast."