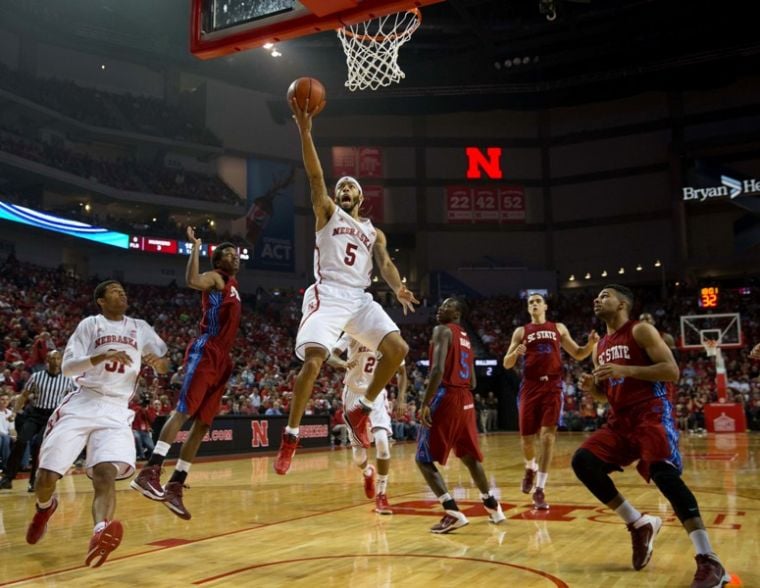 LINCOLN — Members of the Nebraska men's basketball team knew they were struggling with coach Tim Miles' "share the ball'' philosophy after recording just 13 assists on 56 baskets in the first two games at the Charleston Classic.
The cold slap in the face, though, came when assistant Chris Harriman dug through the NCAA statistics to find this:
NU is 344th in assists per game (7.7). That is second-to-last nationally, ahead of only Arkansas-Little Rock. (The national leader is Creighton at 22.5).
The No. 344 ranking "kind of (ticked) me off,'' NU wing Terran Petteway said Wednesday. "We are scoring a lot of points, but about last in assists is kind of weird.
"Once we start moving the ball around, our offense flows easily and the game is fun.''
Proof of that came in a 73-65 win over Georgia, in which the Huskers (4-2) recorded 10 assists on 23 baskets. They're looking for an even better rate Saturday at home against Northern Illinois (2-3).
The low assist totals in the first two games in Charleston were a function of Nebraska running more isolation plays and sets. In the third game, Miles said, NU went more with its motion offense, even though it hadn't shown well in workouts.
With six new scholarship players in the Huskers' nine-man playing rotation, some early selfishness was expected.
"Collecting talent is one thing,'' Miles said. "Getting them to operate as a team is another. That's what we have to get to.''
On defense, there may be a fracture when "a guy gets selfish and stays with his man instead of getting to his spot where he is supposed to help.'' Offensively, "it's taking a bad shot instead of finding the open man.''
"It's not an indictment on any person,'' Miles said. "We're not selfish guys. We just haven't learned that aspect.
"A lot of guys 'play for me.' It's got to be 'play for we.' ''
Petteway scored 28, 21 and 15 points in the three tourney games, but he said averaging 20 a game is far from necessary for success.
"We've got enough scorers on this team that I can average whatever Coach wants me to average," he said. "As long as we win, I don't care. I had 28 but we lost, and that didn't feel good at all."
NU forward Shavon Shields, who shot 29.6 percent in the tourney (8 for 27) and appeared out of sync, said the players are getting the message.
"The first couple of games were awful as far as playing together," he said. "It finally took us losing to realize it was happening."
» Notes: True freshman guard Nathan Hawkins (foot) didn't practice Wednesday, and Miles had no timetable for when he might suit up for the first time. ... Senior guard Ray Gallegos, who sprained a knee ligament in the first game in Charleston but continued to play, did practice Wednesday.