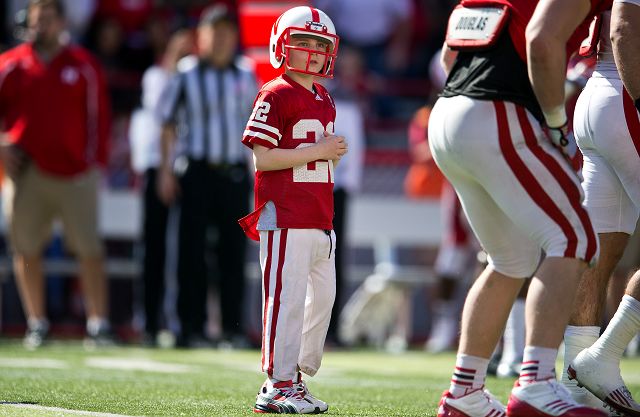 It felt familiar watching that red jersey with No. 22 zigging and zagging down the field inside Memorial Stadium for a touchdown.
But this wasn't your everyday run.
"That was special," said Jeff jamrog, Nebraska assistant athletic director for football.
In a moment likely to go down in Husker lore, 7-year-old Jack Hoffman of Atkinson, Neb., scored the final points of Nebraska's spring game Saturday.
Jack, battling a rare form of brain cancer, took a handoff from quarterback Taylor Martinez, started to the left side, cut back to the right (with a guiding hand from Martinez) and led a host of Huskers 69 yards to the end zone.
Then, just like his friend and former No. 22 Rex Burkhead used to receive, Jack got a hero's welcome — but this one was super-sized. Both sidelines emptied to converge on Jack, who was raised to the shoulders of a couple of players.
Shortly afterwards, with a couple of television cameras and microphones in his face — and the game ball still under his arm — Jack summed up the day with three words.
Jamrog credited wide receivers coach Rich Fisher for the idea. Fisher brought it up Friday, and Jamrog put the wheels in motion. Burkhead and Husker fullback C.J. Zimmerer, the president of NU's chapter of Uplifting Athletes, agreed that the team was in position to give Jack a moment he'd never forget.
The boy, in the midst of chemotherapy treatment, means a great deal to the program, Burkhead said.
"It's awesome to see joy like that on a kid's face, who goes through so much," Zimmerer added. "To be out there and run with him and get him into the end zone and lift him up there — that's definitely the highlight of the game for me."
Andy Hoffman, Jack's dad, said Jamrog called Friday night and asked if the plan would work for the family.
Jack was already in bed, but was excited when he got the news Saturday morning.
So Andy got an old pair of football pants from Jack's uncle Mike — a former NU walk-on — and pulled together the first No. 22 jersey Burkhead had ever signed for Jack. A kid's helmet completed the ensemble.
"It really just exemplifies what this staff and program are all about," Andy Hoffman said. "It's a wonderfully uplifting experience."
NU coach Bo Pelini told Jamrog that in the fourth quarter he'd take a timeout and they'd run Jack's play. He asked if the offense needed to be close to the end zone so that Jack wouldn't exhaust himself.
"But we've seen him race Rex 100 yards," Jamrog said, "so we knew he had 70 in the tank."
Just before fourth-and-one with 6:41 to play in the game, Pelini called time out. Graduate assistant Joe Ganz drew up the play for Jack on a Dry Erase Board, and the wide-eyed youngster trotted out with the Husker offense.
Martinez directed him to the right position, took the snap and handed him the ball. Then, like any good running back, Jack looked for the hole.
"Yeah, he was really nervous when he got there," Martinez said. "You saw him run the wrong way, so I had to grab him and lead him the right way. It was awesome for him."
Soon, there was nothing but end zone ahead.
The only thing missing was a touchdown dance. Much like Burkhead, he took it all in stride.
"We're from the farm," Andy Hoffman said. "We're not really the touchdown dance type of people."
Not that he would have had much of a chance. In an instant, young Jack was engulfed in a sea of Huskers, all happy to partake in Jack's moment.
A special touchdown indeed.
• Video: Jack Hoffman runs for a 69-yard touchdown: