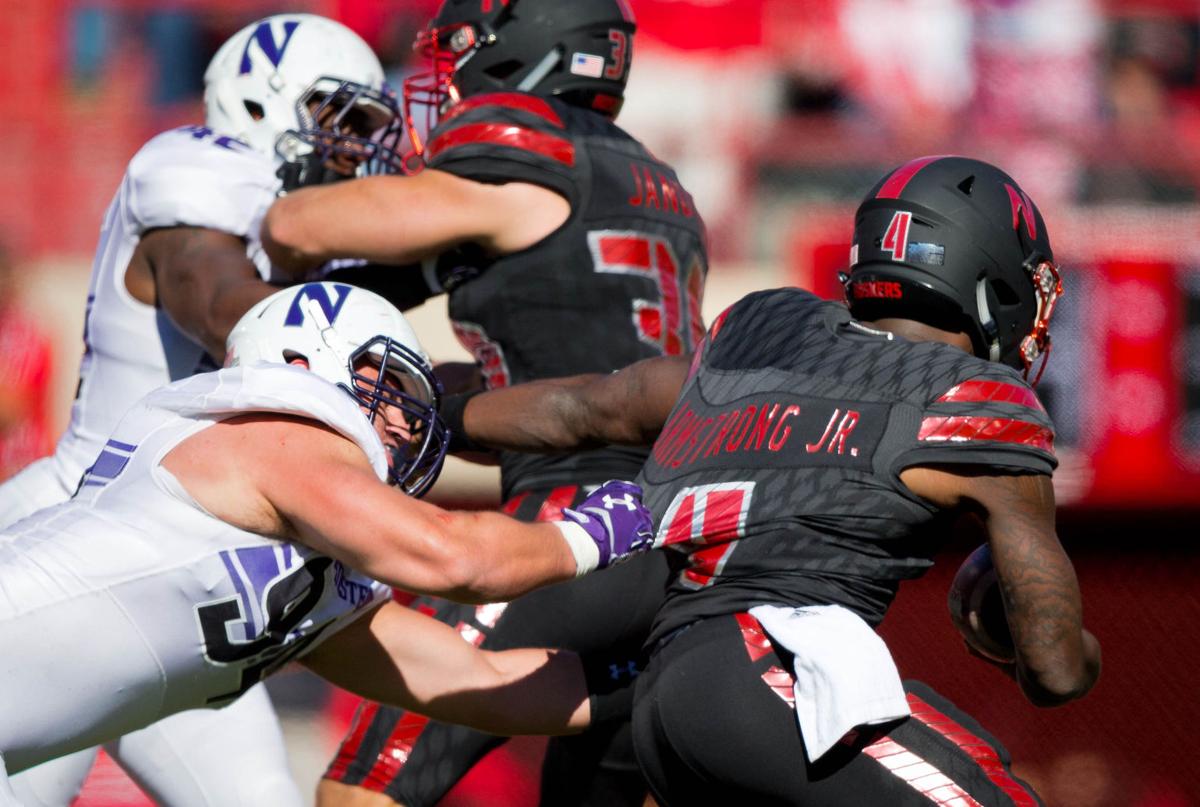 LINCOLN — We'll ditch the literary preamble and cut to the straight talk. Nebraska's season is eight games old and stuffed with drama. In the wake of its fifth close loss — this time 30-28 to Northwestern — several key questions emerge.
Let's tackle some of them all the way to the ground, ditching the usual format. You'll still find plenty of stats and concerns.
What's at the root of 3-5?
The perception that "good" and "bad" football is defined primarily by last-second wins and losses.
To put it another way, what's wrong with Nebraska is the same thing that's been wrong for years. Blown drives. Turnovers. Mental gaffes. Busts on defense. Several "what the heck?" moments on special teams. It's all been there for years. The Huskers have simply hit their credit limit. I've hit my credit limit before. It hurts. You lose. And you also know the signs were there for many years.
Since Nebraska entered the Big Ten, it has played 37 league games. We'll first explore the 33 games Riley didn't coach.
In those games, Nebraska outscored league foes 28.5-26.1 per game. Its per game turnover margin is minus-.78. In those same 33 games, Nebraska's offense averaged 5.4 yards per play and gave up 5.11 yards per play. In a hypothetical game of 70 plays for each team, that's 20.3 total yards.
That's it — 20.3 yards and 2.4 points per game in 33 games. That's how much better the Huskers were.
But Nebraska finished 22-11 in those games — and 11-3 in games decided by 10 or fewer points.
The profile is that of a 7-5/6-6 program with 8-4/9-3 talent and excellent timing.
If you want to lean on the "winners win and losers lose" mantra from your marketing seminar, fine, but in that same period, Wisconsin played 35 games and finished with a 25-10 record. Not so different from Nebraska, until this:
The Badgers outscored league foes by an average of 36.3-19.8 and had a plus-.51 per game turnover margin. They gained 6.62 yards per play, and gave up 4.84 per play. That's 16.5 points per game and, over a 70-play game, 124.6 yards.
Wisconsin, in other words, was 14.1 points, 1.29 takeaways and, over 70 plays, 104.3 yards per game better than Nebraska in four years of Big Ten play. That's statistically significant.
It explains why Wisconsin has humiliated the Huskers in their three games played away from Memorial Stadium.
It explains how far Nebraska had to go — or Wisconsin, for example, had to fall — coming into 2015.
And it explains, to some degree, how Nebraska could lose games by 1, 2 and 2 points to start this Big Ten slate. The signs have long been there.
Now — four Big Ten games this year.
Though it's a small sample size, Nebraska has technically "outscored" its four league foes 27.5-23 — the 23-point win at Minnesota is the reason. The offense is averaging 5.17 yards per play while the defense is giving up 5.47 yards per play. That's .30 yards per play to the opponent, and it's .59 yards worse than Nebraska over 33 games from 2011 through 2014.
That .59 yards, over 70 plays, is 41.3 yards. Less than the game-winning drives Illinois and Wisconsin used to beat the Huskers. Dare I say that if Nebraska hadn't botched third-and-seven at Illinois — a potential Helen of Troy moment as it pertains to Riley's critics — Nebraska is snugly within the statistical profile it has made for itself over four years.
In other words: 2015 Nebraska is more or less the same team you've been watching for four years — rather similar to the 2012 bunch, in some ways — minus the heroics.
Someone gets credit 
for the heroics, right?
Yes. Over the course of four years, great individual efforts — Lavonte David in the 2011 Ohio State and Penn State games, Taylor Martinez throughout five nail-biting wins in 2012, Ameer Abdullah on fourth down in the 2013 Northwestern game, Kenny Bell in the 2013 Penn State game, De'Mornay Pierson-El in the 2014 Iowa game — combined to make those wins possible.
How much of the credit does a coaching staff deserve? I'd like to think the staff is more widely responsible for the broader picture — that is, the 2.4 points and 20.3 yards per game, which is middling — than the individual moments, but former coach Bo Pelini deserves credit for picking Martinez as the quarterback in 2010. That was his call and he stuck with Martinez through, well, a lot. Martinez may have lost Nebraska some games by more points, but Nebraska was losing those games anyway. For the full time Martinez played at NU, he was the best quarterback on campus by some margin.
But I'm not sure most fans — even ardent Pelini supporters, even some of Pelini's own players — count the Martinez decision among Pelini's best, even if I do.
Riley hasn't changed the performance profile much, has he?
Not yet. And he was hired to do that. Even if I argue it hasn't really changed at all, it certainly hasn't changed for the better, and that's Riley's job. But the underlying statistical profile suggests Riley hasn't moved the needle — and he's losing games while not moving the needle.
What's the main problem 
with the 2015 team?
It's still Mark Banker's defense, no question. It's so glaring you almost want to be clever and pretend it's something else. It's the No. 1 thing Riley has to examine in the offseason.
Nebraska is giving up 5.96 yards per play in eight games this season. The 2007 defense that cost half of North Stadium their jobs gave up 6.08 yards per play. No other defense in the post-Tom Osborne era is close to this leaky.
Because of injuries, Banker deserves some slack, but Northwestern quarterback Clayton Thorson looked like Randall Cunningham on two scrambles because of Nebraska's pass defense. Yes, its pass defense gave up those plays.
Rewatch both first-half scrambles to see the poor angles, the flat-footedness, the inability to get off blocks and linebackers completely unaware of the quarterback scrambling — one had his back turned, face-guarding a wideout 2 yards from the sideline, as Thorson ran by — and understand that, whatever Banker has tried to do this season, it has been lost in translation.
That entire side of the ball needs to be evaluated after the season. This is the fifth average-to-poor year in six for Banker, and I think it will get worse.
What about the QB position?
Tommy Armstrong has his flaws, but without him, Nebraska's deficit in these losses likely would have been much larger. Considering the lack of help he got from his line, blocking tight ends and wideouts Saturday, Nebraska was fortunate Armstrong rebounded from his pick six as well as he did.
Pencil in Armstrong as the starter next year unless he gets hurt. With the exception of a few Heisman Trophy winners, new starters almost always have growing pains, and NU doesn't play in the kind of spread offense that reduces the amount of responsibility on a quarterback. In Riley's system, the quarterback will not be looking at the sideline every nine seconds.
What else is wrong?
» Nebraska's level of self-discipline is revealed in penalties — 8.3 flags and 73.3 yards per game ranks last in the Big Ten. Other signs are on-the-field pouting, returners not doing their jobs of following blocking and general sideline demeanor. I always watch the guys not playing — redshirts and reserves — to gauge how locked in everyone is. Are those guys tied into the fortunes of their teammates like the rest of the stadium, or are they joking with 1995 Huskers and using their motorized foot scooters on the sideline?
» The offensive line generally talks with the media and operates on the field with droll monotony, and it plays with more technique than dominance. One of them was pancaked on a running play by Northwestern defensive end Dean Lowry. Riley and offensive coordinator Danny Langsdorf allow line coach Mike Cavanaugh to make all calls with rotation and playing time; Cavanaugh has made it clear he doesn't like to rotate or dole out much playing time beyond the starting five, which makes the 12 returning scholarship linemen an interesting subplot to the offseason.
» Poor return teams, which includes the midseason burning of a redshirt to play a guy who appears to have little feel for returning kickoffs. How many games does he get, and why was he inserted into the lineup?
» A sense that Nebraska's physicality and finishing level isn't what it could be on either side of the ball. In four Big Ten games, the Huskers experienced giant fourth-quarter swoons, giving up an average of 156.25 yards and 12 points to Illinois, Wisconsin, Minnesota and Northwestern. The Huskers scored an average of 8.25 points and gained an average of 78 yards in those same quarters.
Nebraska is not fresher or stronger when it matters. Even Saturday, the Huskers' defense looked slow and overworked despite facing 56 plays.
Riley and Langsdorf resist the argument that Nebraska needs to practice harder and in full pads during the week.
"There's a wear-down factor you have to be aware of," Riley said after the Northwestern game. "We practice with really good intensity two days a week. I don't think that necessarily contributes to what that looked like. I think we were prepared physically."
Said Langsdorf: "At this time of the year, you have to be a little bit aware of what you have. We don't have a lot of depth with the line. Our backs are a little beat up. So to have a full-padded, full-contact, you can kind of wear yourself down, too."
The Huskers are already wearing down. Their season is running out.
That said, Nebraska football has been in scramble mode for years, making its way through the Big Ten on a credit card. The bill is due. The 2015 team is, in part, paying for it. Riley didn't rack up all the debt, but, it's fair to ask: When does he start to chip away at it?