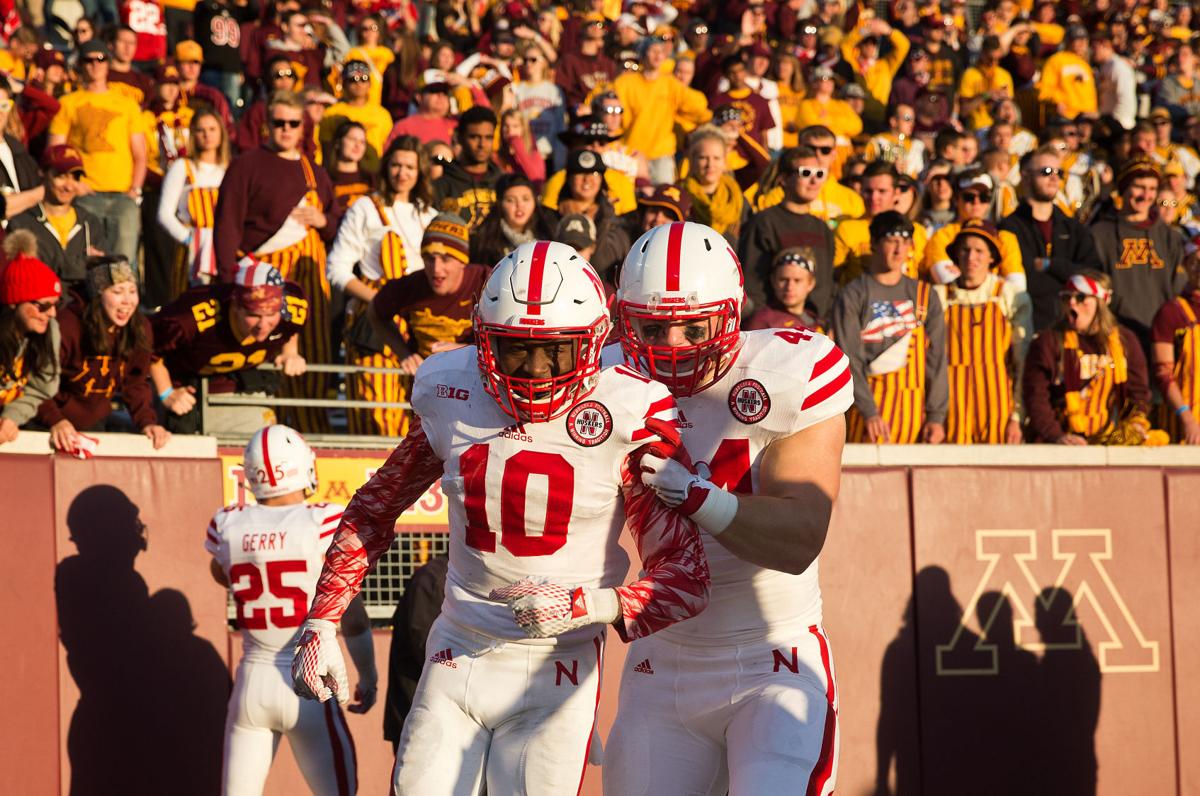 MINNEAPOLIS — No defense in the top level of college football has faced more passes. No defense is giving up more passing yards per game.
Nebraska's best defensive lineman, Maliek Collins, knows that, and defensive coordinator Mark Banker jokingly heard about it from him in a film session. The run defense, Collins said, looked really sharp. The pass defense? Not as much.
Banker recalled that story with a smile after Nebraska's 48-25 win at Minnesota. The Huskers won, and Banker — who answers questions after every game for longer than coach Mike Riley does — had a reason to smile. His defense did just enough, though giving up 301 passing yards and 25 points to perhaps the worst passing offense in the Big Ten isn't great cause for cheer.
But Josh Kalu's interception return for a touchdown fit the bill, as did Nate Gerry's interception on Minnesota's ensuing possession.
Maybe Nebraska's pass defense just needs something to go right. A confidence booster. It's hard struggling all the time, Banker said. It's like being hit with a hammer. The only thing that heals the wound is to stop the hammer, and win games.
Banker acknowledged to reporters that the Huskers didn't consistently cover Minnesota's tight ends and wideouts, especially on corner routes. Nebraska had switched coverages to address the problem.
"We got in a different coverage, took it away and that's where the two picks came from," Banker said.
What about the larger issue — the pass defense as a whole? Banker was asked twice how far the Huskers' defensive backs have come since preseason practice — and how far they still have to go.
"I'll give it 50 percent, how's that?" Banker said. "The biggest thing is we've got to be able to change an attitude. Our quarters coverage is a zone defense, but as routes develop, we've got to be able to pick up man. And guys don't have it yet because they weren't man players (before)."
Kalu's interception, for example, probably should have been picked off by someone else, Banker said. And when Kalu gave up a touchdown on Minnesota's opening drive, he turned the wrong way, giving up ground to the receiver. Quarters coverage takes confidence and excellent technique. That's why Banker and Riley have long talked about good cornerbacks being "gold" in their defense.
"It's squaring up on receivers and getting your hands on them," Banker said. "It's paying attention to where your eyes are. For us, a lot of things have been real technical things."
The scheme is hardest on safeties Byerson Cockrell and Nate Gerry. Their roles, Banker said, are almost the exact opposite of the responsibilities they had in Bo Pelini's defense. Even if the defense was billed by players before the season as easier, there are still "mechanics" to it that his bunch is working through, Banker said. Nebraska tries to drill it and work on it, and at times, you've seen progress for a half or a quarter. Most of the Illinois game looked pretty good, as did chunks of the Wisconsin game.
For most of the Minnesota game, it did not. Quarterback Mitch Leidner looked like a pro-style quarterback, and Gopher wideout KJ Maye zipped around like he was some indefensible Gary Clark clone.
Considering Nebraska played pretty well in every other facet of Saturday's game — you had to love nearly everything the offense did — Banker's pass defense still sticks out like a sore thumb. It's one thing that makes you wonder if the Huskers are ready to go on a nice little run or have to sweat out every game.
"We've had our ups and downs — personalities, getting used to each other — but little by little," Banker said, intimating that the defense is getting there. Then he added: "We're all here for the same thing — to play good defense and win football games."
I suspect the former will inform the latter in the last five games of the year.
I see you
» Offensive coordinator Danny Langsdorf: He called a gorgeous game. He used motion, ran plays away from the motion, rotated personnel groups, power, play-action passing, quick passing, shotgun, under center, you name it. And Tommy Armstrong didn't have to run it much. Langsdorf dialed up a gem.
» Armstrong: That extra bit of patience paid off on a few key throws. That's a good development in one week.
» Wide receiver Jordan Westerkamp: Six grabs, three of them clutch, especially the 27-yarder at the end of the game.
» Wide receiver Alonzo Moore: He leads Nebraska with five touchdown catches.
» Wide receiver De'Mornay Pierson-El: He seems closer and closer to a big, big game. This was medium-sized, with the touchdown catch and the long punt return.
» Linebacker Josh Banderas: Had 10 tackles in his return. Needs to stay healthy.
» Running back Terrell Newby: With 589 yards, he has an outside shot at 1,000 if he's healthy enough to get there.
» Kalu: His rough plays were balanced out by a big interception return for a touchdown and, more important, a touchdown-saving tackle on Minnesota running back Shannon Brooks. Kalu will be a better corner for all the experience he's had this season.
» Maye: Good player. Nebraska couldn't cover the dude. Eleven catches for 94 yards.
Five stats
» 14.93: Yards per kickoff return, which ranks last in college football. Nebraska's coverage units — assisted by punter Sam Foltz and kicker Drew Brown's sharp kicks — have been excellent. The return units were not until Pierson-El's 42-yard punt return Saturday. And Jordan Stevenson appears to have only a slight grasp on how to return kickoffs at this point.
» 5.35: Yards per carry for the Huskers, 19th in the nation. Nebraska is running for 195 yards per game, which is better than I expected out of this season.
» 2,005: Total yards for Armstrong, which leads the Big Ten. So here's a question: Who will be the All-Big Ten quarterback? You'd presume that Michigan State's Connor Cook is the front-runner and Iowa's C.J. Beathard is in the mix, but Armstrong gets both MSU and Iowa in Memorial Stadium. Interesting debate — one that probably doesn't include Ohio State, since it never decided on a true starting quarterback and chooses to play two.
» 96.8: ESPN's adjusted Total QBR score for Armstrong's game against Minnesota. According to ESPN's lengthy formula, adjusted for Minnesota's stingy defense, Armstrong played the best game of his career. (Unadjusted, his debut against South Dakota State tops the list but, hey, it was SDSU.) Overall, Armstrong is second in the Big Ten season QBR behind Cook, slightly ahead of Beathard. The Minnesota performance certainly helped.
» 1: Fumble per game by Nebraska. This is a really good number for the Huskers. The number was 2.1 last year and 2.3 in 2013. The Huskers are losing .57 fumbles per game. These numbers, too, are far ahead of last season.
Three concerns
» More big plays allowed: Nebraska's defense has allowed 23 plays of 30 yards or longer. Though I suspect that rate will improve the next two weeks — for the third straight year, Northwestern and Purdue are still figuring things out on offense — it's still not very good. Minnesota's offense was about as punchless as it comes and still managed to pop a few corks.
» As always, the injuries: Nebraska had Banderas, Marcus Newby, Dedrick Young, Brad Simpson and Tyrin Ferguson available at linebacker Saturday. Of three injured defensive linemen, Kevin Williams stands the best chance of returning this week.
» Another dumb penalty: Even if the Huskers incurred only two penalties against Minnesota — including zero defensive penalties — a personal foul on the sideline after NU recovered an onside kick doesn't need to happen. Nebraska finds a way to make things interesting with strange plays.
Facebook feedback
Each week, I ask for fans' take on the previous game on my Facebook page. Selected and edited responses are here.
Kerri Koenig: Glad for a solid win. The return of DPE certainly helped. Secondary play was making Leidner look Tom Brady-esque way too much of the time.
John Bowman: "Banker scares me, but he might be 1 lockdown CB away from shutting down every team in our division. It's nice to see coaches, team and fans celebrating without agenda other than the pure joy of notching a victory for Husker Nation!"
Jay Hoffman: More coherent offensive play calling by Langsdorf was a welcome improvement. The stifling run defense was impressive. If the pass defense can improve over the next five games, I think a decent bowl run is still very much possible. GBR!
John Pace: Minnesota's OL was a mess. But it is such a pleasure to shut down the run and pressure the QB. Our DBs are still a mess--a huge mess. Question of the game: Has Tommy turned the corner (again)?
Opponent watch
» Northwestern's offense — specifically quarterback Clayton Thorson — is so challenged that it has inevitably worn on a good defense. The Wildcats' back-to-back blowout losses to Michigan and Iowa have the real potential to trigger a slide. Thorson is averaging 4.8 yards per play. Running back Justin Jackson has 55 yards total in the last two games.
» Against FBS teams, Rutgers is allowing 497.6 yards and 32.4 points per game. That said, the Scarlet Knights' offense has been scrappy since an awful game at Penn State. Rutgers beat Indiana 55-52 thanks to seven catches for 157 yards from Leonte Carroo. The Huskers won't enjoy covering that dude.
Forecast
Sunnier skies until Nebraska paints it black with alternate uniforms against Northwestern.