INDIANAPOLIS — The cameras followed Alonzo Verge from one sideline to the other at Gainbridge Fieldhouse.
One pose with the Louis Vuitton shades, one without. One pointing to his red and charcoal Jordan 5s.
Verge said Thursday at Big Ten media days that he joined Nebraska to change the school's dynamic, to push the program into relevance. Winning is the simplest way to get there, but Nebraska can't do that for another month.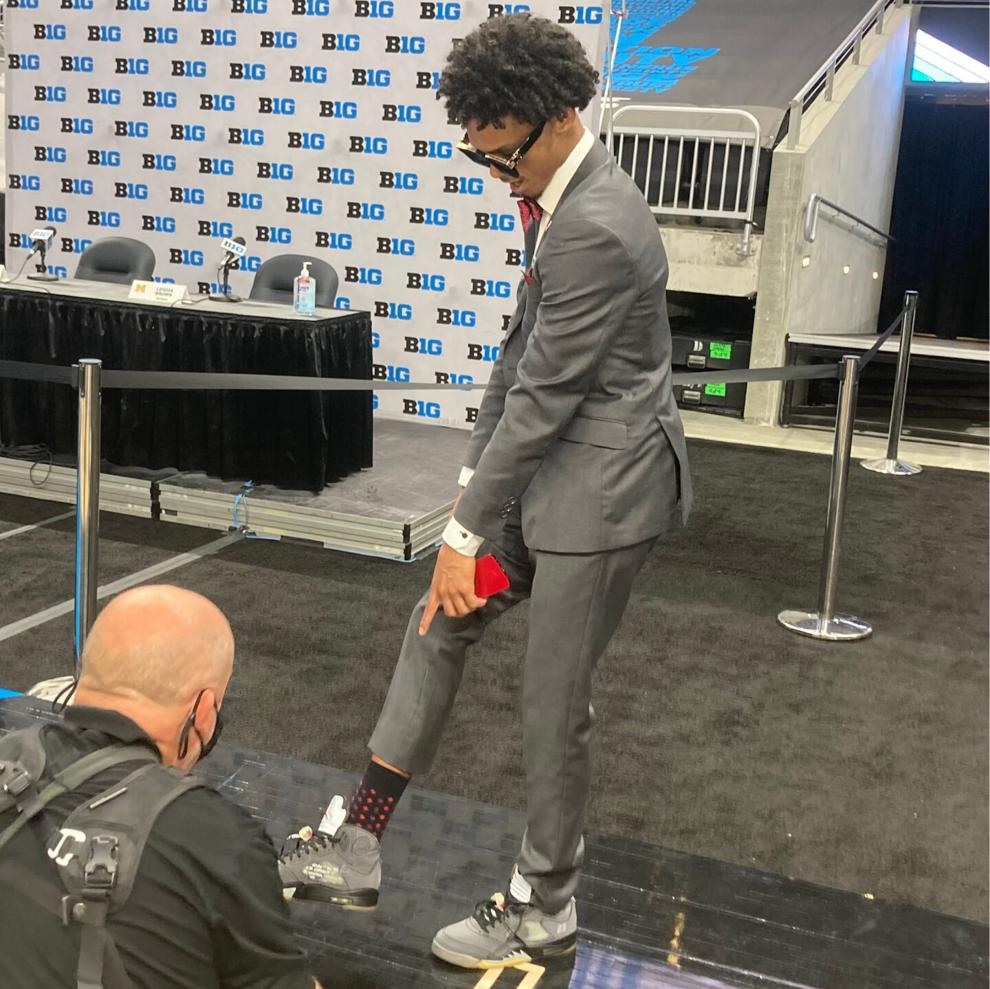 In the meantime, the Huskers are practicing winning habits. Even in their wardrobes.
Verge dug deep for a smoky gray suit, a red bow tie with white detail and the shades — adding his flair to an old adage.
Look good, feel good. Feel good, play good. And if you play good, Verge said, you get paid.
"It starts with us coming in how we are now, just dressed up," Verge said. "Just coming in with that vibe, that winning spirit. And that's what we try to bring here, because we want the people that come after us to be able to establish what's going on here."
What's going on, Verge and his teammates say, is history in the making. Freshman guard C.J. Wilcher said in July that the Huskers talk "a lot" about breaking new ground. Fellow freshman Bryce McGowens told his brother, Trey, that he doesn't "do" losing.
Trey reasserted that message Thursday while donning his version of a power suit: navy coat, velvet tie, sky-blue checkered button-up and a belt from his grandfather. When Trey stepped on the court, which will host this year's Big Ten tournament, he envisioned the Huskers playing several games on it in March.
"The plan is to be able to play on the last day," McGowens said. "I mean, everyone on the team knows the goal. Kill the Big Ten, honestly."
Achieving that would require a massive leap for a program that's won 14 games the past two seasons combined. But McGowens said this year's team is different. It features floor-spacers, shooters, "weapons," he said.
These Huskers are better equipped to run NU's offense. And while Hoiberg wouldn't echo his players' brash aspirations, he appreciated them.
No coach wants a team that tolerates moral victories, Hoiberg said. Coaches like big goals and confident players — like McGowens and Verge, who Hoiberg said have "a great swagger."
Hoiberg can't match his players' fashion statements — "When I quit wearing ties, that went out the window" — but he admires their attitude. He likes that they want to make history.
"You want those guys to come in your program," Hoiberg said. "There's something to that. I think people take pride in that, to hopefully do that and be that first class to get Nebraska basketball where it's never been before."
McGowens and Verge don't just hope. They expect. They already envision the Huskers' reputation changing, and they're not concerned about the stress that might accompany such grand visions.
After all, Big Ten writers picked Nebraska to finish 11th in the league earlier this week. That ranking doesn't generate pressure. It inspires the Huskers to work harder.
"We know the work we've been putting in," McGowens said. "We know what we can do. We know the pieces we have."
They just need the stage to prove themselves. For now, they'll settle for media days.
They walked, talked and dressed like winners on the court they plan to take over in March. If nobody believes them, fine. They know they'll win games for the same reason Verge commanded cameras Thursday.
"I got drip," Verge said. "It's got to be in you, not on you."
---