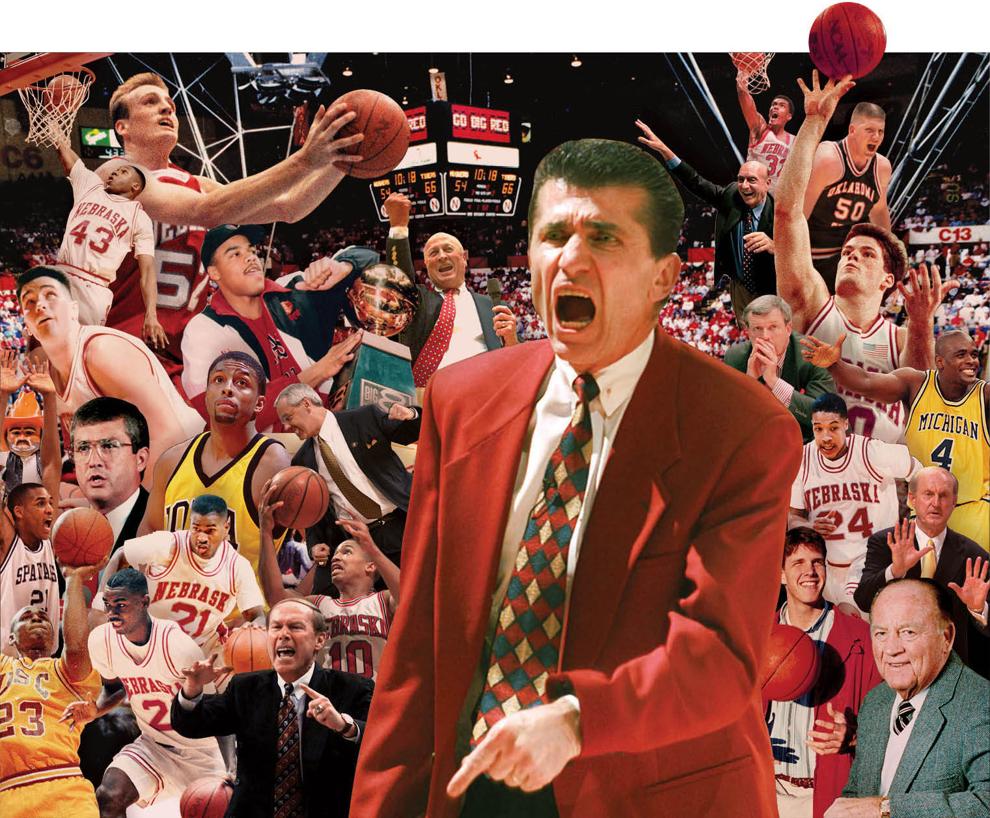 His eyes. They all remember his eyes.
Every time a mortar shell exploded inside of him, his fingers curled into fists and his scowl turned to a snarl and dozens of vile thoughts clashed on his tongue, spilling out of his mouth in a stream of incomplete, incoherent sentences, each splattered with f-bombs and coated in spit.
His green eyes burned right through you.
Danny Nee's fits of rage were sudden but inevitable. Sometimes he threw markers. Sometimes he ordered sprints. Once he broke a clipboard over a 7-footer's knee.
So imagine his players' surprise that night — the biggest moment of their careers — when they walked toward the bench for a timeout and saw the strangest look on Nee's face.
For two hours, his punchline of a program had matched the nation's No. 5 team basket for basket. The sold-out Devaney Center was rocking. Hope had turned to belief. Now, in the final minute, a whistle blows. A horn blares. Timeout.
Nee meets his players on the sideline with a goofy grin. He pulls back from the chaos and shouts above the noise.
"Look around. Look at how crazy this is. I told you guys you were gonna play in games like this. I told you!"
The date is Nov. 28, 1990. "Home Alone" is playing at the Douglas 3 downtown. "Ice Ice Baby" is bumping through the dorm halls of Harper-Schramm-Smith. Teenage Mutant Ninja Turtles are flying off the shelves at Gateway Mall. America is preparing for war against Saddam Hussein.
The biggest news in Nebraska is Tom Osborne's humiliation. Five days ago, his team committed seven turnovers in a 45-10 loss to unranked Oklahoma, the worst loss of Osborne's career. Critics are calling for his job.
Tonight's basketball showdown against Michigan State was supposed to be a distraction. It's become an awakening. The crowd — full of mullets and perms, boxy baseball caps and acid-washed Z Cavariccis — won't sit down. Neither does Nee.
His huddle is a collection of colorful characters and misfit toys: a golden boy from an Ohio factory town recovering from a career-threatening knee injury; a 7-foot-2 Omahan who's fallen short of his potential; a flamboyant forward from the mean streets of Chicago; a stud transfer from Los Angeles with a Hollywood ego; a volatile point guard from Miami who threatened his old coach; a former Virginia Tech quarterback who almost quit; two raw freshmen from small-town Nebraska who eventually won more games than any Husker ever.
They're all taking direction from a fast-talking, foul-mouthed, chip-on-the-shoulder, master-of-the-metaphor, Brooklyn-born Vietnam vet who played with Lew Alcindor, played for Al McGuire and recruited for Digger Phelps. Now he's in a make-or-break season in the cutthroat Big Eight Conference, where the rivalries are ruthless, the subplots are scandalous, the rosters are stacked with four-year talent, the games are like track meets and the coaches have no problems pissing each other off.
It's the '90s baby! And college basketball — super-charged by the 3-point arc, the shot clock and a blossoming 24/7 cable sports network — is better than ever. Big enough to pack arenas. Small enough to sustain its charm.
No one knows it yet, but the sport's breakthrough team of 1990-91 will emerge right here, from the shadow of Memorial Stadium, knocking the status quo on its ass. The best record in school history and a No. 3 seed in the NCAA tournament won't be enough. Over the next four seasons, Nebraska basketball will:
» go 7-7 against top-10 opponents and 5-2 against the top 5. (In 24 seasons since, NU is 5-56 and 2-30, respectively).
» go 5-4 against Kansas, including 3-2 against KU's two Final Four teams.
» win four straight over Creighton by an average of 17.5 points.
» feature four NBA players, including first-round picks Rich King and Eric Piatkowski.
» be one of 13 programs to make the NCAA tournament all four years.
"Holy Christmas," Nee said. "We got a lot done."
They did, which is why The World-Herald has spent hundreds of hours interviewing the characters — including 24 players and coaches — digging through archives, watching game tapes, piecing together old memories with new perspectives and producing the definitive account of an epic Nebraska sports story.
The golden era of Husker hoops.
Golden era? Outsiders would scoff at the phrase. Nebraska didn't even win an NCAA tournament game — still hasn't! But those who experienced Nee's heyday remember it like a young love story.
Four seasons of euphoric highs and agonizing lows, expectations smashed and opportunities missed, run-ins with Stormin' Norm and Billy Tubbs, Baby Jordan and Big Country, the Fab Five and Dickie V, the VFW and the FBI, Big Eight refs and Belgian bartenders, culminating with the best weekend in program history.
So come along for the ride. Squeeze through the bottlenecks of the state fairgrounds. Park amid the decaying brick buildings — hey, there's old cow poop from a 4-H exhibit! Pump up your Reeboks. Snap your Starter jacket. Jog through the bitter north winds. Charge up the concrete ramps. Wait and wait and ... finally feel the rush of warm air. Hear the click of the turnstile. Smell the Fairbury hot dogs and boxed popcorn. Hurry through the double doors. Look down on the court and see the outline of Nebraska under the hot fluorescent lights. Notice Herbie dancing around in his big red hat and overalls. Feel the rhythms of "We're gonna beat the hell out of you!" Climb the steps until your legs ache. Pull the scoresheet from your program and settle in.
Focus on the moment that started everything, when the greatest character of all meets his team with a smile and reminds them how far they've come.
"We're gonna win this f---ing game," Danny Nee says as the Spartans huddle to his left. "We're gonna win this f---ing game."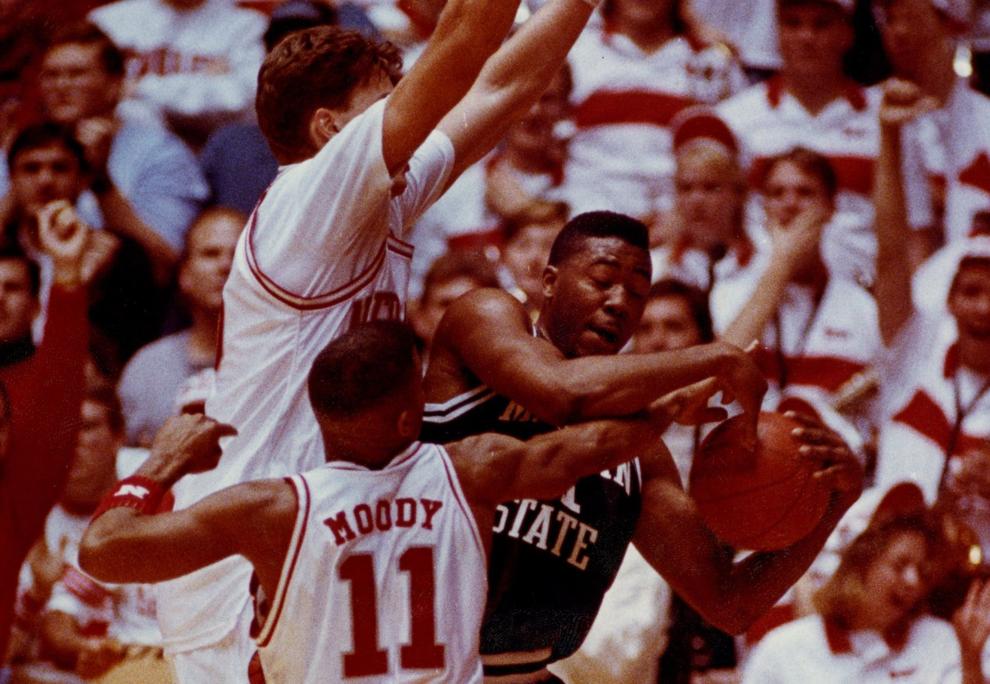 * * *
Danny Nee couldn't sit still. What the hell was going on?
It was after 10 p.m., March 26, 1986, and the Ohio University basketball coach had been left at a Lincoln Country Club table. For two hours at least, he'd been interviewing with the most powerful men at the University of Nebraska-Lincoln: Chancellor Martin Massengale, Regent John Payne, and most important, 70-year-old Athletic Director Bob Devaney.
Now Nee was squiggling in his chair — God, he hated to wait. He was 40 years old, fresh off his fourth consecutive 20-win season in the Mid-American Conference, ready to jump to a major program. When the NU job came open 12 days earlier, Nee made contact through his friend George Kelly, a former Devaney assistant. He arranged an interview up the road from the University of Ohio.
"Here's what happened," Nee said. "It's a long ride from Columbus down to Athens and at nighttime the roads are tricky. So I told Coach Devaney I'd just come up and meet him in the airport. The funny thing was I'd seen a picture of Coach Devaney, but I really didn't know what he looked like. So I said, 'Coach, how will I find you?' He said, 'I'll have a little red hat on.' So he comes in on a night flight — 8 o'clock, 7:30, something like that. ... I'm looking around, the airport's not real crowded and there comes the little man carrying a little suitcase with a little red hat on."
They entered an airport restaurant and started talking. Nee grabbed a napkin and wrote questions about salary, camps, radio shows — the whole package. Devaney didn't know many details. His program seemed stuck in the disco era.
Which was odd considering Moe Iba had just taken Nebraska to its first-ever NCAA tournament. But Devaney was still angry that Iba had been caught illegally practicing before the season. And Husker fans were tired of Iba's methodical style, which scared away big-time recruits. Students came up with a catchy chant: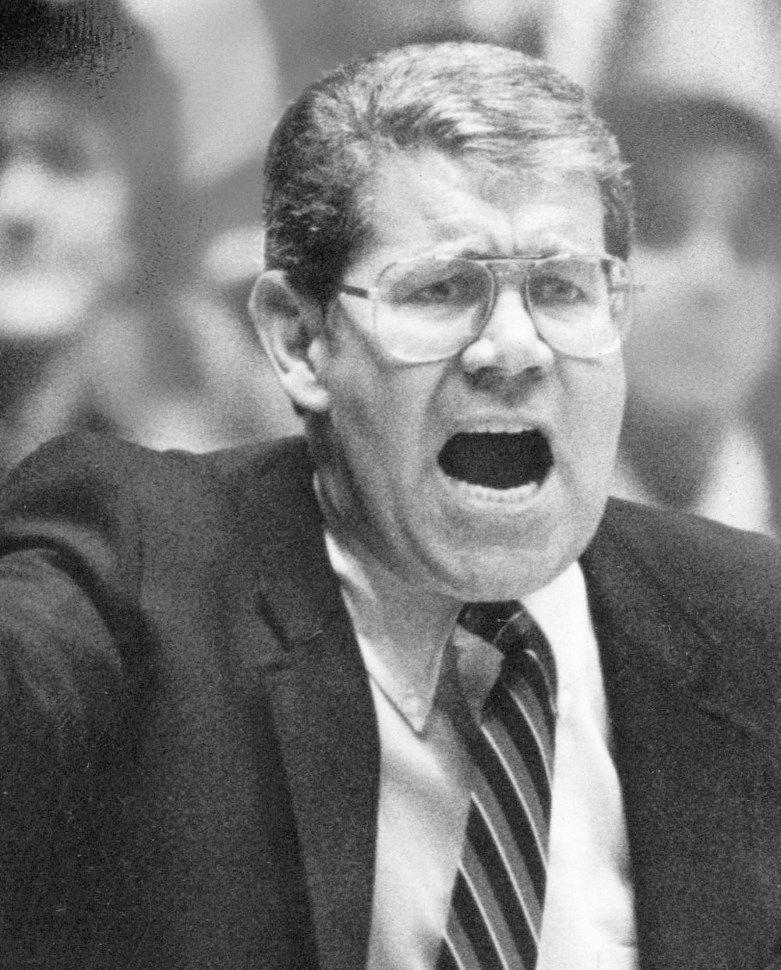 Amid speculation that Devaney was ready for change, Iba beat him to the punch. He walked off the floor following NU's first-round NCAA loss to Western Kentucky and handed his letter of resignation to Associate Athletic Director Don Bryant.
Devaney was already working behind the scenes; he'd talked to Nee two days earlier. The A.D. had a feeling Nee could deliver excitement, but NU wasn't the only contender.
The following week, Wichita State's athletic director flew to Ohio on a private plane and visited Nee's house. A real full-court press. Nee called Devaney and said he was going to Wichita. A couple days later the deal fell apart when the Shockers hired longtime North Carolina assistant Eddie Fogler.
"Dean Smith had called up to Wichita State and boom, boom, boom," Nee said. "So Fogler has the job and Danny Nee's sitting in Athens, Ohio."
Plan B: Colorado. But en route to the Rockies, Nee owed it to the man in the red hat to stop in Lincoln. When he landed, he told Devaney they were either going to get a deal done or he was going to Boulder.

"They're dilly-dallying around. We got to the Lincoln Country Club. We sit down to talk and it was a very social meeting. Finally, I kinda nudge Coach Devaney under the table and I look over at him like, 'What's going on?'
"Coach Devaney said, 'I need to stretch my legs,' and he kicks Regent Payne to go outside. It isn't two minutes later and Payne comes walking in and taps Martin Massengale on the shoulder and says 'Coach needs to talk to you outside.' Payne sits down and winks at me."
The next day Devaney called a press conference and introduced his new coach.
"Before I get started," Nee told the media, "I don't want anyone to feel sorry for me. I don't have a speech impediment. There's 4 million people in Brooklyn that talk just the way I do."
He was the anti-Iba. The anti-Osborne. And he mesmerized Nebraskans, said Kent Pavelka, who was there that first day. It wasn't just the accent, it was the rhythm of the words, as if he was speaking to a hip-hop beat. You barely even noticed the expletives.
How was this going to work? What would his new players think of him? They'll be shocked, the new coach said.
"I don't think they'll know who the hell Danny Nee is."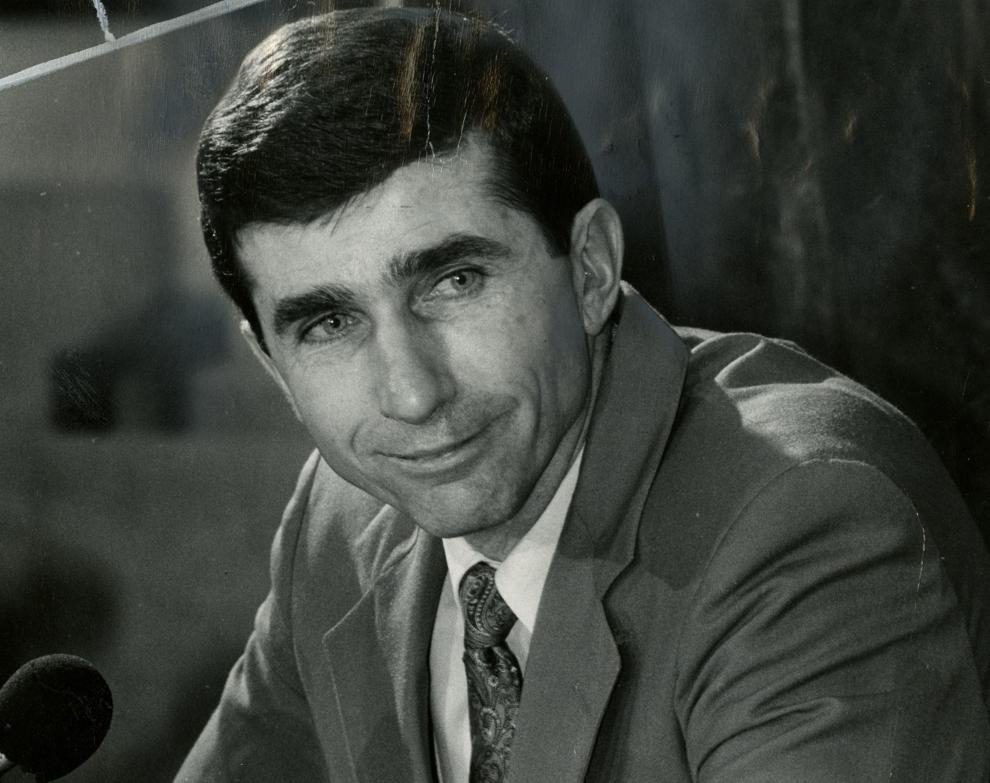 * * *
That was the family name in western Ireland. That's what they called his ancestors in the fishing village near Galway.
Danny's parents moved separately to America and met in New York City. They built a family in a cold water flat at 268 68th Street in Brooklyn, six blocks from the Upper Bay. There were four apartments on every floor — two facing front, two facing back.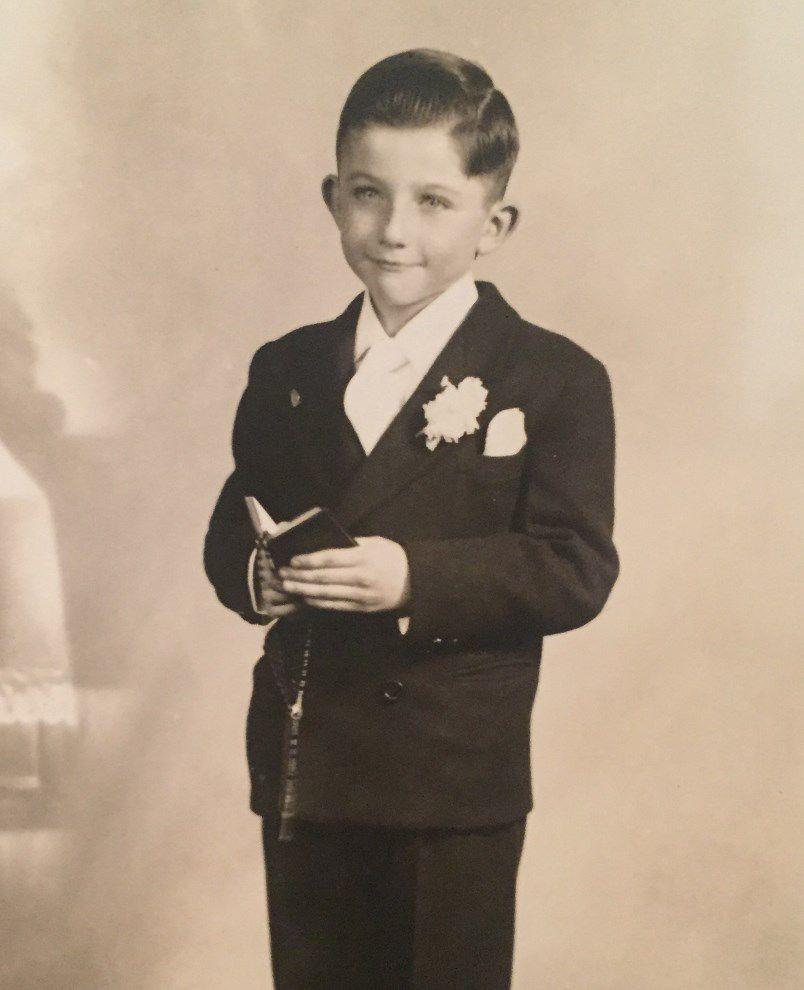 Danny slept in the same room as his older brother. The Nees didn't have a car or a phone. They did have a cat to control the mice. And a Puerto Rican neighbor with a big green parrot that "scared the hell" out of Danny.
Nee went fishing off Sheepshead Bay and cheered for the Brooklyn Dodgers, who won the World Series when Danny was 10. He joined the knothole gang at Ebbets Field and rooted for Gil Hodges, "because I was a first baseman, too."
On Sundays, Danny caught a bus into Manhattan and delivered lunch to his father, Patrick, who operated an elevator in a Manhattan men's store.
But in 1963, his junior season at Manhattan's Power Memorial Academy, his team was celebrating its city championship in a bar when someone used a racial epithet while referring to Power Memorial's star, sophomore Lew Alcindor.
"The magic n-word," Nee said.
Alcindor (now Kareem Abdul-Jabbar) wasn't there. Didn't matter. A brawl broke out. Nee was expelled from the strict Catholic school.
"Danny was a tough guy," Abdul-Jabbar said. "He thought he was the reincarnation of Jack Dempsey."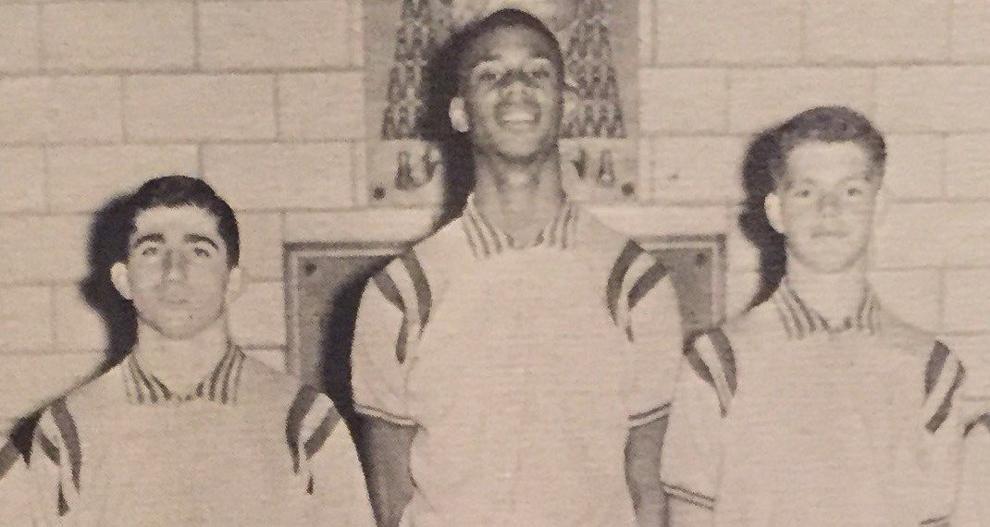 In '64, Abdul-Jabbar anchored arguably the greatest high school team ever. Nee played his senior year out of the spotlight, at Fort Hamilton in Brooklyn. He was headed for a northeast college like Seton Hall or Iona when, one Saturday afternoon in the spring, a famous face showed up at his apartment.
The former New York Knicks point guard, 35 years old, had just taken over at Marquette. He squeezed into Nee's kitchen, where Danny's mom served Irish soda bread and tea. The conversation moved to the living room and Danny's father couldn't take his eyes off McGuire.
"He could talk, man. He was like a bartender," Danny said. "I'll be honest, I did not even know where Marquette was. I said to my father, 'Dad, you couldn't even find Milwaukee on a map. And you want me to go there?'
"He said, 'Danny, you go with your own kind.' I said, 'What the hell is that supposed to mean? Because he's Irish and Catholic?' "
But Danny liked the coach, too. "No bulls— to him." And after two hours, McGuire felt like an older brother.
A few months later, for the first time in Danny Nee's life, he left New York City. He got off a bus in Milwaukee with two duffel bags and no winter coat. His first day at Marquette, he sat in a theater with about 100 students, saw "a little guy flashing stuff on a screen" and twisted in his seat. When does class start, he asked the girl next to him. It already did, she said.
"I thought, "Oh s---. This is gonna be different."
He juggled school and basketball with night shifts at a steel mill. Nee asked for a different job after a boiler burned him. Put me somewhere I won't get hurt, he said.
He got enough sleep to captain the freshman team, but the scrappy southpaw wasn't good enough to play for McGuire. Never would be. Before Christmas his sophomore year, he walked into the coach's office and broke the news. He was done.
On April 13, 1966, Nee did what patriotic teenagers did. He'd seen the John Wayne movies. He'd read about the communist threat. He joined the Marines.
He was going somewhere to get hurt.
* * *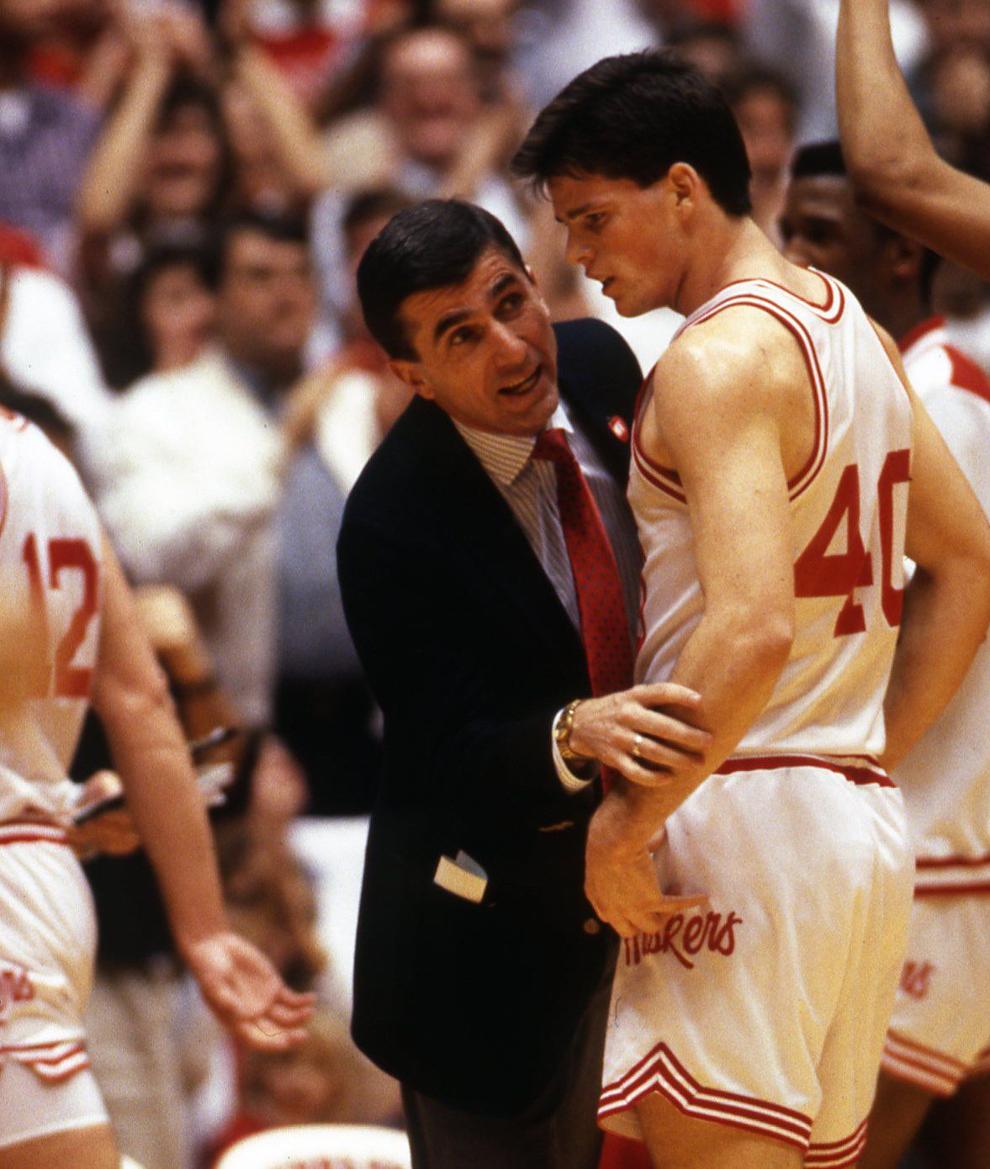 Twenty years later, 1986, Beau Reid was on spring break in Kiawah Island, South Carolina, when the phone rang. It was the coach he'd known since fifth grade, about to turn his future upside down.
Hey, Nee said, what do you think about Nebraska?
Well, that's the job I just took.
Reid grew up amid the factory smoke of Lancaster, Ohio, halfway between Columbus and Athens, on the same curvy highway Nee traveled to meet Devaney. His father, Arden, was his high school coach and every summer Nee spoke at Arden's basketball camp. He watched Beau blossom from a 5-9 freshman to a 6-4 junior.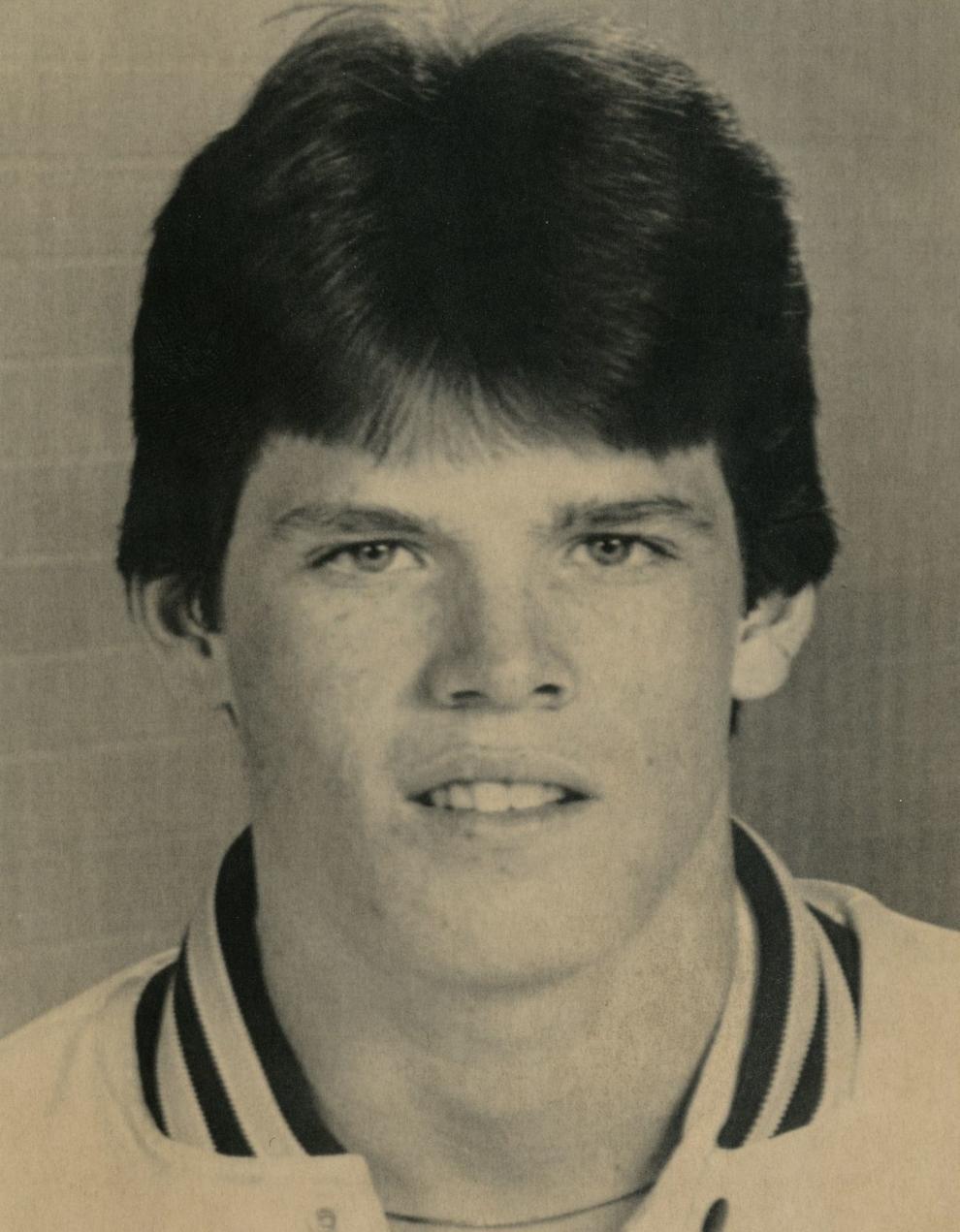 In 1985, after Beau led Lancaster to the state quarterfinals, Nee showed up for the annual clinic.
He called Beau out of the crowd to perform a shooting drill. The kid took 25-30 jumpers from 15-20 feet. He didn't miss. I've been doing this a long time, Nee told campers. I've never had a kid do that.
He pulled Beau and Arden into the coach's office and offered a scholarship to Ohio.
Reid signed before his senior season. Then he grew to 6-6, scoring 23 points a game and grabbing attention from Big Ten programs. As Ohio State struggled in '85-86, there was speculation that Nee would get the Buckeyes job. Wherever I go, Nee told Beau, I want you to come with me.
Soon after Nee's opening press conference in Lincoln, he offered Arden a job as director of operations. He sent a plane to pick up the Reids. They arrived in Lincoln on a Friday afternoon and the next morning Beau was playing pickup ball with Huskers Brian Carr and Bill Jackman.
"Ohio was crowded and rusted and old and industrial," Beau said. "Everything at Nebraska seemed brand new. I kinda fell in love with the place."
Nee had his first big recruit. He needed a whole lot more.
* * *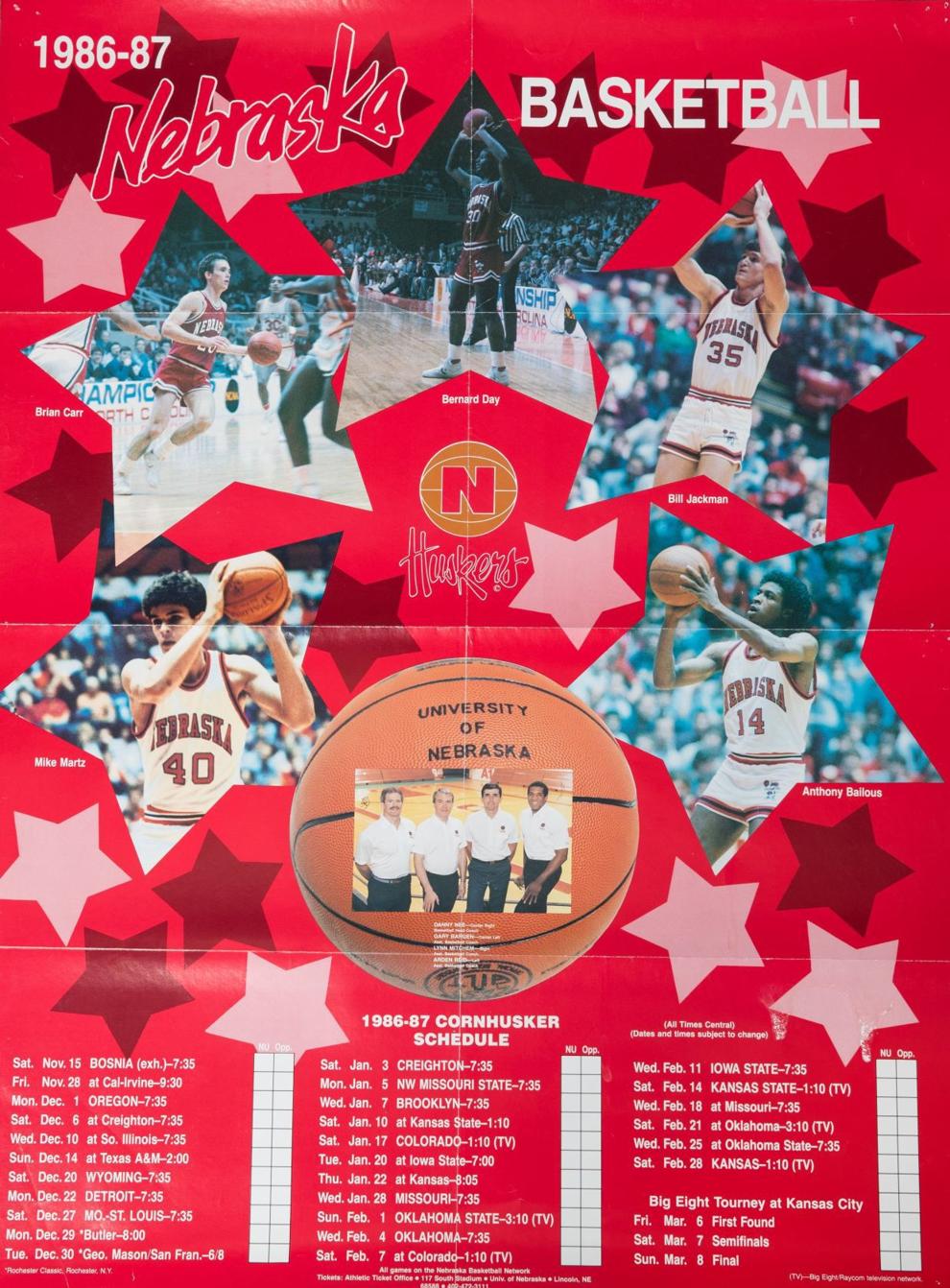 Nebraska lost the final game of the Iba era by eight points, 67-59.
Nebraska lost the first game of the Nee era by eight points, too. 109-101.
"They were smiling afterward," Nee said. "It was like taking the leash off the dogs."
In '86-87, Nee inherited a good roster — Reid redshirted — and went 7-7 in the Big Eight. He made the NIT, where he took advantage of his New York connections to get three home games. The Huskers won them all and advanced to Madison Square Garden, where they finished third.
"With Coach Nee at the helm now, man, there is no way this program is going anywhere but straight up," Carr said after his last college game.
Nee didn't just coach Husker hoops; he sold Husker hoops.
He beat out Kansas for the state's best prospect, Omaha Burke 7-footer King, and redecorated the Devaney Center, most notably the floor design. He launched a booming basketball camp, startling teenagers like Bruce Chubick with four-letter words they didn't hear in English class.
He delivered donuts to students standing in line for season tickets. He tailgated with strangers at football games. He drank with fans at Barry's, a Brooklyn-style bar where they named a sandwich "The Dandy Nee." Pastrami and swiss with dijon on light rye.
Nee addressed more rotary clubs and fish fries than he could count. He spoke at high school banquets 3-4 hours from Lincoln, piling up speeding tickets on two-lane highways. Give us a few years, he told the crowds. We're gonna have players who can jump to the rafters.
"I was just being Danny Nee. I'd take Janet and my daughter in a little carseat and we'd go out and meet people. Then, after the event, I'd always stay there and have a couple of beers. My wife drove back. I gave her $100 from the event and that was her go-shopping money."
The night that Danny Manning's Jayhawks upset Stacey King's Sooners in the 1988 national championship game — the Big Eight's signature moment — Nee had scheduled a speaking engagement in Friend, Nebraska. Surely he'd be in Kansas City, right? Or at least in front of his TV. Nope. Here he comes walking into the bar.
"You thought I was gonna stay home, didn't you."
Didn't take long for the athletic department to seize on a marketing opportunity: "Neebrasketball." The slogan showed up all over town. After years of bouncing around the world, Nee had found a place to raise his three kids. To call home.
He loved the College World Series, Henry Doorly Zoo and the state fair. His favorite event was Czech Days — "the greatest thing since iced tea." Wilber native Dana Altman introduced him to Pilsner beer.
"One of them tasted like panther piss," Nee said. "Jesus Christ, man, this is strong. I said, 'That's beer?' "
Nebraskans couldn't get enough of him. But there was more to Nee than he sold.
* * *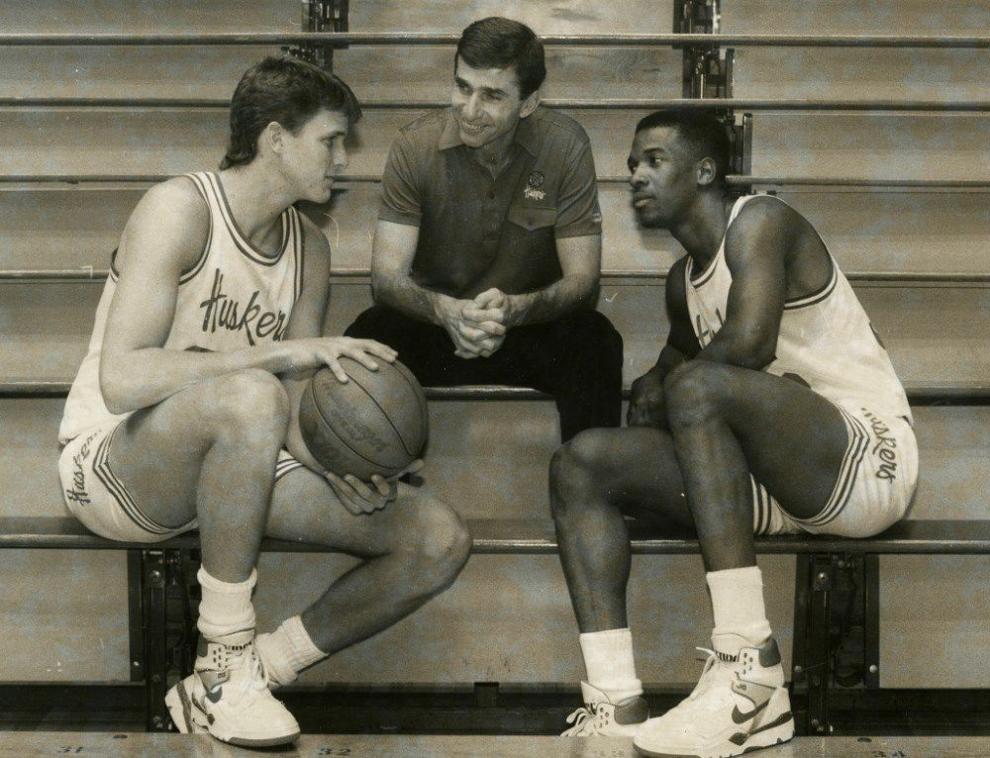 Maybe Beau Reid could've tolerated the losing if he didn't understand the causes. But they were so obvious. So avoidable.
The first game of his college career, Reid got hot early and the ball stopped coming to him. During a timeout, he and Henry T. Buchanan engaged in a shouting match.
"This is gonna sound kind of egotistical," Reid said, "but being a coach's son I knew what was supposed to happen on the court. ... There were guys more interested in building their own statistics because they wanted to play professional basketball than they were about winning."
As a redshirt freshman, Reid buried a baseline jumper to beat Kansas. As a sophomore, he led Nebraska in scoring. But those seasons were mostly miserable. And Reid struck others as too naive and too earnest.
"Beau was really Bambi," Nee said. "He comes out of a school where his dad was the coach. He hadn't seen black players. He hadn't seen the big-time.
"I had kids in my office saying, 'I wanna knock Beau Reid on his ass. He's playing so hard in practice.' Or they'd say, 'He's taking cheap shots at us, Coach.' I'd have to try to tone down Beau without breaking Beau."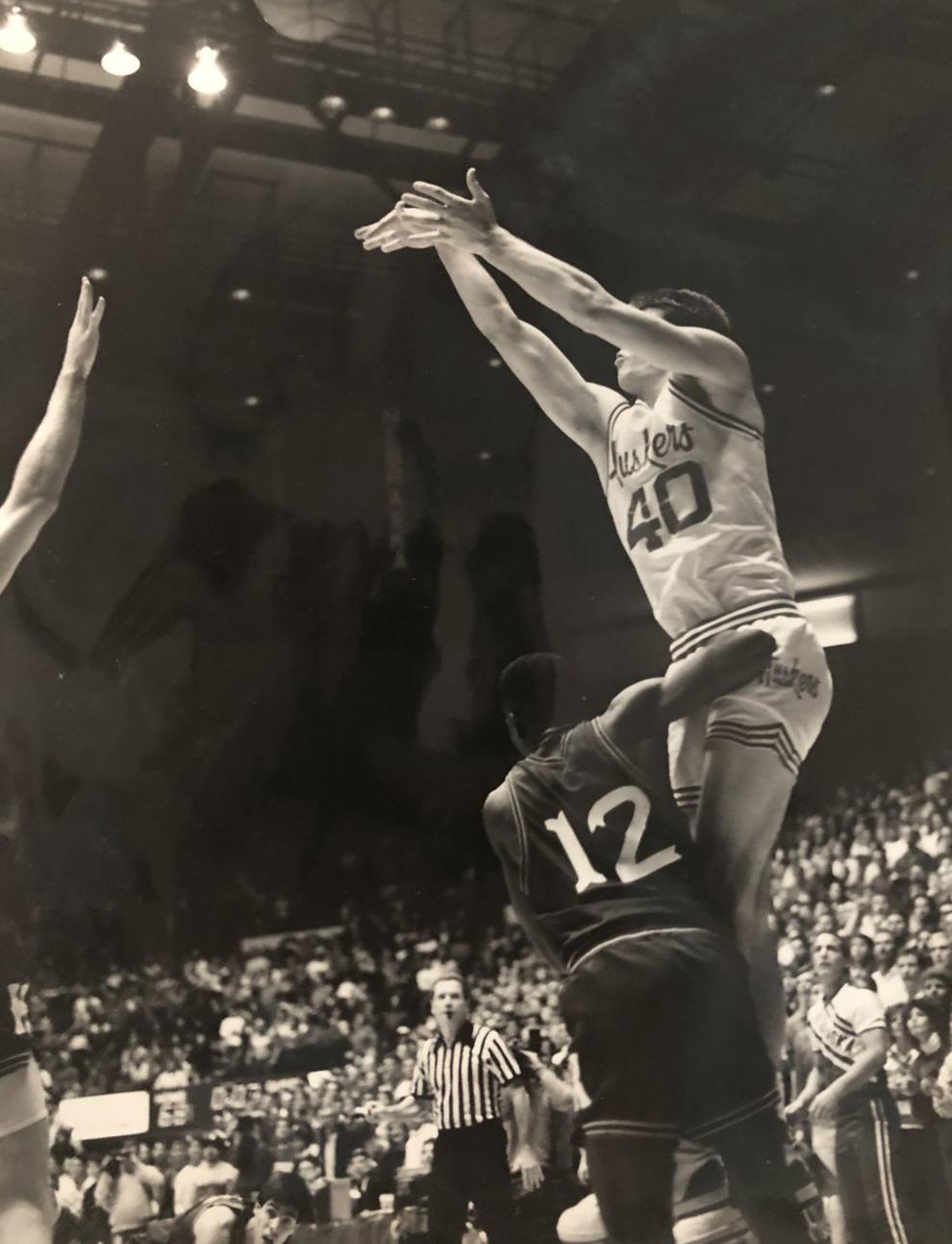 In the spring of '89, Reid lost some of his innocence. Nee fired his dad, who according to the head coach didn't relate well enough to players. As Arden went to work for a paper company, Beau seethed. Should he transfer? If he stayed at NU, would Nee even play him? He stuck it out and vowed to be so good that Nee wouldn't have a choice.
In July, he was playing in the Cornhusker State Games at Doane College when he attacked the basket and jumped laterally to avoid a charge. His foot got stuck on the tartan floor. His right knee popped.
"It just killed us when Beau got hurt," King said.
"Beau had been through the wars," Keith Moody said. "When he spoke, people listened."
Nee's fourth season was supposed to be the breakout. Without Reid, players bickered over minutes and fought over shots.
The Huskers lost to Miami (Ohio), Northern Illinois and Idaho, prompting chants of "Nee must flee!"
"We were the laughingstock of the campus," forward Dapreis Owens said.
The low point was a January Monday at Wyoming, just 48 hours after a road loss to Oklahoma State. Nee scheduled it for Wyoming native Kelly Lively, who didn't even play.
"I lost it out there. I was so mad," Nee said. "We ended up in a hotel and it was open, like a car motel. Each door was facing the north and snow was coming in under the doors. The kids were complaining and we're trying to stuff blankets under the doors. We thought they put us there on purpose."
The next night, the Huskers scored the first point and should've quit there. After eight minutes, a mediocre Wyoming team led 31-4 — scoring on 16 of their first 19 possessions — and coasted to a 95-65 win. It was Nebraska's 16th straight loss away from home.
"It was a trip from hell," Nee said. "I remember leaving and thinking I'm never, never coming back to Wyoming again."
Back in Lincoln, two redshirts in their Harper Hall dorm room were listening on the radio, thinking the same thing.
What did we get ourselves into?
* * *
Bruce Chubick and Eric Piatkowski heard from buddies all the time: "Man, you guys must really suck, you can't even play for a 10-18 team."
"No!" Chubick said. "We can actually play."
Truth is, they would have helped the Huskers in '89-90, but they were focused on dumbbells and Dairy Queen Blizzards. Nee had seen Osborne and Boyd Epley turn 18-year-old kids into 23-year-old men through redshirts and vigorous strength and conditioning. Why couldn't it work in basketball, too?
Chubick's and Piatkowski's daily regimen consisted of going to class, lifting weights and eating everything they saw. At night, they stood in front of their dorm-room mirror comparing muscles.
I think I'm getting bigger, said Piatkowski, who jumped from 160 pounds to 210 that year.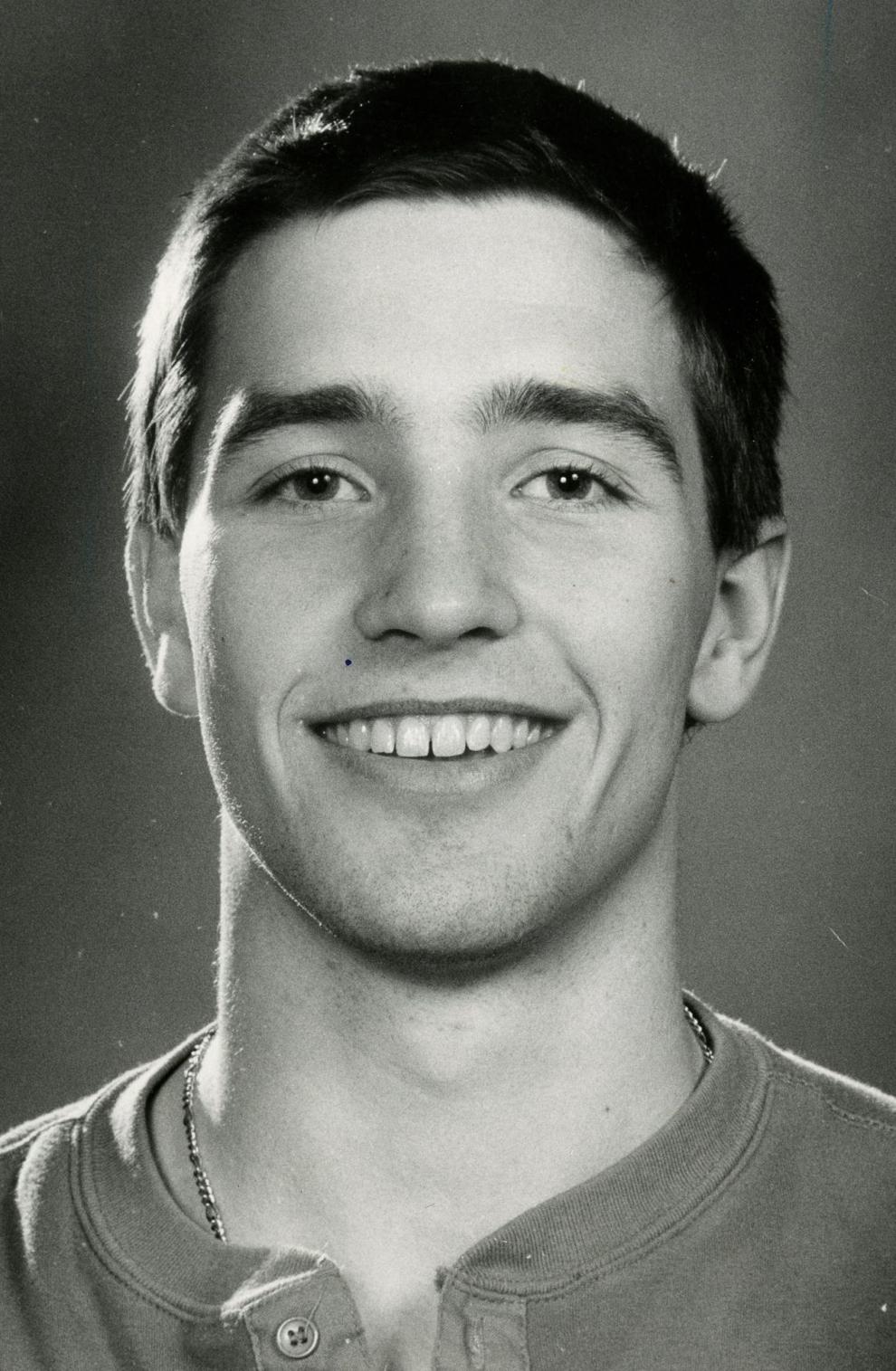 Yeah, said Chubick, who went from 195 to 225, what do you think about me?
They were cocky and energetic and they frequently humiliated Nebraska's first team in practice. The poor starting lineup would get drilled at Oklahoma, Kansas or Missouri — all top-10 teams in '89-90 — then come home to face the scout team, where Piatkowski rained 3s and talked non-stop trash.
"Rich King would try to get in trouble so the coaches would kick him off the starting team and put him on our team," Piatkowski said. "Sometimes Danny would be like, 'F--- you, Rich, I know what you're doing.' "
Said Chubick: "Nee knew it wasn't like losing to a bunch of scrubs, but he'd be like, 'Ah f---, you guys gotta be s---ing me, man. You lose to three f---ing rookies and a walk-on. Of course, that's not gonna fly well with the guys on the team."
Piatkowski and Chubick were good. So was recovering Beau Reid. But the real scout-team star was a 6-9 San Jose State transfer.
"Tony Farmer was like having a pro in practice," Nee said. "He was better than anybody on the floor."
And he'd basically fallen out of the sky — that's a story for another day.
Unfortunately, Husker fans couldn't watch Farmer in practice. They only saw games and Nebraska lost seven of its last eight, securing the worst Husker season since 1972-73.
"I'm sitting out my junior year and watching everybody bicker and fight and bitch about playing time or bitch about the coaches," Reid said. "I got more and more convicted. This isn't gonna go this way next year."
Reid wasn't the only one determined to fix Nebraska. Come June, players who usually scattered stayed in Lincoln, engaging in the best competition of their lives. No longer could Osborne's Blackshirts stroll into the Devaney Center and dominate a pickup game.
"Now if a football player came over," Nee said, "he got his ass handed to him."
Reid could feel the team gaining strength. His knee was, too. On July 26, 1990, the one-year anniversary of his ACL surgery, Reid drove to Omaha for a summer league game. He'd been playing for months in a bulky brace, but he still favored the knee. This time, he left his brace at home.
Don't risk it, his dad told him.
But Reid needed to know if he'd ever be 100 percent again. That night, he scored 38 points.
"God, I wanted to scream," he said. "I was so happy."
* * *
But what about scar tissue? Tendons heal. Ligaments bind. Feelings have longer memories. Nebraska's chemistry was still fragile.
Jack Stark was hired in 1989 to work with the Husker football team. Osborne believed Stark, a psychologist, could develop the Huskers mentally the same way Boyd Epley developed them physically.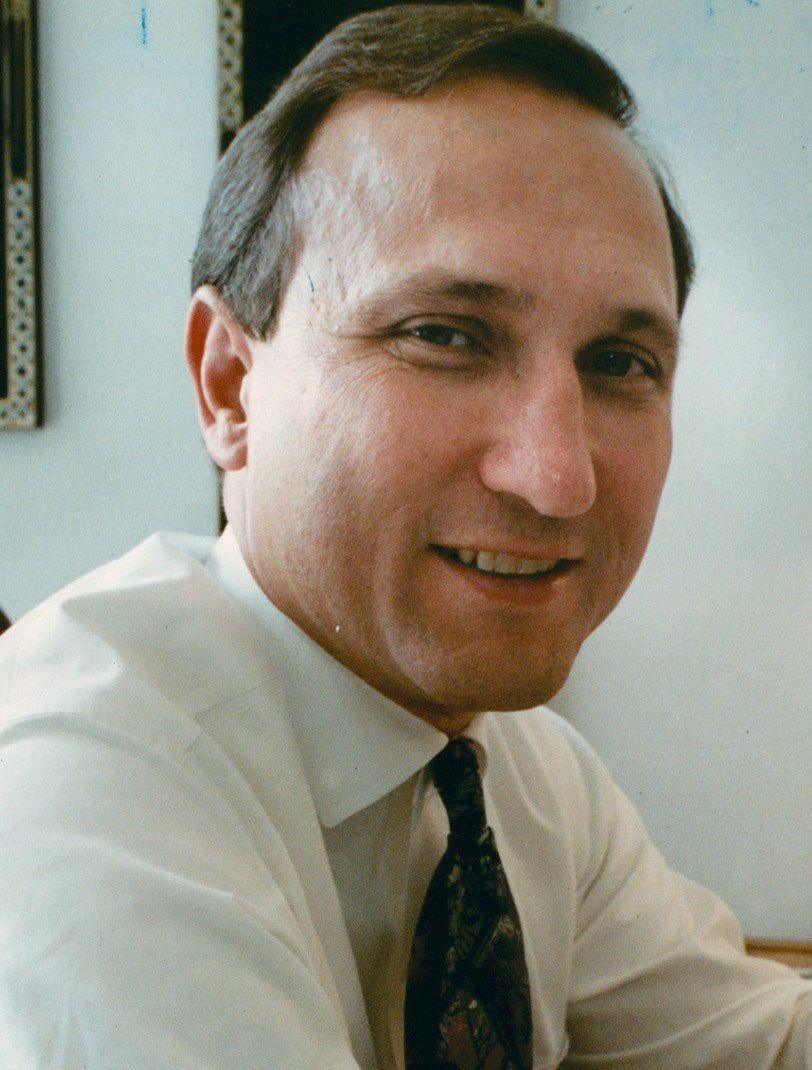 Now Stark was working with Nee. He'd witnessed the 10-18 season. In the fall of 1990, he suggested a team retreat where the Huskers could air their grievances.
He put a chair in the middle of the room. One at a time, players sat in "the hot seat" and fielded questions in front of the team.
How do you think you did last season? What did you do to lead this summer?
The answers were canned, as expected. Stark pounced.
"Who the hell do you think you're kidding?" he said. "You ain't working hard. Everybody in this room knows it."
Now put yourself in Nee's chair. He'd warned Stark that this little strategy session better work. Now he wondered if the whole team might come unhinged.
"Danny about had a heart attack," Stark said, "but it changed the mood of the whole team immediately. Like, oh my God, we're gonna deal with these issues."
When it was Bambi's turn in the hot seat, his teammates fired away. Reid absorbed the criticism with one eye on Nee.
"He kept looking at me blinking his eyes like, relax," Reid said. "They let everybody do their bitching. And then Coach Nee stood up and said, 'Hey, Beau, what is it about practice that bugs you?' And he kinda winked at me because the other guys couldn't see him."
Reid didn't hold back. Here's what bugs me, he said. How soft everybody is. How everyone complains when I set a hard screen. How no one cares if we lose, as long as they get their points.
That's the day the Huskers shed their angst. For years, they'd played for the name on the back of their jerseys.
"We started playing for the name on the front," Reid said. "Finally."
* * *
Those are lucky numbers in almost any context, including a Memorial Stadium scoreboard. But three straight seasons finishing second-to-last in the Big Eight — 11-31 combined — made Nebraska basketball an afterthought entering 1990-91. Big Eight media picked the Huskers No. 8 in the preseason poll, even behind Colorado. Ouch.
"I sat there down in Kansas City," Nee said. "I looked at (assistant sports information director) Nick Joos, 'Are these people looking at our roster, who redshirted and who transferred in?' There's no way we're the eighth-place team in the league. I don't know who is. But it's not the University of Nebraska."
Nee believed in his talent. But he was dealing with his own hot seat. One more bad year and he was probably out of a job.
The first practice of the season, he walked in holding spring-loaded hand squeezers. Players laughed ... at first. Then something went wrong and, according to guard J.F. Hoffman, Nee fumed.
"You see these hand squeezers? You f---ers are ruining my health. That's why I have these. My doctor told me that I can't get upset anymore and I have to squeeze these. So that's what I'm going to do. But I'll tell you this: If you piss me off, I will run you f---ers until you die."
He was like a viper, Reid said. One day, he ordered players to sit on the floor and told them they had the attention span of a "fly on s---." Truth was, Nee was the one who couldn't focus.
Said Reid: "You'd go in to talk to him in his office and he'd be like, 'Yeah, what do you want, man? What can I do for you? Listen, you're gonna have to tell me what you need.' And I'm like, 'I'm trying, but you won't let me finish what I'm saying.'
"He never finished a sentence. We used to joke about that in the locker room. Like I hope we don't have to know anything important at the end of that sentence because he's not going to get there."
Nee was a hard man to love. A hard man to understand. Every day, it felt like the Devaney Center floorboards were sprinkled with pins and needles. One missed assignment and Nee snapped.
"You hated that dude in practice," Reid said. "Hated him. He said some of the most disrespectful things you could ever imagine."
"I had never heard a grown man call another adult a c---s---er," Hoffman said. "He could call you everything in the book and five minutes later act like nothing had ever happened."
Why was his fuse so short? Why was he so crazy? Players couldn't identify with Nee's past. They heard he was a prisoner of war. That he spent months in a North Vietnamese hole. The stories never came from Nee.
"He never, never, never talked about it," Hoffman said. "Ever."
* * *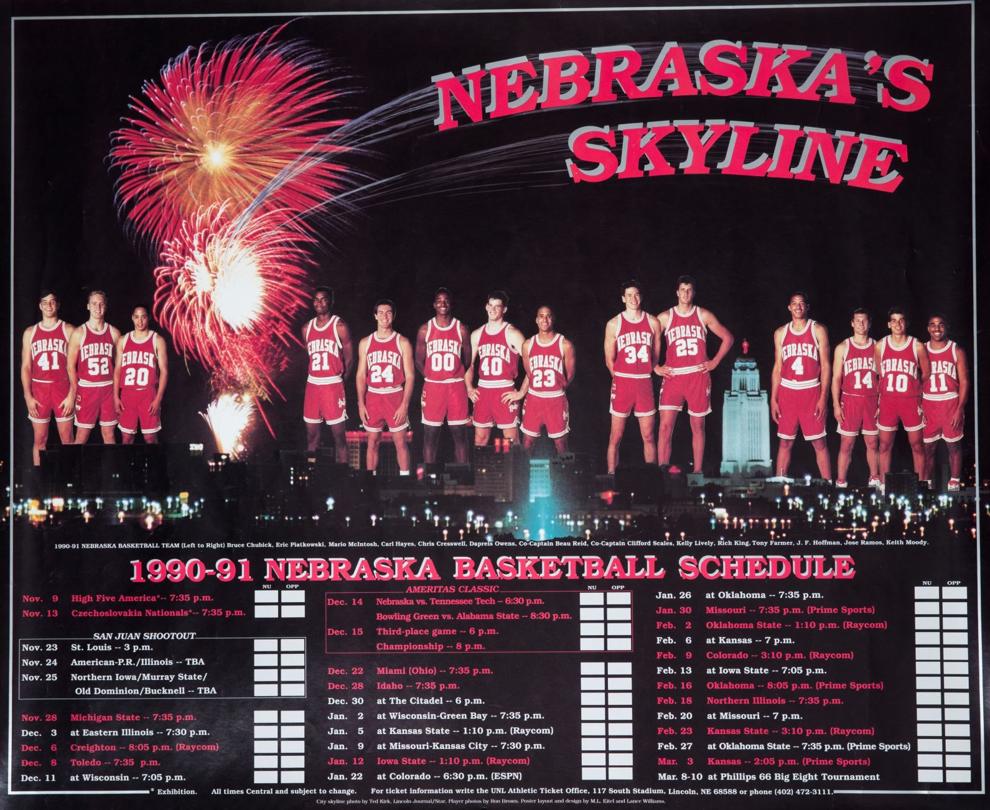 The Huskers opened the season in Puerto Rico — the San Juan Shootout. Their first opponent: a Saint Louis team that finished second in the NIT eight months earlier. In an 88-degree gym, Nebraska routed them, 107-79. Few noticed back in Nebraska because it happened during Osborne's 45-10 loss at Oklahoma.
Football fans were still mourning the next day when Nee's team met Illinois, 1989 Final Four qualifier and Big Ten aristocrat. The Huskers thumped 'em, 100-73. Junior forward Carl Hayes, a Chicago native, led six Huskers in double figures. He had 24 points.
"Every time he scored he ran by the bench and looked at Lou Henson and said, 'You should've recruited me,' " Reid said.
Nebraska's roster was full of guys like Hayes. Players who'd felt disrespected.
"We kinda had that 'We'll show you' mentality," Chubick said. "That united us. We were gonna show the world that they were wrong."
Waiting in the championship game was Murray State, led by future NBA forward Popeye Jones. Murray who? Popeye who? A little complacency combined with a little fear of success produced a slow start and an 81-79 loss.
That night — the team's last before returning to Nebraska winter — Moody and Farmer skipped curfew and stayed out all night. Nee panicked.
"I was getting ready to tell the police," Nee said. "Jesus Christ, these kids are dead."
When they finally strolled in, Nee went off. His bad mood didn't last. On the plane back home he saw an Illinois assistant who asked where Nebraska was picked in the Big Eight standings.
Dead last, Nee said. His colleague laughed.
"You're gonna get a helluva raise."
* * *
His plane landed in Vietnam in 1967, just as the war was reaching its peak. Chu Lai Air Force Base was part Coney Island, part Chicago O'Hare. A massive American fort on the sea.
Nee's specialty was intelligence, probably because he had a year of college.
Before he ever pulled an all-nighter studying film, he worked night shifts studying jungle attacks. He gathered reports of enemy contact and marked them on a grid. Some days the map was white.
"Other days," Nee said, "it looked like a coloring book."
Nee enjoyed the job, but John Wayne wouldn't sit in an office. Nee volunteered to fight and began moving north. Danang. Phu Bai. Finally the American base at Khe Sanh, which the North Vietnamese besieged for 2-1/2 months — "It was like the f---ing movies," Nee said. "It was no joke."
The Marines slept in underground barracks to avoid mortars. They trudged through bunkers waist deep in rainwater, contending with rats and leeches. They prayed. In a foxhole, Nee said, there's no such thing as an atheist.
An intestinal ailment knocked Cpl. Nee out of uniform and into a hospital bed — he suffered internal bleeding and lost about 40 pounds. He returned to Phu Bai during the Tet Offensive and climbed into a helicopter.
The life expectancy of door gunners was measured in hours and minutes, not years and months. One time Nee swapped seats with a peer before takeoff and watched him get killed. But contrary to facts, Nee felt safer in the air than crawling through the jungle.
His body was never seriously wounded. His innocence was. Why were American generals and politicians lying to the public? Why were soldiers waiting for the North Vietnamese at Khe Sanh and Phu Bai when they could stop them at the border? Or just bomb Hanoi into submission?
America, Nee thought, was fighting with one hand behind its back.
He came home in April 1968 with an honorable discharge and a few medals. His 6-3 frame carried only 155 pounds. Its primary source of nourishment: dozens of cigarettes a day. At night, he tossed and turned on soft mattresses, only to give up and go to the hard floor. The only way he could sleep.
Four years had passed since Nee left Brooklyn. He'd seen too much of the world.
* * *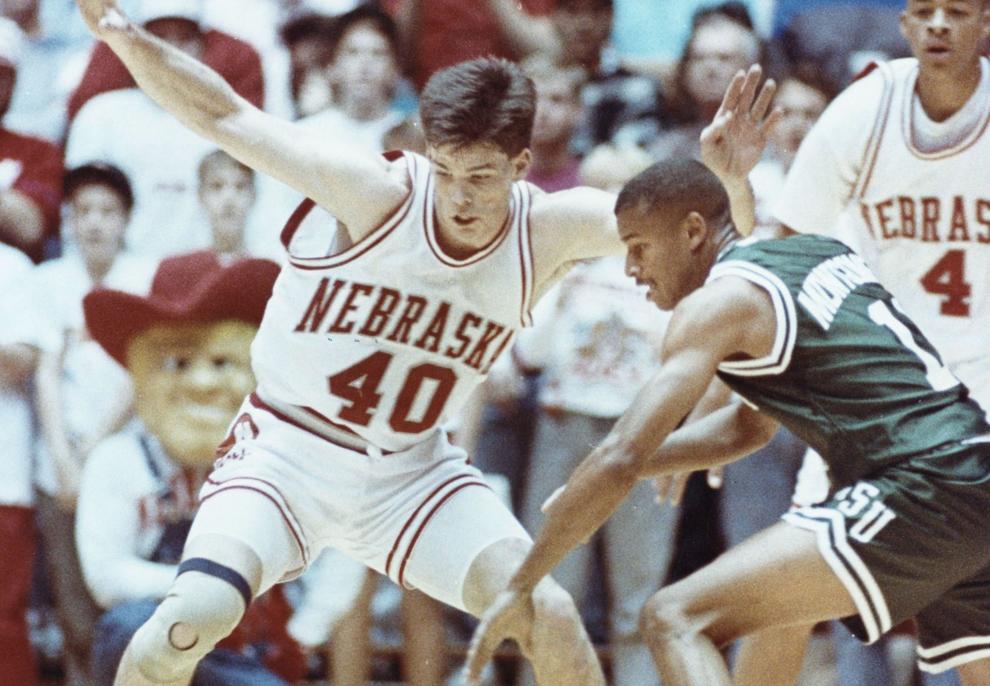 Nee scribbled their names on the chalkboard:
Michigan State was No. 5 in the country and reigning Big Ten champion. Nebraska had just one practice to get ready. But a sellout crowd was waiting.
"When you walked in the gym," assistant coach Jeff Smith said, "you knew it was gonna be a special night."
Nebraska came out in a 1-2-2 zone determined to keep Michigan State out of the paint. An early 12-0 run jolted the crowd, but the Spartans climbed back.
In the second half, the biggest lead for either team was four points. There were 11 ties. Nebraska led by one in the final minute when Hayes missed the front end of a one-and-one. Smith, who scored 27 points, came down and fed Steigenga for a dunk with 13 seconds left.
The Huskers moved the ball to half-court and called timeout with 6.5 seconds left. Nee grabbed his whiteboard and drew up "BC."
The play originated in Nee's first year, 1986. He always asked new players to share their favorite play from high school. Brian Carr gave it to Nee. The Huskers used the play to win at Oklahoma State in '87.
Now Nee was calling "BC" again.
"In years past, there'd be one guy looking at the coach in that situation and everybody else looking at the floor," Reid said. "During that timeout, every single person had their eyes on Coach Nee."
Here we go. Reid takes the ball in front of the Husker bench, not five feet from his coach. Farmer uses a screen from King and pops to the near corner. Reid hits Farmer as King turns and posts on the block. That's one option to score.
Michigan State ignores the inbound passer. As Reid's defender rushes to trap in the corner, Farmer flips the ball back to Reid 23 feet from the rim. With no hesitation, Reid plants his scarred right knee, leaps and fires.
Thousands of hands shoot up. Thousands of voices holler out. Thousands of eyes flash to the big black scoreboard — Nebraska 71, Michigan State 69. Suddenly and simultaneously, the Devaney Center is, as Smith describes it, "belligerent with joy." How many times does an athlete experience a moment like that? How many times does a fan?
"I tell you, as that ball went through the hoop, the whole place slowed down," Reid said. "I watched everybody jump out of their seats in slow motion. It was just the loudest noise I've ever heard."
During the next 3-1/2 months, Nebraska basketball would occupy rare air. The Huskers would break into the national rankings for the first time in 25 years and go 58 days without a loss. Students would show up hours before tipoff and heckle Byron Houston, Doug Smith and the Big Eight's best players. Fans would buy tickets from scalpers and squeeze into the nose-bleeds. Nee would distribute neckties and pizza, soundbites and scowls. Above all, two intangibles that eluded Nebraska basketball for so long — hope and belief.
"It got really fun really fast," Reid said.
Osborne's players, big as they were, were bound to old commandments. Constantly comparing themselves to their predecessors in the history books. Nee's followers, like teenagers embarking on an epic summer road trip, had no such restraints.
They wrote their own tradition.
Danny's Miracle is an eight-day series about Nebraska basketball in the 1990s. Each day offers a main story covering essential characters, themes and events, but the narrative can't possibly encompass everything. These are the bite-sized nuggets and insights that shed greater light on Danny Nee's program.
---
Part Two: Bragging Rights
The greatest season in school history, a winter marked by brilliance and controversy, began with a not-to-be-overlooked epiphany: Nebraska basketball was alive! And fueling that resurgence was a band of misfits assembled by Nee that came together and turned rivalries upside down. Click here to read the second part of Danny's Miracle.