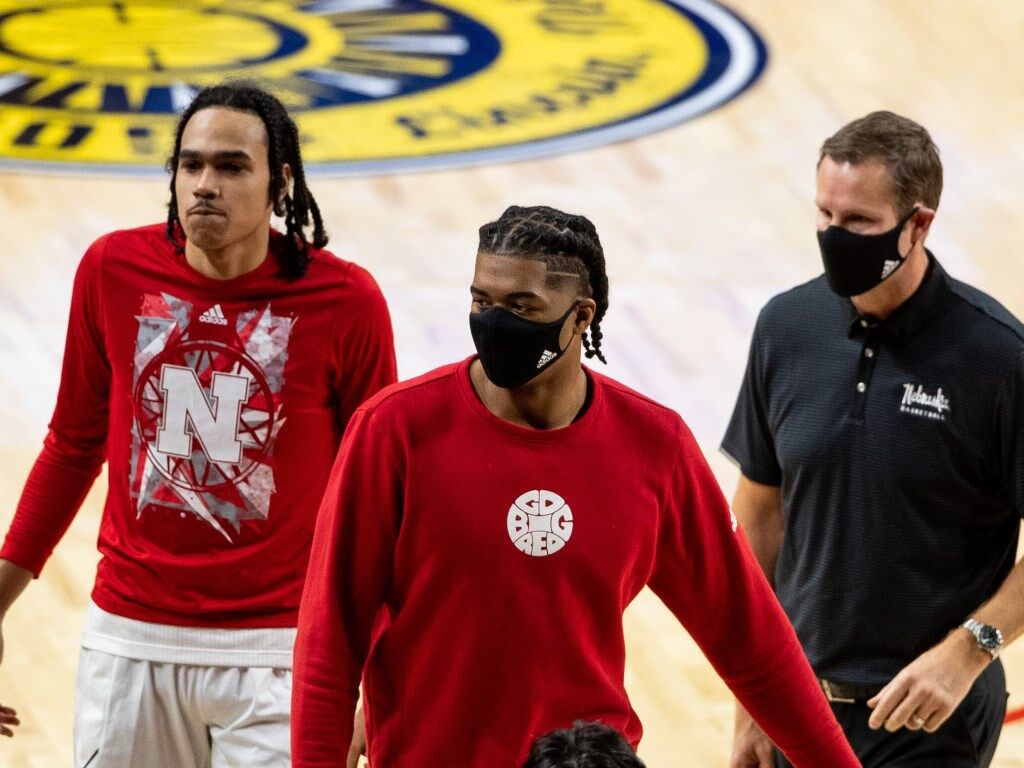 LINCOLN — Derrick Walker felt his heart drop. The forward found out just before the start of the season he'd have to serve a suspension for NCAA violations he committed at his previous school, Tennessee.
"It hurt," the 6-foot-8 junior said. "It hurt a lot."
That suspension was originally half the season. NU got it shortened a bit, but Walker still spent 11 games on Nebraska's sideline in workout gear, clapping and yelling instead of playing.
Because of the postponement of Tuesday night's game at Purdue, Walker will have to wait a little longer. It's already been almost two years since he's played a game, and his team — 4-7 overall and 0-4 in the Big Ten — needs Walker as much as he needs the game he loves.
The burly Big Ten — which has 12 teams in the top 54 of the NET rankings — has quickly flexed its frontcourt muscles on the Huskers, shooting 61% inside the arc in four games. NU has had to use Lat Mayen — a 6-9 perimeter player — in the paint during Walker's absence. Mayen leads the team in fouls as a result.
Walker's return resets Nebraska's roster to its original preseason state.
"I feel like we're right there," Walker said. "Not saying I'm the guy, but hopefully I can be the guy to help us get a little more energy, help us get a little more confidence, maybe help us come together a little bit more.
"We're right there. We're a good team. We're not going to hold our heads. We're going to keep fighting."
Had NU played Tuesday, it would have been trying to chop down Purdue's trees. The Boilermakers' 6-10 forward Trevion Williams and 7-4 center Zach Edey are challenges in a league where big men enjoy the big stage. Williams, at 265 pounds, is like a tall tight end on a basketball court. Coach Fred Hoiberg said Purdue tossed Williams the ball on the left block 15 times in a second-half loss to Rutgers.
"That's going to be their game plan, throwing it down there," Hoiberg said.
Ohio State had the same plan.
"They kicked our ass down there," Hoiberg said.
NU lost 90-54 to the Buckeyes. Nebraska followed that with an 84-77 loss to Michigan State that was more competitive, but the game still hinged late on a couple of offensive rebounds the Spartans got.
Enter Walker, a Kansas City native who played two seasons for a Tennessee program that won 57 games in his time there. Walker averaged 1.7 rebounds per game for those squads, which were superior to Nebraska's current team. But he "made a mistake" there and left, transferring to Nebraska.
He was part of a trio of sit-out players from last season who were supposed to help transform NU this year. Dalano Banton is averaging 12.8 points, 6.9 rebounds and 4.9 assists. Shamiel Stevenson, with his minutes slashed, has six points and four turnovers in league play.
Walker is the most vibrant, natural leader of the three, based on his sideline presence and practice of talking to teammates. Hoiberg has frequently called Walker one of the team's best vocal leaders.
"My philosophy is, literally, keep it simple," Walker said. "You see someone wide open, give them the ball. If you have a layup, take the layup. If you have a shot, take the shot. It's only when you start to overcomplicate things in this game is when you start to look bad and make your team look bad.
"So for me, I just want to go out there and keep it simple, do my job, play my role."
Just doing that could get a few Huskers — like Mayen — unstuck. Coaches appreciate Mayen's work ethic and willingness to do whatever is asked. But he's not a traditional Big Ten post — and wasn't recruited to be that. Walker, at 232 pounds, is built to tussle with guys like Williams.
How many minutes can he give Nebraska in his first games back?
"I'm going to be tired my first couple games out there," Walker said. "But however much I can play or whatever I can do in those minutes is all I'm looking for. I'm not asking to come out and play 40 minutes, I'm not asking to play 30. I'm asking to come out and give a boost to my team and hope we get a win."
Hoiberg prefers to ease expectations. He did the same with 6-10 freshman Eduardo Andre — a more athletic but less polished player than Walker — after Andre's return from COVID-19 protocols. Andre has played 28 minutes in five games. Walker will likely play more than that, but Hoiberg made no minutes guarantee.
He can see Walker's impact though.
"Derrick's a very popular player on this team," Hoiberg said. "He's done a phenomenal job in a year and a half, since his sit-out, of continuing to lead through that. Being on the sidelines, sometimes you can see it a little more clearly what's going on out there on the floor and how you can come out and help fix it and correct some things."
Even if it's been nearly two years since he's played in a college basketball game, Walker appeared in 64 of them for elite NCAA tournament teams. There isn't another Husker with that perspective.
"I have experience, so when I say something, these guys are able to listen and actually trust and believe in me," Walker said. "I'm going to play hard. These guys know I'm going to play hard, make the right read. They know I want to get them the ball, they know I want them to score and they know I want us, as a team, to win."
---
Meet the 2020-21 Nebraska men's basketball team