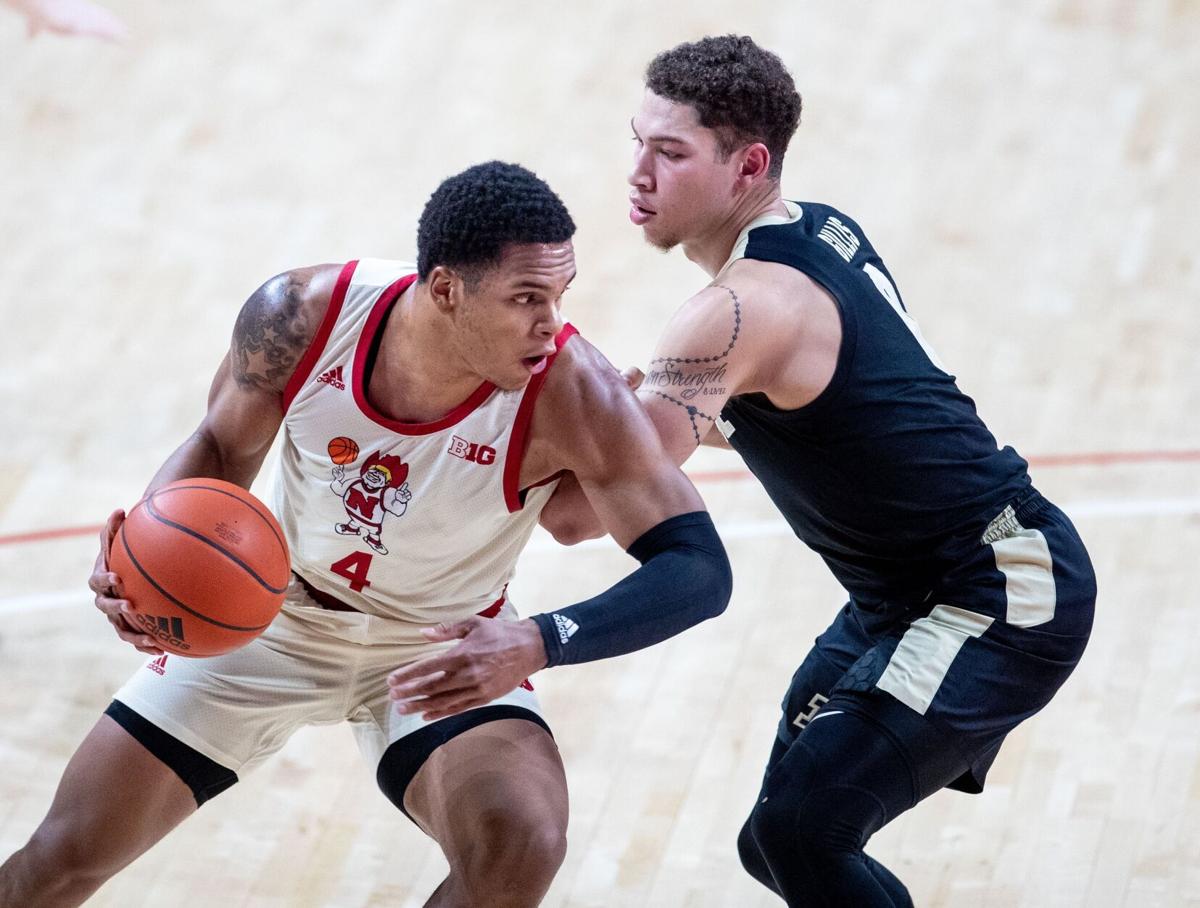 LINCOLN — Nebraska's bench became most of the starting bunch to begin the second half Saturday night. Coach Fred Hoiberg said they'd earned it, and, indeed, four reserves took center stage in a 75-58 loss to Purdue.
With four of NU's five starters seemingly in a game-long funk, backups Thorir Thorbjarnarson, Kobe Webster, Yvan Ouedraogo and Shamiel Stevenson closed the first half with a spirited run and started the second half on the floor. Those four combined for 35 points, 19 rebounds and six assists and even helped Nebraska (5-15, 1-12 Big Ten) take the brief lead of a game the Boilermakers (15-8, 10-6) largely controlled.
"You've got to always stay ready," said Thorbjarnarson, who had nine points, four rebounds, four assists and two blocks. He started seven games this season before heading to the bench. "No matter how much you play, no matter what game you get in, we've always got to be ready. Especially with this season and how it's gone."
It went well for the reserves, but they weren't enough. Why?
Starters Teddy Allen, Dalano Banton and Lat Mayen were minus-26, minus-26 and minus-27, respectively, in the plus-minus category of the stat sheet. They combined for 12 points — 24.5 below their season average. None of them played more than 19 minutes, but they were on the floor for most of a crucial 90-second, four-point possession when Purdue turned a 49-48 Husker lead into a 52-49 advantage thanks to two baskets, two NU fouls and Boilermaker offensive rebounds. Star Purdue post Trevion Williams — well-defended by Nebraska most of the game — had a basket and a rebound on the possession.
"When you have such a thin margin of error, and those kinds of things happen, it gets the ball rolling in the wrong direction," Hoiberg said of the possession. "And then (Purdue) got confident."
NU never gained the lead again. The four reserves — so solid for most of the game — came in and couldn't regain their shooting touch despite getting "good looks," Hoiberg said. Meanwhile, Purdue guard Sasha Stefanovic — in a multweek slump — hit four 3-pointers in the second half.
From the start of the four-point possession, at the 12:27 mark, Purdue outscored the Huskers 27-9 and turned a close game into a late blowout.
Purdue started the game hot, too, racing out to a 12-4 lead. Hoiberg called timeout at the 15:29 mark — quite early for him — and put in Stevenson. A minute later, he inserted Webster and Thorbjarnarson. Ouedraogo came in at the 12:58 mark. That quartet played with starter Trey McGowens and seemed connected defensively, especially against Williams, who averages 16.4 points per game but scored just nine Saturday night.
Nebraska's starters struggled mightily against Purdue in the first half, as the Boilermakers were able to score in the post and beyond the arc during the stretches when all or most of NU's top five were on the floor.
The reserves helped turn a 14-9 deficit into a 15-14 lead when Webster nailed a 3-pointer. NU kept it close from there, trailing 19-18 with 6:44 left when all but Ouedraogo left the floor.
The next four minutes did not go well when the starters returned. Purdue hit six straight shots en route to scoring 16 points and racing out to a 35-25 lead until Hoiberg put the reserves in again at the 2:56 mark.
Along with McGowens, those four finished the half on a 12-5 run, with NU hitting three straight 3s — two from Thorbjarnarson and one from Webster. In total, Nebraska's bench scored 24 of the Huskers' 37 first-half points.
Hoiberg then started the second half with the guys who played best in the first half.
"I just felt they deserved a start in the second half," Hoiberg said. "I was going to play the guys I felt gave us the best chance to be competitive and win the game. And that's exactly what they did. They came out and kept that same great ball movement that they had in the first half."
The four-point possession changed the game for good, but Nebraska's early missteps had him puzzled; generally, he said, NU has gotten off to good starts this season. Saturday night the first five seemed late on defense and short on their shots.
"It was out of the ordinary for that group to fall behind by almost double digits in the first five minutes," Hoiberg said. "Some of it probably is fatigue, but I'm not going to let them off the hook with that. You've got to find a way to muster up the energy."
Notes
» A talk between Hoiberg and Thorbjarnarson on Friday clearly paid off in Saturday's game, as the senior from Iceland had his most well-rounded statistical game of the year.
"When things are not going great, you start to lose confidence a little bit and your mind kind of starts to go somewhere," Thorbjarnarson said. "I think it's good we had a little talk. We talked about whatever. I think it definitely helped me. Just seeing the ball go through the hoop tonight, too, was really good."
Hoiberg said he told Thorbjarnarson to "keep his confidence" and stay aggressive.
"He works, guys," Hoiberg said. "He's a guy who's in the gym a lot."
Thorbjarnarson helps NU with ball movement, Hoiberg said. He has struggled shooting the 3 this season, however, hitting 25.3% overall and 27.3% in Big Ten play. Last year, Thorbjarnarson shot 37.2% from 3.
» Because of its packed schedule, Hoiberg said he couldn't remember the last time Nebraska had a "true" practice. The Huskers should be able to get one, he said, Monday in preparation for Penn State. NU beat the Nittany Lions one week ago.
"Hopefully Monday, heading into that Penn State game, that's going to be the last one we're going to be able to have most likely for awhile when you look at the tentative schedule that has been put in front of us," Hoiberg said. "We've got to take advantage of that day."
NU plays PSU Tuesday, at Illinois Thursday, vs. Minnesota Feb. 27, vs. Rutgers March 1 at Iowa March 4 and at Northwestern March 7. Barring an unlikely six-game winning streak to end the season, Nebraska will then play on the first day of the Big Ten Tournament March 10.
---
Nebraska men's basketball hosts Purdue