LINCOLN — Indiana coach Archie Miller said the right things after the Hoosiers' double-overtime loss to Wisconsin. The things said when a team is close, yet squarely in the middle of a league's pack.
"We didn't make enough winning plays to win in the end," Miller said at one point.
"I've got to do a better job for them," he said at another.
When describing late-game struggles — including IU's bizarre final possession in the first overtime that led to a tie-up and a jump ball — Miller noted execution and details.
"At the end of the day, we need to be a little sharper as we came down the home stretch," Miller said.
He hit all the right "coachspeak" notes. But after the Zoom session was over, Miller leaned back, exhaled, put his arms above his head, and looked up at the ceiling.
He was hired to bring back a blue-blood basketball program. It hasn't happened yet.
Indiana is 7-5 overall and 2-3 in the Big Ten. It arrives at Nebraska for a Sunday evening game — which NU will play despite being down one player due to a positive COVID-19 test — that will be its third in six days. The Hoosiers' top guard, Armaan Franklin, is likely out with an ankle injury. The team's best player by a mile — forward Trayce Jackson-Davis — played a whopping 49 minutes in the loss to Wisconsin, so necessary he is to Indiana's fortunes.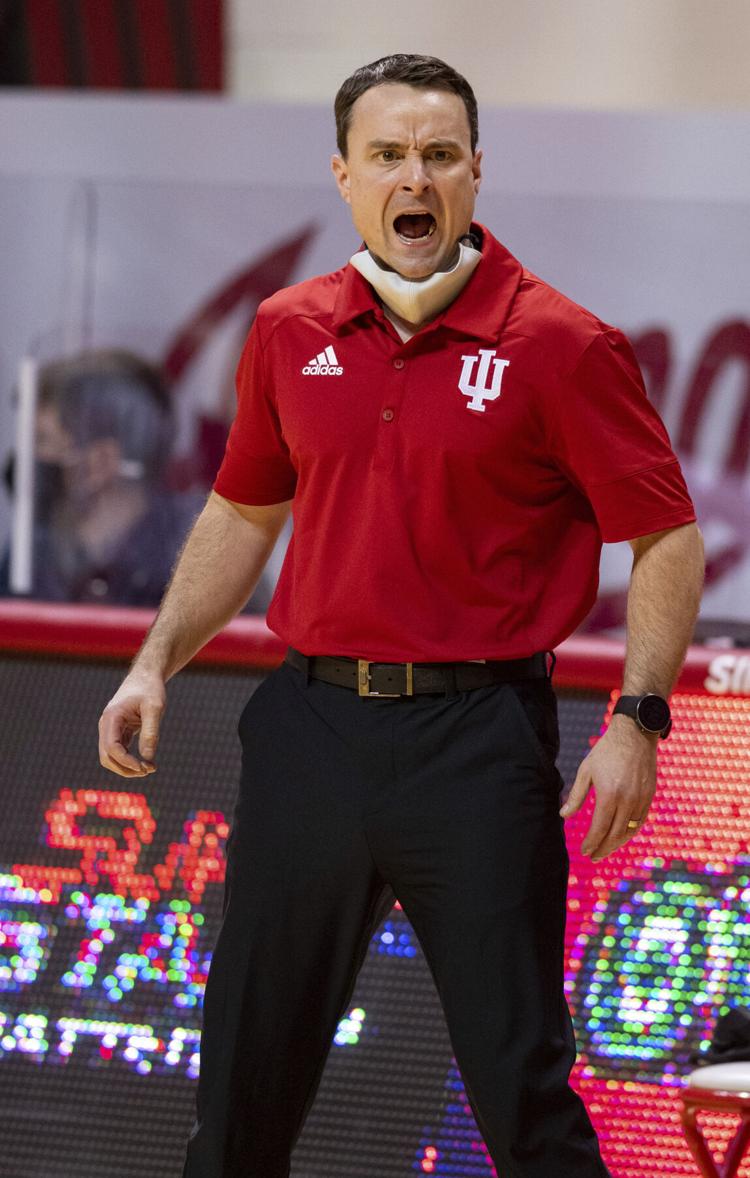 "Trayce is a guy, at the end of the day, we're going to live and die with, and if he's a little tired, it is what it is," Miller said of the 6-foot-9, 245-pound forward who averages 20.5 points and 9.2 rebounds per game. The Hoosiers are relying more and more on Miller's highly-touted four-man freshman class for production and minutes.
Sound familiar? Though Indiana basketball has experienced more success than Nebraska football since the last time the two teams appeared in a national title game (2002 for IU, 2001 for NU) the programs are still haunted, to some degree, by their pasts. The shadows of former coaches — both of whom were pioneers in their sports and won three national titles — loom large. Their successors peaked early before a decline and firing. Each program had volatile coaches who won a decent clip, but Bo Pelini and Tom Crean had sideline demeanors that rubbed some folks the wrong way.
And both still get plenty of local media attention while their national star dims. Indiana is no longer the face of Big Ten basketball; Michigan State, Michigan, Ohio State, Wisconsin and Iowa have had more recent consistent success. Indiana hasn't been to the NCAA tournament since 2016. That's the same year Husker football last appeared in a bowl.
Of course, it's Nebraska basketball that's looking for its first Big Ten win in more than a year and playing its first game since Jan. 2, a 84-77 loss to Michigan State.
Since then, NU coach Fred Hoiberg has had an exhale-and-look-at-ceiling kind of week, with a positive test on Monday derailing the Purdue game — which will be rescheduled at a later date — and keeping the Huskers off the practice court on Tuesday and Wednesday. As tests came back negative for multiple days, NU reconvened on Thursday for workouts less one player, whom Hoiberg did not disclose.
"For two days we couldn't spend any time at all together," Hoiberg said. "…Was that great? Probably not ideal. But I look at an opportunity to freshen up and recharge their legs heading into this tough stretch."
Nebraska "went hard," Hoiberg said, in the past two days. He noticed "rust" from his team due to the two-day absence.
Indiana has had no such prolonged absences, having had no Big Ten postponements so far. IU countered a bad start to league play — losses to Northwestern and Illinois — with an overtime win over Penn State and a come-from-behind win at Maryland in which the Terrapins' missed free throws cracked the door open for the Hoosiers.
On Thursday, Indiana fell short in a statement game against the Badgers, whose sum tends to be greater than the parts. One particular possession — the one at the end of the first overtime — epitomized the struggles, as guard Aljami Durham, who'd just scored on a 3-point play, was supposed to get one clear side of the floor to work for a jumper.
Only a teammate came over to Durham's side, drawing a defender with him. Durham dribbled right into a trap and got tied up. Wisconsin won in the second overtime.
"We called a play and we didn't execute," Durham said.
It was a small frustrating error that tends to keep a traditional blue blood perpetually on the cusp, instead of breaking through. It's a feeling Nebraska football knows well, and Nebraska basketball, in this case, would like to prolong for the Hoosiers.
---
Meet the 2020-21 Nebraska men's basketball team