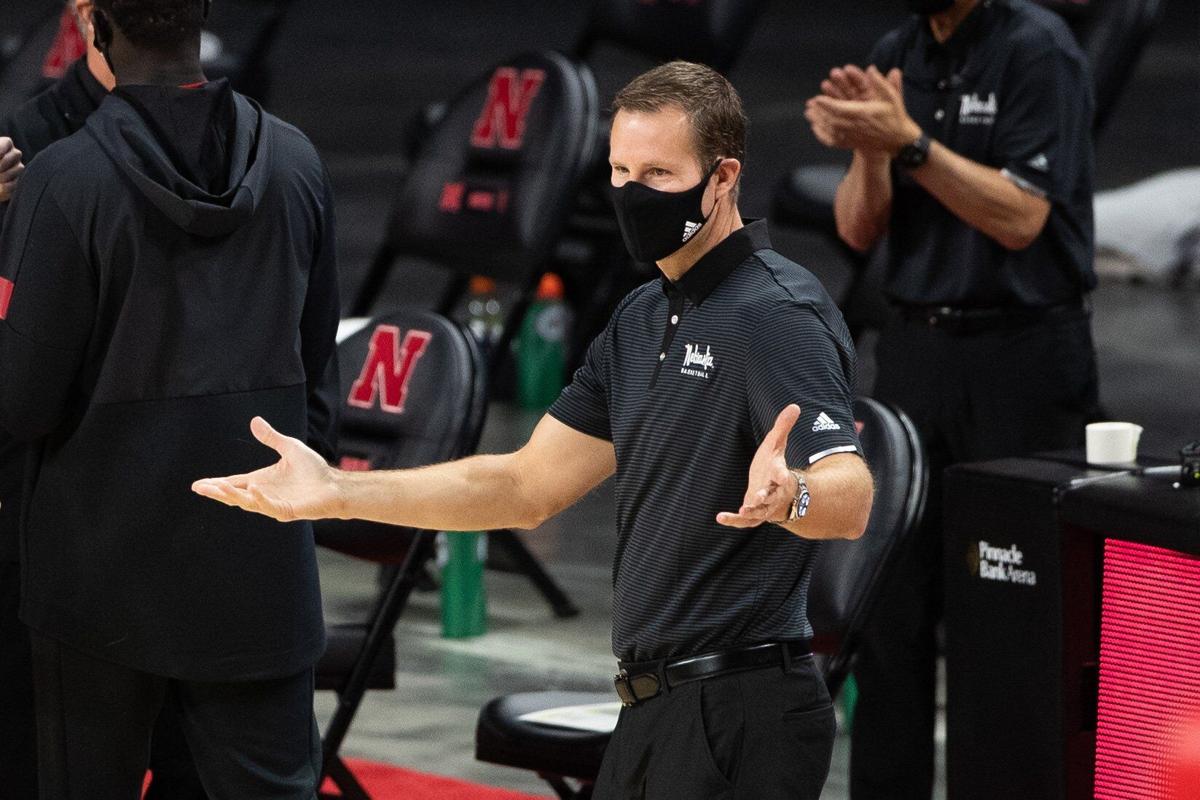 LINCOLN — Fred Hoiberg doesn't blink at the NCAA allowing student-athletes to have immediate eligibility upon their first transfer in college. In making transfers, nearly a decade ago, one rock upon which he builds his program, Hoiberg was well ahead of the NCAA's curve.
"It won't change our approach as far as how we recruit," Hoiberg said Thursday in his first in-depth press conference since the end of a 7-20 season March 7.
So NU, with two scholarships in its back pocket, won't stop perusing the portal this spring if the right guy — who fits a Husker need — is interested.
But if Nebraska stands pat with adding just CJ Wilcher, a 6-foot-5 Xavier sharpshooter who signed Wednesday, from the portal, Hoiberg sounded comfortable with the Huskers' current situation at point guard, where Trey McGowens, Dalano Banton, Kobe Webster and perhaps even 6-9 incoming freshman Wilhelm Breidenbach will get time.
"We do need to improve in decision-making across the board," Hoiberg said of a team that led the Big Ten with 14.1 turnovers per game. "In order to win games, we must take much better care of the ball than we did a year ago."
NU's assist numbers — 13.7 per game, good for ninth in the Big Ten — weren't bad, Hoiberg said, especially at the end of the year.
Turnovers remained a problem. Banton (67) and McGowens (62) led the team. Both players, Hoiberg said, were affected by Nebraska's monthlong COVID pause. Banton's rolling average of points, assists and rebounds steadily declined after the pause. He lost his starting job as McGowens moved to the point guard role.
Nebraska's coaches still believe Banton is a NBA prospect and a skilled point guard, and he'll have a new development-minded assistant coach (Nate Loenser) and player-oriented strength coach (Kurt Joseph) to work with in 2021.
"Dalano at times showed very good decision-making," Hoiberg said. "His assist-to-turnover ratio (102 to 67) was actually very good a year ago. The shutdown hurt him. There's no doubt about that."
McGowens and Webster each have point guard experience, and Breidenbach, a top-100 recruit NU prized for his motor and passing skills, has been a ball-handler for Mater Dei High School in California this spring.
"We had 46 less practices than we did the year before," Hoiberg said. "We're going to have a lot more time to work on those fundamental things where we have to improve. And hopefully that will pay off."
Hoiberg will have the nation's No. 14 recruiting class, led by five-star wing Bryce McGowens, at his disposal, plus Wilcher, who played well in spot minutes last season for Xavier. Wilcher decided to transfer when the guard ahead of him, Nate Johnson, opted to return as a sixth-year senior.
Wilcher is more than a good perimeter shooter, Hoiberg said.
"He should have versatility on the defensive end, a guy who can put the ball on the floor, and a good strong body to finish in the paint," Hoiberg said. "I think we're getting a very complete player."
Oleg Kojenets, one of NU's three incoming freshmen, also signed Wednesday. The 7-foot Lithuanian with "very good skill" will arrive this summer and compete for minutes, Hoiberg said, but he'll need to improve his overall strength.
"When he gets here in the summer we'll have an opportunity to start working on his body right away," Hoiberg said. "But to add a 7-footer who has a good skill set should be a good long-term addition to our program."
Nebraska could have as many as 15 scholarship players next season with COVID-related waivers from the NCAA. Two of the team's oldest guys, Thorir Thorbjarnarson and Shamiel Stevenson, Hoiberg said, are still weighing their options between pro and college basketball. Thorbjarnarson, Hoiberg said, is back in Iceland as he makes his decision. Like fellow fifth-year seniors Webster and Trevor Lakes, Thorbjarnarson's scholarship will not count against NU's limit. Stevenson's would.
Hoiberg is hopeful the strong returning core of players, when combined with the recruiting class, produces far better results than either of his first two seasons at Nebraska.
"We're going to have continuity with our roster for our first time since we've been here," Hoiberg said. "The first year, we had under two points coming back from the previous year. Last year I think we had 15. This year, almost 70% of our production will be back and has been through the system, when I think we saw dramatic improvement over the course of the season."
More notes from Hoiberg's Zoom chat with the media:
» Hoiberg said it was "really cool" to be present at Lincoln Pius X for his son, Sam, as he signed a letter of intent to walk on at Nebraska. Sam Hoiberg will be a "great asset" for the team, Fred said.
"He's going to be a great teammate — he's an awesome kid — he's going to come in and work extremely hard, he's going to push the guys who are going to be out there on the floor," Fred Hoiberg said. Fred's wife, Carol, is a big fan of Sam walking on at Nebraska, too. Sam's twin brother, Charlie, is headed to TCU where he'll focus on academics.
"It'll ease the empty nest that we would have had if Sam had gone away to college. He had some pretty intriguing opportunities. But, at the end of the day, he wanted to stay home and he wanted to play here. He's really fallen in love with this community, as our entire family has."
» Loenser and Joseph have already shown off their ability to connect with current NU players, Hoiberg said.
Hoiberg raved about Loenser work "all across the board" as an assistant at Iowa State and with the Chicago Bulls. It goes beyond Loenser's much-discussed reputation as a developmental coach.
"If you see him with a scouting report, in a film room, commanding the room, he's got such a great presence to him," Hoiberg said. "…Nate's done everything. He started at the bottom, and he's as good as I've been around in all different areas."
Loenser replaced Doc Sadler as a full-time assistant. Sadler, now the special assistant to the head coach, will fill much of the same role, Hoiberg said, as a defensive coordinator and gameplanner.
"Even though he won't be doing as much on the floor as he has in the past, he's still going to have a huge part in what we do and how we play," Hoiberg said.
Note: A previous version of the story noted Shamiel Stevenson and Thor Thorbjanarson were the team's two oldest players. They are two of the team's three oldest players, including Derrick Walker. 
---