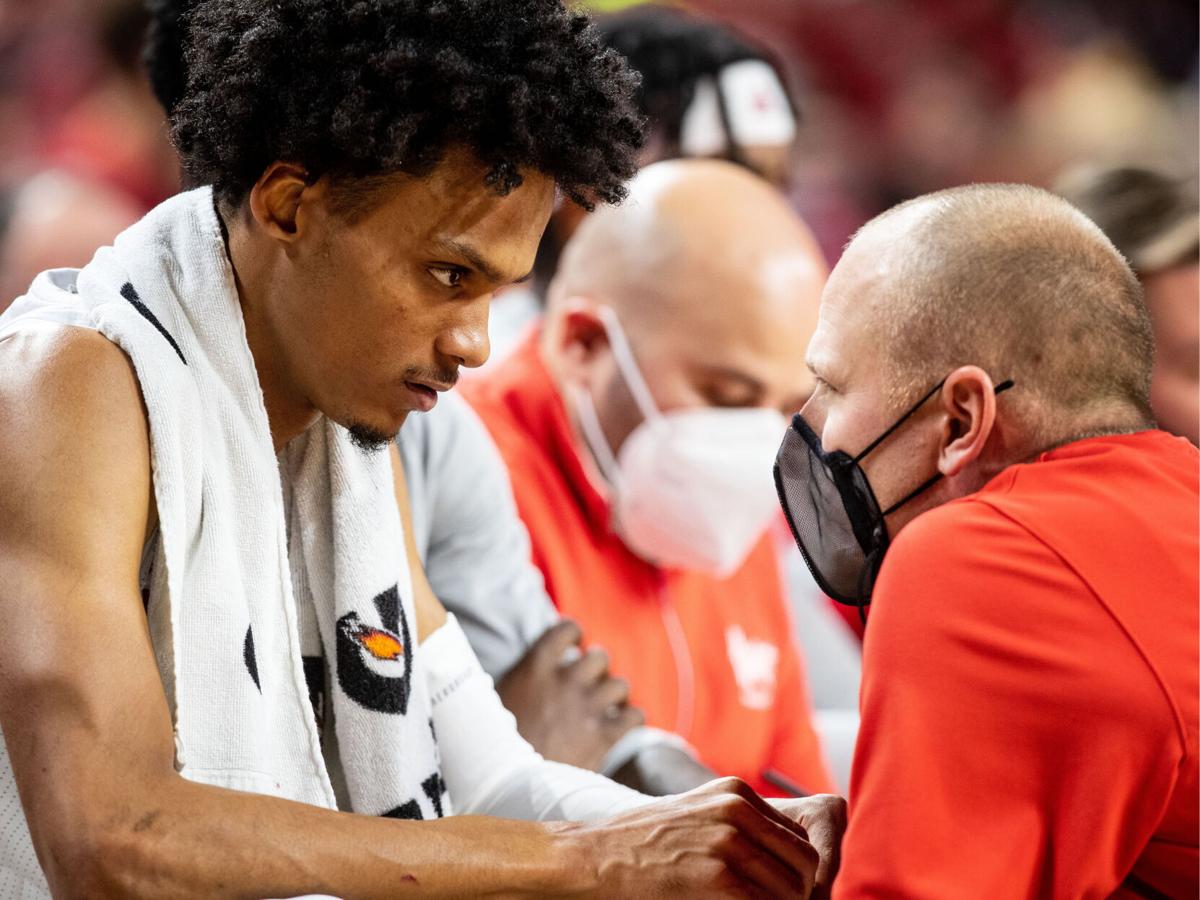 LINCOLN — Alonzo Verge only saw one person to blame for Nebraska's early-season offensive struggles.
When asked Sunday what's changed about the Huskers' ball movement during their two-game winning streak, Verge pointed the finger at himself.
"It starts with me," he said. "I'm the floor general. I'm the point guard. It starts with me getting my teammates involved — getting guys like Bryce (McGowens) going, guys like C.J. (Wilcher) going. The first few real games, I struggled with that."
Verge said he overthought his decisions because he'd never been in charge of a Division I offense. Verge played the sixth-man role during his first season at Arizona State. And though he started his second year, he played next to point guard Remy Martin, who's now at Kansas.
Then Fred Hoiberg put the ball in Verge's hands "90% of the time," Verge said Sunday. Verge assumed responsibility for his teammates' production. "My role has changed a lot," he said. "It's a big role, a different role." One that didn't match the attack-first instincts he relied on once the season started.
The Huskers recorded six assists in their season-opening loss to Western Illinois and 10 against Sam Houston State. Verge shot 13 of 36 during those games and too often tried to isolate against his defender. After repeating those mistakes against Creighton, Hoiberg sat Verge for the final 12 minutes of the first half.
"Coach trusts me," Verge said. "When he does things like that, I don't really let it get to me. I just take it to the chin and move on."
Verge responded by posting two of his steadiest, most-efficient performances as a Husker this weekend. He shot 50% for the first time this season with 11 points against Idaho State on Friday, and 80% (4 of 5) with 14 points Sunday against Southern. He added four assists both nights.
Hoiberg pulled Verge again against Idaho State, but the Husker coach said afterward that Verge ran the offense better against the Bengals. And when asked about Verge's game management against Southern, Hoiberg said Nebraska handled the Jaguars' switching "much better" than it handled Western Illinois'.
That doesn't mean Verge has mastered his new role. He's still only five games into it. But the progress he's shown has encouraged his teammates. Bryce McGowens said Verge handled the Huskers' uneasy start "great" and has grown as a distributor. With 26 games to go, McGowens likes his point guard's trajectory.
"We have a lot of season ahead of us," McGowens said. "So it can only get better."
» Derrick Walker didn't only score a career-high 15 points against Southern. He also dished three assists, including a sweet pass to McGowens with 1:48 to play in the first half.
Walker drew a double team before Verge's post entry pass landed in his hands. But Walker recognized the extra defender as he caught the ball and threw an over-the-head pass to McGowens, who finished the play with a double-clutch and-1 layup.
"Having a big that's able to play-make really sets the team," McGowens said. "He's a force inside. So him being able to draw two and kick — we have a lot of shooters on our team, so it's major for us."
» Keon Edwards has started two games for the injured Trey McGowens. He's played 25 minutes and scored two points with one rebound, two fouls and two turnovers.
Hoiberg said Edwards provides the Huskers with a "physical presence" and has "set the tone" early in games defensively. As for the stats, "He's gonna knock down shots," Hoiberg said. "His shot's gonna start falling."
» Tuesday's game against Tennessee State will be the Huskers' third in five nights. Hoiberg praised his team for their response to the short turnaround between Idaho State and Southern, saying the Huskers ran plays Sunday they only learned the day before.
Now the Huskers will prepare quickly again. Beating TSU — which has only beaten an NAIA school and lost to Alabama A&M, Norfolk State and South Dakota — may simply require the Husker' full attention. But with a compact schedule, that'll be harder to harness than usual.