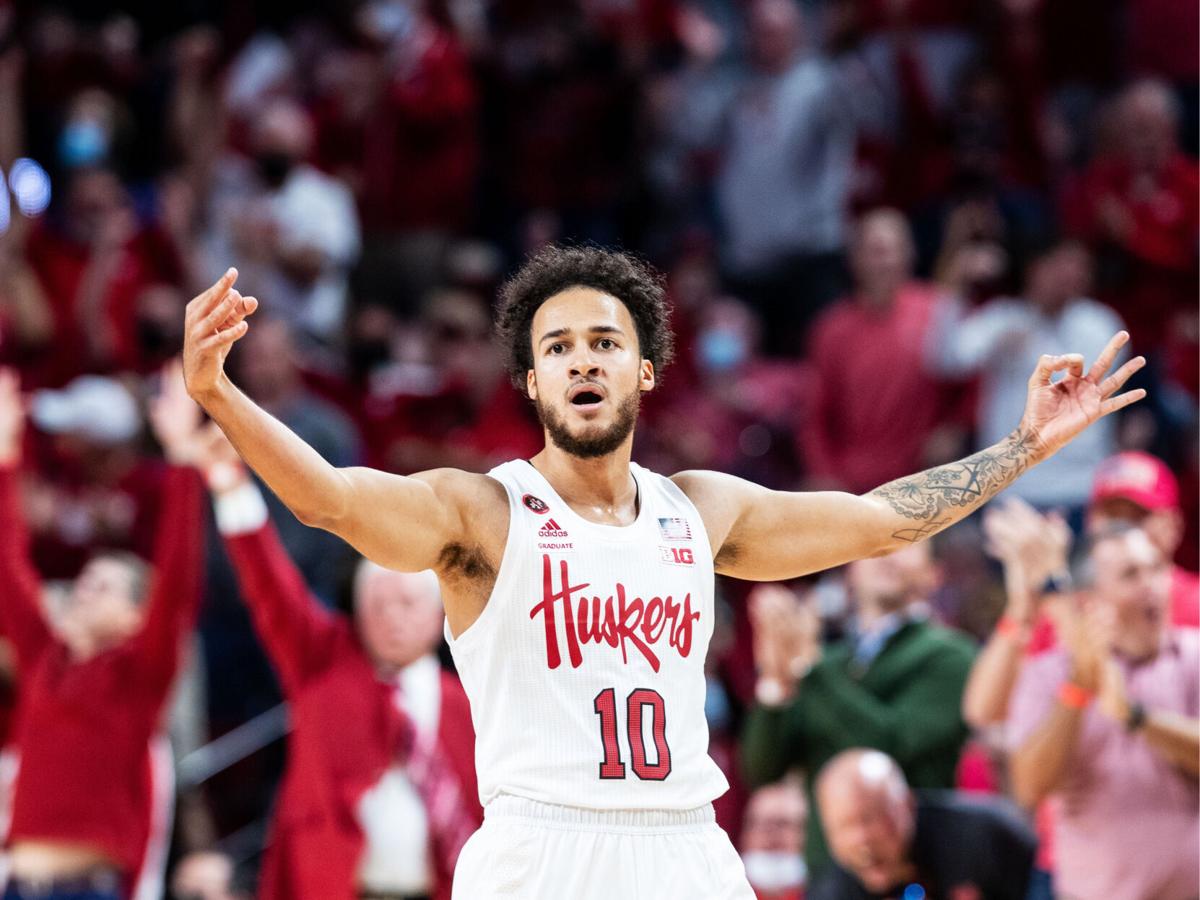 LINCOLN — When Nebraska's offense has struggled this week, coach Fred Hoiberg has put Kobe Webster at the controls.
The results: Nebraska has outscored opponents by 33 — nine against Creighton, 24 against Idaho State — with Webster on the floor. Webster averaged 13.5 points and 3.5 assists. And Hoiberg played Webster more minutes (29) than any other Husker on Friday against the Bengals.
"Kobe gives us great stability out there," Hoiberg said after Nebraska's 78-60 win over ISU. "He has been in the system and he knows how to get us moving out there."
That's no shot at Alonzo Verge, the Huskers' starting point guard who is still perfecting his score-pass palette. Hoiberg sat Verge for 12 consecutive minutes to close the first half against Creighton because Verge hunted his own shot too often. Hoiberg sat Verge again Friday — for nearly eight minutes — after Verge missed a one-legged fadeaway with 18:09 to play.
But Hoiberg believes Verge is learning from his mistakes. He praised Verge for "getting us moving" early against Idaho State. And upon returning from his second-half bench stint, Verge threw two no-look assists on consecutive possessions.
So while Verge's struggles have coincided with Webster's ascendance — and Webster has cut into Verge's minutes — Hoiberg still believes in both ball-handlers. He even played them together for 11 minutes (over two stints) against Idaho State. The Huskers outscored the Bengals by six during those minutes, and Webster even found Verge for a corner 3-pointer with 8:46 left in the first half.
Hoiberg thinks the lineups worked, and he knows he'll need both players with Trey McGowens, the Huskers' other option at point guard, on the shelf for six to eight weeks.
"I thought (they) played well off each other," Hoiberg said. "The more playmakers, shot-makers you have out there, the harder you are to guard."
» Keisei Tominaga finally broke the seal on his shooting slump.
Tominaga entered the Idaho State game shooting 1 for 9 through three games (1 for 8 from 3), and hadn't scored since Nebraska's opener against Western Illinois. But the transfer from Ranger College scored 11 points on 4 of 7 shooting (1 of 4 from 3) against the Bengals.
C.J. Wilcher said the Huskers never noticed Tominaga's spirit fade during his shooting slump — "Keisei is a very heavy energetic guy," Wilcher said — but they knew Tominaga needed to see his jumper fall.
So against Idaho State, Tominaga's teammates made a conscious effort to locate him on offense.
"Keisei can shoot the ball, shoot the heck out of the ball," Wilcher said. "We were just trying to get him some in-game makes, get his confidence back up."
» Hoiberg called two plays for Derrick Walker during Nebraska's first three possessions against Idaho State.
The first was a designed fake dribble handoff where Walker used a drop step to set up a left-handed jump hook off the glass. Two possessions later, Verge threw an entry pass to Walker, who dribbled across the lane and sank another lefty jump hook.
Walker took only two shots during Nebraska's loss to Creighton on Tuesday, and Hoiberg took note of that between games. The Husker coach thought Walker deserved more touches after watching him average 12 points during Nebraska's exhibition games and bang with big bodies during the regular season.
"He does so many little things for this team (with his) screening," Hoiberg said. "So to get him going a little bit was big for our team because he was so good in the preseason."
» Nebraska's bench has scored 79 points in its past two games, including 37 against Idaho State. From Webster to Wilcher to Tominaga to Wilhelm Breidenbach, Hoiberg is flush with energizing options if the starters go stale.
Hoiberg said the Huskers' pace changed when the reserves entered the game Friday. He liked the way they created transition opportunities off defensive rebounds.
Wilcher said every reserve's goal is to provide "some type" of spark. He and Tominaga shoot 3s, Webster scores and facilitates and Breidenbach can do some of everything.
The freshman big man takes pride in filling the blanks for his team, and he sees the same attitude in his teammates.
"That's just the pride we take is to lock in on the minute things that don't go on the stat line," Breidenbach said. "Whether it's rotating on defense, boxing out, like that's just what everybody — regardless of bench or not — is locked in on."
---