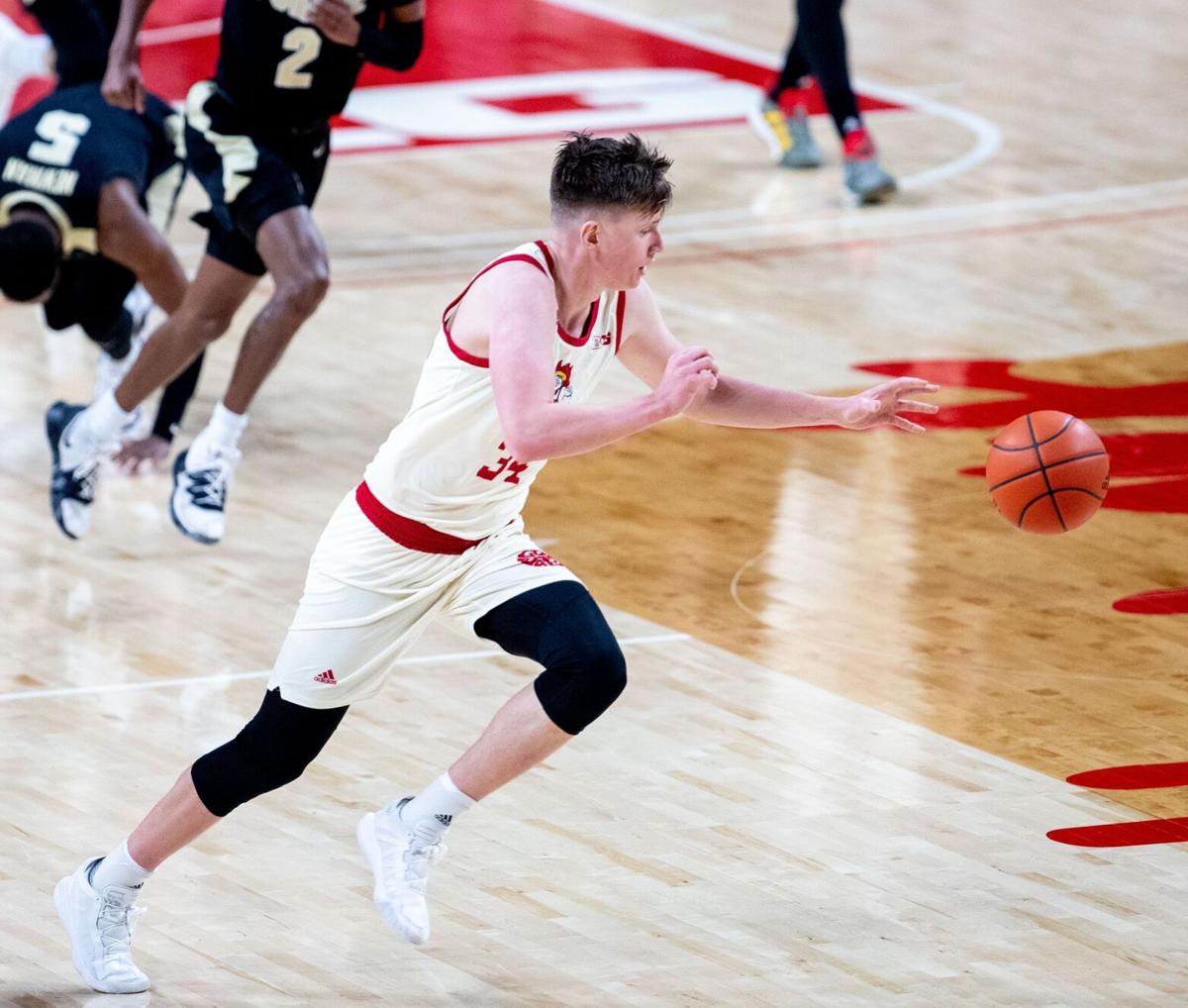 LINCOLN — Late in the broadcast of Nebraska basketball's second loss to Maryland last week, BTN analyst Jess Settles offered a big-picture assessment of coach Fred Hoiberg, who at the moment is 3-30 in conference games.
"It'll be interesting for Fred Hoiberg as he goes into this offseason," Settles said. "Can he continue to push this type of pace? When he was at Iowa State, he had elite point guards who never turned the ball over."
Note: NU turns it over 13.3 times per game — third-highest in the Big Ten — and is the only league team with more turnovers than assists.
"And the Big Ten has a way of humbling great coaches. Remember: John Beilein played a 1-3-1 (defense) at West Virginia, came to the Big Ten, had to scrap it. Bo Ryan averaged 100 points a game at Platteville, and he came to the Big Ten and played in the 50s and went to the Final Four. Brad Underwood came to the Big Ten and had to scrap his defensive philosophy. Just lot of big decisions for Fred going forward.
"He's got a great recruiting class, but you can't turn the ball over. And the shot selection they've been taking doesn't really work at this level, in this league. But he will get it done. He's just got to find a way to adjust a little bit in some of those areas."
Accounting for the fact that Settles didn't have full stat histories in front of him — Ryan's two Final Four teams at Wisconsin averaged 73.5 and 72.5 points per game, as it was Dick Bennett's Final Four team in 2000 that averaged 59.9 — the former Iowa player was making a point that Hoiberg — and for that matter, NU football coach Scott Frost — will navigate in the next few years.
The schemes that worked at other schools, in other leagues, may not work so easily in the Big Ten. Especially if Big Ten football and basketball are going to be as good as they've been.
In football, the league has won 61.2% of its bowl games the past four years, and the caliber of recruiting — fueled by big payouts from the league — has improved, too. Every Big Ten West team has a nice fat budget for coaches. Most have nicer facilities than Nebraska at the moment.
In hoops, the Big Ten in 2021 is perhaps as good as any league ever. Michigan, Ohio State, Iowa and Illinois are on track for Nos. 1 or 2 seeds in the NCAA tournament. It's not impossible that the Big Ten could comprise the entire Final Four. Or six of the Elite Eight. Or put 10 teams in the tournament.
For rebuilding programs — both Nebraska football and men's basketball qualify — the competition, plus the disorienting, frustrating nature of COVID-19 cases is like two sports cars caught in a snowstorm that dumps more snow and blows more wind than expected.
At full octane, Frost's and Hoiberg's systems not only land on the cutting edge of their respective sports, but they produce beautiful offenses.
You've seen glimpses in Frost's three years of how his preferred pace and play design works when players execute, and over the next several months, we'll look at some of those gorgeous drives. There, too, have been moments with Hoiberg's system — against Michigan State and Indiana before the COVID-19 pause, or those five minutes in the second Wisconsin game — where, boom, it's there. And then it's gone. The defense adjusts. Or the Huskers miss open shots. Or NU posts — as NU posts are prone to do since Aleks Maric left 13 years ago — fail to finish on a nice entry or drop-off pass.
Point is, these systems need players with elite skill who also have the "get it" factor. For Frost, that's a quarterback who thinks fast, makes good decisions and throws to pass catchers who know how to adjust their routes to a defense that might not be set. For Hoiberg, that means good shooters, better passers and guys who embrace the coach's ethos of sharing the ball as much as needed to create the best shot.
Which brings us to Saturday, NU's loss to Purdue, in which Hoiberg did something — with some success — that Frost has also done.
Hoiberg rolled with some of the "get it" guys.
Reserves Kobe Webster, Thor Thorbjarnarson, Shamiel Stevenson and Yvan Ouedraogo are not perfect — they're coming off the bench for a reason — but they'll hound on defense and played a step faster than the starters on offense in attacking the basket, sometimes, it seemed, just to move the ball to the other side of the court with an aggressive dribble and pass. Maybe the starters had mental or physical fatigue, but the reserves played … like starters.
As the game wore on and the reserves missed some second-half shots — good looks, Hoiberg said — the moment passed, and Purdue went on a run and put the game away. But not without Hoiberg starting the second half with four reserves.
"I just felt they deserved a start in the second half," Hoiberg said. "I was going to play the guys I felt gave us the best chance to be competitive and win the game."
Midway through the 2020 football season, you saw Frost and offensive coordinator Matt Lubick play the receivers who got the offense more — walk-ons like Levi Falck, Wyatt Liewer and Oliver Martin — and some of the younger scholarship guys less.
"One thing we did look at is we had a bunch of guys that were close — some being young and learning, some others that have been here — and we kind of figured we were doing a little disservice by spreading the reps out too much, so we did want to narrow it down a little bit," Frost said Dec. 7. "That group of guys you see playing has been dedicated to this."
The long-term goal of any program, of course, is to get your best talent to double as your best buy-in guys. And I think Hoiberg would say, with few exceptions this season, he's had full buy-in related to effort. The Huskers — including all the starters — play hard. Can they play at the level Hoiberg needs for the offense he'd like to run, or is a more modest approach needed?
The next recruiting class — five-star Bryce McGowens is in it — will go a long way to answering that question. Hoiberg has preferred to play as many games as possible, too, to get a sense of what he has with this team.
Has the four-week COVID-19 pause, coupled with an all-time tough Big Ten, even allowed Hoiberg and his players a good measuring stick? Thorbjarnarson mentioned the absence of fans at Pinnacle Bank Arena as a major factor.
"Some of these guys don't even know how it is, coming to play here in the Big Ten," he said. "Every arena — game day is so much different. Before the game, you come in, nobody there, you've got to hype yourself up. We've showed stretches, for sure, where we can be really, really good.
"You guys are probably tired of hearing about it as we keep on saying it, but I really believe that this team can be really good."
In the Big Ten, in 2021 and perhaps beyond, being really good is getting closer to being par for the course. Nebraska has its hands full in this league.
A few more thoughts in the Rewind:
>> Big Ten athletic directors not allowing, say, 20% fan capacity at outdoor sporting events — such as baseball and softball — seems to run counter to the NCAA's willingness to allow 25% capacity at the NCAA tournament, some of which will be played on Big Ten campuses Purdue and Indiana. Perhaps the tenor changes as more get vaccinated.
>> The Nebraska women's basketball team still has a (long) shot at the NCAA tournament. My hunch?
The Huskers, 11-9 after beating Penn State on Sunday, have to win the rest of their regular-season games — which, incidentally, they can do — and perhaps two in the Big Ten tournament. Get to 16-10, make the argument that you're at full strength and healthy with a completely recovered Isabelle Bourne — averaging 20 points and 12.7 rebounds per game in her last three contests — and see if the committee is listening. Winning out would mean season sweeps of Northwestern and Michigan State — both tourney-bound teams if it's a 64-team bracket — when Bourne was healthy.
The other way is to win the Big Ten tournament. That probably means beating Maryland at some point.
>> Purdue's already back at it with spring football camp. The Boilermakers started last week. At his press conference, coach Jeff Brohm was bullish about why he fired defensive coordinator Bob Diaco after one season, despite Purdue improving by a point and about 30 yards per game on that side of the ball.
"We are going to challenge things; we are going to gamble some," Brohm said. "I want our guys to make plays, get turnovers, not be afraid to make mistakes and to dictate what happens on that side of the field."
Diaco's bend-don't-break system wasn't for Brohm. It wasn't for Nebraska, either.
---
Photos: Nebraska men's basketball hosts Purdue