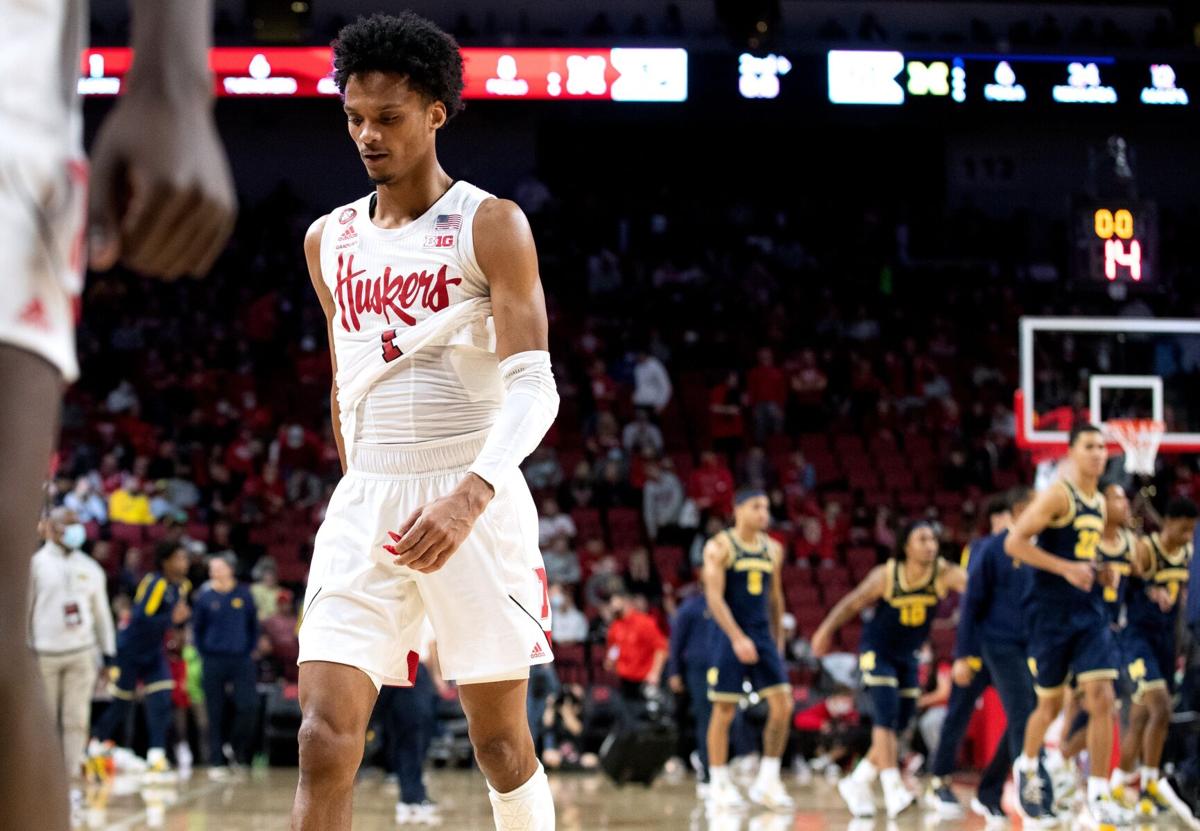 LINCOLN — Fred Hoiberg sat with a blank stare at the interview table inside Pinnacle Bank Arena, shaking his head as a reporter recounted forward Derrick Walker's characterization of Nebraska's 102-67 loss to Michigan.
The Huskers lacked energy from the start, Walker said. They embarrassed themselves, and he never saw it coming.
Hoiberg didn't, either. More than that, he couldn't remember seeing a performance so lifeless. In 12 years as a head coach, his teams have missed shots. They've bumbled defensive rotations. But until Tuesday, he always felt like the players were trying to fix their mistakes.
"I've never been a part of one like this where we quit competing," Hoiberg said. "... It's embarrassing, it's humiliating. And we've got to find a way to fix it."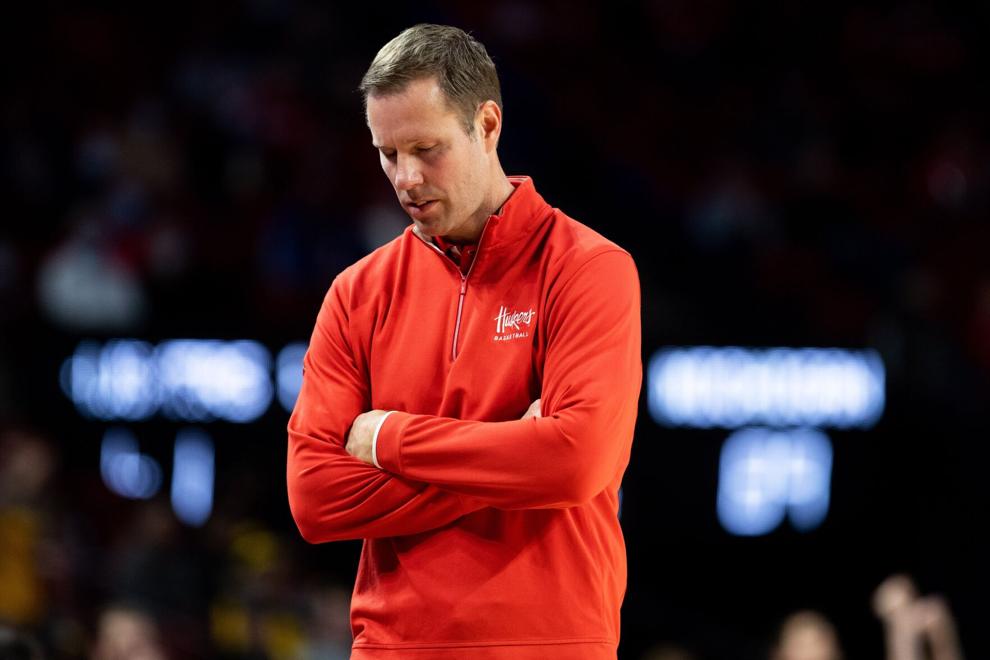 The bottom fell out with 12 minutes to play and Nebraska trailing by 18. Alonzo Verge lost his dribble near the baseline and tried saving it to Kobe Webster in the corner. But Caleb Houstan intervened and bounced a pass to Terrance Williams for a layup at the other end. On the next play, DeVante Jones took the ball from Wilhelm Breidenbach and lobbed a pass to a leaking Houstan, who faced no resistance at the rim. Those turnovers sparked a 9-2 run that put Michigan ahead by 25 and sent Nebraska fans toward the exits.
Houstan capped the run by making his third 3-pointer of the night with 10:43 remaining. He finished with four 3s and 16 points, one of five Wolverines in double figures. Michigan, which entered Tuesday shooting 32.9% from 3-point range, made 15 3s against Nebraska, which set a new record for an opponent at PBA and for the Wolverines since coach Juwan Howard took over the program in 2019.
Three days after Nebraska had what Hoiberg called its best defensive effort of the season against Indiana, the Huskers lost track of Michigan shooters around screens, through switches and in transition.
"We've been having the same defense since we've been here," Walker said. "So it's just a lot of just locking in on that defensive end and mentally carrying out the game and knowing your job on defense. We had a lot of mental mistakes."
Hoiberg thinks NU's cerebral lapses flowed from their continued shooting struggles. The Huskers started 3 of 6 from 3 after Lat Mayen sank one from the left corner to tie the game at 13 with 13:56 to play in the first half. But Nebraska missed 27 of its last 29 3s, including 17 in a row.
In their past three games, the Huskers are 19 of 94 (20.2%) from 3. But Tuesday was the first night Hoiberg felt its weight on both ends.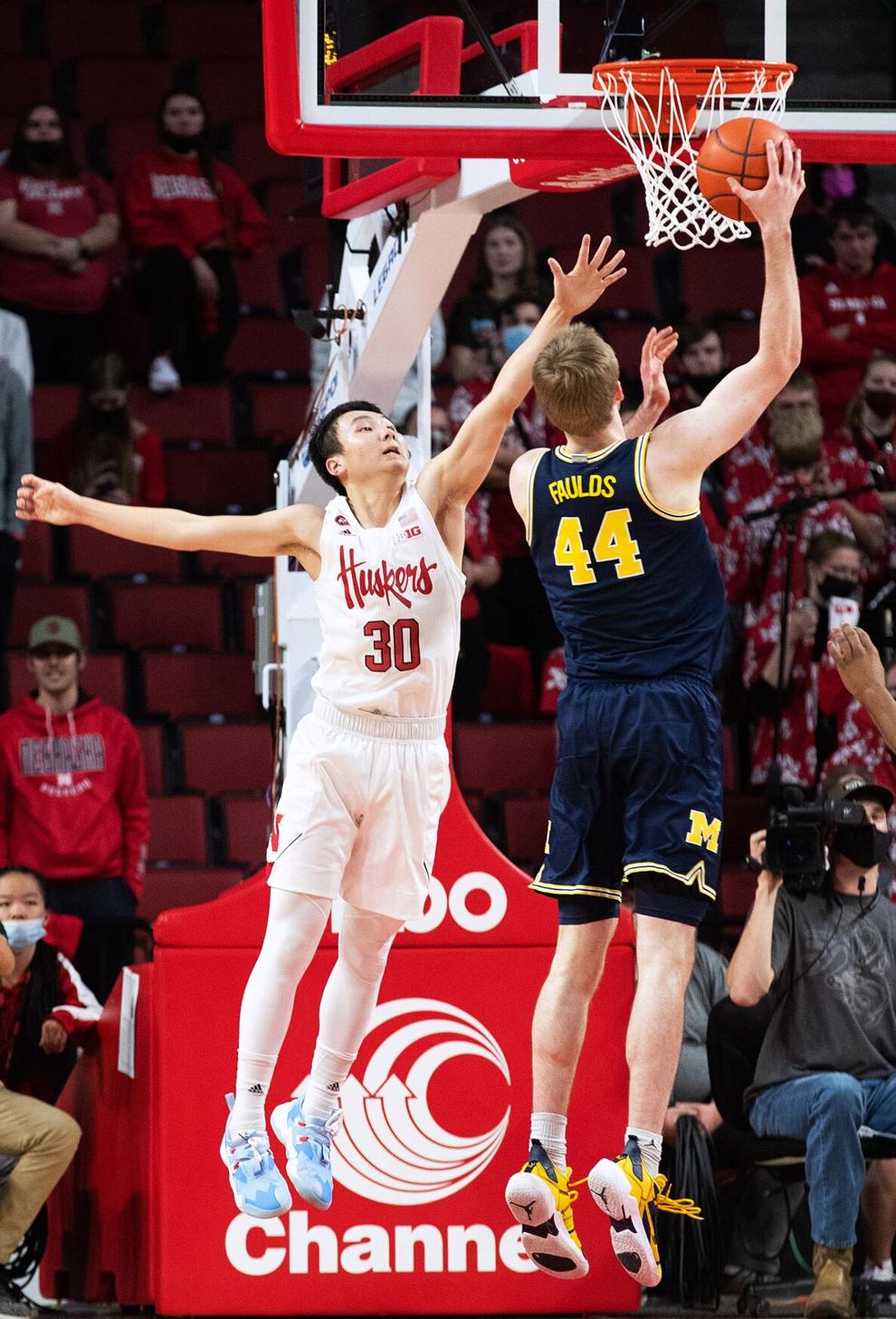 "The lack of shot-making just completely affected everything," Hoiberg said. "It just sucked the air out of the building.
"We have probably five or six wide-open looks, and those don't go down. Those are deflating, but it can't affect your effort on the other end."
It did, though, which left Hoiberg and Walker searching for answers afterward. Walker said the loss hurt because the Huskers should've been "licking their chops" to play a blue blood like Michigan. "As basketball players, as competitors, as humans," Walker said, "we should be happy, we should be ready to play."
Instead, the Huskers lost their spirit along with their shooting touch. They left their coach contemplating wide-scale changes. After a loss like that, "I'm gonna consider everything over the next few days," Hoiberg said.
That includes lineup changes, stylistic changes and more. With three days to prepare for No. 18 Auburn on Saturday, Hoiberg said NU will spend that time competing in practice to see "who wants to play hard."
As a former player, Hoiberg understands how frustrating Nebraska's scoring droughts can be. He suffered through plenty of them himself.
"But if my shot wasn't falling I was going to run through a wall," Hoiberg said. "Find a way to impact the game. We had no fight, just no fight tonight, and that's the thing that just — it's very disheartening."
Notes
» Wilhelm Breidenbach hobbled to the sidelines during the second half of Tuesday's game with a knee injury. Hoiberg said Breidenbach, whom he praised for having "fought his *** off" against Michigan, will have a scan tomorrow to determine the injury's severity.
» Hunter Dickinson found more success against Nebraska on Tuesday than Indiana's Trayce Jackson-Davis did on Saturday. Dickinson finished with 15 points and 12 rebounds on 7-of-14 shooting, punishing the Huskers with his lofty sky hook.
Walker, who spent most of his 18 minutes defending Dickinson said he tried to push Dickinson off his preferred positions, but "He's taller than me by a few inches," which made it harder to impede Dickinson's shots.
» Verge kept the Huskers' offense afloat by scoring a season-high 31 points on 12-of-21 shooting. No other Husker scored more than 11 points or shot better than 33.3%.
Verge's scoring total is the highest of any Husker this season and the second-highest of his career. While at Arizona State, Verge scored 43 points against Saint Mary's in a game where, ironically, Verge's Sun Devils also got blown out. Saint Mary's beat ASU 96-56 that night.
Still, Hoiberg praised Verge for playing with "pop," and scoring efficiently at the rim. But he also stressed the importance of Verge's continued willingness to pass the ball to Nebraska's open shooters.
"He's got to keep kicking them out," Hoiberg said. "You make those shots early, who knows? Maybe it's a completely different game as far as your energy is concerned. It just completely deflated us tonight."
» Despite Nebraska's underwhelming performance, Michigan coach Juwan Howard saw promise in the Huskers.
Verge is "elite" with the ball in his hands, according to Howard. Tominaga is "one of the best shooters in the country." Bryce McGowens is "going to be special," and Derrick Walker is an impressive playmaker for a big man.
"We tried not to give them anything easy, which is challenging, as you can see," Howard said. "There were times where they still got into the paint because of Verge being so good at (penetrating), putting his head down."
---