The weight training burns Eduardo Andre's muscles. Missing London, the hometown Andre hasn't visited in over two years, hurts his heart.
But nothing has challenged Andre this offseason more than the new diet Nebraska's training staff has designed to beef up its spindly big man.
Protein shakes, "boxes" of food from the training table, five meals per day. And counting calories implies the Huskers see a limit on the fuel preparing Andre for the Big Ten bruises ahead.
"No," Andre said when asked if he had a daily calorie goal. "I just eat. That's probably harder than the lifting and stuff is just making sure you eat. It's constant."
Andre's new regimen is achieving its goal. After playing at 218 pounds last season, Andre said last week that he weighs 238 with 16 days until classes begin. Not yet big enough to outmuscle Illinois' Kofi Cockburn (285 pounds), but bigger. And every sign of Andre's progress is cause for optimism in Lincoln.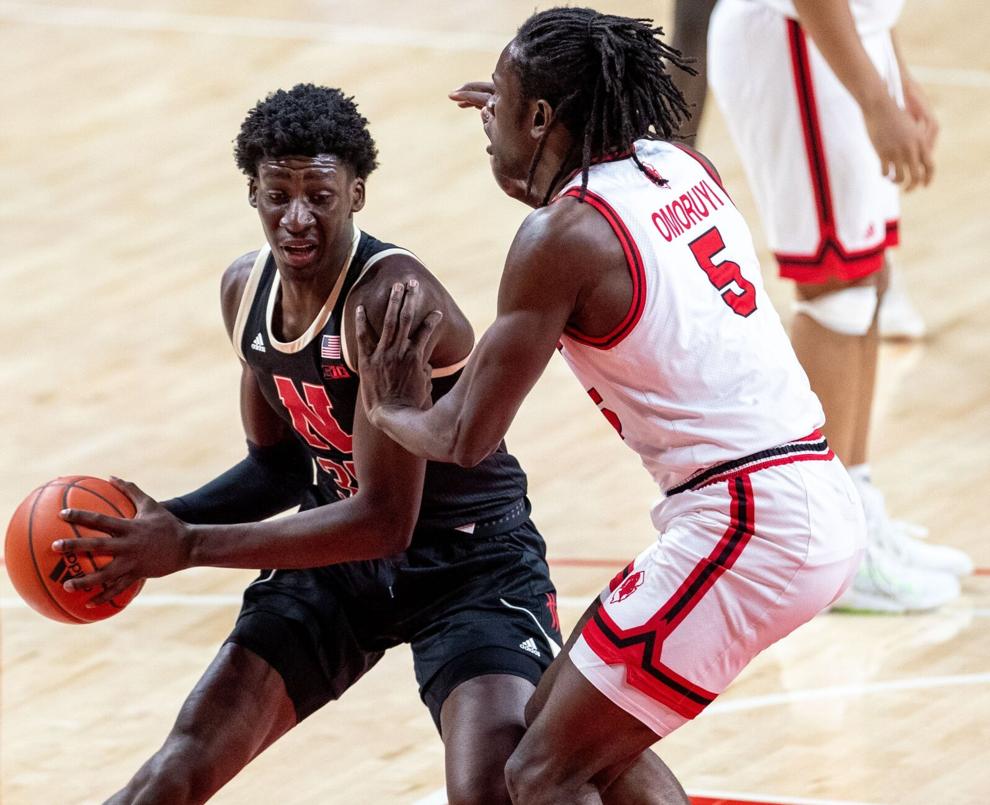 His 6-foot-10 frame, combined with a 7-foot-5 wingspan and unusual mobility — Andre played left wing and left back, positions reserved for speedsters, during his club soccer days — form the foundation of a tantalizing prospect. And entering a crucial development year, the Huskers are watching closely to see how Andre can fulfill his promise.
"The biggest jump you make is from your freshman or sophomore season," Nebraska coach Fred Hoiberg said Monday. "You know the league, you know the speed, you know the size. ... (Andre) knows what he needs to improve to take the next step in his development."
The first steps Andre walked under Hoiberg's guide fell on wobbly ground. The seventh of his eight-man recruiting class to sign, Andre chose the Huskers in May, two months into the COVID-19 pandemic and just five years after he'd picked up his first basketball.
While Andre was learning Hoiberg's philosophies, Hoiberg's staff was learning how to run safe practices. Zoom meetings replaced huddles. Solo drills replaced scrimmages. Andre and the rest of the Huskers' newbies fell behind.
"Our whole team missed out on all the fundamentals that you go through early on in the process," Hoiberg said. "We were so accelerated because we'd really didn't have much of an offseason. (We had) to just try to cram as much information as possible into those guys."
When it was time to apply what Hoiberg had taught him, Andre encountered another obstacle. Namely: a positive test before the Huskers' season-opener against McNeese State on Nov. 25.
Andre missed 19 days and six games before clearing protocols. And despite a promising debut (nine points, four rebounds, two blocks in 14 minutes) against Doane College, he struggled to find consistent minutes.
Five days after the Doane game, Andre played one minute against Wisconsin. Then four against Michigan State and two against Indiana. Andre played 16 combined minutes in the five games that followed his first.
"It was difficult," Andre said. "I felt like I should've been playing from the start, but COVID held me back."
Call it a reason, not an excuse. Because Hoiberg said the mistakes that kept Andre off the court early last season are the same ones Hoiberg's staff would've taught during a normal offseason.
When setting screens, Andre would look back toward the ball-handler instead of the man he was screening, which allowed defenders to avoid his lengthy frame. On defense, he didn't talk enough. And he didn't leverage his size on either end.
After blocking two shots in his debut against Doane, Andre blocked three the rest of the season. And he only matched or surpassed his four-rebound debut twice more, even as he assumed the backup center role during the Huskers' final 14 games.
"I think the biggest thing with that is the speed of the game," Hoiberg said. "You're coming from the high school level, where you're playing against good athletes but you're really not seeing that size on a consistent basis. ... Now that he's experienced that, I'm confident those numbers will go up."
The numbers at Andre's weigh-ins have increased, too, one of many payoffs from a fruitful offseason. He's watching film on screening actions "every day," paying particular attention to screening angles and when to roll or slip. If he can become a consistent rim-running threat, opposing defenders will have to sag off the Huskers' 3-point shooters.
But Hoiberg thinks Andre can be more than that. The Huskers' coach said Andre impressed him as a high-post passer late last season. Hoiberg's staff trusts Andre to switch onto guards as well as protect the rim. And Andre said he shot a lot of 3-pointers this summer — out of pick-and-pop plays and from the corner.
Who knows what else the Huskers might throw at him. Andre's basketball canvas sprawls wide, and it's barely been touched by a brush. With a stronger frame and a wild year's experience, his potential hinges only on how much skill he can digest.
"With his size and length, his goal should be to play basketball at the highest level," Hoiberg said. "And if he just focuses on little things and continues to improve the skill set, he's going to have a chance."
---
Videos: Get to know Nebraska men's basketball
Get to know the 2021-22 Nebraska men's basketball team.