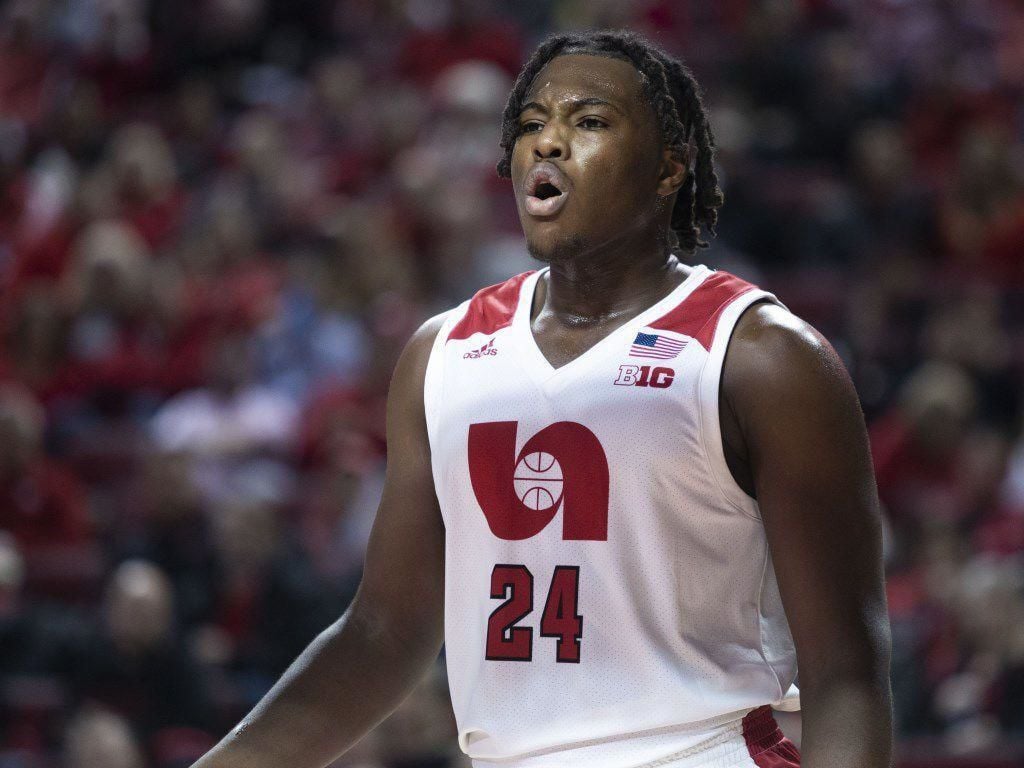 LINCOLN — Reality hit Yvan Ouedraogo before he'd even turned 18 years old.
As Nebraska basketball's top — in some ways only — true frontcourt player, the 6-foot-9 Ouedraogo had to bang around with the other big men in the Big Ten. That's serious business, and it offered a key lesson for the native of Bordeaux, France.
"When I really started playing in the Big Ten, I'd see how great the bigs were," Ouedraogo said Tuesday on the eve of Nebraska's first practice. "They're almost pros, most of them. To play against these great players, I realized if I wanted to be great like them, I need to sacrifice something. So my sacrifice was, 'OK, I'm going to have a hard summer. I'm going to be hard on myself.' "
Ouedraogo had no idea how hard it would really get. He turned 18 on March 22, soon after a devastating, international coronavirus pandemic started shutting down schools and events in the U.S. He went home to a locked-down France, where folks weren't even supposed to be outside. So Ouedraogo, along with his local coach and trainer, started workouts at 5 a.m. Running. Playground work. The gyms in the country eventually opened, and Ouedraogo was able to go to work even more. The goal was to improve everything. His shooting. His court sense. Most of all, his body.
Judging by coach Fred Hoiberg's assessment of his center — "phenomenal" — Ouedraogo achieved it all. He lost 25 pounds, for starters. He became a better player, too.
"He's finishing better at the basket. He's reading situations better as we continue to go along," Hoiberg said.
He also noted Ouedraogo's progress as a 17-year-old throughout his true freshman season.
"The great thing about freshmen is they become sophomores," Hoiberg said. "He's had a year under his belt, he had a lot of valuable experience on the floor and he learned a lot and understood he needed to make changes in his body to be a more consistent basketball player. I give Yvan a lot of credit. He really bought into that, bought into the program that he did in the offseason when he was not allowed to be here because of the travel restrictions. He didn't skip a beat."
Ouedraogo's first-year stat line of 5.7 points and 6.3 rebounds per game wasn't bad by Nebraska's historical standards — Aleks Maric averaged 8 points and 6.3 boards as a freshman — but it included several learning moments. Ouedraogo was pulled from a game after a particularly poor-looking jump shot, and his 47.7% free-throw shooting rate made him a target for opponent fouls.
With the help of his coach in France, he worked on hand placement for free throws. Stateside, he tries to make 100 free throws after practice if he can.
Unlike last season, when only Brant Banks, a Husker football player who appeared in one game, could match Ouedraogo's physical presence, Nebraska brings some reinforcements in 2020-21. Tennessee transfer Derrick Walker — a 6-8, 232-pounder who sat out last season — and freshman Eduardo Andre (6-10, 228) will be frontcourt players, too. Andre, with a 7-foot-5 wingspan, is improving daily, Hoiberg said.
While Walker and Andre represent more competition for Ouedraogo, the 18-year-old welcomes the help. It's the Big Ten. He'll need it.
"In the Big Ten, the bigs are really big. Athletic," he said. "They're really good, so having some good players to practice and play against is definitely helping me."
More notes from Nebraska basketball's press conference:
» Hoiberg can't say much about the Golden Window tournament slated to be hosted by Nebraska around Thanksgiving. Other teams — like Oklahoma State — are openly announcing their participation in that event, but Hoiberg is being circumspect about it until the Big Ten gives final word on scheduling plans for 2020-21. Hoiberg is planning to start NU's season on Nov. 25, the first allowable day according to the NCAA.
"We just feel like we have to get out in front of it," he said.
The Big Ten has weekly calls with coaches, he said, and he's "confident" the league will deliver clarity soon.
"There's a lot of subcommittees out there," he said.
» Sophomore guard Dalano Banton — who redshirted last season after a transfer from Western Kentucky — spent most of the spring and summer in his home city of Toronto. Because of the strict pandemic measures in Canada, he couldn't get in a gym for months, nor could he shoot at an outdoor basket, because the city put blocks over the hoops so kids couldn't congregate on courts. Banton lost a lot of weight over the summer and had to pack it back on once he arrived in Lincoln.
» The NCAA's approval of immediate eligibility for guard Trey McGowens was expected, Hoiberg said. But it's also big news for the Huskers because McGowens is a "two-way player" who was one of the top defensive players in the ACC while simultaneously being a good scoring option in his first two seasons at Pittsburgh.
"I love Trey McGowens, I love his makeup, I love everything he's about," Hoiberg said.
» The "high, innate basketball IQ" and 3-point shooting of Thorir Thorbjarnarson make him a big piece on the floor for the Huskers this season, Hoiberg said.
» Nebraska's 3-point shooting should be improved. Junior forward Lat Mayen, at 6-9, makes so many open shots, Hoiberg said, that coaches are surprised when they don't go in. After making 86 3-pointers in a 100-shot drill, Hoiberg said, Mayen made 82 the next time.
» Hoiberg said he's had to talk to players about taking more time off, since some of the guys want to work out as much as three times per day. Players have stayed safe — despite having one positive COVID-19 case — and stayed on task.
"For the last several weeks we've actually had full team workouts," Hoiberg said. "We've been making good progress."
Nebraska had its first intrasquad scrimmage on Friday. The Huskers have had time off since then, watched film of the scrimmage Tuesday, and begin workouts Wednesday.
One area that needs improvement?
"We're turning the ball over too much," Hoiberg said, adding that's not uncommon early in workouts.
Photos: Leading scorers for Nebraska men's basketball since 2000
Who has paced the Nebraska offense over the last several years? Find out in our gallery of the Huskers' top scorers since the turn of the millennium.