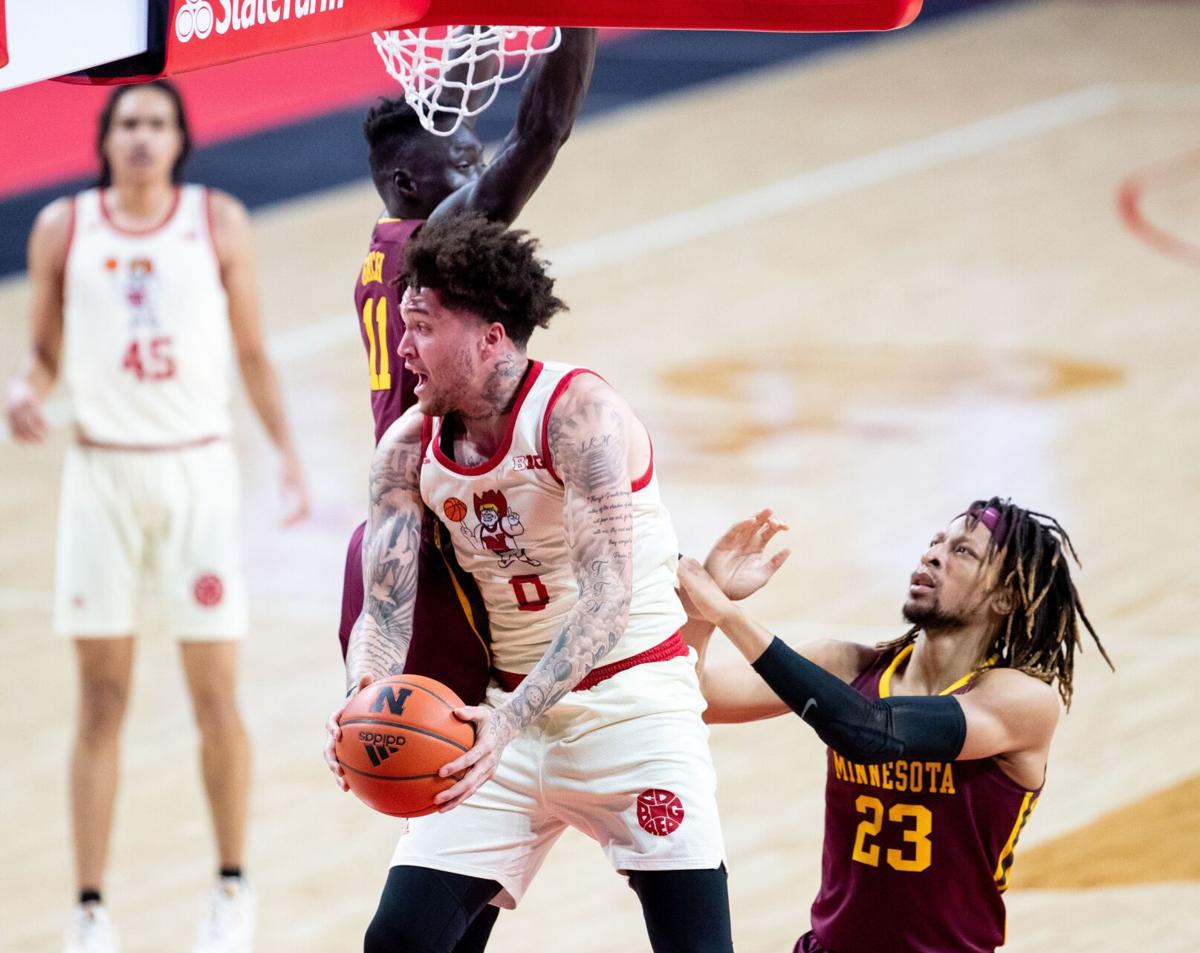 One night Eric Piatkowski was in Addy's, watching Teddy Allen go after his single-game scoring record.
"I'm not surprised," Piatkowski said. "I thought there was a very good chance he was going to last only one year here."
Indeed, perhaps the surprise on Monday was the timing — with just a week left in the Huskers' 2020-21 season.
The Teddy Allen Experiment is over. Both sides tried. It wasn't going to work. Both agreed this was best.
The signs were obvious in recent games, particularly Saturday, with NU coach Fred Hoiberg twice pulling Allen after Allen launched ill-advised 3-pointers.
The experiment was never dull. At times the talented Allen flashed playground moves and filled up the basket. Other times it became the Teddy Show and Hoiberg's offense came to a halt.
I don't recall a college player who took the slings and arrows of network media and even an opposing coach. Big Ten Network analysts continually criticized Allen for his shot selection. After the last Purdue-Nebraska game, Boiler coach Matt Painter said in his postgame presser that his team's strategy was to not foul Allen when he "took a bad shot."
Apparently Hoiberg decided he had had enough; his offense needed to evolve with more movement and better shots. That has been the case in recent games.
And Allen no doubt acknowledged that his game needs that freedom, and so both sides are moving on.
Why did Hoiberg take a chance on the oft-traveled Allen? Hoiberg has taken on all sorts of transfers. And most coaches believe they can change a player's habits, no matter how ingrained.
In this case, it wasn't going to happen. Both sides needed to move on.
"The best thing for him would be to go professional and go to Europe," Piatkowski said. "His game is so tailored for over there.
"There are so many countries and leagues and divisions. With his style and build and attitude, he can be over there for a lot of years and have a lot of success and make a lot of money."
>> Piatkowski had just watched his daughter Paisley's basketball game last week and decided to watch the Nebraska-Penn State game and grab dinner.
The TV sound of the game wasn't on, so while Piatkowski could see Allen was playing well, he had no idea what was happening. With five minutes to go, he paid his bill and headed for the car to catch the end of the game at home.
"I get to the car and my phone is going crazy," Piatkowski said. "I had a message from (former teammate) Beau Reid saying, 'Teddy has 39 with five minutes left.'
"I just assumed by the time I got home, he'll have broken it."
"Records are meant to be broken, and 27 years is pretty cool," Piatkowski said. "My daughter asked if I wanted him to break it and I said, 'Heck no, I don't want him to break my record.' Anybody who ever says they do is lying."
On being surprised his record still stands: "I really am, especially in today's game. Coaches are so much more willing to let you shoot a 3-pointer, and the kids are so much better. It's just a matter of time."
On that 1994 game: "It was my senior year, and the two years before that, we got upset in the first round and went home. I was devastated.
"Kemper Arena was rocking. There were 25 NBA scouts there, and it's electric. My family wished me good luck, and I said, 'I can tell you one thing, we aren't going home early this year.'
"I had a different mindset into that game. I was really, really aggressive."
On Hoiberg (Eric's son Jace is a walk-on on the team): "I just hope and pray that Fred can get it going because of how the fans will react. It will be incredible.
"I like the fact that they haven't quit, they're playing hard, could have beaten Illinois. He's got good pieces there. Need a big man, but he's coming. You've got to get some character guys. Character helps a lot."
>> Yes, there will be a Big East tournament at Madison Square Garden. But will there be fans? How many?
John Paquette of the Big East office says the league will make an announcement this week on attendance. Paquette said New York City has a "10% max right now." Fans of the New York Knicks and Rangers have to prove they have been tested in the past 72 hours in order to enter MSG.
As for team safety protocols the week before the NCAA tournament begins, all 11 Big East teams will stay in the same hotel this year.
Good luck, everyone. On the floor. And off.
>> More fan news: There are only 75 tickets remaining for Friday's UNO-Creighton baseball game (3 p.m.) to open UNO's new Tal Anderson Field. UNO is allowing 500-600 fans at games this season, though a UNO spokesman says that limit could increase as the landscaping and berm area improve at the new facility.
>> One of the names on New Mexico's coaching search list should be familiar: Tim Miles, the former NU coach who works for Big Ten Network and Fox.
Friends of Miles say he still wants to coach, though he has found a rhythm as a TV analyst. This might be Miles' last chance to get in back into the college game if he wants it.
>> There are some other interesting names being mentioned for New Mexico, including Frank Martin, Iowa State's Steve Prohm and former Creighton assistant Darian DeVries, who has done incredible work at Drake.
DeVries, an Iowa native, might be hard to pry out of his home state, especially for another mid-major job. If Prohm leaves or Iowa State creates an opening, would Jamie Pollard go for DeVries? Only if he's smart.
>> Alex Smith is expected to be released by the Washington Football Team. If I'm writing the happy ending, the Kansas City Chiefs sign Smith, let him retire in K.C. — where he is wildly popular — and then hire him as Patrick Mahomes' quarterback coach.
>> I would never bet against Tiger Woods returning to the golf course and winning. That's a fool's bet. But as a golf fan and Tiger fan, I would rather see him spend the rest of his life as a healthy family man and begin the chapter in which he impacts the game off the course.
>> One more and I'm outta here: This week I'm going to recommend a book.
It's titled "Yards After Contact." The author? Andy Hoffman.
It's the story about a young boy fighting brain cancer, told by his doting father. But it's more than that. It's the tale of one of the most storied moments in Nebraska football history. But it's more than that, too.
It's a story about love, family, courage and hope. In many ways, it's a story about Nebraska.
Andy Hoffman came up with the idea for the book to raise more awareness for pediatric cancer, a topic he felt never got nearly enough attention. Also, he wanted to tell their story, put names and faces and emotions to a real-life cancer fight.
The book was finished by the time more horrible news came out last year: Andy Hoffman had a brain tumor.
I read the book recently and now I want to read it again. It's a powerful book. The power of love, hope and family and faith. This book is good for the soul. I strongly recommend it. And a box of tissues.
---
Photos: Nebraska basketball defeats Rutgers